A garden igloo will maximise your outdoor space, making an area you can use it all year round says interior stylist Maxine Brady.
Hypedome provides geodesic domes that create a little haven in your garden, where you can immerse yourself in the beauty of nature while still being protected from the elements. They are easy to install, are affordable and they provide much needed extra space for you and your family.
Whether you're looking to create a cosy outdoor escape, a place to relax in or even a room to work out in, I've got lots of ideas on how a garden igloo will improve your life! Keep reading for more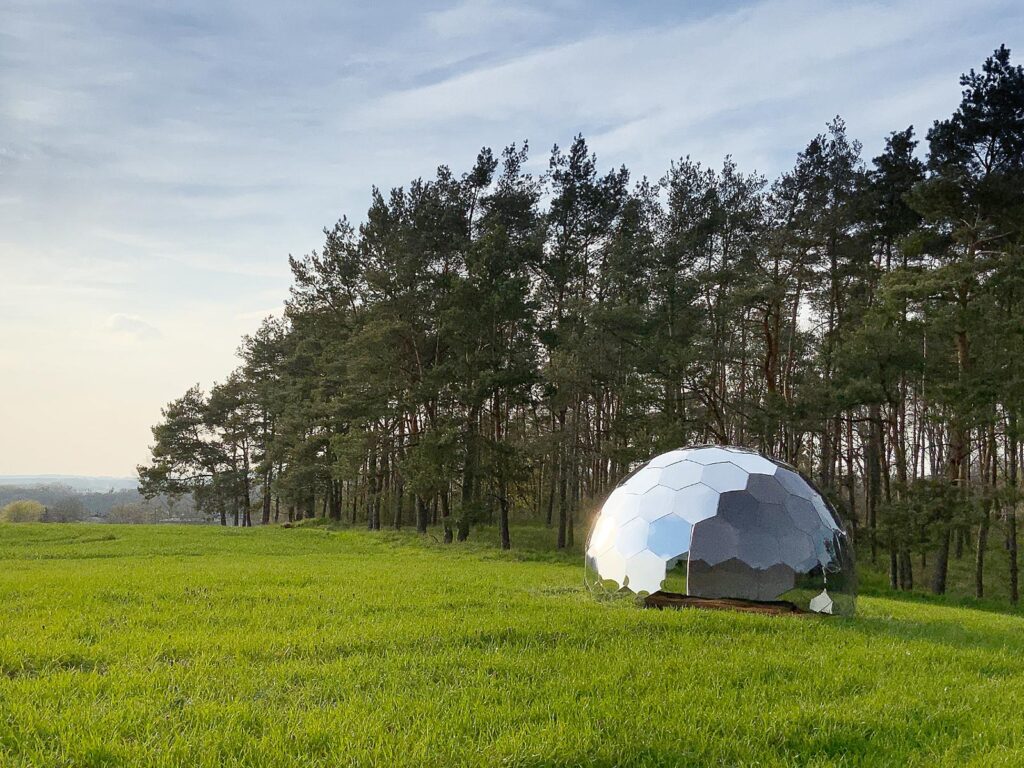 What are garden igloos?
A garden igloo or pod is the new must-have for your outdoor space, and there are plenty of options out there if you're looking to get your hands on one. Crafted in durable materials and made with precision engineering, Hypedome garden igloos are built to last, withstanding strong winds and other elements. They provide reliable shelter from the cold and wet all year round. And they are incredibly low maintenance too.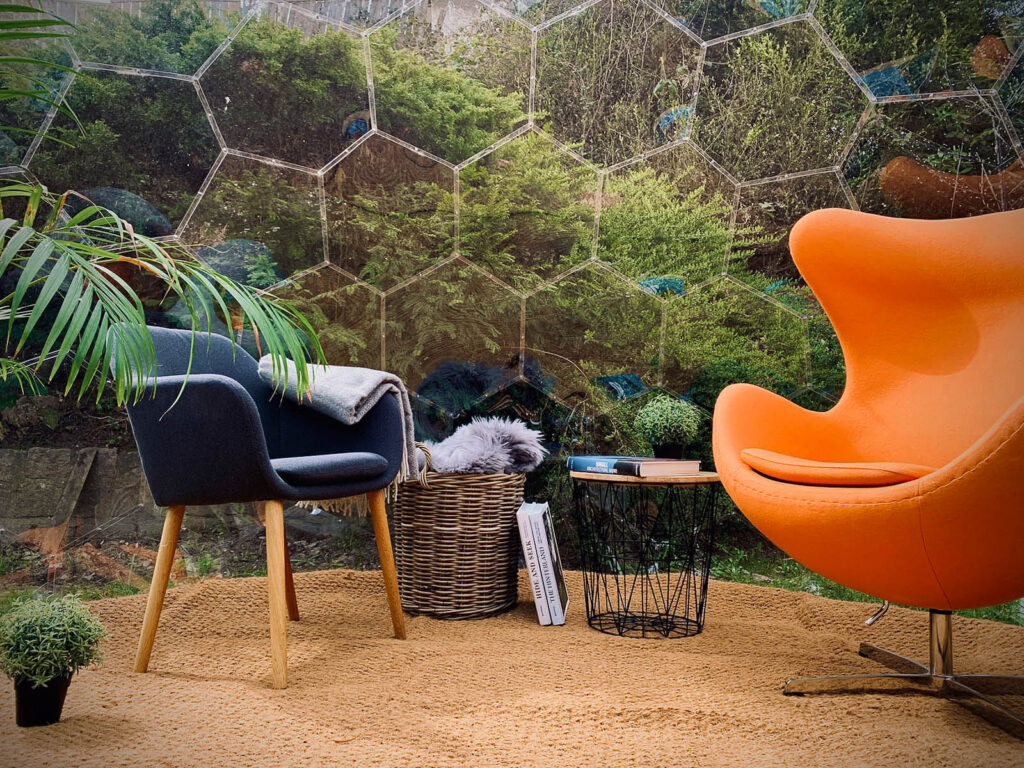 Unmatched All-Year Enjoyment with an igloo
With a garden igloo, you can maximise your outdoor space all year round. Need a serene space for meditation and yoga? Transform your Hypedome into a tranquil wellness retreat. Looking for a creative corner to unleash your artistic side? With ample natural light streaming through the dome's transparent panels, it becomes the perfect place to paint in. Entertain your guests in style by turning your garden dome into an elegant outdoor dining room or an extraordinary garden lounge. Or create a cosy reading nook amidst your lush greenery.
Hypedome igloos come in various finishes – from clear polycarbonate which will give you an unobstructed 360 degree view, to grey or opal for a soft, diffused glow. Or you can have a mirrored surface that will reflect your planting helping your igloo blend seamlessly into your garden. And as Hypedome offers three size options from Mini, S and M – there is a garden igloo for every home.
12 of the best garden Dome ideas for your outdoor space
An outdoor pod can be used for a wide range of purposes. Here are twelve uses from Hypedome to inspire you.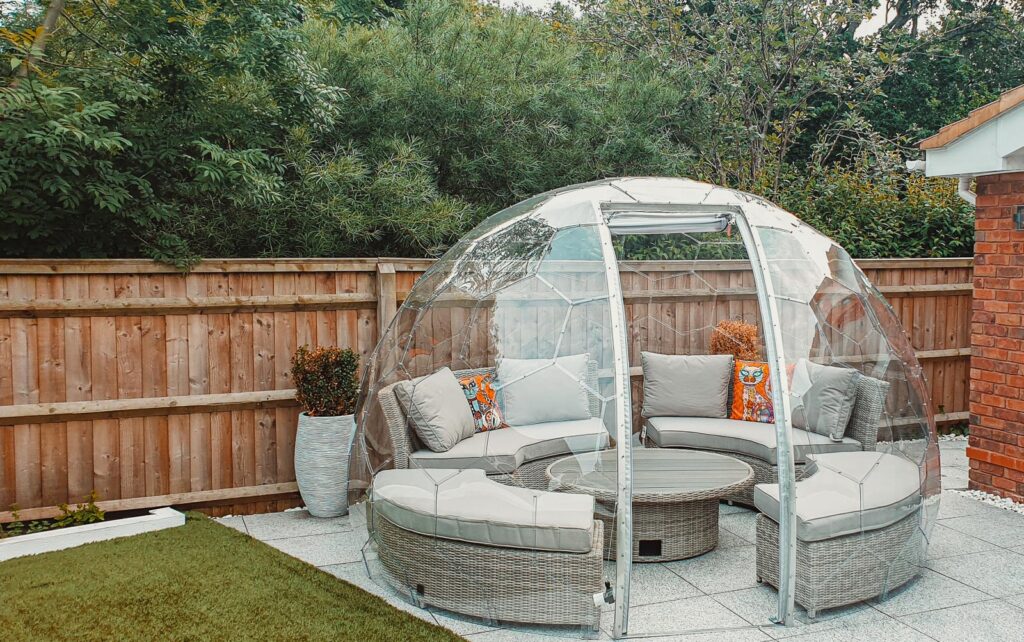 1. place to entertain friends
You can use an outdoor garden pod like you would a conservatory and sit and enjoy your outdoor space all year round – come rain or shine. You can fill it with a cosy sofa and chairs to create an outdoor lounge. Or place a round table and chairs inside so that you can eat in your garden even if it rains – there's no more ruined BBQs because of bad weather!!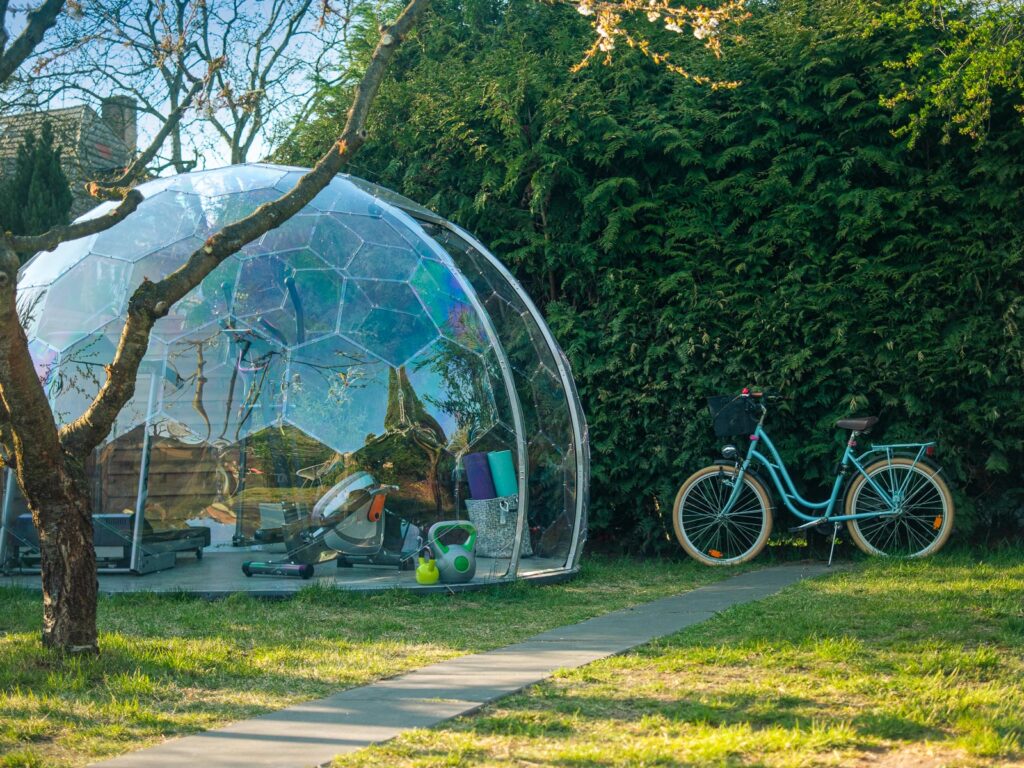 2. Garden Pod Gym
Love working out? Then a Hypedome can be used as a home gym where you can work up a sweat surrounded by the beauty of your garden.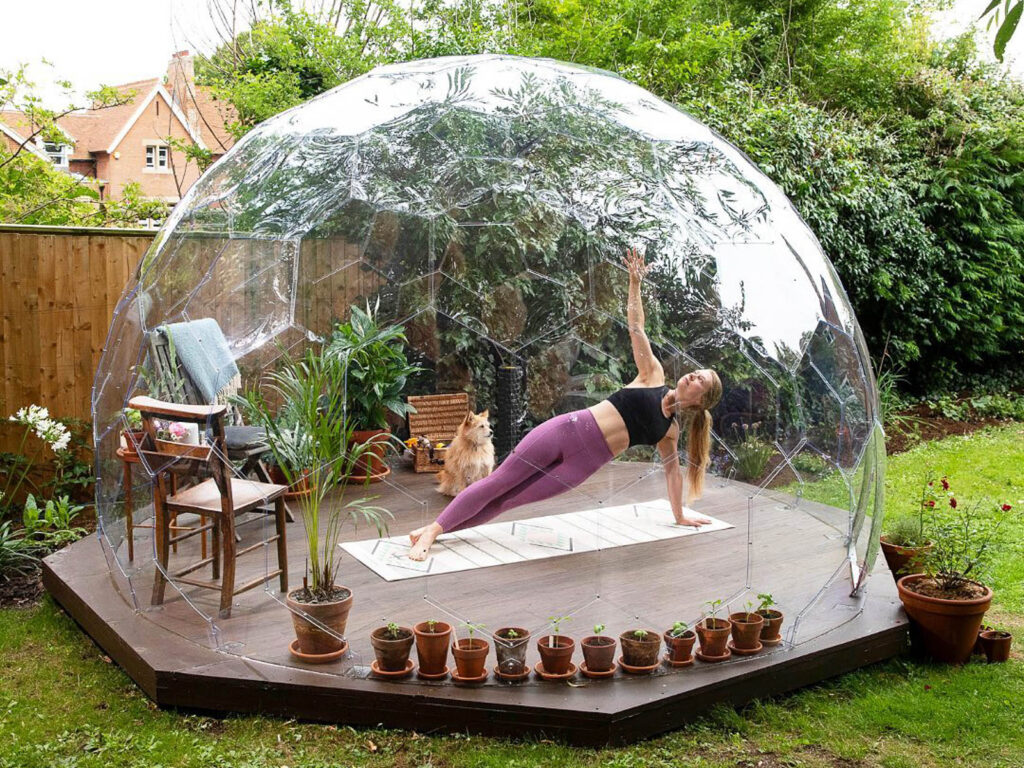 3. Yoga Den
Nothing beats practicing yoga outside, and a garden dome is ideal Zen space for you to meditate and stretch.
4. Hot Tub Enclosure
Why not put your hot tub inside? Not only will a dome protect you from the elements but it will create a private place for relaxing in. Consider a coloured garden pod with mirrored panels – 60% of the panels aren't see-through so you can enjoy your hot tub without being overlooked.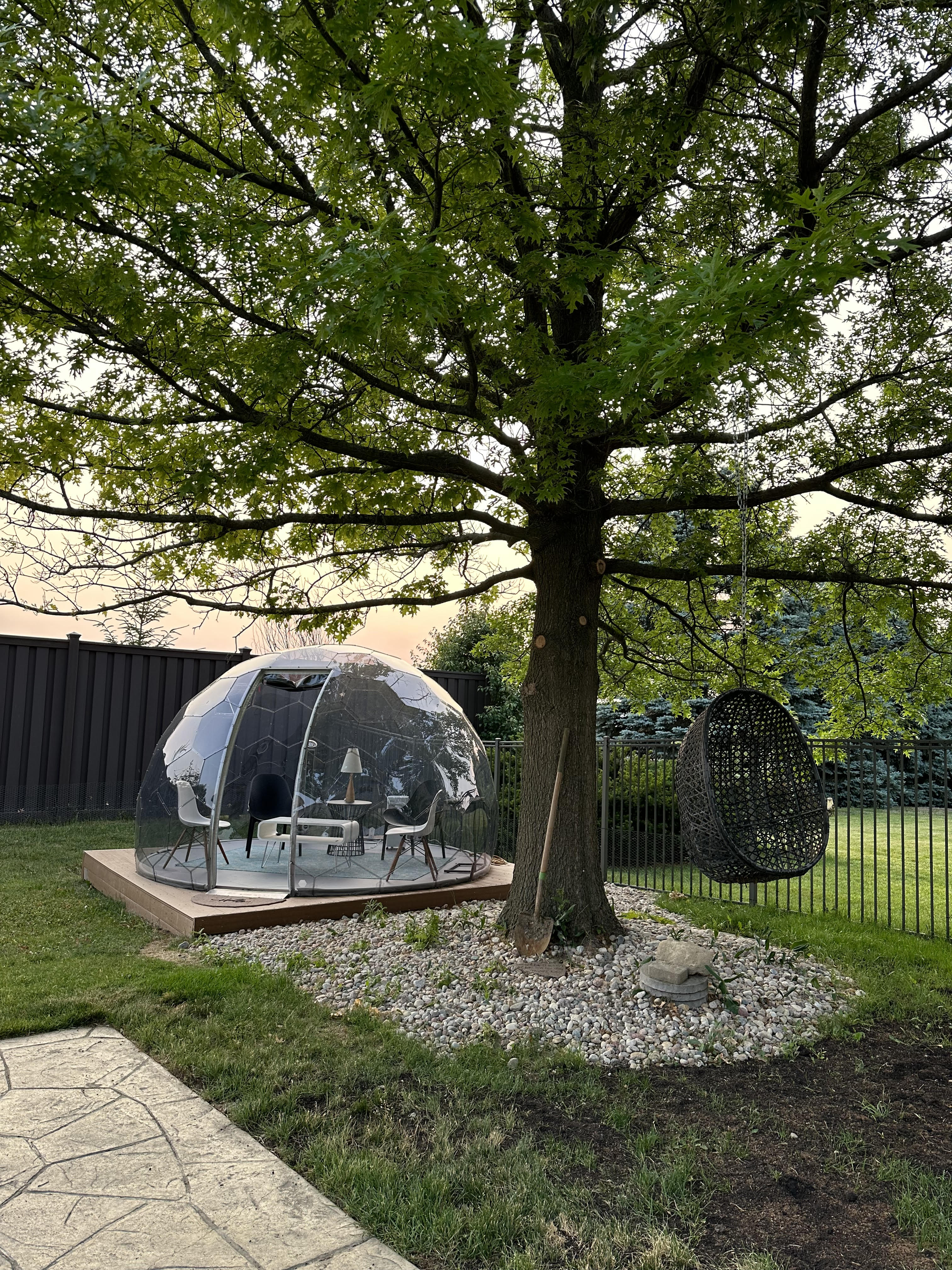 5. Garden Office
Many of us are still working from home and are craving a place that is peaceful and quiet. So what about moving your laptop outside and setting up office in a tranquil garden pod?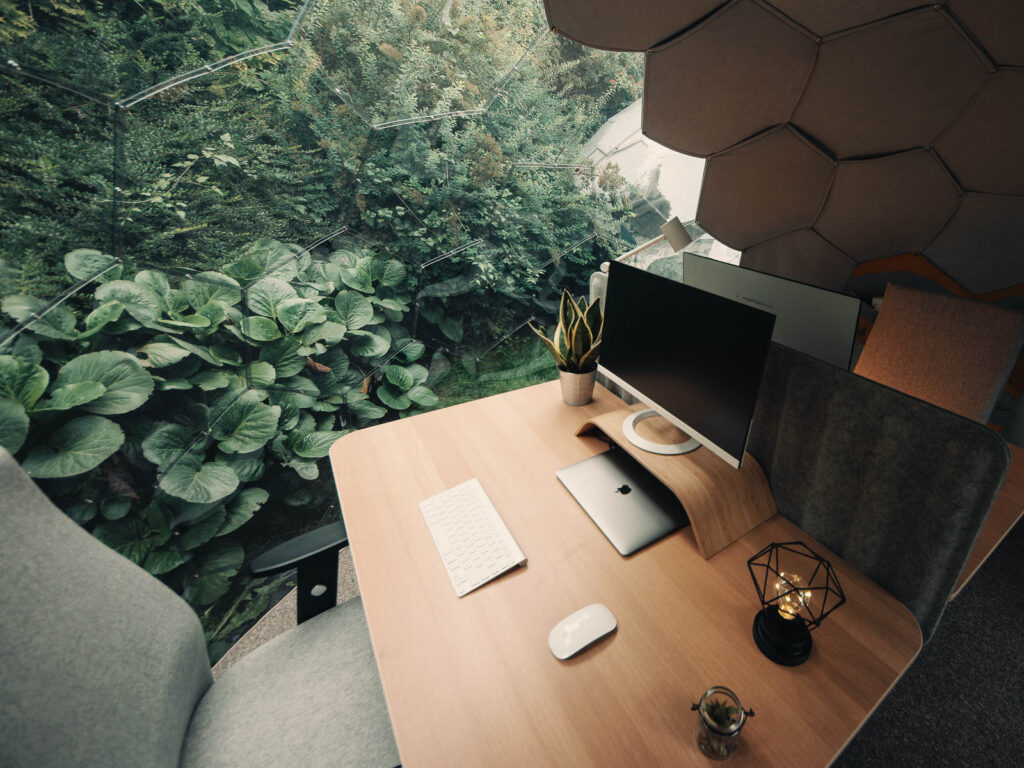 6. Business Premises
An outdoor pod gives you a place to get a small business up and running. Maybe you need a consultation area, or a place to pack and fulfil orders, or even a place to carry out beauty treatments or massages – a garden igloo is ideal.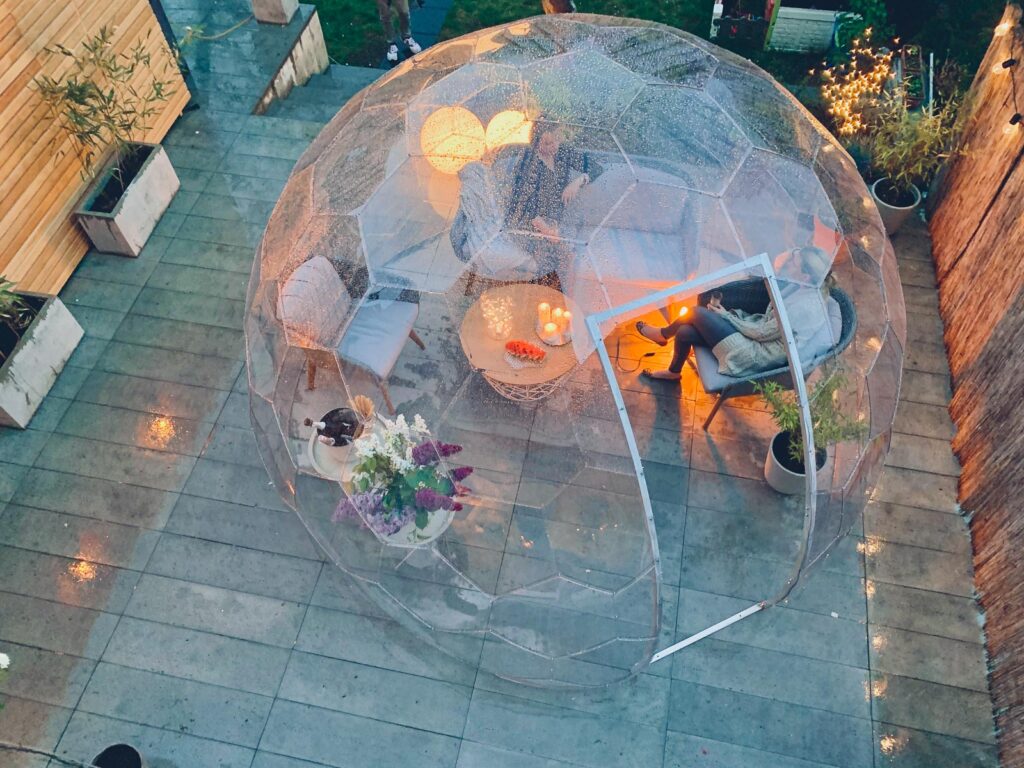 7. Reading nook
Need a space of your own to disconnect from your busy life? Then escape to your garden pod where you can enjoy a cup of tea and dive into your favourite magazine or books away from the noise of your house. It will do wonders for your mental health too.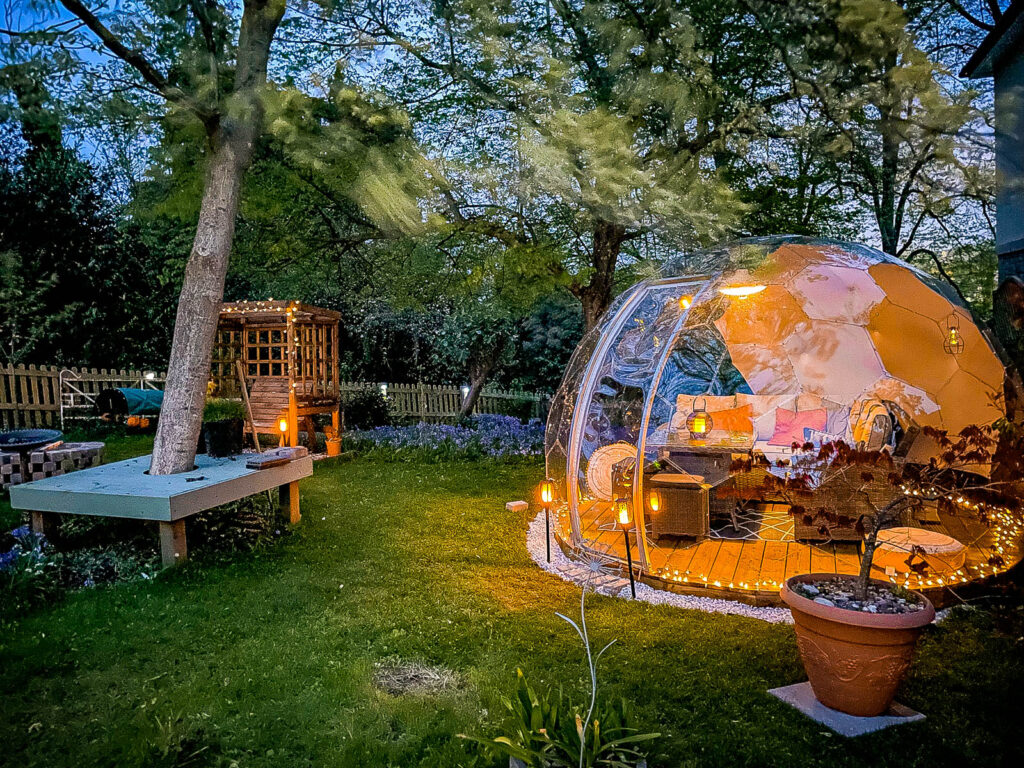 8. HoBBY room
If you have a passion project like painting, playing an instrument, sewing, doing jigsaws or crafting, then a Hypedome is the ideal space to allow you to indulge in your hobby.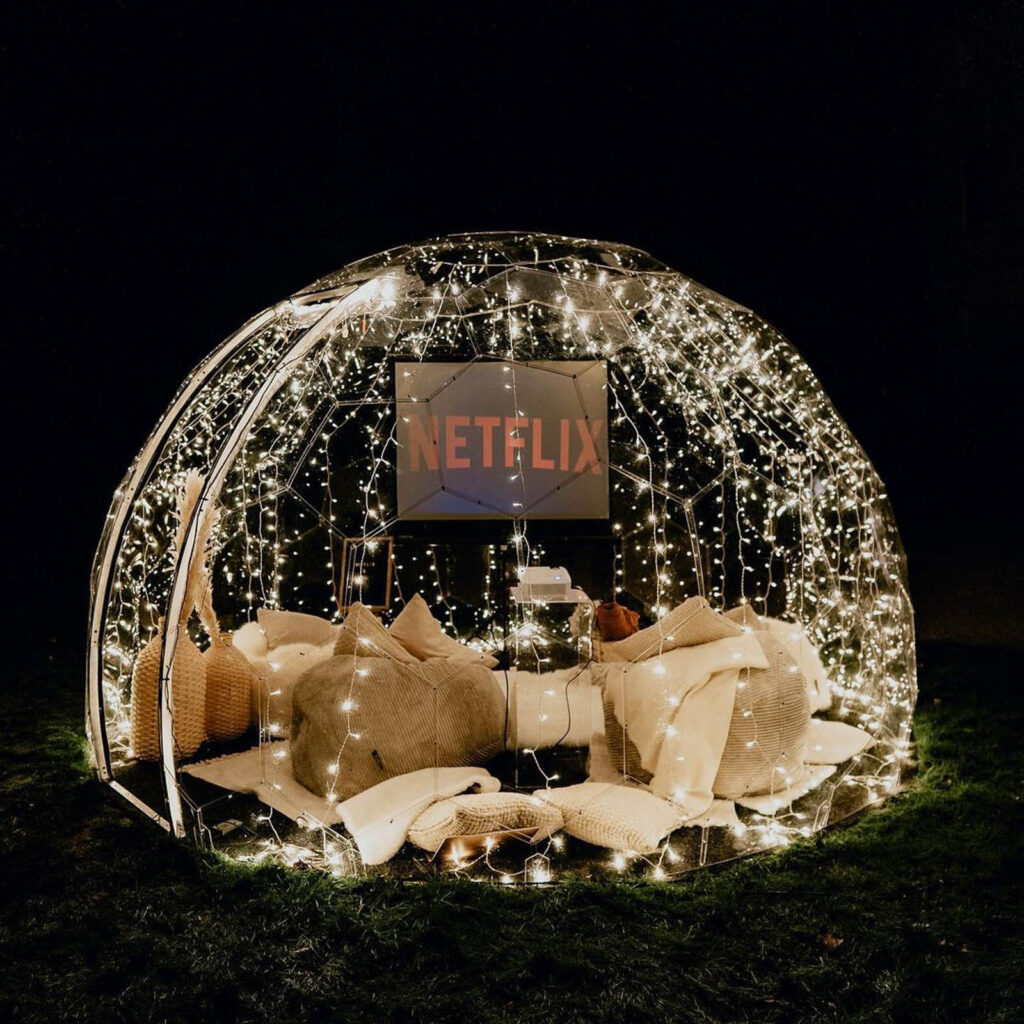 9. Garden Cinema Room
Enjoy a movie night under the stars with a projector in your garden igloo. You could even set up with cosy blankets, popcorn and drinks to keep you entertained for hours.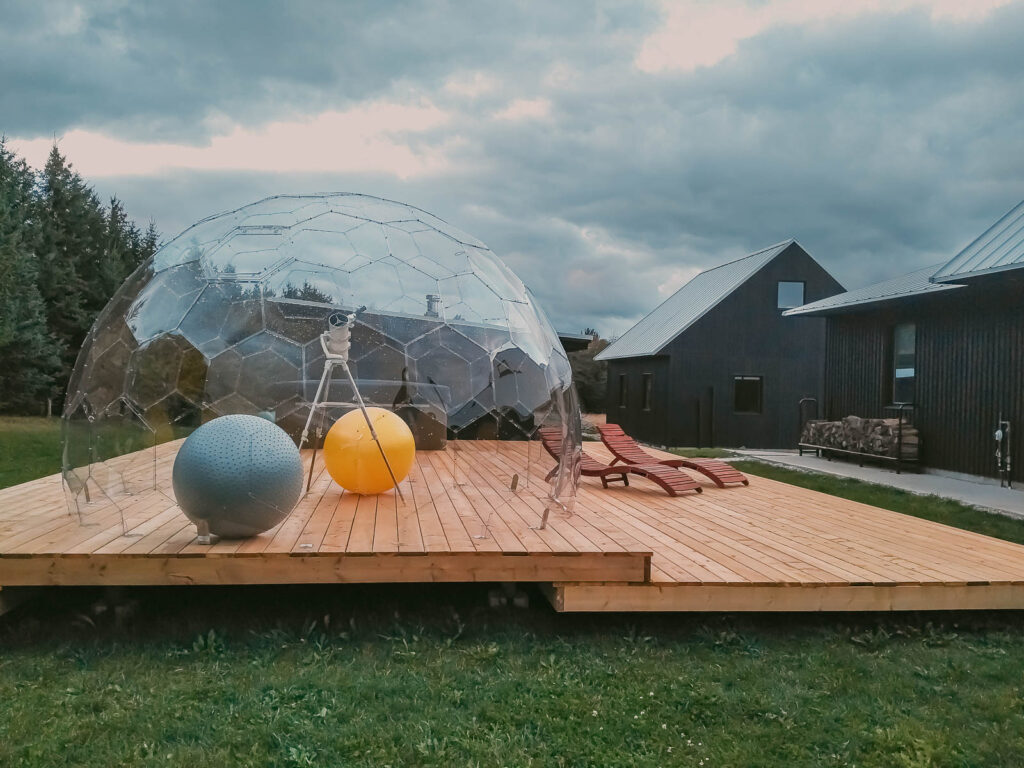 10. Amateur Astronomy
Into stargazing? An outdoor pod provides the perfect, peaceful setting for this classic pastime. With crystal clear panels and a frameless design, you can appreciate the magnificence of the night sky while staying under cover.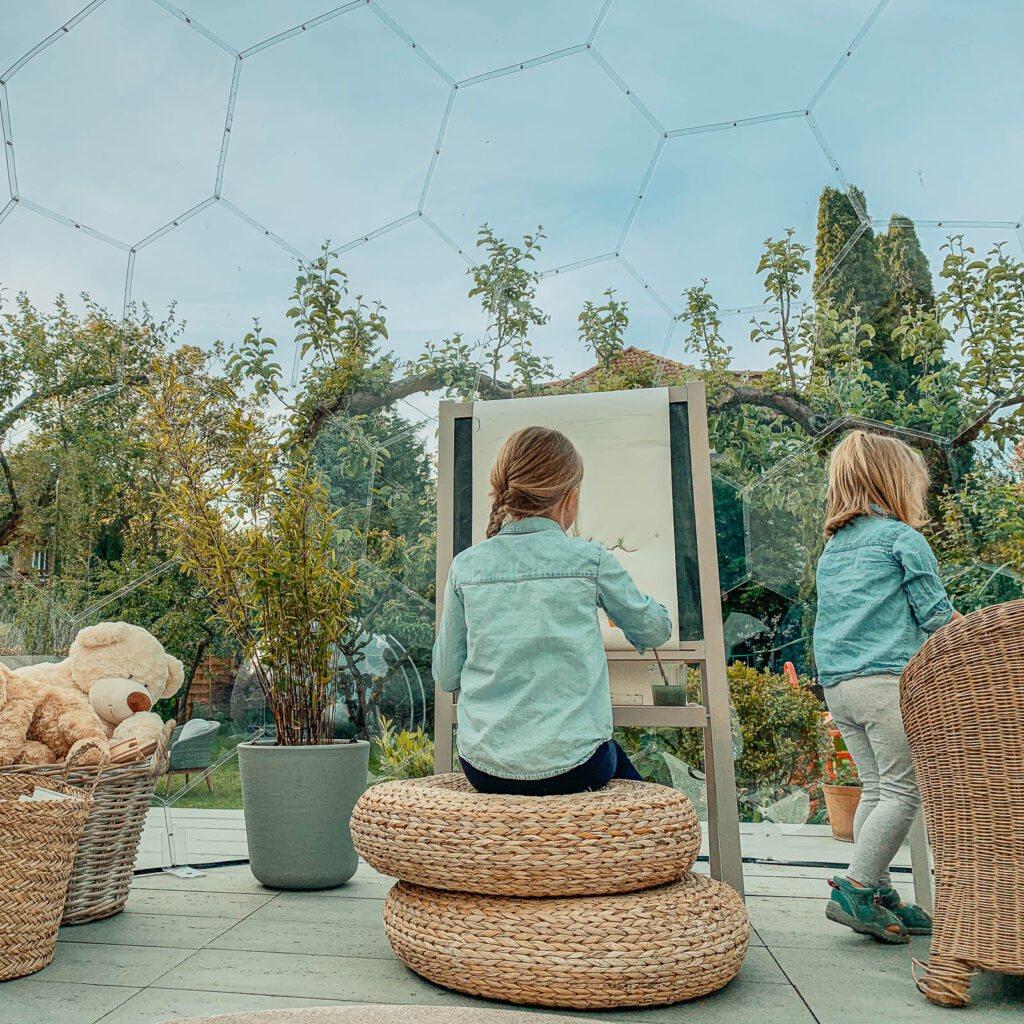 11. Kid's playroom
Little ones love to be outdoors but on wet rainy days, they can feel cooped up inside. With an igloo pod, they can play away to their hearts content while staying warm and cosy.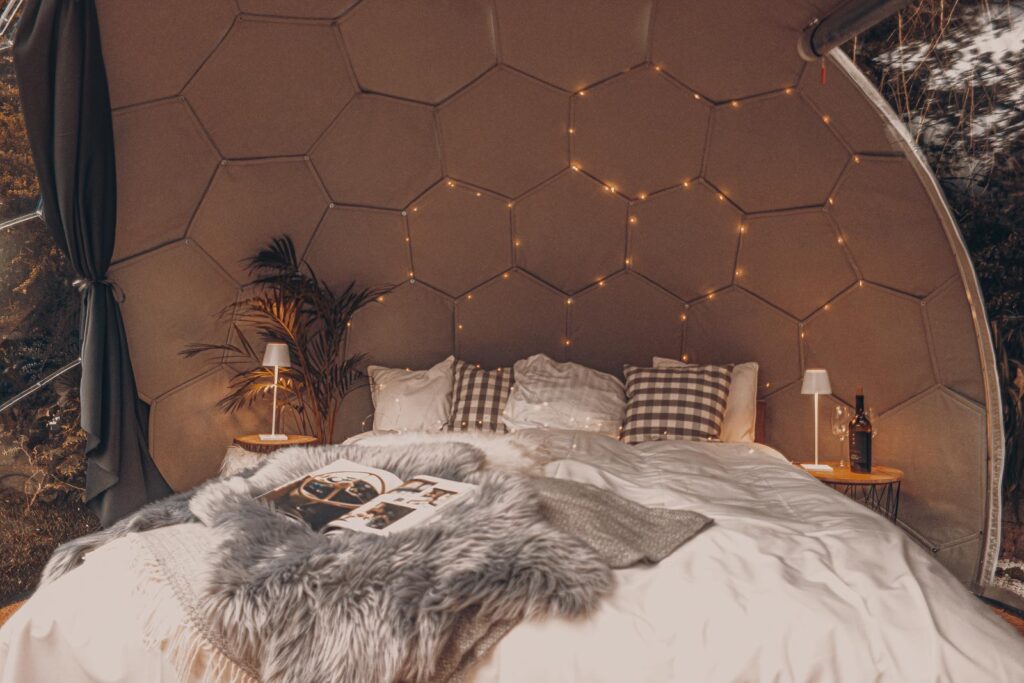 12. Magical Guest bedroom
If you don't have a spare room, have no fear – a garden igloo can be the perfect place to host your friends and family in a cosy bedroom under the starlight!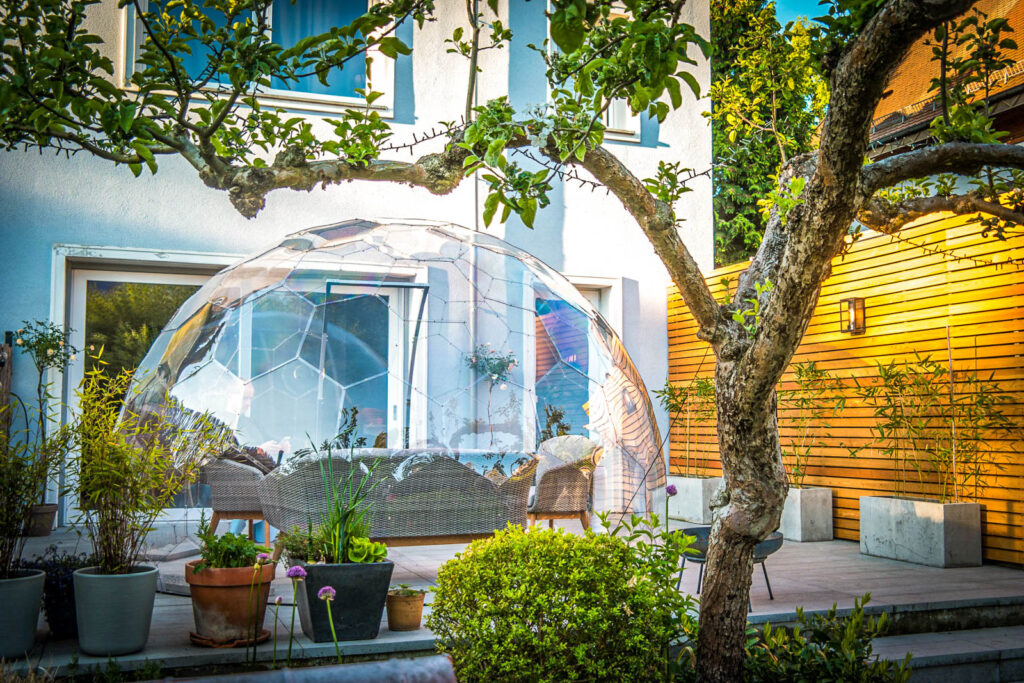 How to style your garden POd
Styling your garden igloo or dome can be a great way to express your personality and create a space that you love spending time in. From cosy floors and soft wall panels to elegant lighting and curtains, you can transform the dome into an exclusive retreat tailored to your desires. The possibilities are limitless, allowing you to craft a one-of-a-kind haven that perfectly complements your lifestyle.
Try experimenting with different items to show off your personal style in your Hypedome:
Choose plants that will thrive in the igloo's climate. Use trailing plants to fill up empty spaces and soften the edges of your igloo
Add storage baskets in different shapes and sizes to keep clutter under control
Layer up with rugs to keep toes toasty underfoot in the winter months. Have a stash of slippers at the ready for guests!
Add accessories like wind chimes, fairy lights, ornaments, etc.
Experiment with different colours and textured throws and cushions to create a unique look for your igloo
Place a comfortable seating area in the igloo for relaxing
Make sure the igloo is well-lit so you can enjoy it during all seasons with solar power lights
Use a sun shade when the weather is warm to keep your igloo cool, whilst adding Mediterranean vibes. 
Adding decorative accessories to your outdoor dome is a great way to make it more personal and unique. You can add anything from plants, furniture, throws, rugs, lamps and fairy lights so you can really brighten up your space and make it more inviting. Hypedome have many bespoke accessories to make your pod look chic!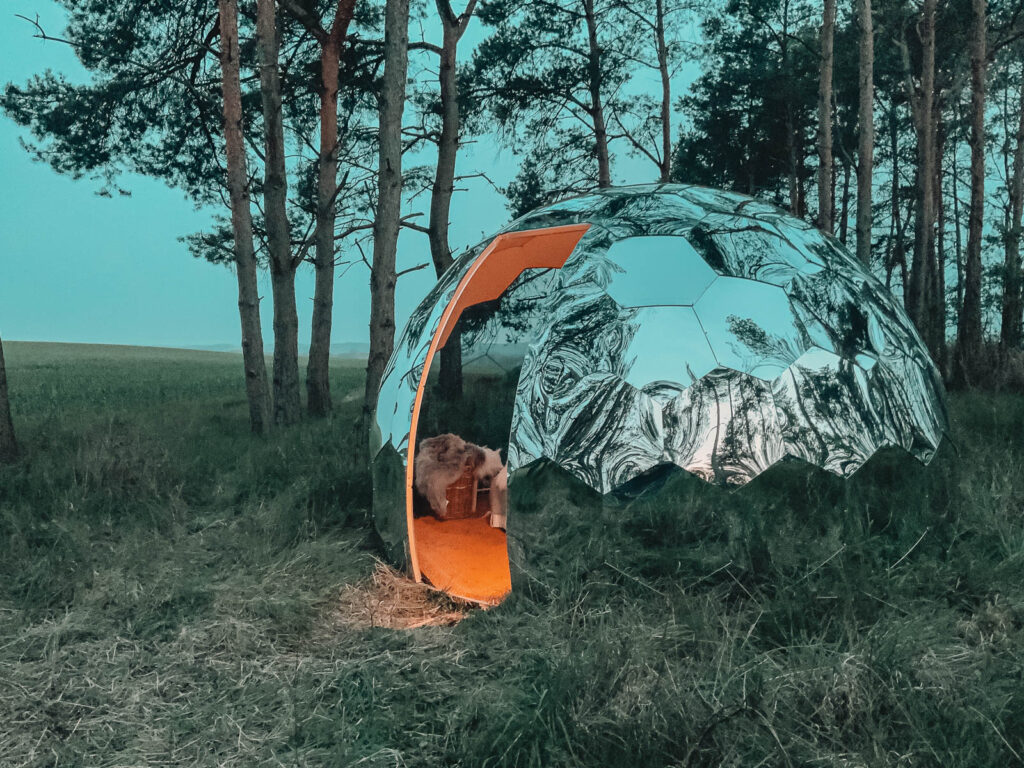 Is it time you treated your garden to a Garden Dome?
So, what would you put in your igloo? The options are limitless! Whether you want to create an intimate reading nook or a spacious outdoor dining area, you can relish the beauty of each season while indulging in the comfort of your own bespoke oasis.
And don't forget to have fun styling your igloo so that is unique to you. By decorating the igloo, so it can be used all year round and making it cosy on an evening when the temperature drops, you'll be able to enjoy this fun outdoor space even when winter arrives.
Check out these other garden blog posts
HOW TO EASILY INSTALL A DIY IRRIGATION SYSTEM IN YOUR GARDEN IN 2023
HOW TO LIGHT UP YOUR GARDEN WITH THESE 4 IDEAS
6 WAYS TO ENJOY YOUR GARDEN THIS WINTER