Are you looking for a visually appealing outdoor stairs design that will enhance your curb appeal or home's landscape? Check out these incredible exterior stairs ideas! 
If your home has a raised foundation, stairs are a must-have element as it is crucial for convenience. Safety is paramount when it comes to installing stairs anywhere. Depending on the country you reside in, they are often regulations that must be adhered to for both interior and exterior staircases. For instance, when a flight of exterior stairs has more than three risers, it must have a handrail on each side.
The design of outdoor stairs is almost as important as functionality. The proportion of the space should be taken into account when choosing an outside stairs design. We strongly recommend that you opt for a design that suits both your home's style and your aesthetic predilections. A stylish and properly installed stairs can add value to your property. The first step is often deciding what staircase material is best suited for the space.
There are a plethora of materials and design options to consider which can make it a bit confusing, but don't fret! In this article, we've curated the 16 most popular outdoor stairs designs that will help steer you in the right direction.
1. Wooden Entrance Outdoor Stairs Design
One of the most common materials used to construct staircases is wood— not just any wood, but 'hardwood' which is strong and hard. It is a highly durable material that can withstand exposure to different outdoor elements and severe weather.
Some of the best wood for the exterior and staircases are IPE,  Western Red Cedar, Teak, and African Mahogany. Outdoor stairs can last an average of 15-30 years when pressure-treated wood is used.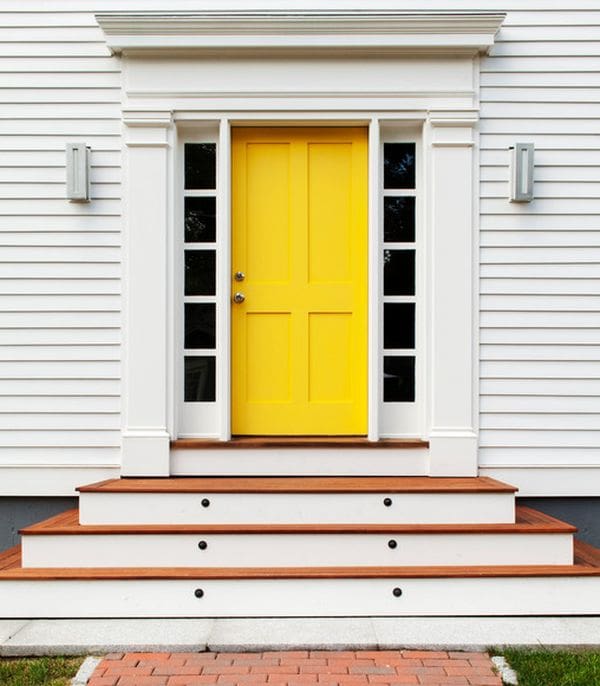 PHOTO: LDA ARCHITECTURE & INTERIORS
2. Victoria Tiled Outdoor Stairs
Named after Queen Victoria, the Victorian tile is a type of encaustic tile that is favored for its beautiful intricate geometric patterns. The timeless beauty of Victorian tiles is what makes them overwhelmingly popular.
This tile is commonly used as an entrance outdoor stairs design in England. This tiled outdoor stairs design lends an elegant and opulent appearance to a property.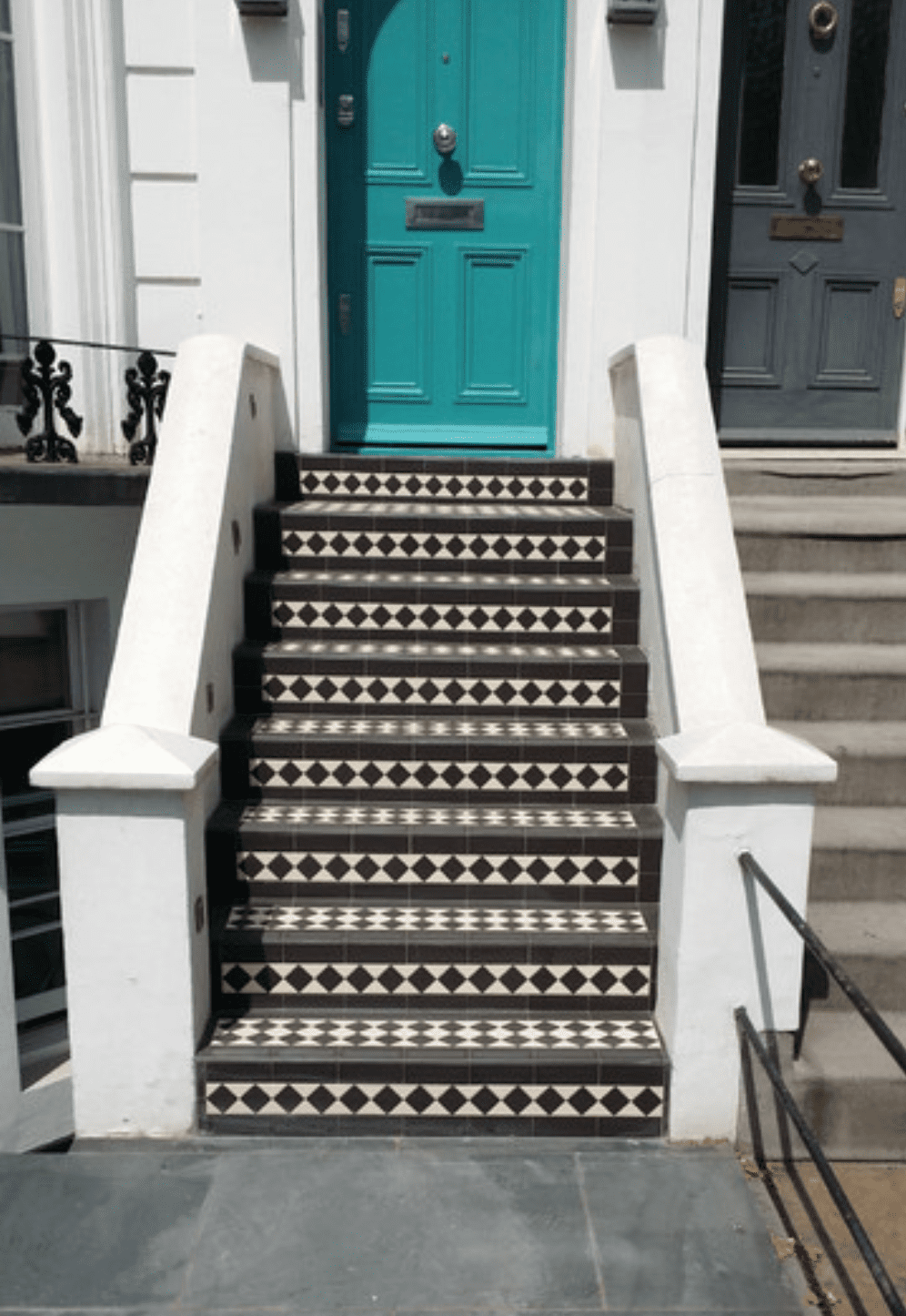 PHOTO: LONDON FRONT GARDENS
3. Floating Outside Stairs Design
To give your property a touch of modernity and easy elegance, consider floating stairs. Floating stairs, also known as cantilever staircases, are designed to conceal or minimize the supporting structure of the stairs.
These types of stairs do not appear connected to each other. This gives a streamlined, contemporary, and minimalist feel to the property.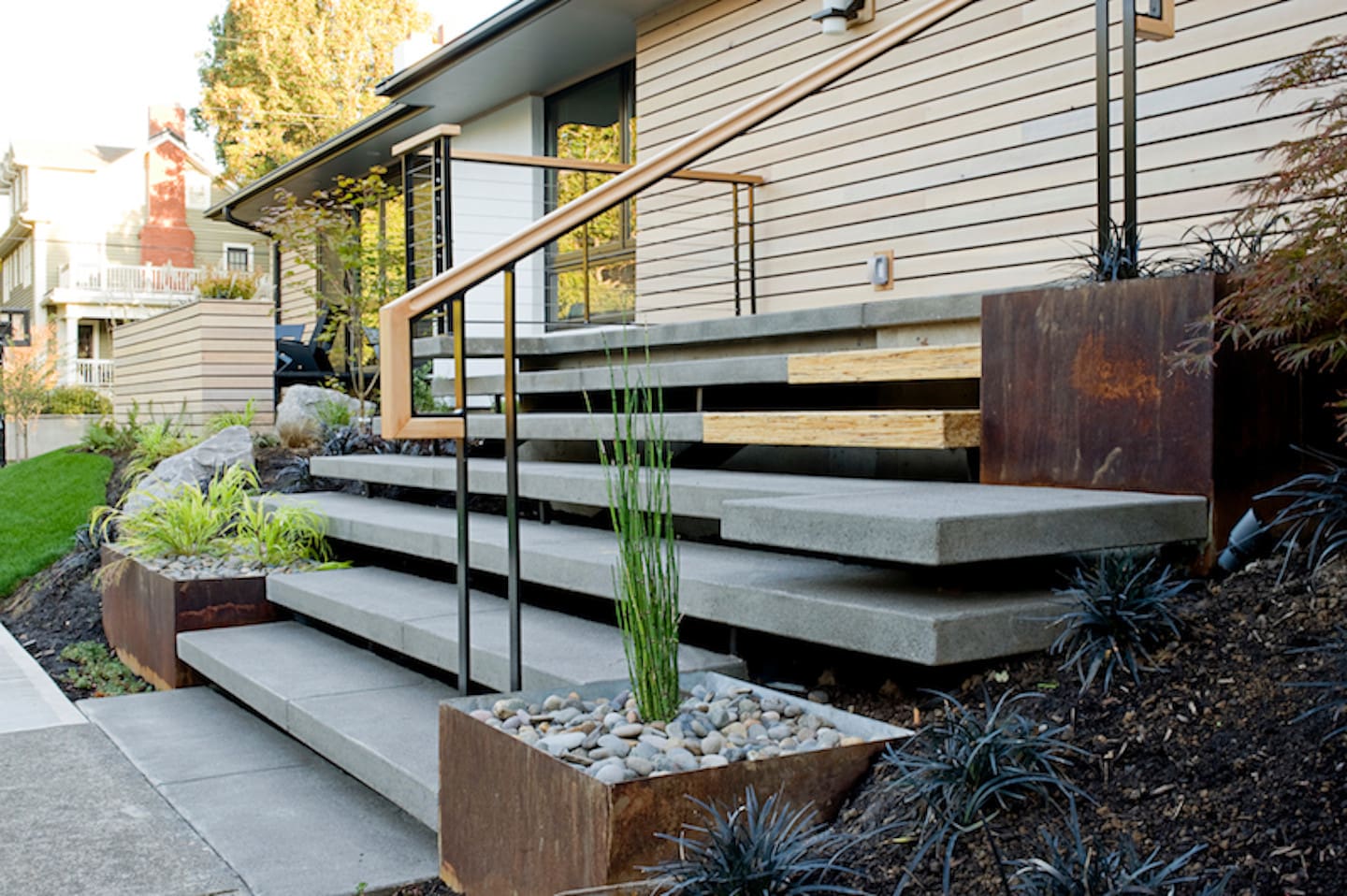 PHOTO: SAKURA GROUP
4. Split Outdoor Stairs Design
Your property style and whether the stairs will be installed at the entrance or backyard will determine the most suited style to choose. A split staircase is a type of staircase that has double sides leading in different directions. It is often seen on large deckings.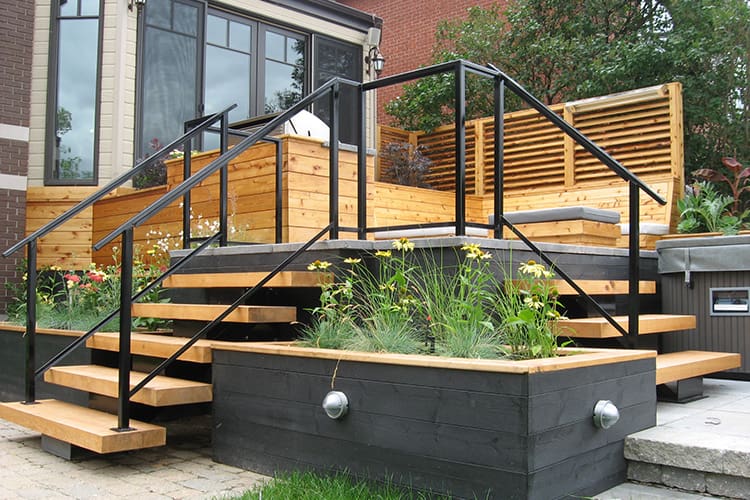 PHOTO: MONTREAL OUTDOOR LIVING
5. Porcelain Tile Outdoor Stairs
Porcelain tile is a common exterior flooring material made from a mixture of natural clay, sand, and other minerals like feldspar baked at a high temperature (up to 760˚C). This type of tile is often used for paving slabs and it is low-maintenance and high performance.
Porcelain is also scratch resistant, waterproof, and more durable than stone. An outside stair design with porcelain tile can give your home exterior a sleek and contemporary edge.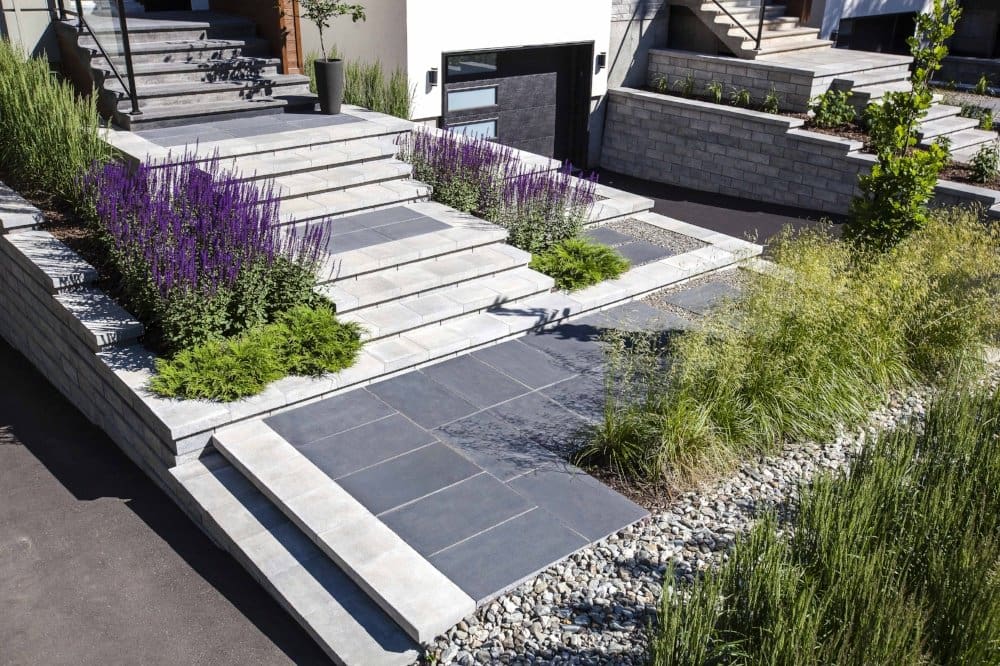 PHOTO: TECHO BLOC
6. Aged Granite Outside Stairs
Granite is a type of hard igneous rock made from a mixture of feldspar, quartz, and mica. It is the oldest form of igneous rock in the world and becomes even harder with age. Aged granite is favored for its country-chic and old-world appeal.
It is a great choice for use in exteriors because of its weather-resistance minerals. This type of stairs can give your outdoors a new character and charm.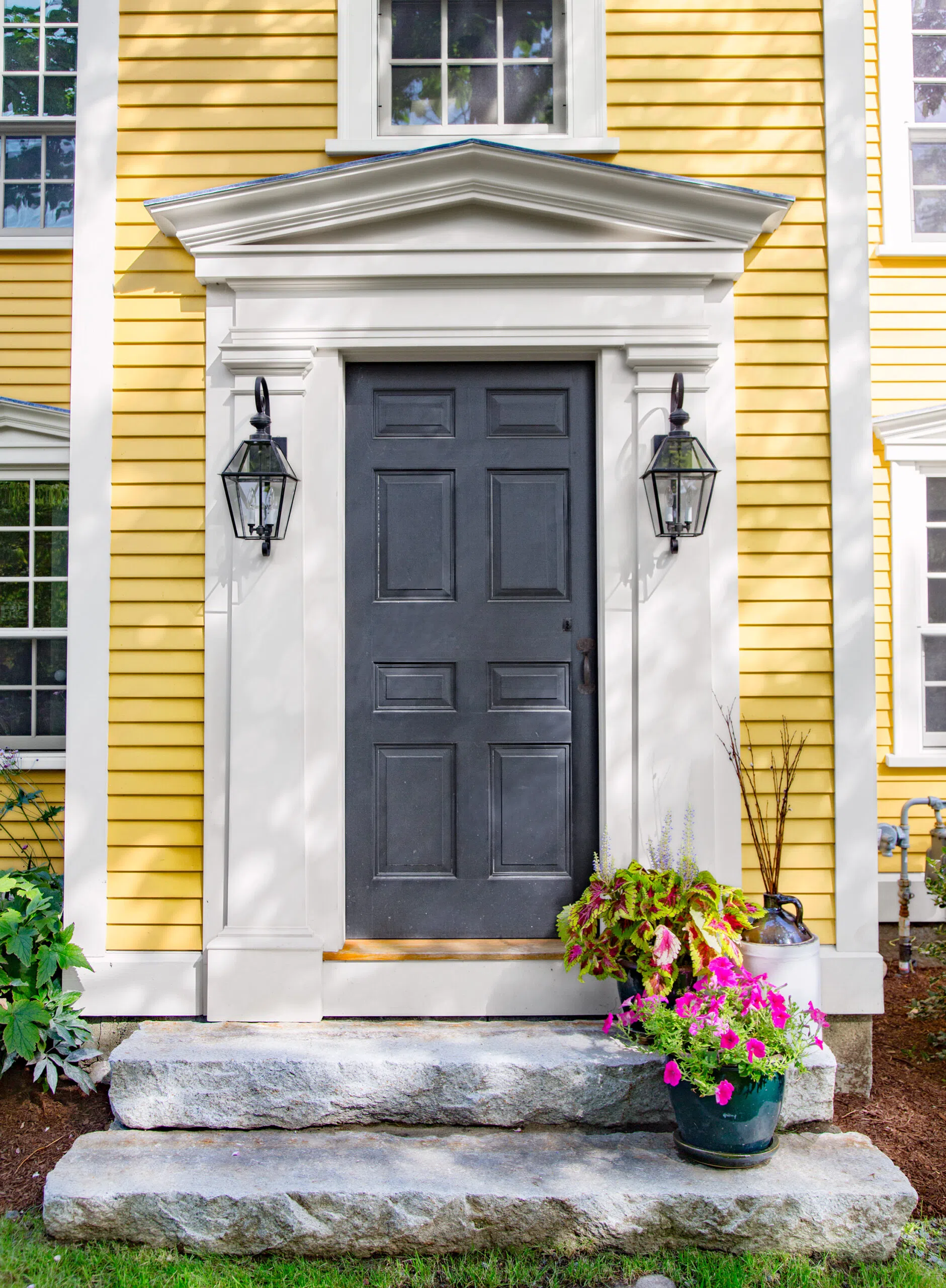 PHOTO: ERIC ROTH
7. Gravel and Reclaimed Wood Garden Stairs
The possibilities are endless when it comes to stairs design for outdoor gardens. Using material simply makes sense in a space like this. You can rocks and aged wood to create stairs in sloppy areas or raised areas of ground. These materials are highly durable and will seamlessly blend in with other elements in the garden.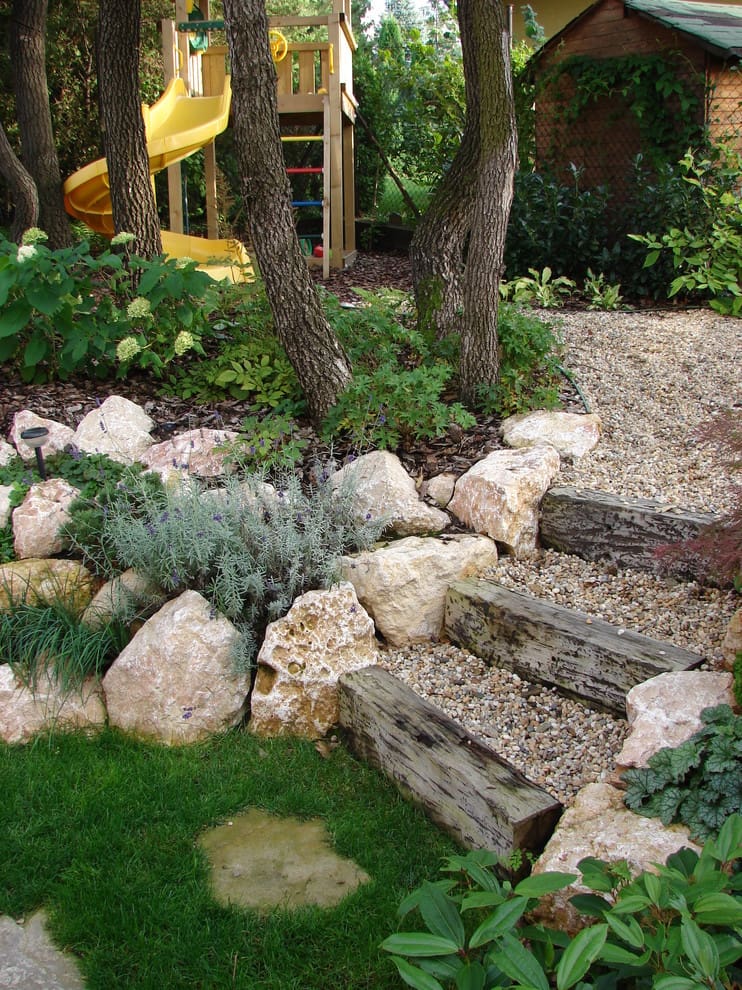 PHOTO: EXCLUSIVE EDEN LANDSCAPING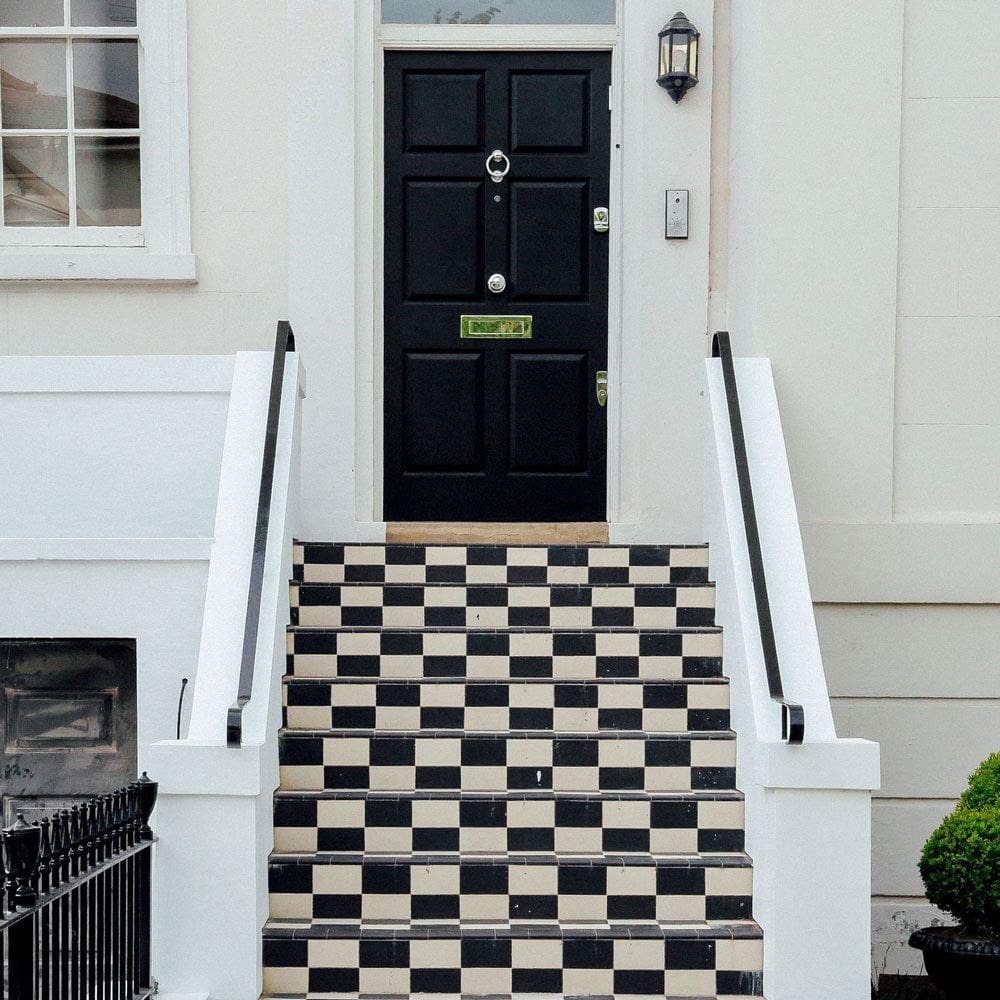 PHOTO: WAYFAIR
9. Painted Wooden Outside Stairs Design
The beautiful thing about a wood outdoor stairs design is that it can be painted to fulfill your aesthetic preferences. Over time, wood may start to show signs of wear, but a fresh coat of paint can instantly bring wooden stairs back to life— making it look as good as new. Plus, whenever you change your home exterior design, you can alter the color of the stairs to complement it.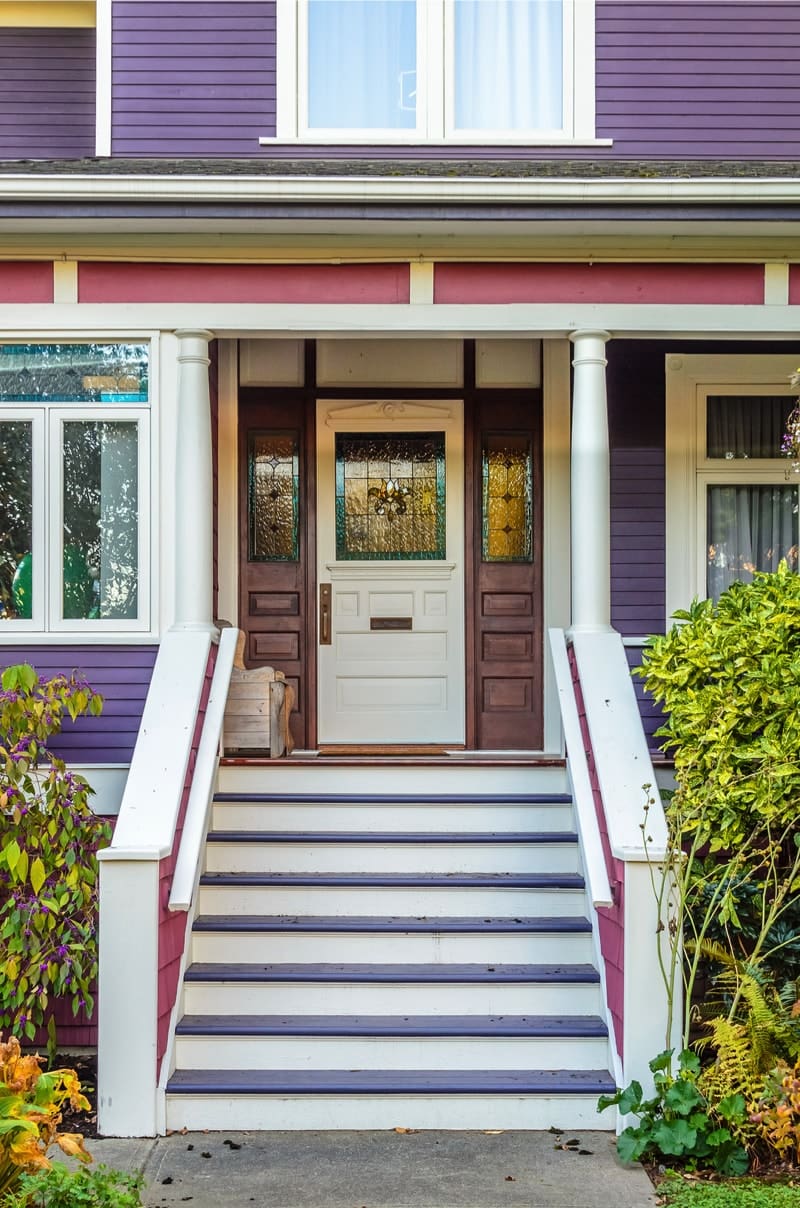 PHOTO: INSPIRED HOME IDEAS
10. Outdoor Staircase Lighting
The outdoor staircase lighting is great for making your property visually interesting. Although, it is not purely decorative as it improves staircase safety at night time. Accidents such as slipping or falling could be caused by shadows and dark areas. With a beautiful design and implementation, staircase lighting will give your property an inviting ambiance.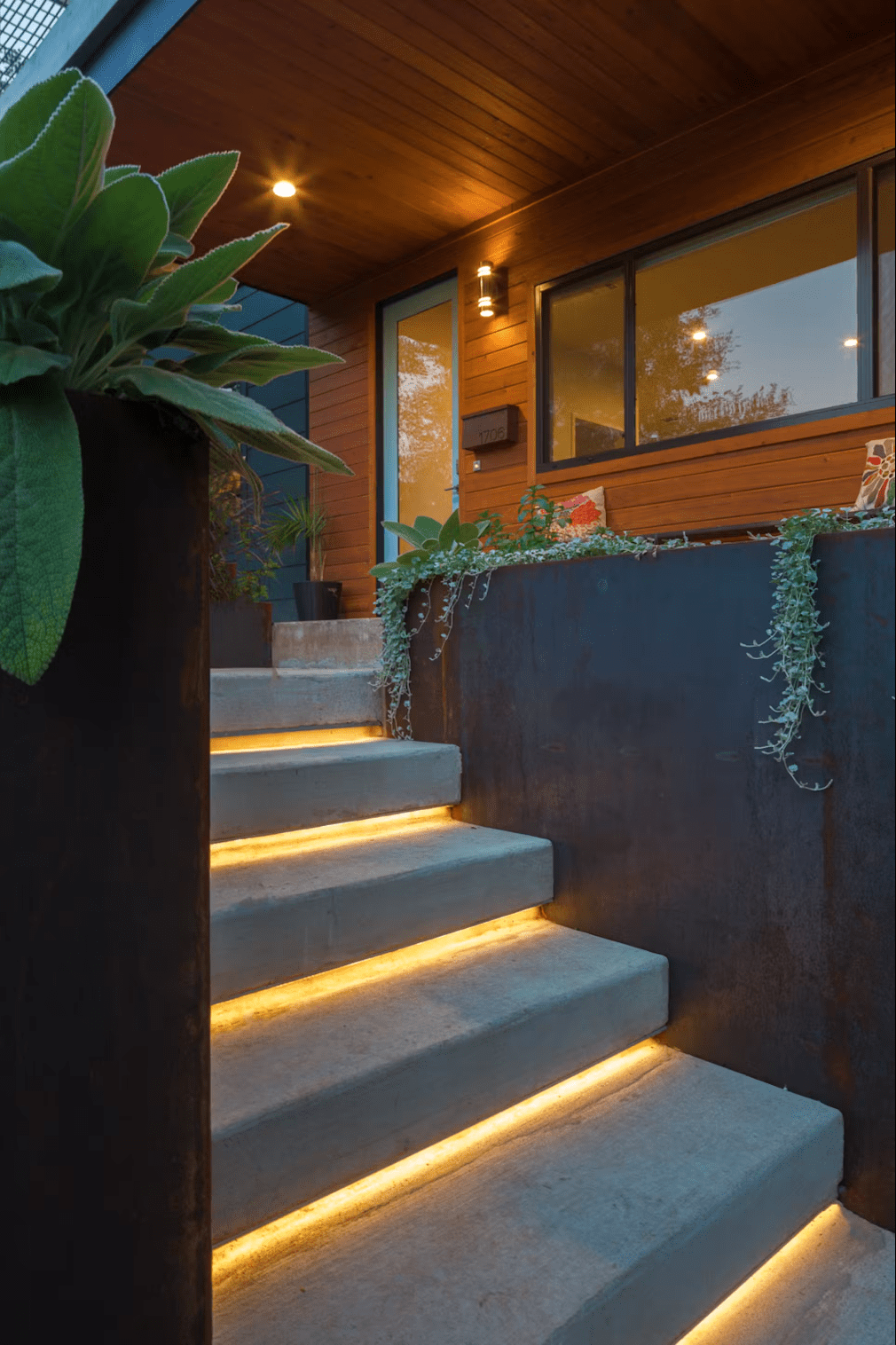 PHOTO: DAVEY MCEATHRON ARCHITECTURE 
11. Brick Stone Outside Stairs Design
Highly durable and functional are just two words to describe brick stone exterior stairs. Compared to wood steps, brick steps can hold up to the weather and frequently use. Brick steps are excellent for creating rustic or classic aesthetics. This type of outdoor stairs design is an excellent way to add visual interest to a property.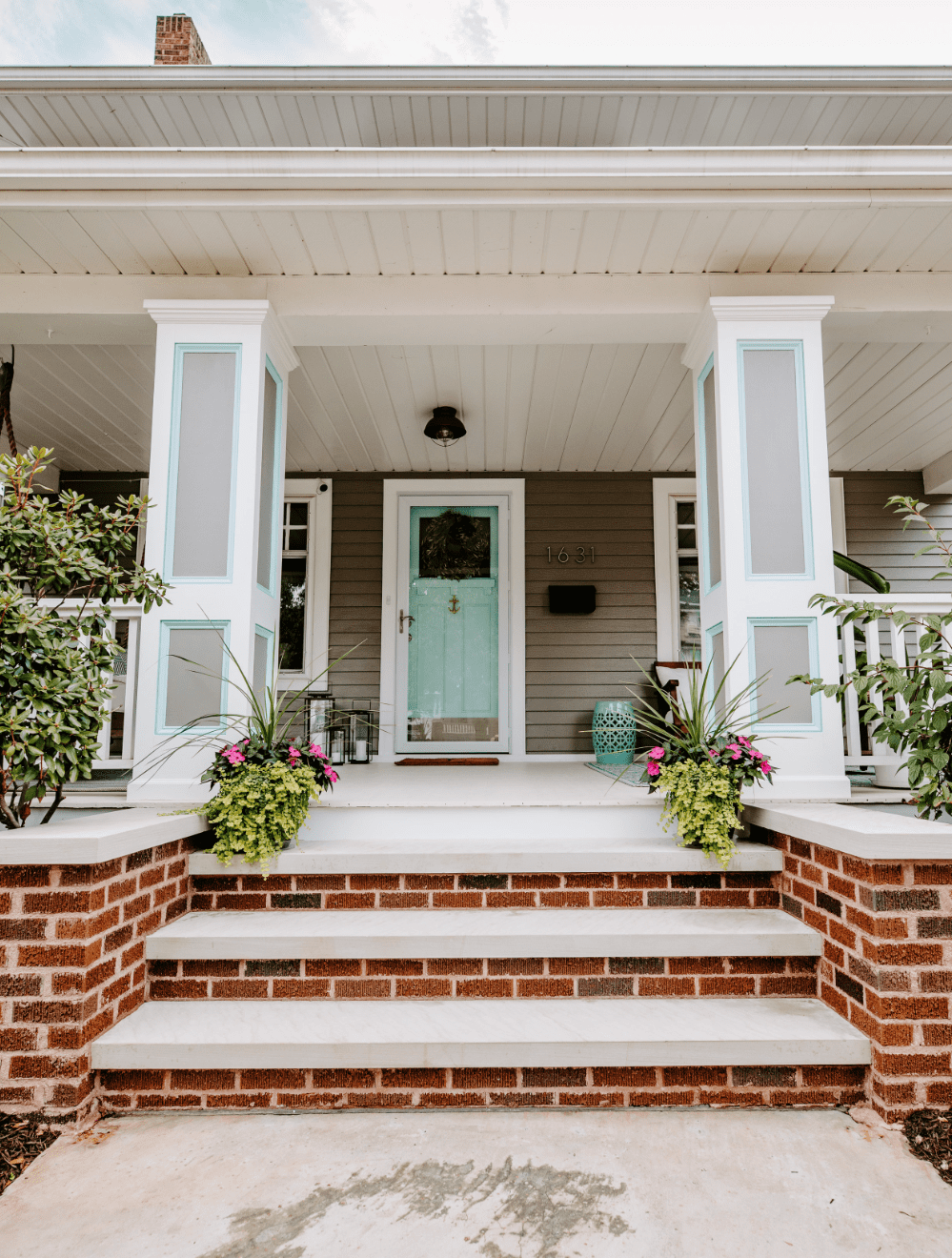 PHOTO: SHORE SOCIETY/ TIFFANY JONES PHOTOGRAPHY  
12. Painted Outdoor Stairs Runner
Give a home's front yard a dramatic and sophisticated appeal. The painted stairs runner outside packs a big punch and will easily catch the eyes. This design will make your property inviting and stand out from your neighbors. Semi-gloss paint is the ideal paint for this outdoor stairs design project because it gives a hard, stain-resistant finish.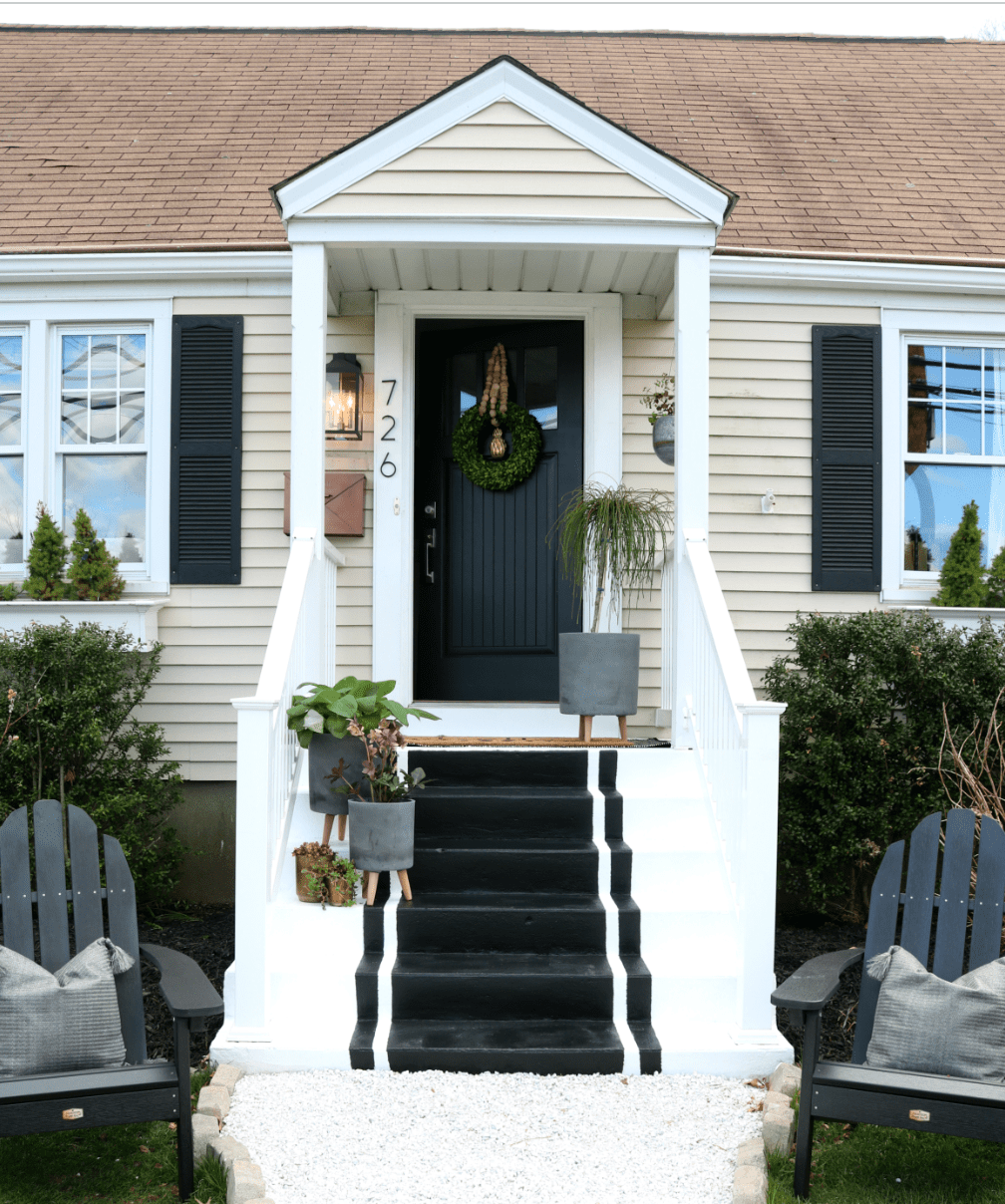 PHOTO: NESTING WITH GRACE
13. Outdoor Spiral Stairs
Spiral stairs give a grandeur look to both interior and exterior spaces. Other than aesthetics and durability, the advantage spiral staircases have over linear ones is that they do not take up a lot of space. It leads straight to the upper floor. Due to its height, it is often suited for big buildings and the backyard and not typically for front door entrances.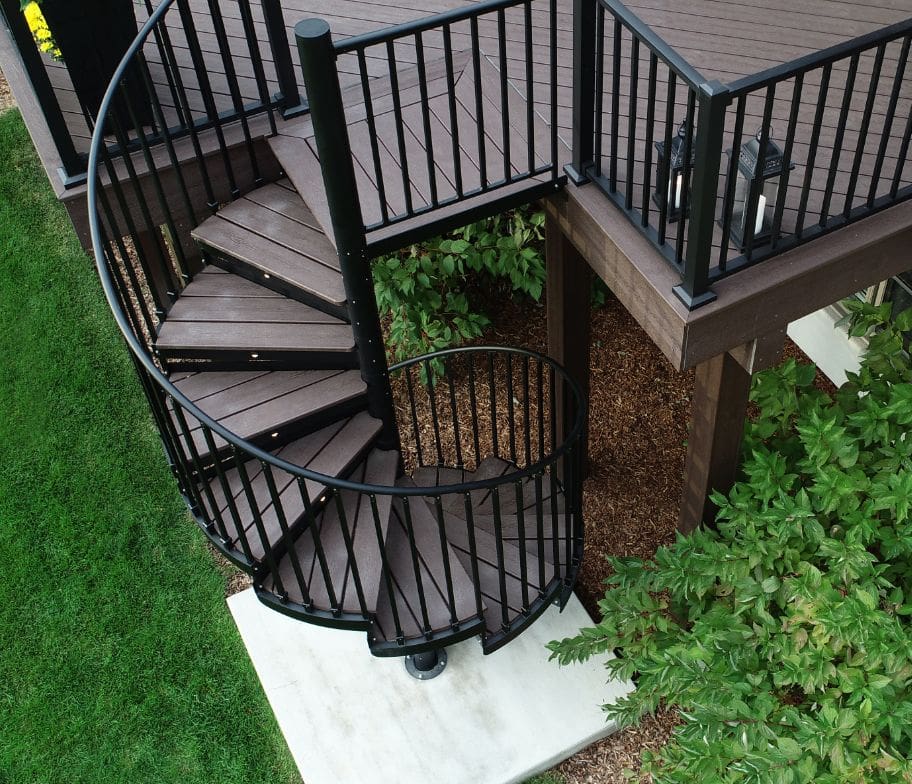 PHOTO: THE IRON SHOP
14. Red Stone Stairs with Mosaic Riser
Red stone is a very popular outdoor stairs material thanks to its stain-resistant and sophisticated finish. It is the perfect addition to any outdoor area. When used with a mosaic riser, it creates a beautiful contrast. Natural elements like red stone bring a sense of tranquility and warmth to a space.
PHOTO: KARYN MILLET
15. Curved Outside Stairs Design
A curved shape staircase brings a dynamic design to an exterior space. Curved stairs also follow a helical arc, similar to spiral steps. This style of staircase is suited for both the front yard and backyard of a property.
PHOTO: RENOVATION DESIGN GROUP 
16. Matching Exterior Outside Stairs Design
An outdoor stairs design that complements your home's exterior is often the most eye-catchy approach. This creates a harmonious transition throughout. Think about the design or color of your front door, siding, or roof, and incorporate it into the staircase.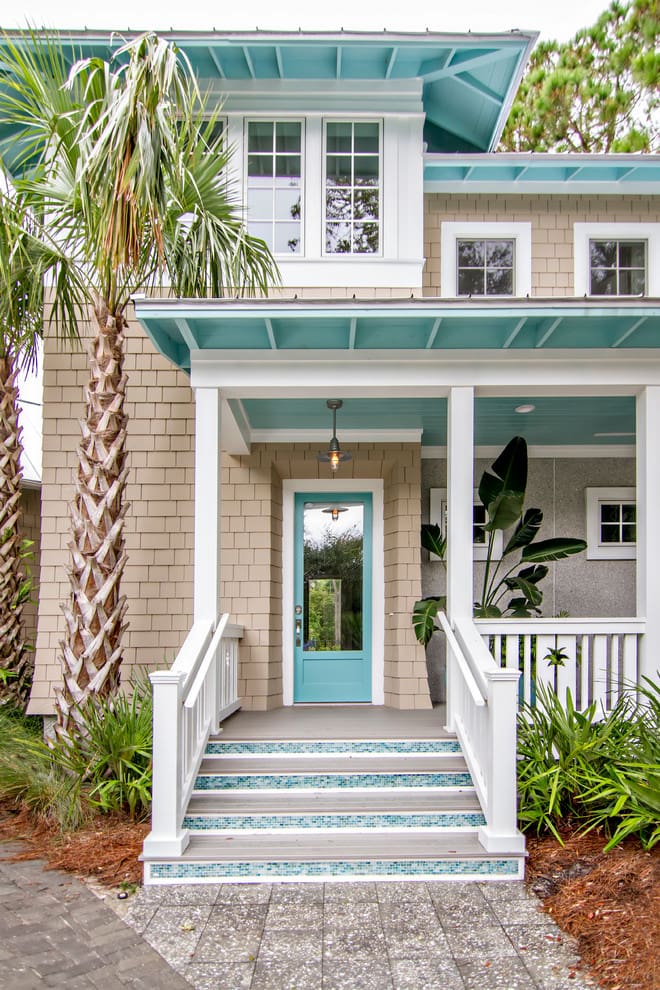 PHOTO: GLENN LAYTON HOMES 
Pin this post to save for later!