Tired of plain bland ceilings? You're not alone! We've curated 25 stunning but simple ceiling designs for bedrooms that you'll immediately want to steal. 
Bedroom design trends are ever-shifting. There is an endless array of design ideas that can make a major impact on your bedroom. The first thing most people think of when designing a bedroom is the color scheme, how to style the walls, and where to place the furniture.
The ceiling often gets the least attention during a remodel. We have seen the conventional white plain ceiling over and over again, but many people are starting to look for stylish ceiling design ideas to elevate the aesthetics of their bedrooms.
Whether you're planning to revamp your bedroom or design a new one from scratch, adding a striking or even subtle design can add a touch of pizzazz to the space.
From ceiling beams and suspended ceilings to a simple lick of paint, we curated genius ceiling ideas to complement any home style and give it a sophisticated edge.
So, without further ado, take a look at these incredible simple ceiling designs for bedrooms!
1. Green Painted Ceiling
Green is an enormously popular color for interior spaces because it is nature's most associated hue. Unsurprisingly, interior experts consider green to be the most ideal hue for bedrooms.
This refreshing color is known to boost relaxation and evoke powerful emotions. If you're looking for ceiling paint ideas for the bedroom, consider green– especially shades like mint, moss, olive, and sage green.
PHOTO: PINTEREST
2. Ceiling Rose and Cornice
A ceiling rose is a decorative element that can add sophisticated beauty to a space. Its primary function is to encase the cable and it serves as a light-fitting support.
Cornices, on the other hand, are designed to aid a visually attractive transition or conceal unsightly joints between the wall and ceiling. Ceiling roses offer beauty and style to your bedroom and are perfect for spaces with coving or cornices.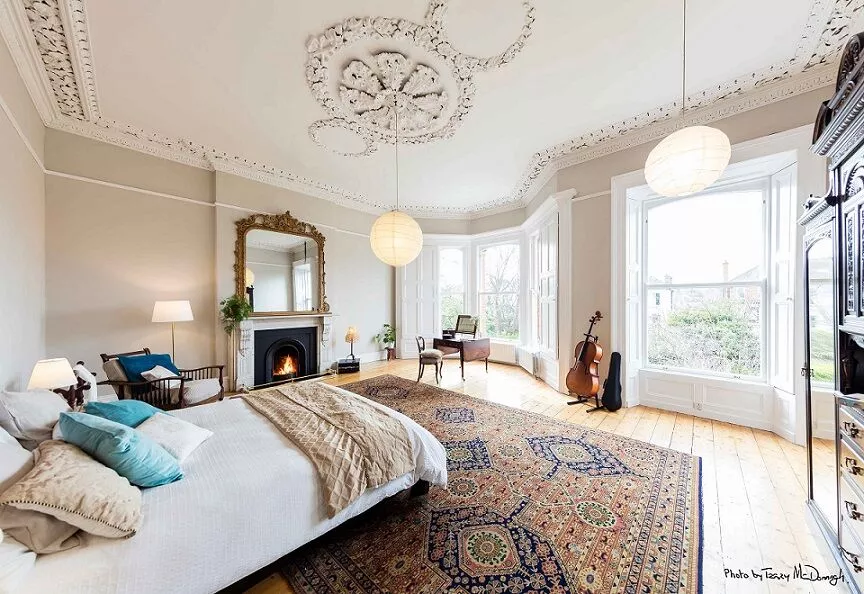 PHOTO: TZAZY MCDONNGH
3. Charcoal Black Bedroom Ceiling
Black is the new neutral! In the interior world today, black accent walls are bang-on-trend. Black is a timeless hue that can add drama, impact, and sophistication to space. A charcoal black painted ceiling is a simple yet impactful way to add a touch of drama to your bedroom.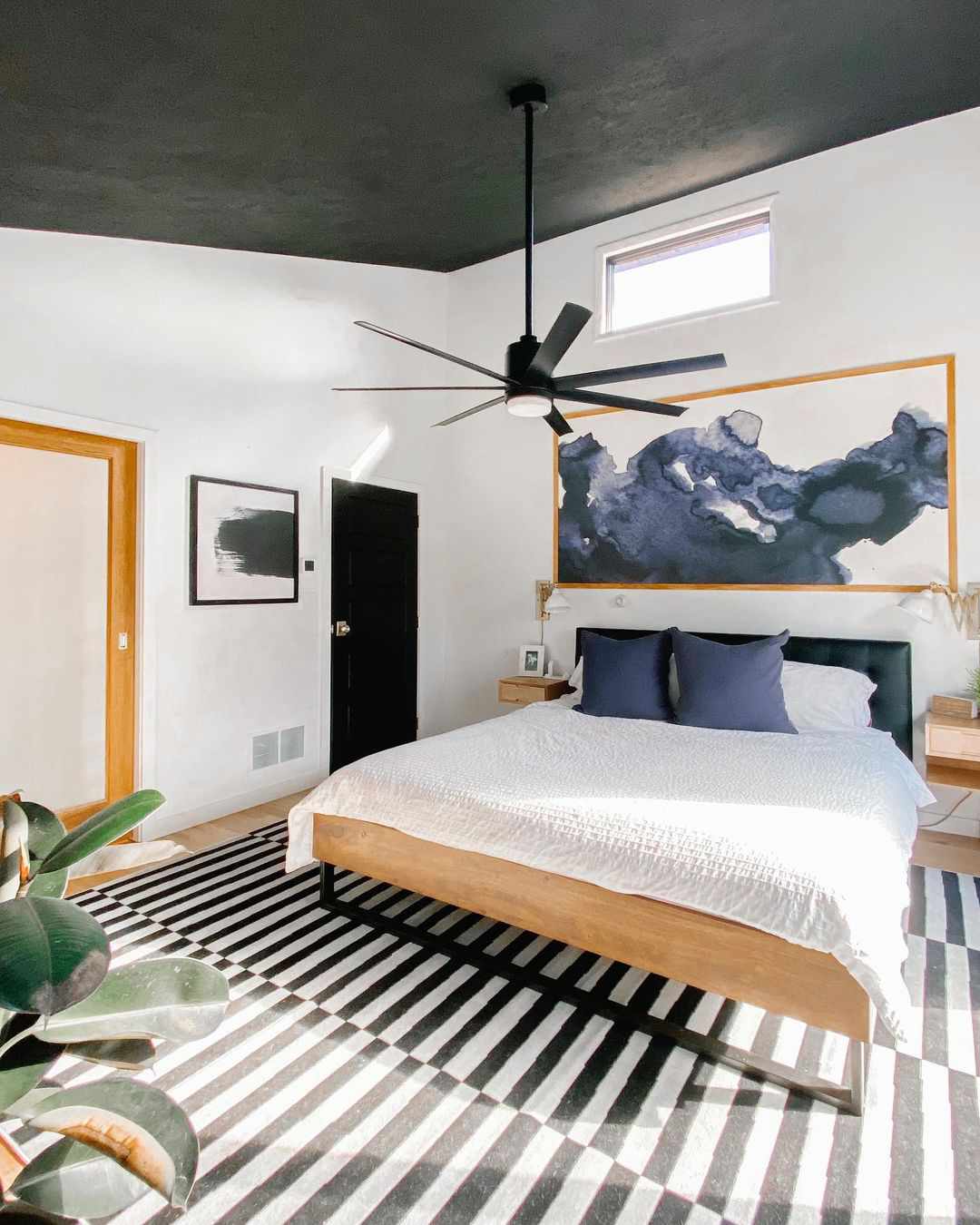 PHOTO: INSTAGRAM @OURMODERNHOME
4. Partial Wall to Ceiling Paint
The idea of painting the entire ceiling can potentially overwhelm the space. The bedroom should be a restful space and some colors are simply not ideal for the bedroom ceiling.
A simple way to incorporate a strong color into the ceiling is to paint only a portion of the ceiling – using the same paint color as the wall. Check out this article for wall paint design ideas with tape!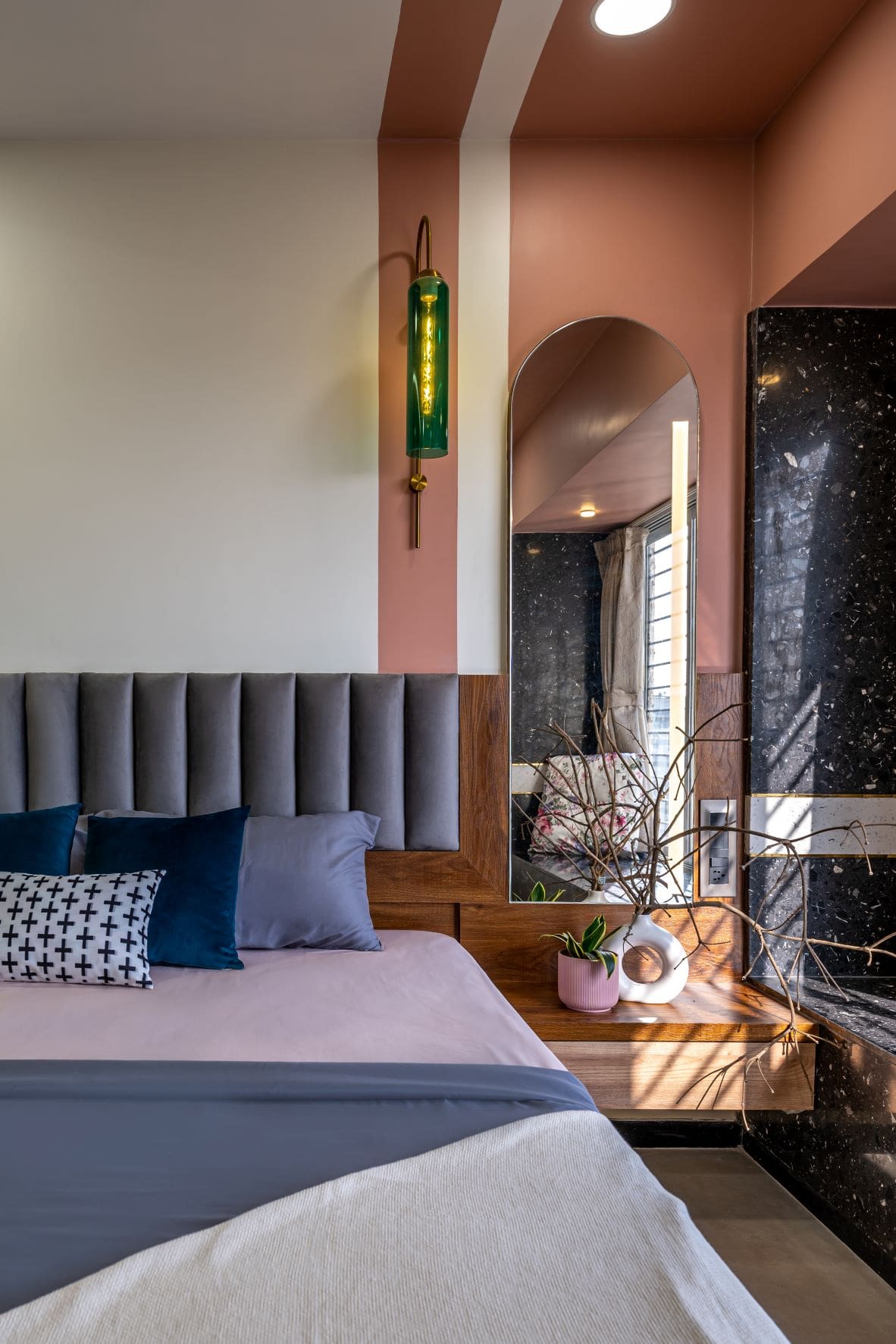 PHOTO: INTERIORLOVER.IN
5. Bedroom Ceiling Wallpaper
Wallpaper is a characterful alternative to paint. It adds a dynamic element to a space and it is a genius idea for the bedroom ceiling. They can be in an array of patterns, colors, and textures to complement any home. Plus, wallpapers can last up to 15 years, making them much more durable than paint.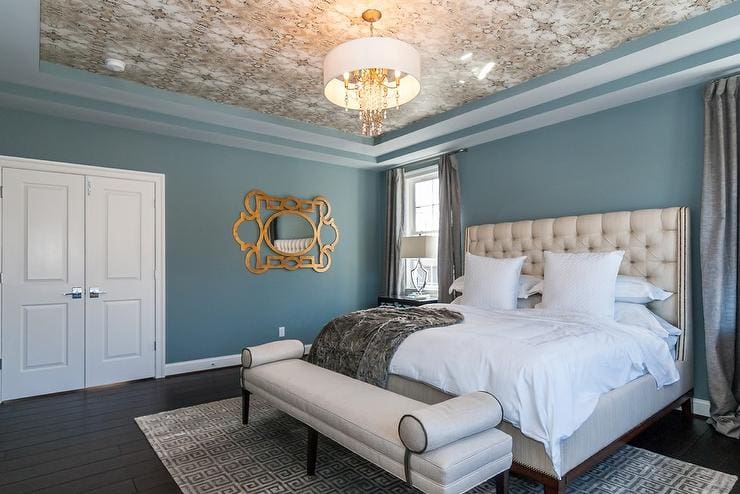 PHOTO: DECOR PAD

6. Pop of Emerald Green
Painting your bedroom ceiling can instantly transform the look and feel of the space. It is crucial to choose a paint color that not only complements your interior but is also ideal for a ceiling. Emerald green is an alluring jewel-toned color that conveys a strong sense of opulence, elegance, and style.
PHOTO: AMY LIND 
7. Wood Bedroom Ceiling
What better way to bring in a sense of warmth and comfort in the bedroom than using wood for the ceiling? Wood is a widely used material that adds warm and rustic charm to space. In addition to adding a touch of nature to a space, it also provides a beautiful contrast.
PHOTO: SARA LIGORRIA TRAMP 
8. Exposed Wood Beams
Exposed beams in an elevated ceiling or vaulted ceiling have several benefits. It can create architectural interest in the space and make an attic even cozier.
Exposed beam ceilings evoke memories of bygone eras, of a leisurely, uncomplicated, and down-to-earth period. This type of ceiling is commonly seen in farmhouses, country homes, and rustic-styled homes.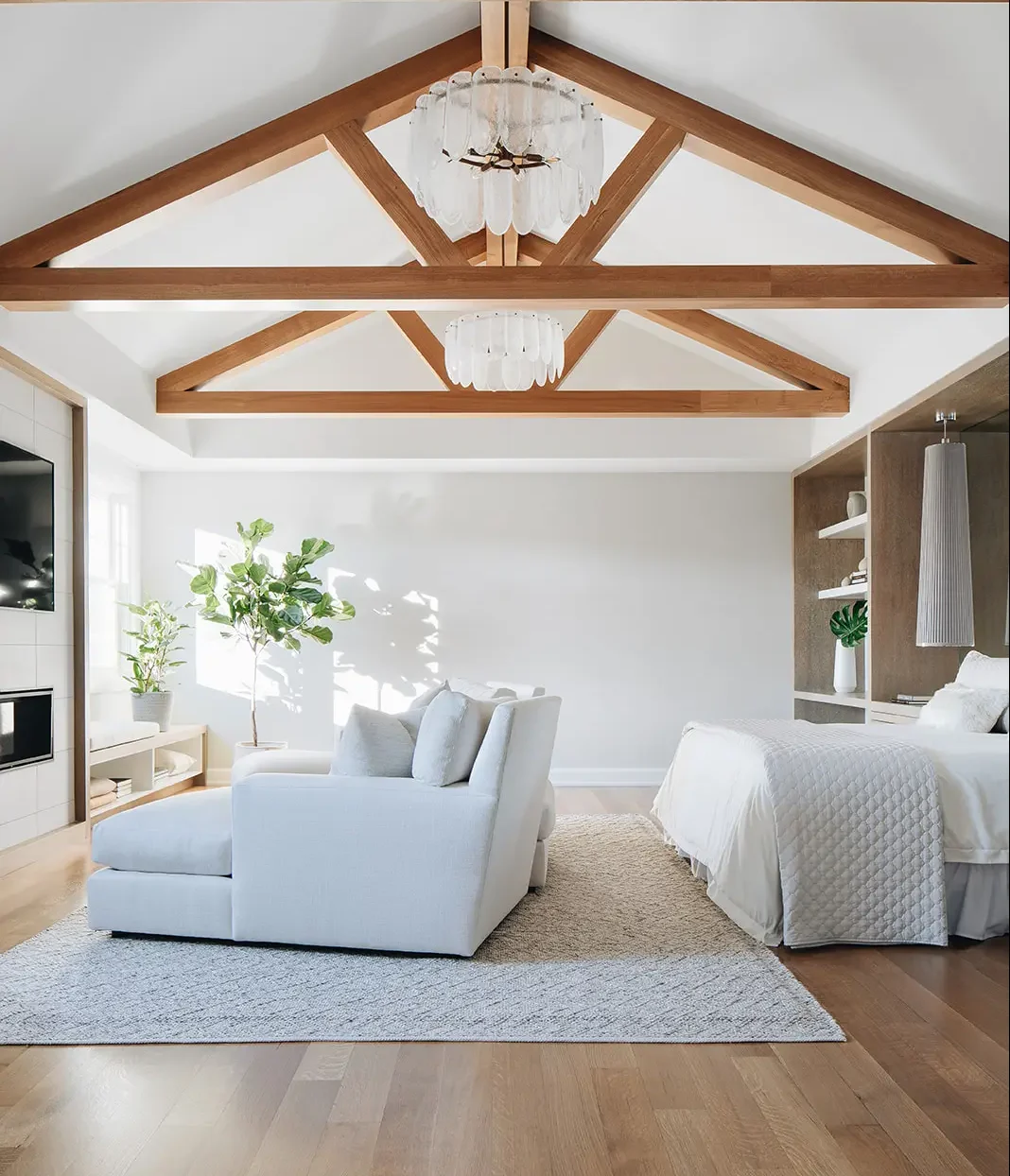 PHOTO: AMY STORM & CO
9. Reclaimed Wood Exposed Beam
Reclaimed wood is wood with a past. It adds a perfect rustic touch and enhances the feel of coziness in the space. Using reclaimed wood for an exposed beam will make the space feel lived-in and characterful.
What makes reclaimed wood one of the best simple ceiling designs for bedrooms is that it can enhance and complement any design style under the sun.
PHOTO:  MARTHA O'HARA INTERIORS 
10. Painted Bedroom Suspended Ceiling
A suspended ceiling, also known as a false or dropped ceiling, is a secondary ceiling hung below the main ceiling through particular hooks. A room with suspended ceilings has a lower ceiling height, which reduces the amount of space that needs to be heated.
False ceilings can also be designed in a plethora of ways to serve a room's central showstopper or focal point. They can be beautifully painted to complement your interior scheme.
PHOTO: COURTNEY BISHOP
11. Layered False Ceiling
False ceilings can be utilized for a number of reasons. Layering a false ceiling is a clever technique to give a sense of height to the room. This also adds visual uniqueness and contributes to the wholeness of the design.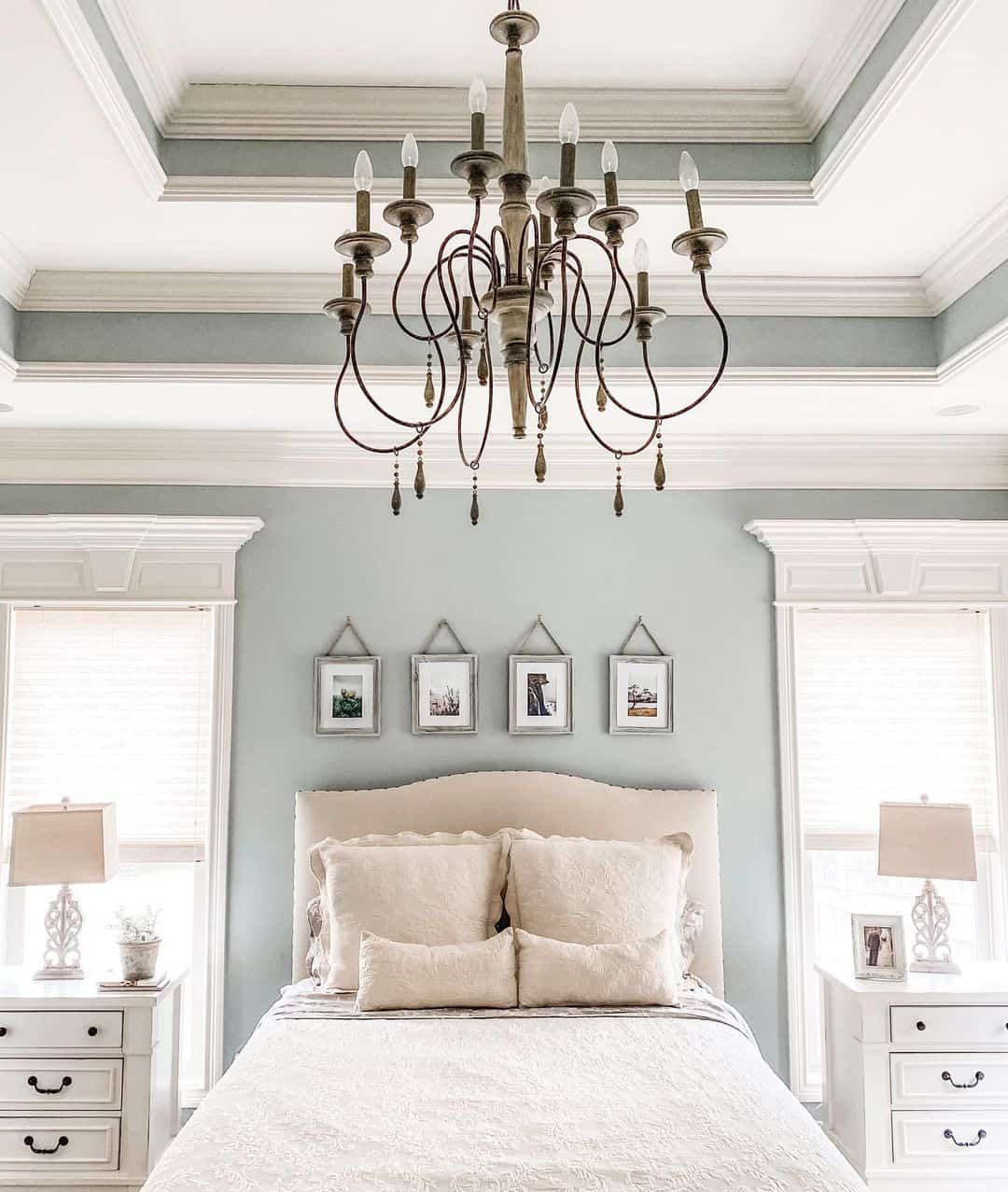 PHOTO: DECORFORMYCALAMITY
12. Simple Tray False Ceiling
A tray ceiling is one of the most popular simple ceiling designs for bedrooms. It is considered a minimalist yet stylish approach to ceiling design. A simple tray ceiling is a surefire way to add visual depth and architectural interest to your bedroom. This type of ceiling also adds a perceived sense of height in interior spaces.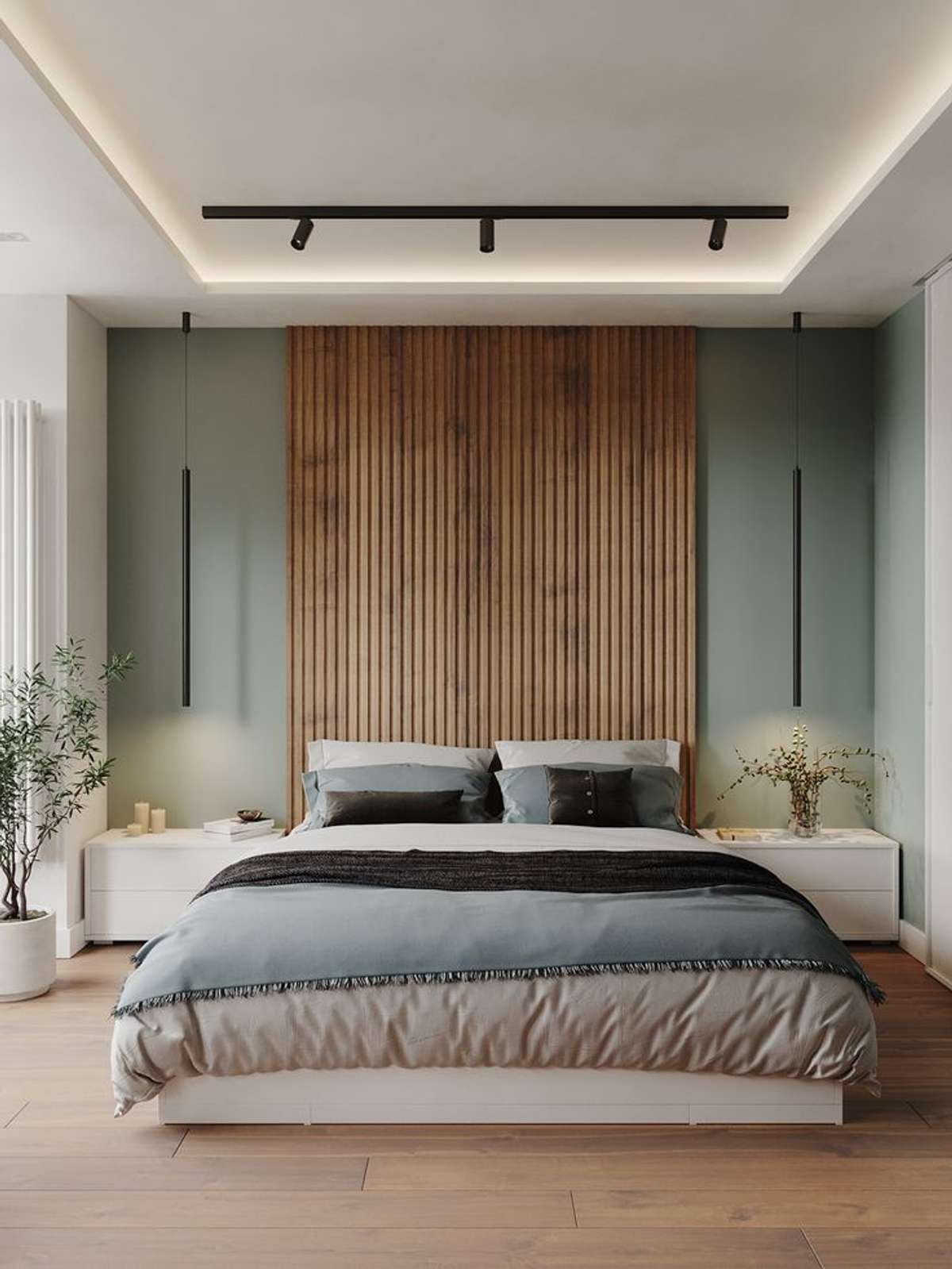 PHOTO: NATIVE ASSOCIATES DESIGN
13. POP and Wood Ceiling Combo
A POP (Plasters of Paris) ceiling is a popular type of suspended ceiling made with a hard substance Gypsum. It is called Plaster of Paris because this type of gypsum is found near Paris.
The POP ceiling makes a great addition to contemporary homes. When a modern simple POP ceiling is combined with a wood ceiling, it adds a perfect contemporary feel and warm accent to the space.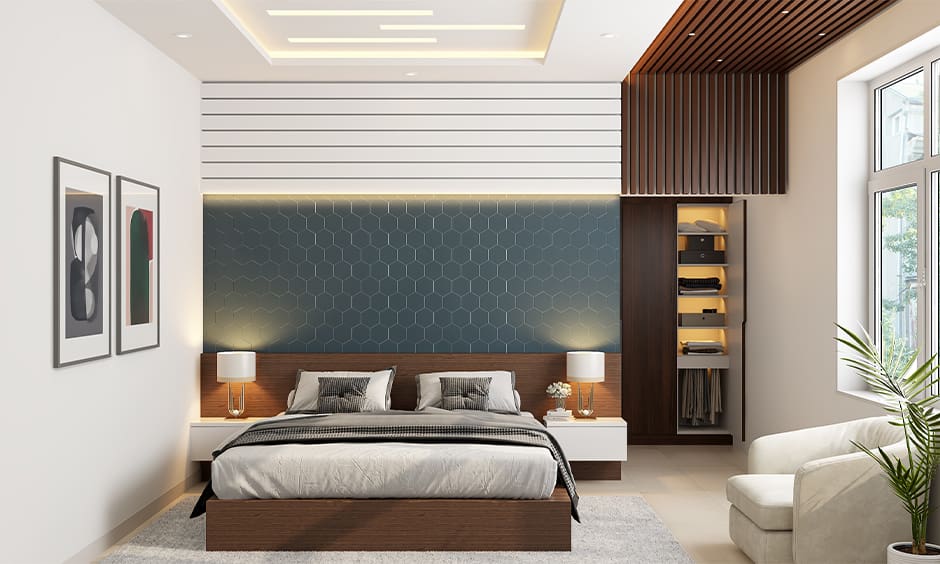 PHOTO: DESIGN CAFE
14. POP Ceiling with Metallic Trim
A home's many aspects can be seamlessly transitioned by using a metallic trim. This type of trim adds a touch and elegance and modernity to a POP ceiling. A metallic trim edging is a simple way to elevate an otherwise plain POP ceiling design.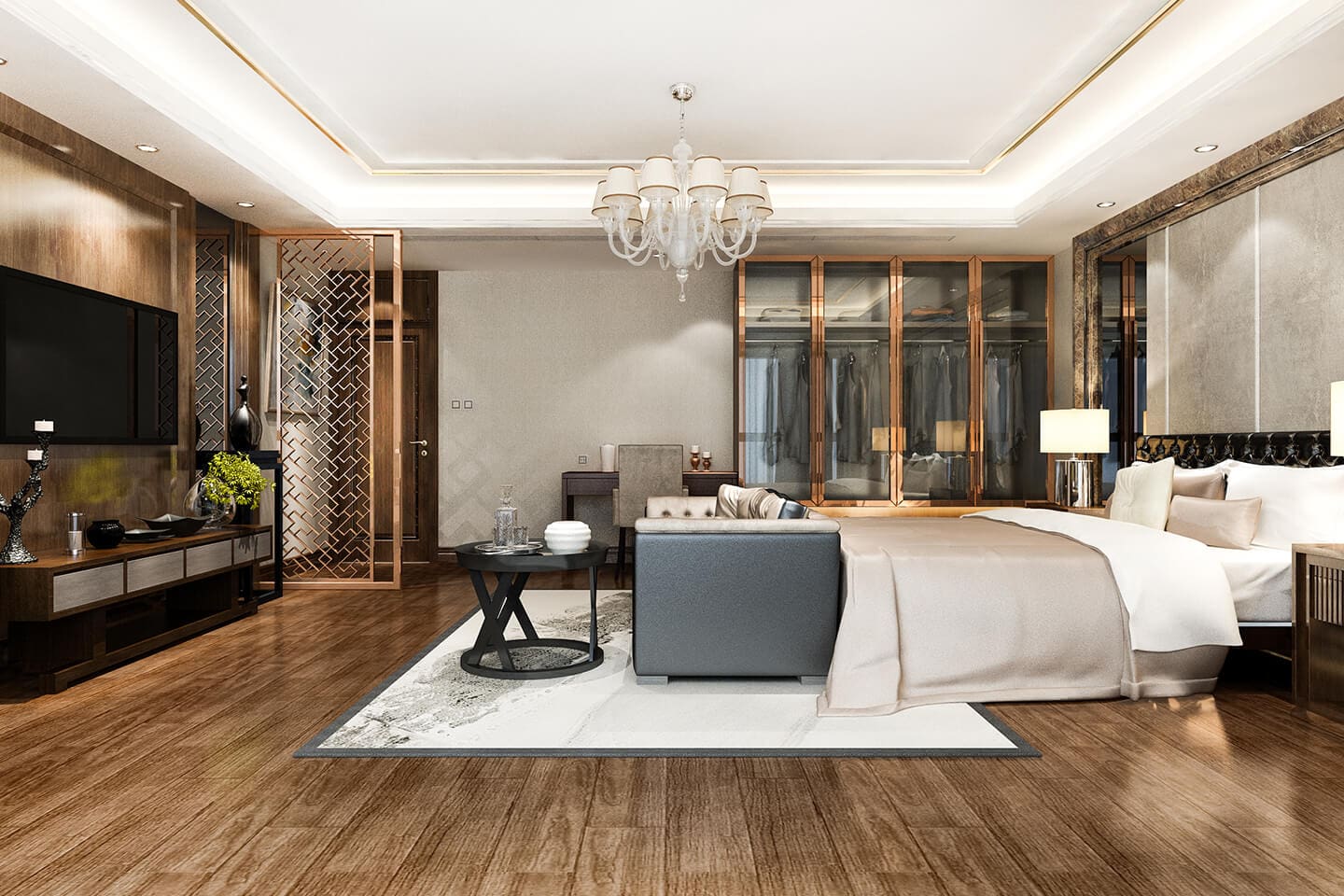 PHOTO: PINTEREST
15. Coffered Ceiling
In the context of architecture, a "coffer" is a sunken panel in a ceiling created using a series of beams. Coffered ceilings are designed to draw one's eye upward. It makes an eye-catchy addition to a space while providing an illusion of height.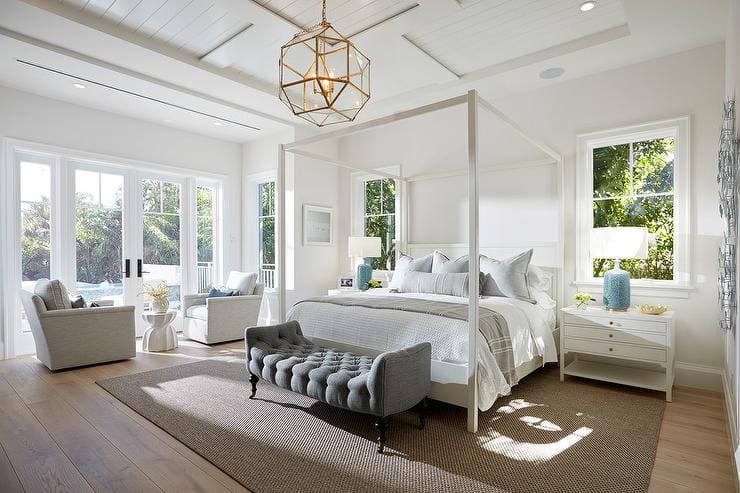 PHOTO: LINDA SONDERS DESIGN
16. Tray Ceiling with Wood Edging
We previously mentioned how a tray ceiling can give your bedroom an aesthetic flair but they can also be designed to add an extra zing to a space. One clever way to do this is wood edging. This adds a unique twist to it and makes the ceiling pop.
PHOTO: LIVING STONE DESIGN & BUILD
17. Simple Modern Vertical Panel
Vertical paneling is one of the most ideal and simple ceiling designs for bedrooms, particularly modern spaces. It is commonly used to add aesthetic beauty to interior walls, ceilings, and even room partitions. Not to mention that it is one of the easiest techniques to heighten your bedroom wall.
PHOTO: PINTEREST
18. Illuminated POP Ceiling
The beauty of a POP ceiling design can be highlighted and enhanced with LED lighting. It emits a warm glow that can instantly liven up your bedroom. LED lighting is also practical in the sense that will provide a gentle illumination to your space – leaving a grandeur outlook to it.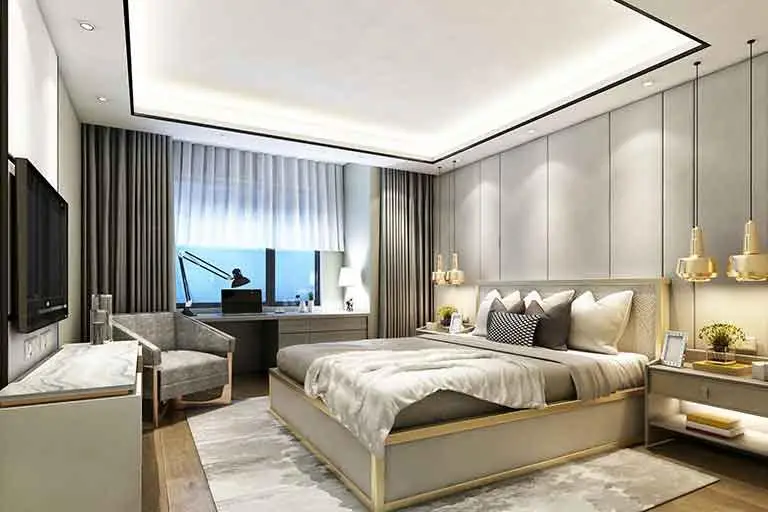 PHOTO: PINTEREST
19. Matching Wall and Ceiling
For a daring sleeker look, match your wall and ceiling. This seamless transition will add zest and character to your bedroom. This approach can enhance the coziness of the space while concealing the uneven transition line at the slope. To avoid the space feeling overwhelmed, use neutral colors or pastel shades.
PHOTO: ANNIE SCHLECTER
20. Vaulted Bedroom Ceiling
A room with vaulted ceilings draws the eye upward and emphasizes the heightened ceiling and enormous amount of open space, which gives the impression that the space is bigger and airy. A vaulted bedroom ceiling gives the space a grandeur and a magnificent feel.
PHOTO: LINDSAY SALAZER
21. POP Ceiling to Wall Extension
Take aesthetic advantage of the POP ceiling by extending it to the wall. This is a common way to highlight and draw interest to the bed. It serves as the ultimate focal point that can instantly take a room from drab to fab. This POP design idea is a common way to bring the wow factor to a contemporary bedroom.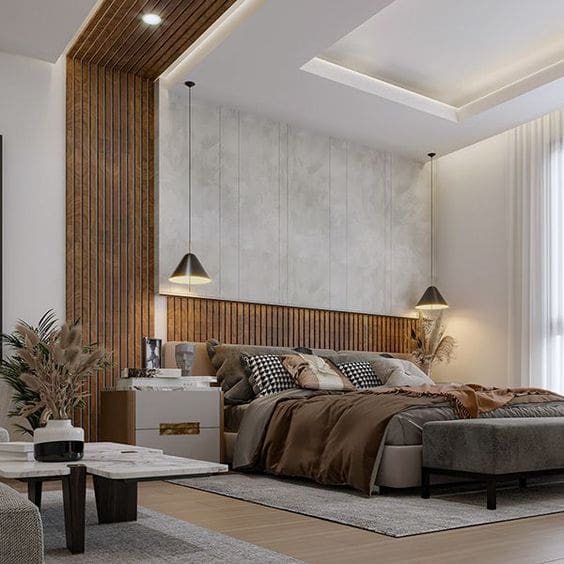 PHOTO: PINTEREST
22. Painted Ceiling Beam
Exposed ceiling beams are attractive elements in the design. To take things up a notch, rather than leaving the wood bare, paint it up! You can use introduce a new color to add a punch to the color scheme or simply match it to your existing color scheme. This approach is the perfect combination of rusticity and modernity.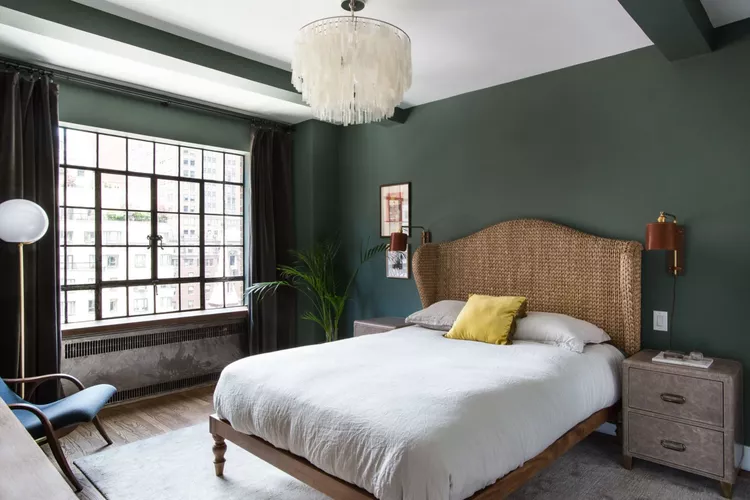 PHOTO: HOMEPOLISH
23. Circular False Ceiling
The circular or rounded false ceiling shape will give your bedroom a sophisticated edge. It gives the right balance between simplicity and drama. This is one of the simple ceiling designs for bedrooms that rises above fickle trends. To give a unique twist to this design, paint the cut-out circle to match your room's accent color.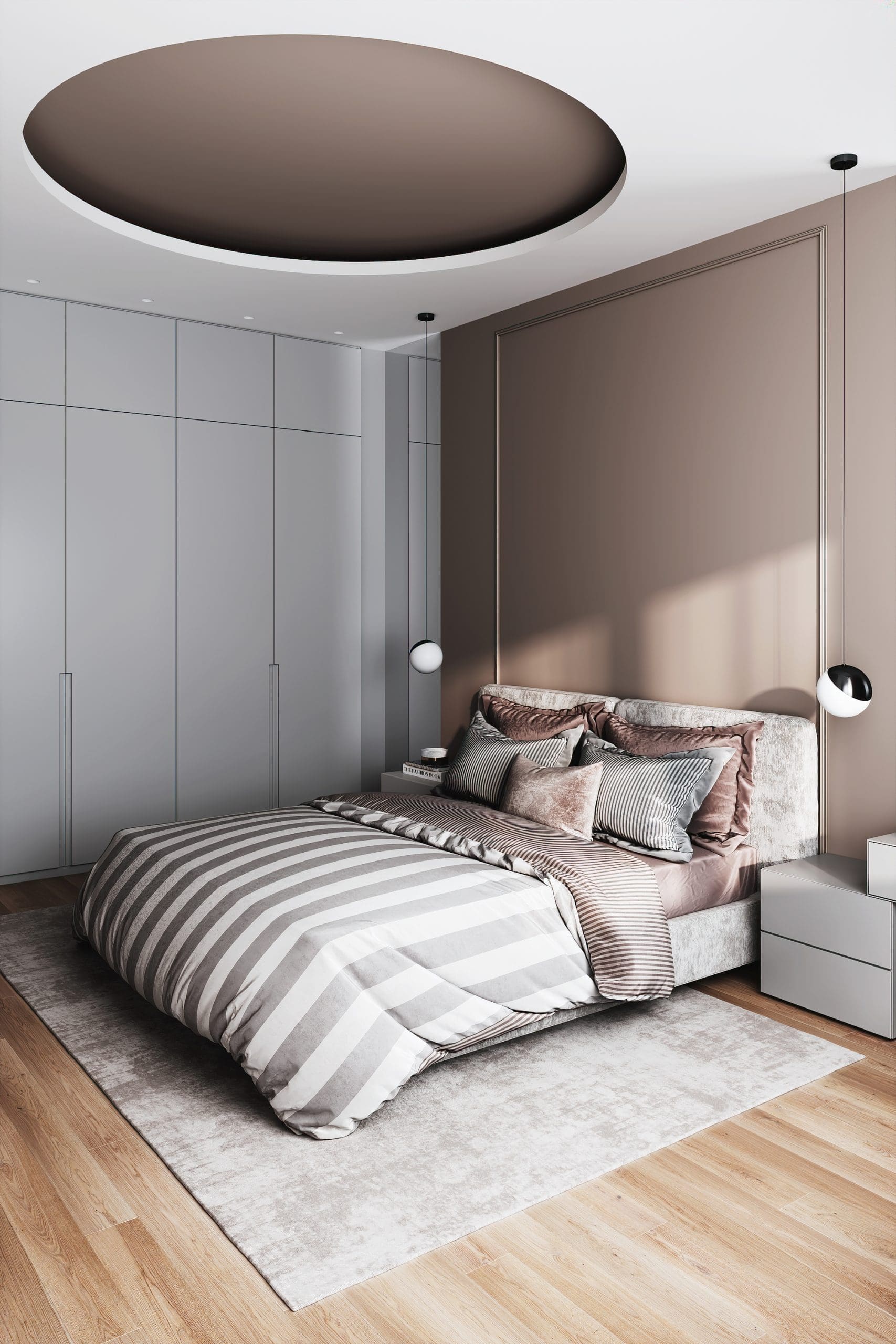 PHOTO: OLEH MOTORIN
24. Industrial-Style Bedroom with Vertical Panels
Although the idea of industrial design style is not new, it has recently gained traction and has become a major trend in interior design. To give your industrial bedroom the perfect modern touch, consider using a vertical wall panel that extends to the roof. This adds an irresistible charm and elegance to the room.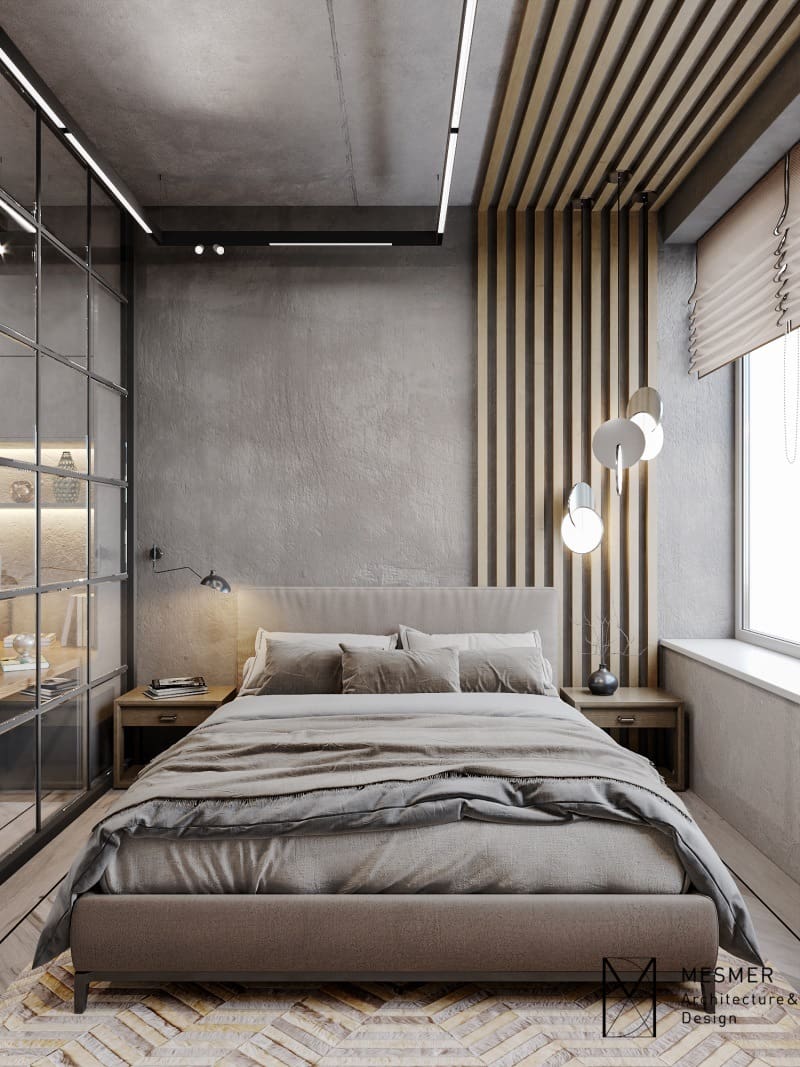 PHOTO: MESMER ARCHITECTURE DESIGN
25. Bedroom Skylight
One of the most popular benefits of a skylight is the abundance of natural light it gives to a space. A skylight reduces the constant need for artificial lighting and can bump up your home value. It also adds a luxurious and contemporary feel to the space.
The major drawback of a skylight is that it is the most expensive ceiling design on our list. Nevertheless, this is one of the most spectacular simple ceiling designs for bedrooms– if your budget allows for it.
PHOTO: STYLE ESTATE