A modern dark green bedroom design is sleep-enhancing and invigorating. Green, by its very nature is a soothing and mood-boosting color. There are many reasons why green is overwhelmingly popular and ideal for interior spaces, especially the bedroom.
Arguably, one of the most versatile and forgiving colors on the spectrum is green. Green is strongly associated with growth, health, renewal, wealth, and freshness. The color green also embodies richness, tranquility, and nature.
There is a plethora of green shades to consider but the most subtly striking is dark green. The timelessness of dark green is what makes it a designer go-to. In the bedroom, dark green it be used to create a classic-yet-modern aesthetic. This alluring hue evokes a sense of visual calm and a soothing ambiance.
In this article, we have curated 34 modern dark green bedroom ideas that can make a real impact and add liveliness to any bedroom.
Prepare to be inspired!
1. Use Brown Accents
A green and brown two color combination for a bedroom yields an easy contrast. These are two colors found in nature and they help to promote relaxation. Dark green and black go together like a bushel and a peck. Plus, this duo makes a room feel cozy and warm.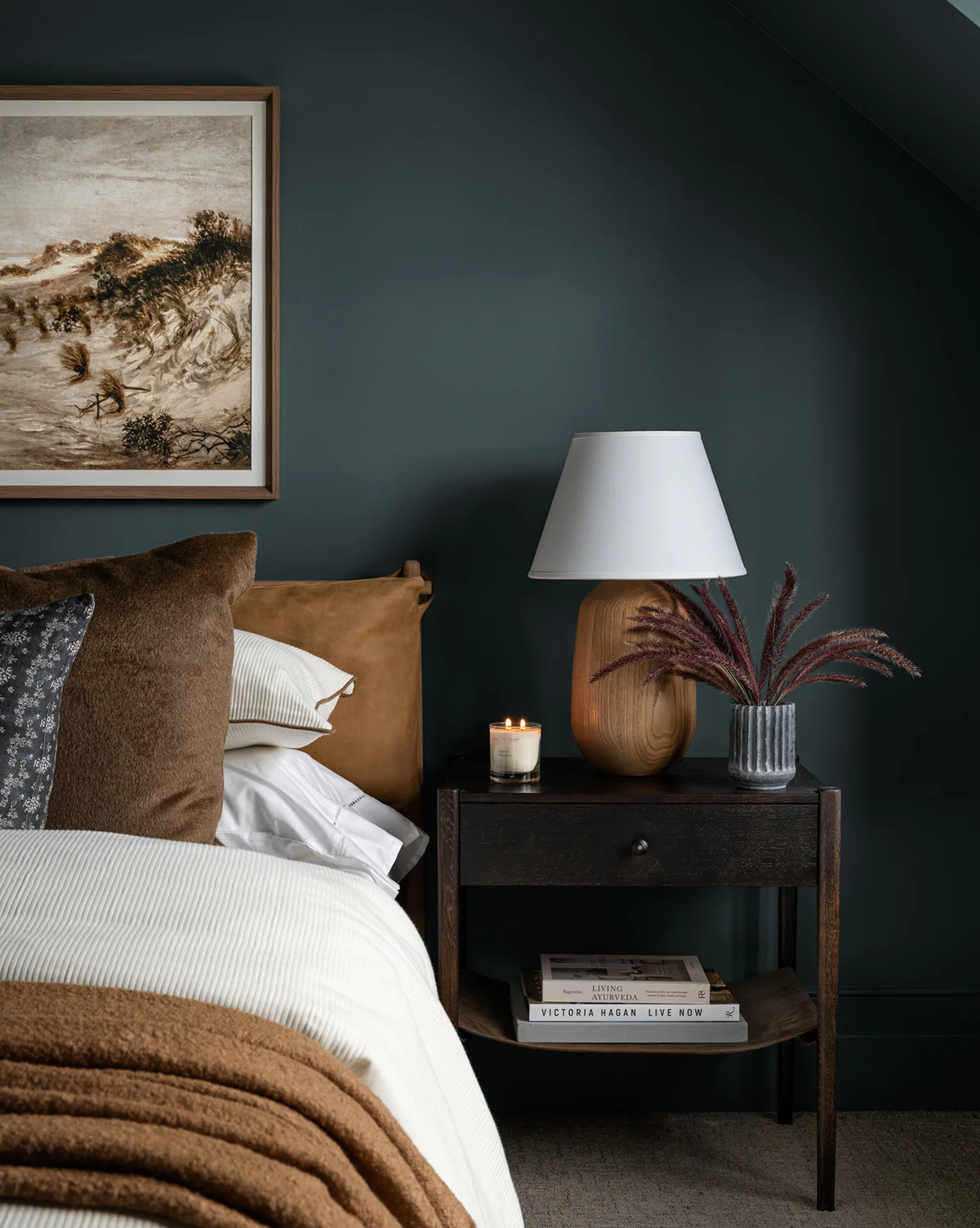 PHOTO: STUDIO MCGEE
2. Add Artistic Beauty
To elevate the aesthetics of your modern dark green bedroom, use visually intriguing artwork. Opt for a nature-inspired artwork with a dark green hue to create a sense of cohesion. Whether small or larger, artwork can introduce an interesting focal point and make a room look refined.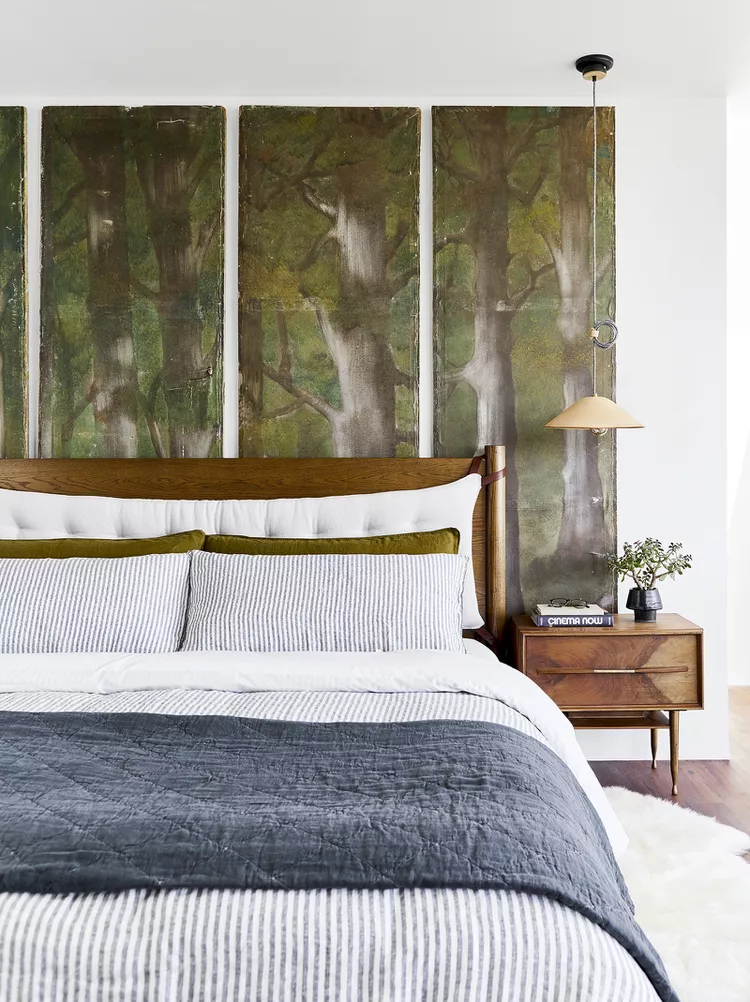 PHOTO: EMILY HENDERSON DESIGN & SARA LIGORRIA-TRAMP
3. Opt for a Brick Painted Wall
Brick walls can help to add texture and an interesting character to an otherwise mundane room. Exposed brick walls don't have a modern feel to them. If you have an exposed brick wall, consider painting it to instantly modernize the space. A fresh coat of dark green can lend easy elegance and coziness to the space.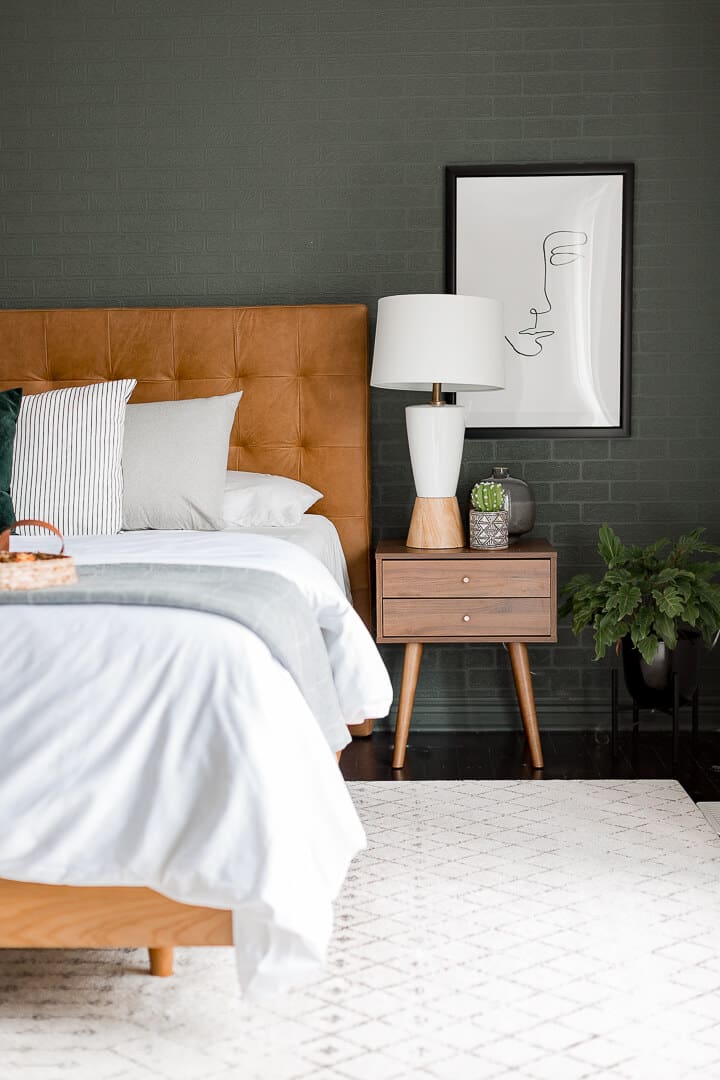 PHOTO: CRAFTBERRY BUSH
4. Invest in Wall Panel Headboard
If you want a create a strong sense of style and visual interest in your bedroom, look no further than a wall panel headboard. This is a type of headboard that doubles up as a wall panel or feature wall. A wall-mounted headboard is clever to imbue your bedroom with color, texture, and style.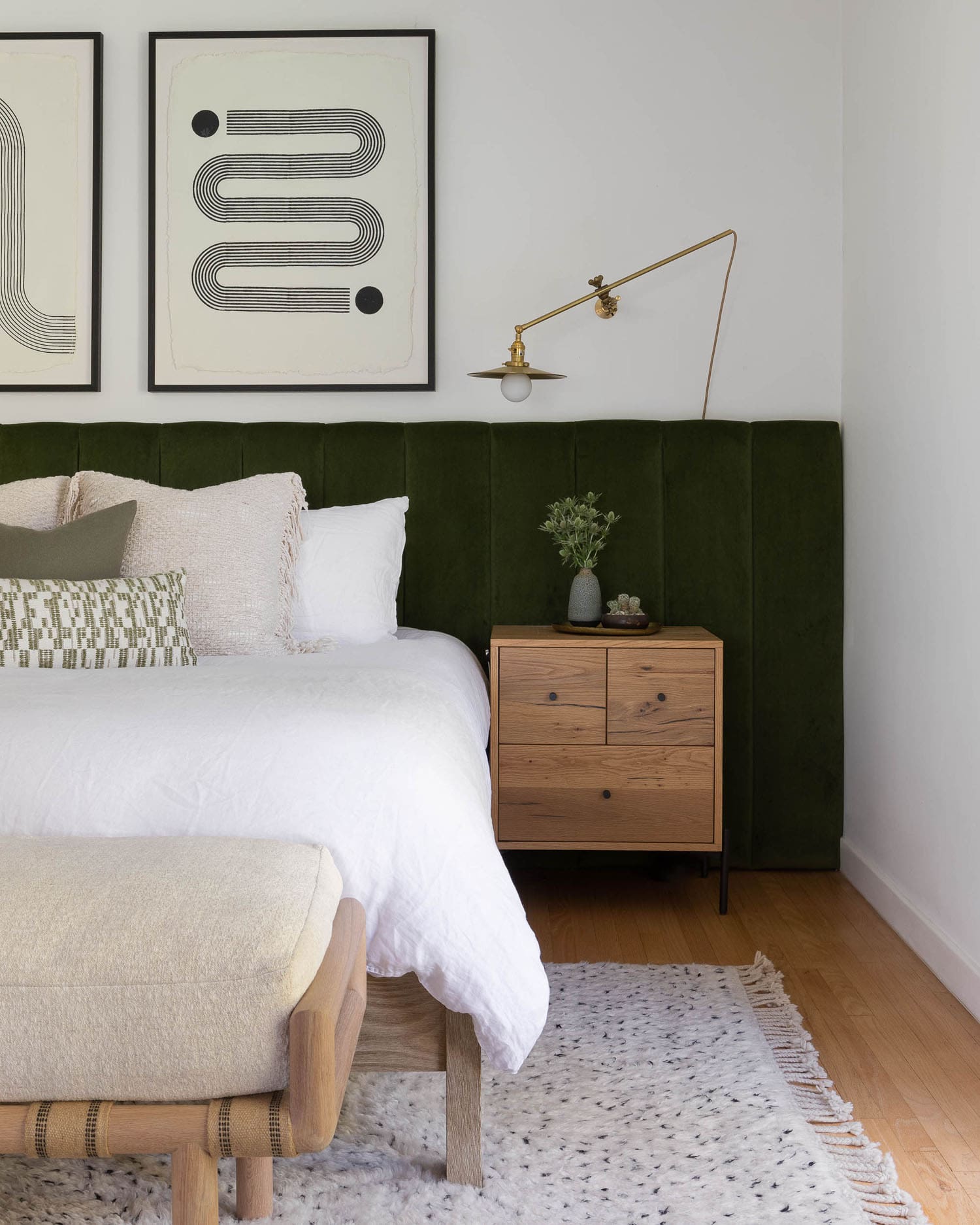 PHOTO: KAITLYN THOMAS/ NINE DOT DESIGN
5. Opt for the Earthly Olive Green
Dark green has a wide array of shades. Olive green is a warm and soothing shade of green commonly used in the bedroom. This earthly shade of green can amplify your modern dark green bedroom's aesthetic.
For a harmonious contrast, consider pairing olive green with beige, burgundy, mustard yellow, and dusty pink — which will add zesty to the room.
PHOTO: CLARE
6. Incorporate Wooden Wall Paneling
There are endless design possibilities when it comes to designing a modern dark green bedroom. Wooden wall paneling is an enormously popular bedroom accent wall design.
This interior wall style adds a layer of depth and detail that elevates a room better than plain walls. Dark green paint can further enhance the wooden panels and the overall aesthetics of the room.
PHOTO: CHRISLOVESJULIA.COM
7. Consider a Textured Wall
Design-wise, texture is just as important as color. It is used by designers to add visual weight to a room. A textured wall is an easy way to add sophistication and visual interest to a modern dark green bedroom.
There are multitudinous textures to consider for your wall, some of these are knockdown, sand swirl, orange peel, popcorn, and slap brush among others.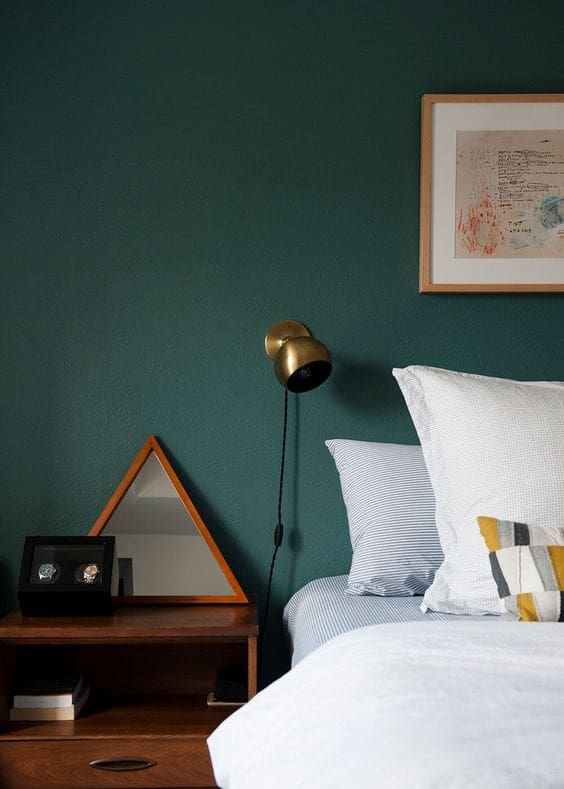 PHOTO: PINTEREST
8. Choose an Exciting Green Curtain
The color of a curtain does not have to be plain and boring. You can inject some dark green into a neutral scheme bedroom through the curtains. This will lend vibrancy and character to your bedroom and give it a strong sense of style.
PHOTO: JENNA SUE DESIGN
9. Place a Large Potted Plants
Plants are a tried-and-true way to enliven and make a room really appealing. Decorating with plants is also scientifically proven to help reduce stress and improve relaxation. Plus, a beautiful large plant can lend more color and eye-catchiness to the modern dark green bedroom.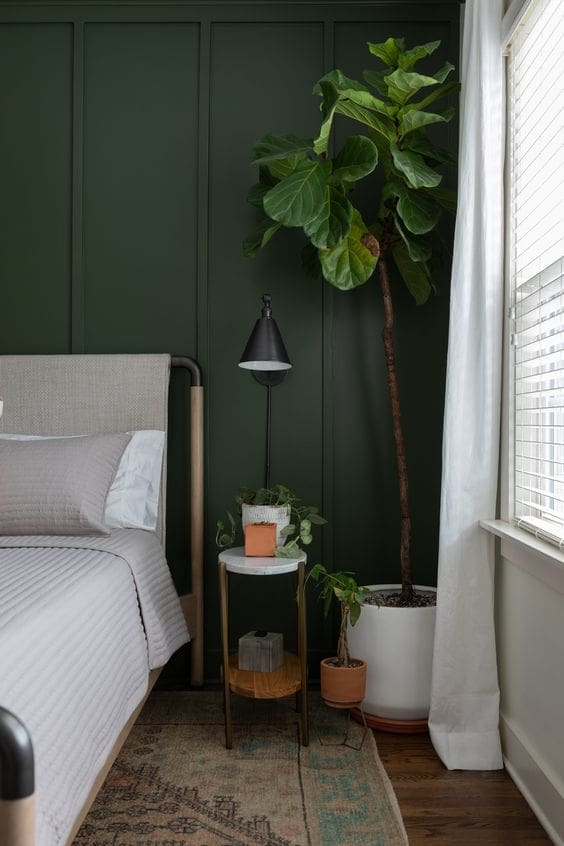 PHOTO: TEW DESIGN STUDIO
10. Keep It Simple and Elegance
As the world evolves, interior design tends to lend to minimalism. The use of neutral colors, clean lines, and bare essentials is more popular now than ever.
'Less is more' which is the keynote of minimalism is prevalent in contemporary interior design. To nail a modern dark green bedroom, it is best and easier to go with a simple yet stylish design.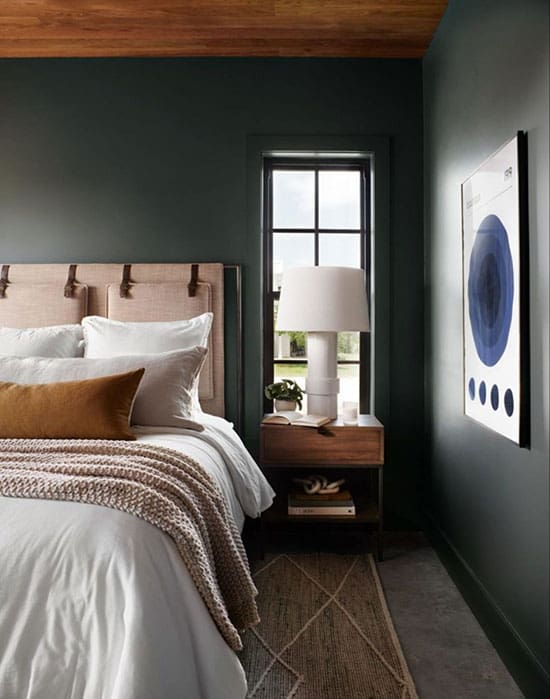 PHOTO: JOANA GAINES
11. Stick to Earthly Shades
The best color scheme for a modern dark green bedroom is a combination of earthly colors. You cannot go wrong with this scheme! Earth-tone colors typically include muted and warm shades found in nature like brown, terracotta, tan, taupe, gray, green, orange, and beige.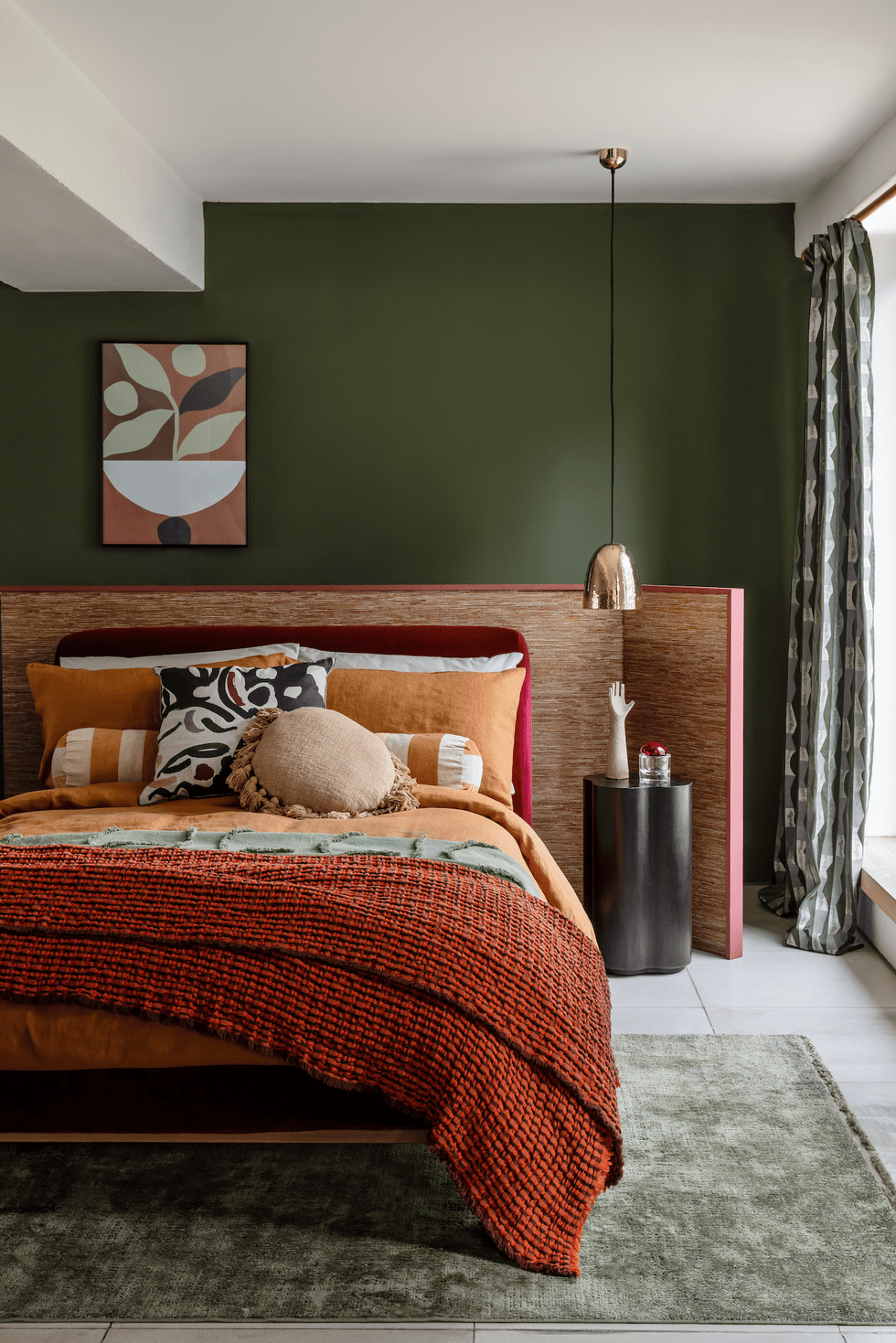 PHOTO: OLI DOUGLAS/HOUSE BEAUTIFUL
12. Throw in Some Dusty Pink Accents
Pink and green bedrooms are very common for good reasons. Dusty pink can lend a delicate beauty and help to ground a modern dark green bedroom. This color combination creates a soothing ambiance and an effortless modern space.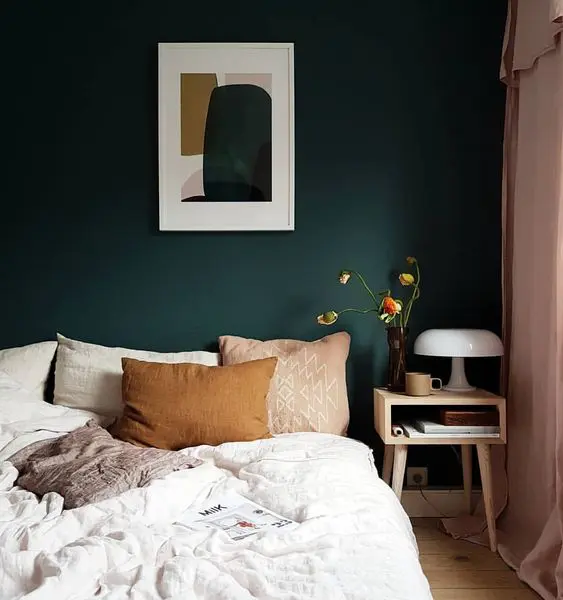 PHOTO: PINTEREST
13. Choose an Over-Sized Headboard
A large-sized headboard will give your bedroom a dramatic sense of more height. It can easily draw the eye and give your space a luxurious and sophisticated aesthetic. It is also a clever way to bring color, texture, and coziness to a modern dark green bedroom.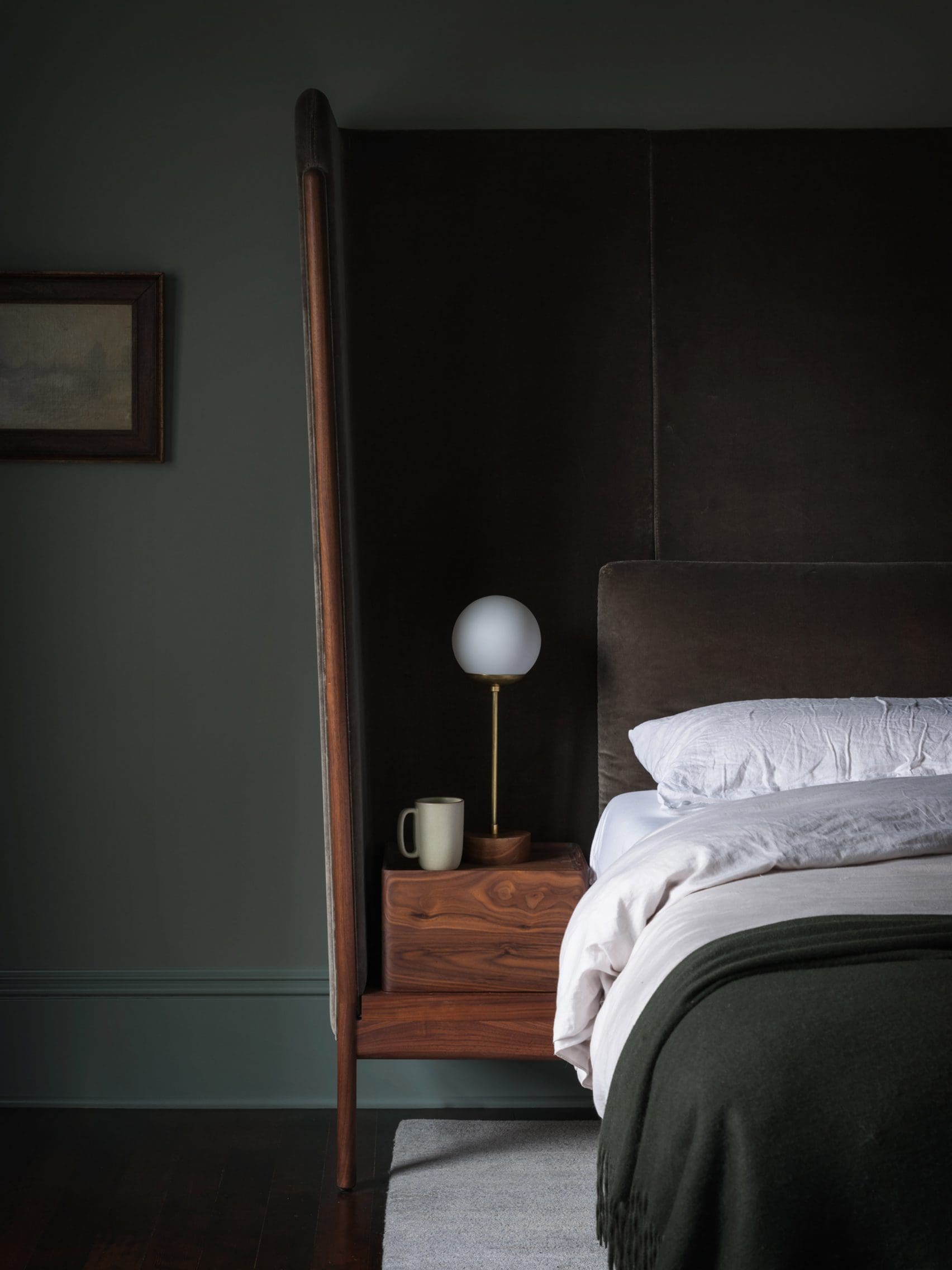 PHOTO: JESSICA HELGERSON 
14. Use Emerald Green
Jewel tones like emerald green have an undeniable beauty to them. Emerald green is a rich and opulent dark green shade that lends a powerful grounding effect to a room. This regal and timeless hue also makes spaces look luxurious. Emerald green never loses its touch!
PHOTO: JESSICA HELGERSON 
15. Mix Old and New
In interior design, the combination is old and new elements is known to make a space feel soulful and rich. Vintage and antique pieces mixed with contemporary elements can help to infuse a strong character into a modern dark green bedroom.
PHOTO: JONAS GUSTAVSSON 
16. Consider a Geometric Board and Batten Wall
Accent walls can add a punch to your bedroom's aesthetic. Board and batten is a type of interior wall siding where narrow strips of wood molding are placed over the joint of a wide board.
It is commonly used as a feature wall and very common in bedrooms. There can also be created geometric patterns which can instantly uplift your bedroom's décor quotient.
PHOTO: ANGELA ROSE
17. Add White and Black to the Scheme
Neutral colors are non-complex and extremely easy to work with since don't clash with one another or with other colors. White and black are soothing and timeless neutrals that can be added to any color scheme.
When added to a modern dark green bedroom, white can help to brighten up space while black can help to add a beautiful contrast to the white.
PHOTO: SPLIT LEVEL HOME
18. Create a Cosy and Inviting Atmosphere
You can achieve coziness and visual warmth in the bedroom by layering textures, using restful colors, rugs on hard floors, warm lights, and soft comfortable cushions. A cozy ambiance creates a sense of warmth and comfort and promotes relaxation.
PHOTO: MISHA COHEN
19. Match the Wardrobe to the Wall
Consider painting your wardrobe to match your wall. No matter the size and style of your wardrobe, matching it to the wall it can help it blend into the room better. This will create a unified and cohesive look in your dark modern green bedroom.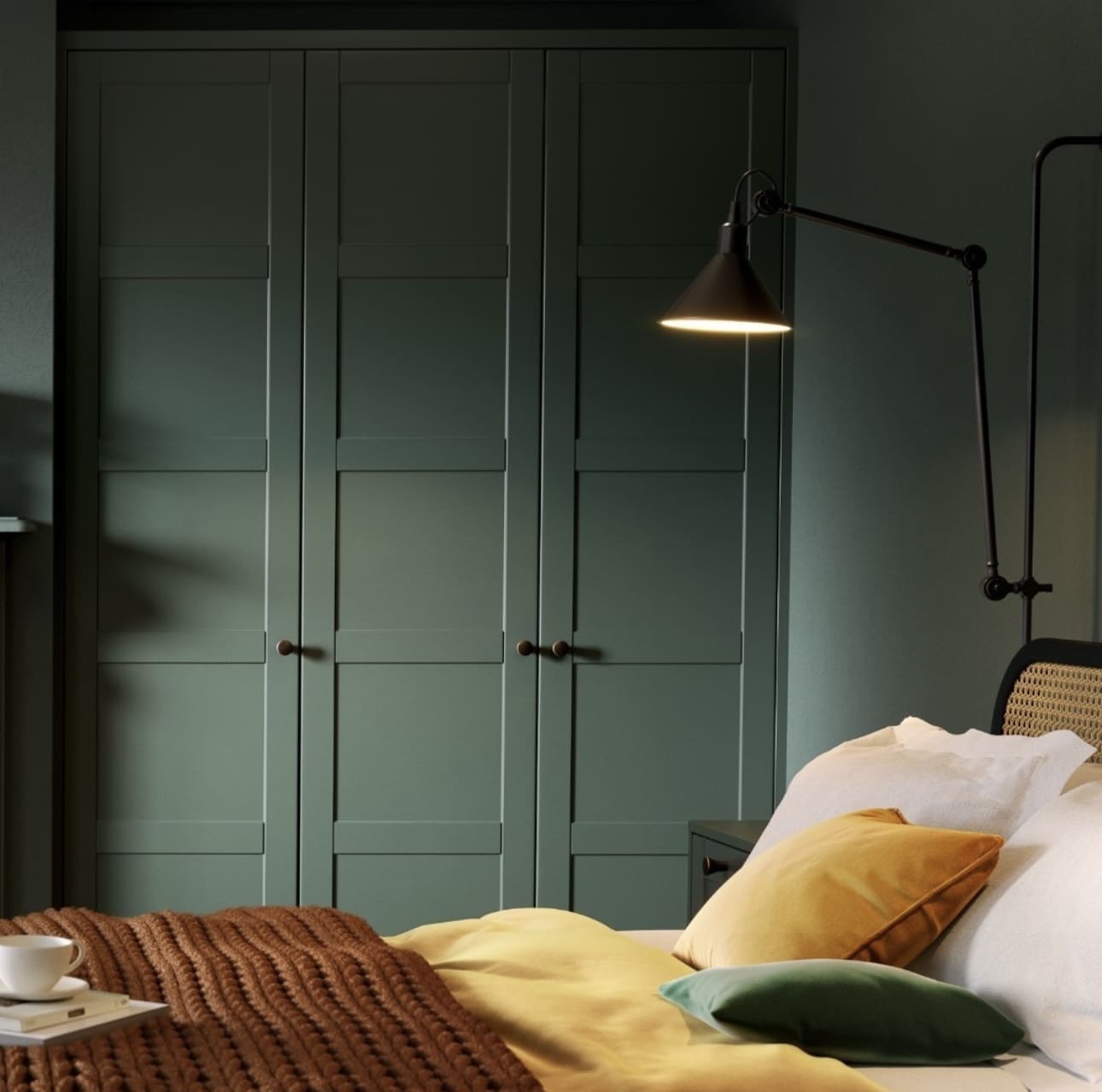 PHOTO: WREN KITCHENS
20. Elongate the Ceiling with Wainscoting
Wainscoting is a decorative wall paneling that covers only the lower part of the walls of a room.  Despite being centuries old, this wall style is enormously popular in today's interior design scene, especially in the bedroom. Wainscotting can make your bedroom feel cozy and trick the eyes to make your ceiling seem higher than it is.
PHOTO: INSTAGRAM @OUR-JOURNEY-AT-81
21. Go for a Dual Colored Wall
Keep things interesting by using color different wall paint colors. This can lend a new character to a boring bedroom wall. Whether you go for clashing brights hues or a bold and neutral combo, this is a great way to add vibrancy and color to your space.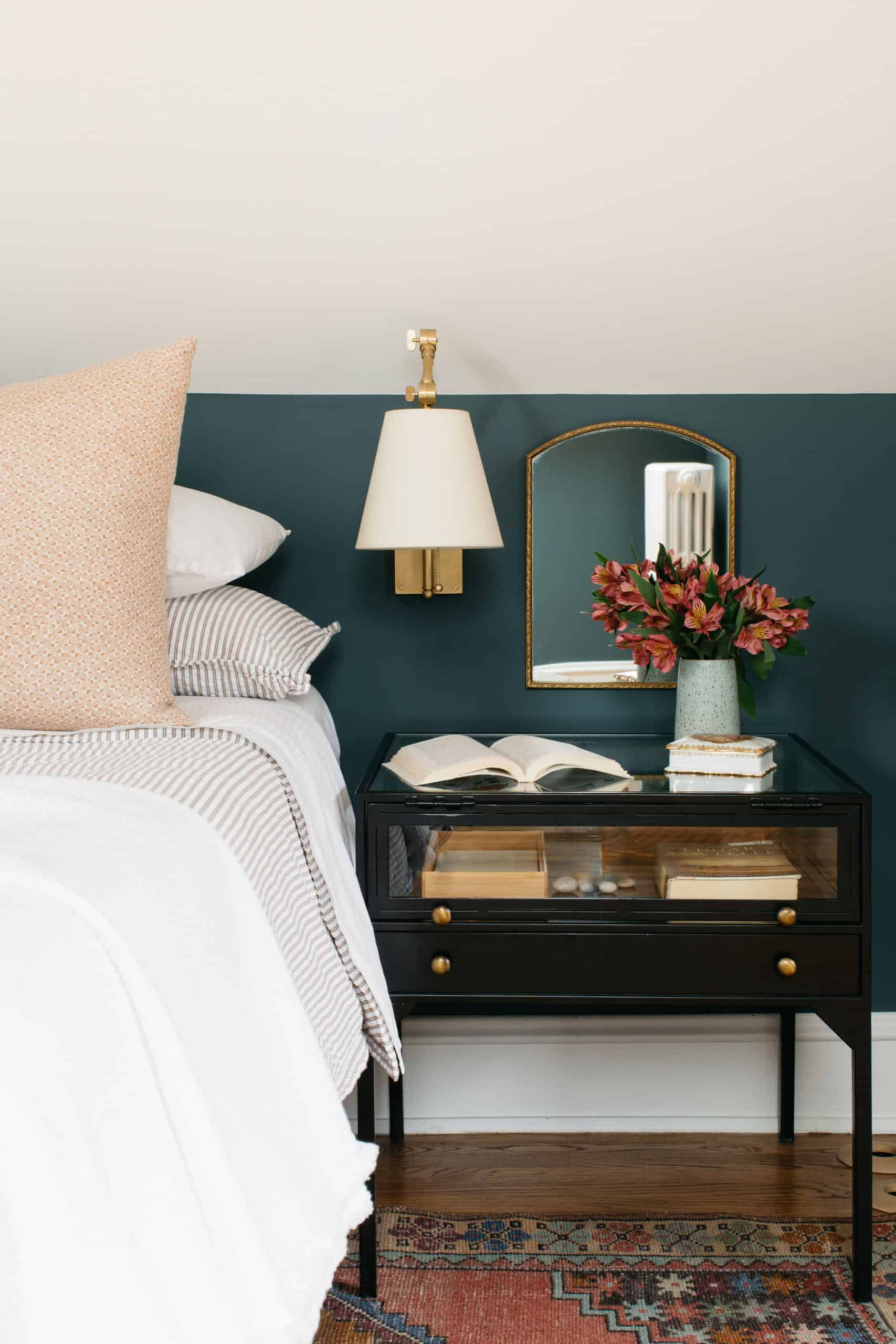 PHOTO: HAYWOODMADE.COM
22. Adds Chicness with Gold Accents
The color 'gold' is associated with luxury and wealth. Metallic gold-tone accents make a space look sophisticated and luxurious. It effortlessly complements any color under the sun and infuses warmth into a space. Using this accent can instantly add a contemporary feel to your modern dark green bedroom design.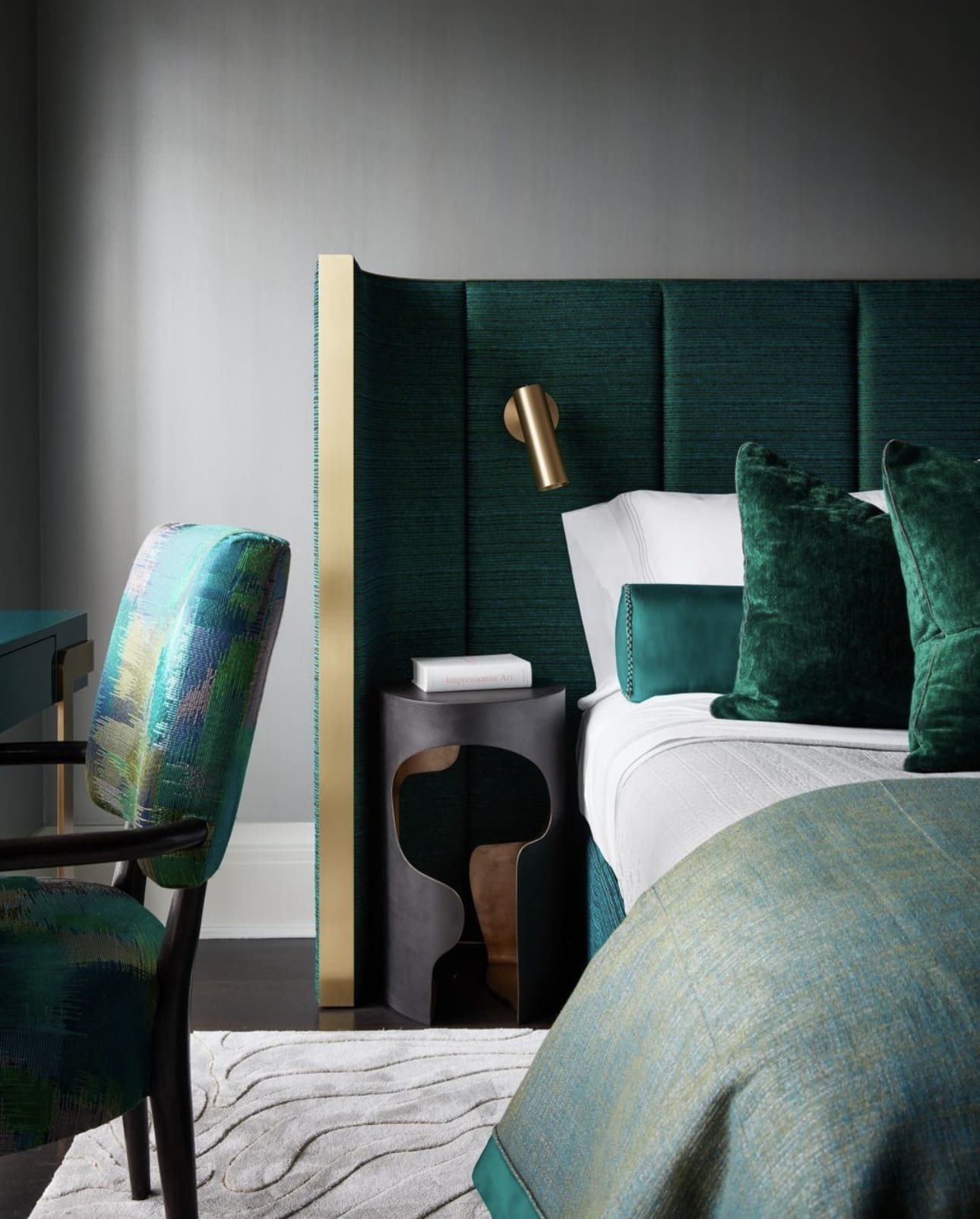 PHOTO: 1ST DIBS
23. Inject Some Personality
When designing a space for yourself, take your own interest into account instead of what seems generally acceptable. It is important to create a room that feels uniquely yours. Incorporate your favorite colors, show your personal interests and create a gallery wall of your most cherished memories.
PHOTO: LINDSAY HUNTER DESIGN
24. Embrace a Moody Theme
Moody interior themes place major emphasis on creating a cozy and intimate atmosphere with the use of dark colors. This design style is easy to execute and gives a room sophistication and energy.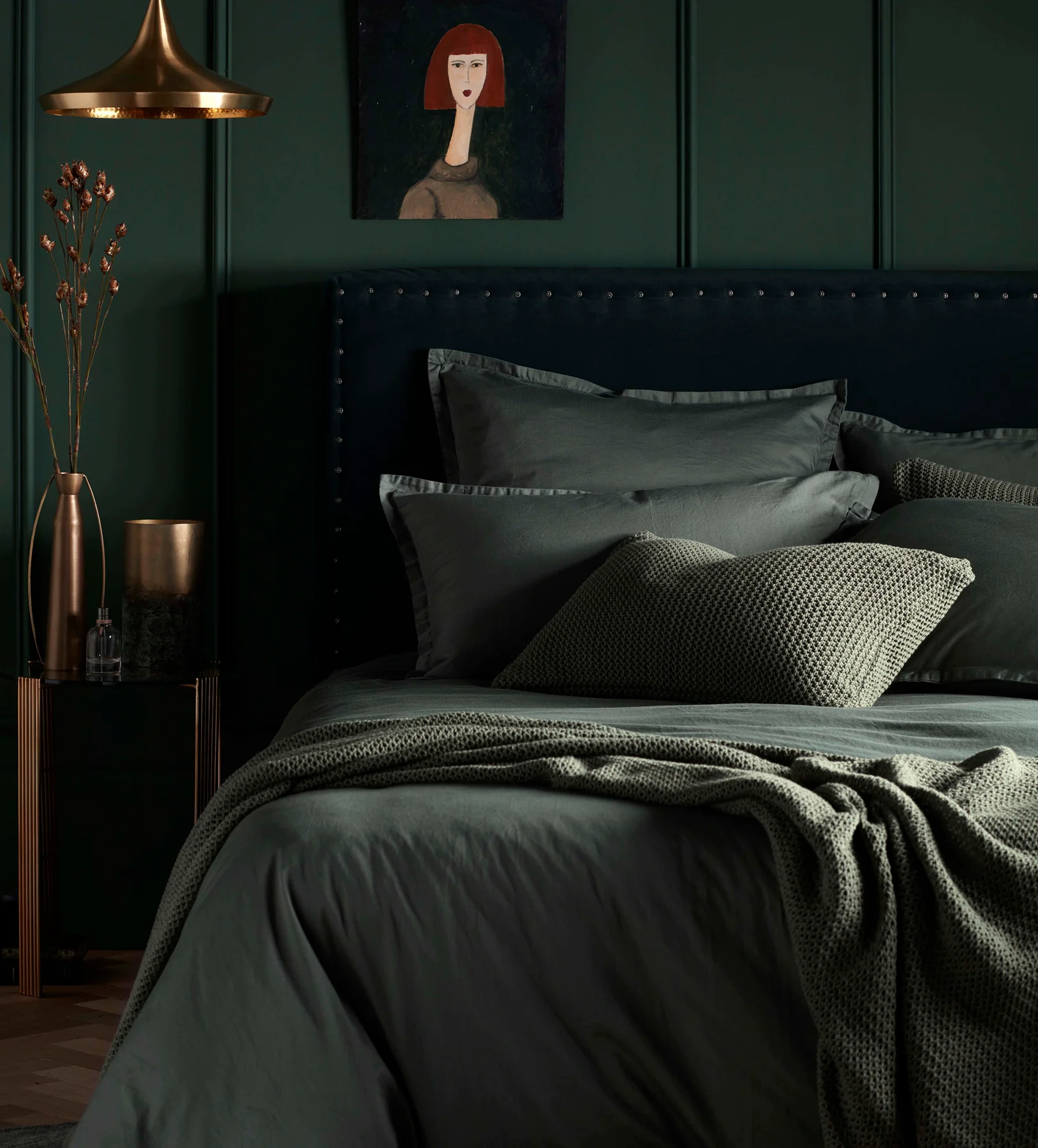 PHOTO: SECRET LINENS
25. Go for an Unexpected Color Palette
Add a dramatic flair and visual intrigue to your bedroom interior by color blocking. You can do this can pairing colors that sit opposite to each other on the color wheel— just like the term "opposite attracts".
Red is the contrast color for green, hence they work brilliantly together. Blue can help to balance and accentuate the scheme because it sits next to green on the wheel.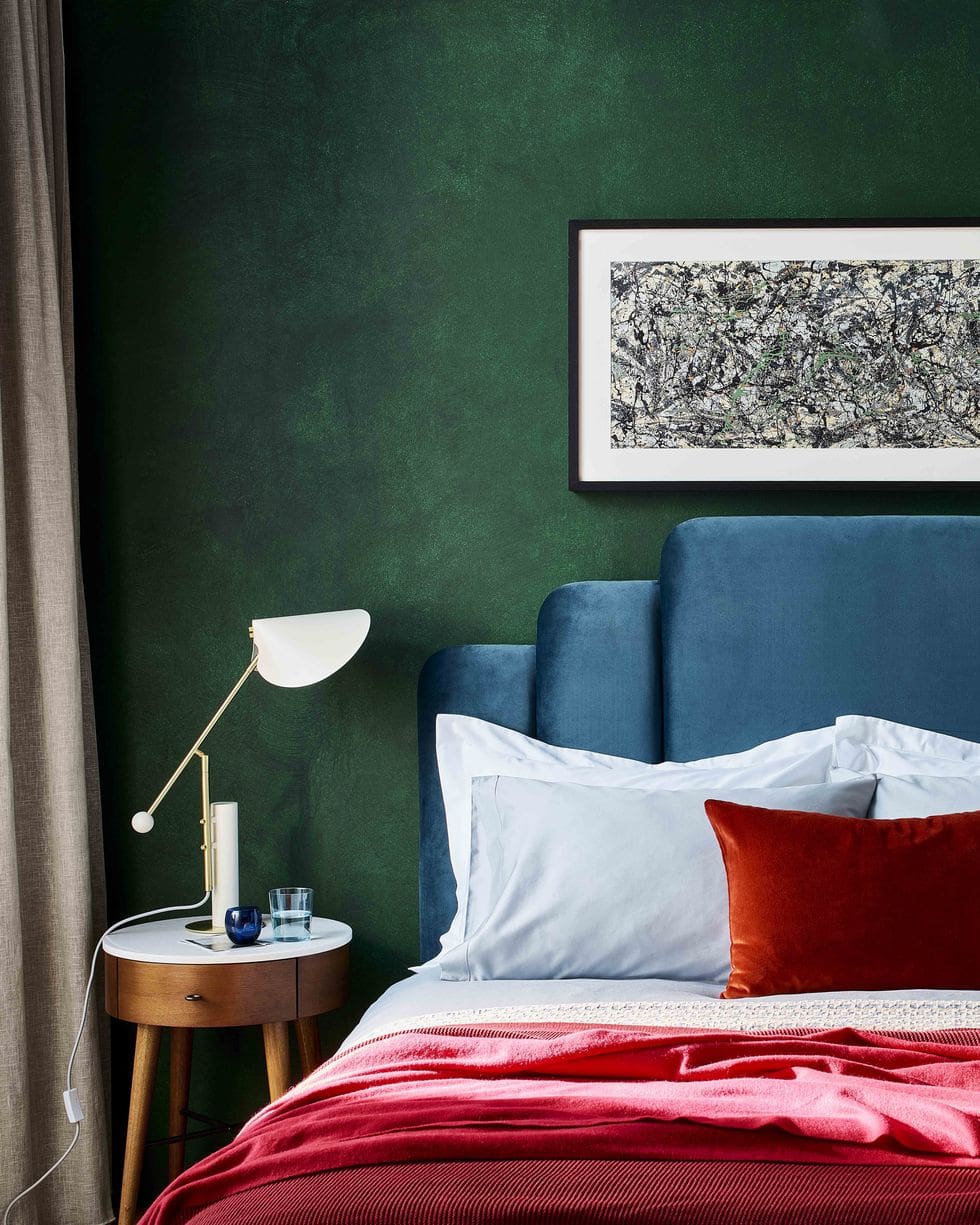 PHOTO: BOUTIQUE UPHOLSTERED BED
26. Get Inspired by Nature
To give your modern dark green bedroom an organic and rustic feel, use natural elements throughout the space. Some of these are but are not limited to natural fiber rugs, plants, wicker furniture, renewable wood, and stone.
PHOTO: CELINE MARKS
27. Grey and Green Bedroom
Dark green and grey is an easy two-color combination. Grey is one of the most versatile neutral colors and can give room for a sophisticated modern edge. This muted color often takes the back seat and does not steal attention in a room. Grey has proved itself to be an enduring neutral.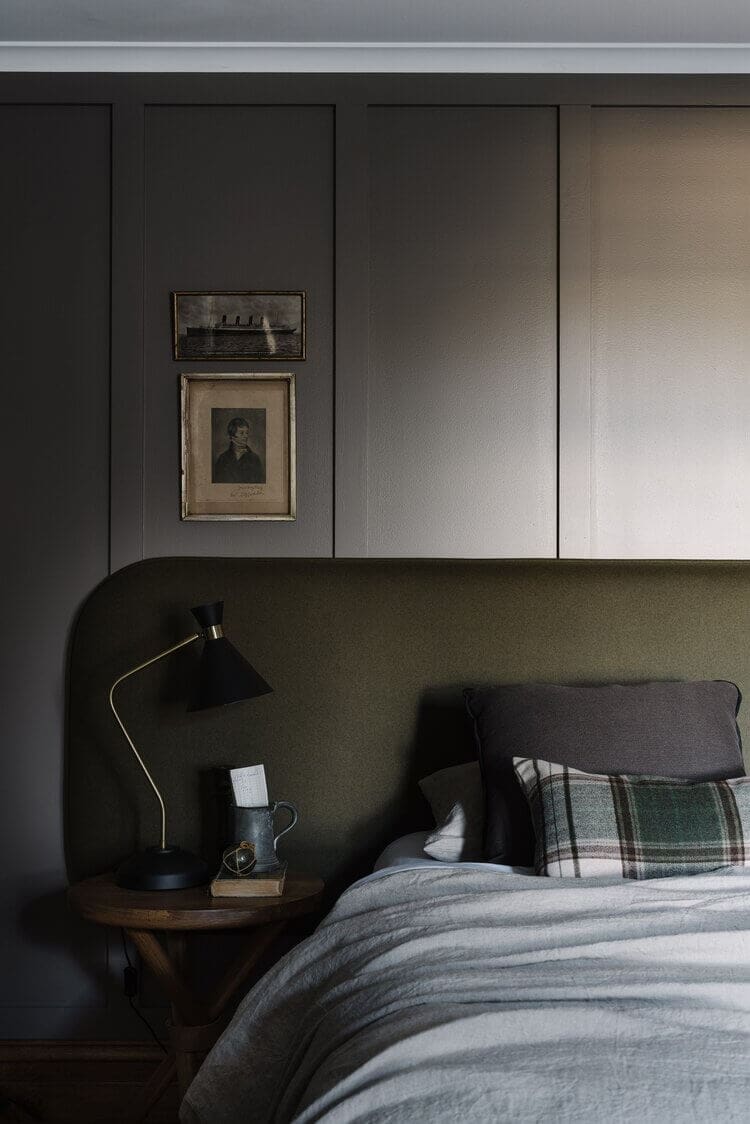 PHOTO: SHIP INN STANLEY
28. Create a Dark Green Accent Wall
If dark green seems like too much color for your bedroom wall, consider using it on one side of the wall to create an accent wall. Then paint the rest of the wall a neutral color like white or beige. An accent wall can serve as a focal point and infuse a unique character into your bedroom.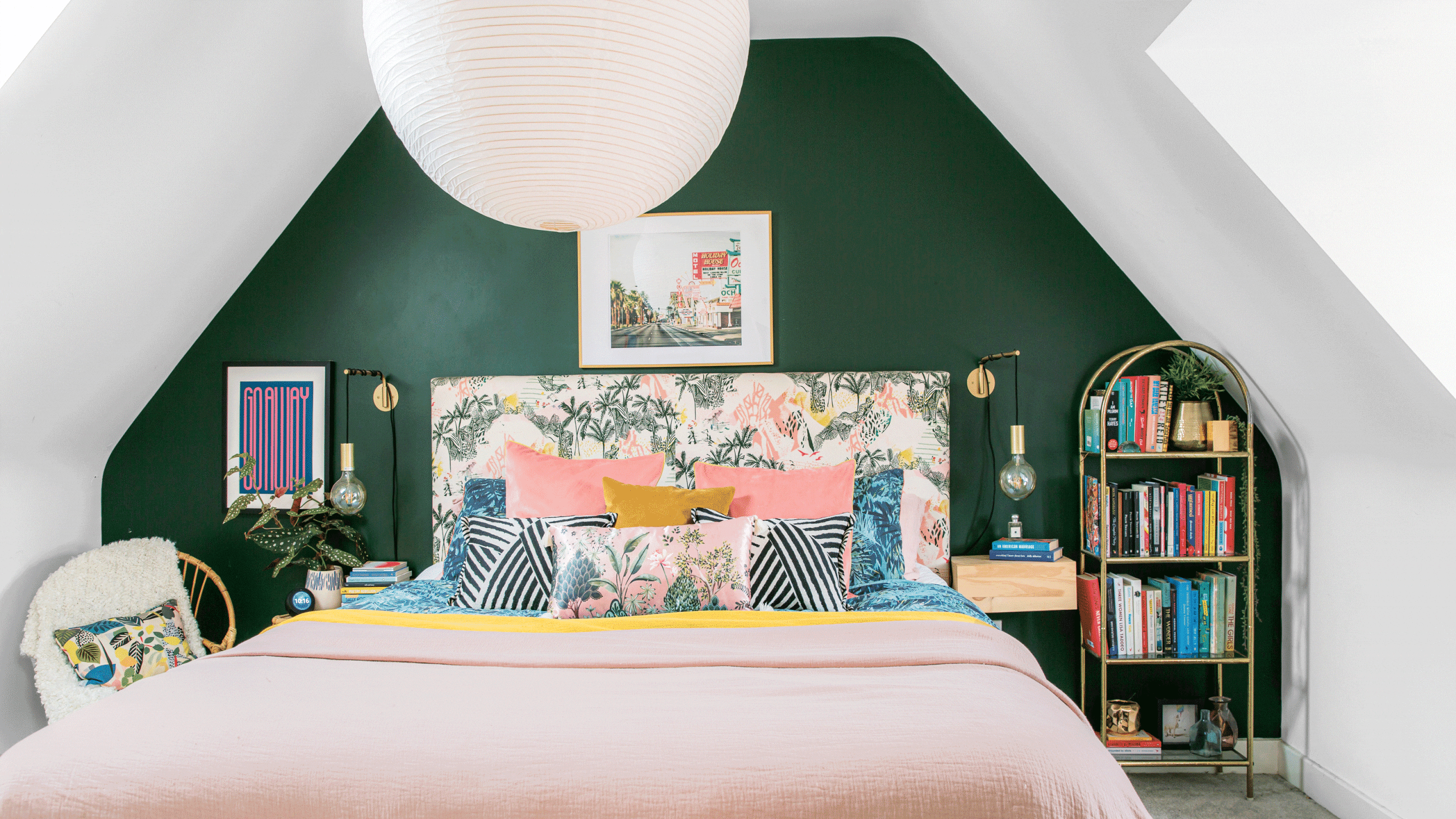 PHOTO: FUTURE PLC
29. Install a Molding Wall
Wall moldings are decorative wall features that are mainly used to add visual interest to a room. It also helps to conceal flawed architectural lines in the home. A bedroom that features trim and molding looks more refined and sophisticated than a room with plain walls.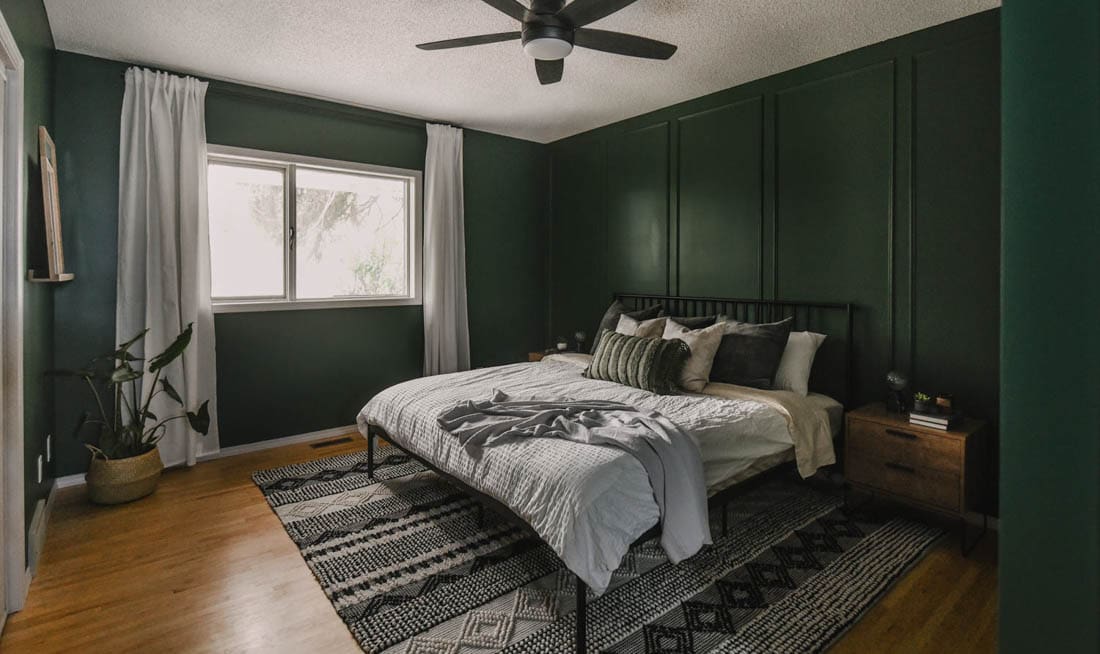 PHOTO: LEMON THISTLE
30. Modernize the Room with Vertical Slat Wall
Vertical wall slats are incredibly popular in modern homes today. They add an understated elegance and style to contemporary spaces. In addition to its visual appeal, the vertical slat wall also gives a room a perceived sense of height.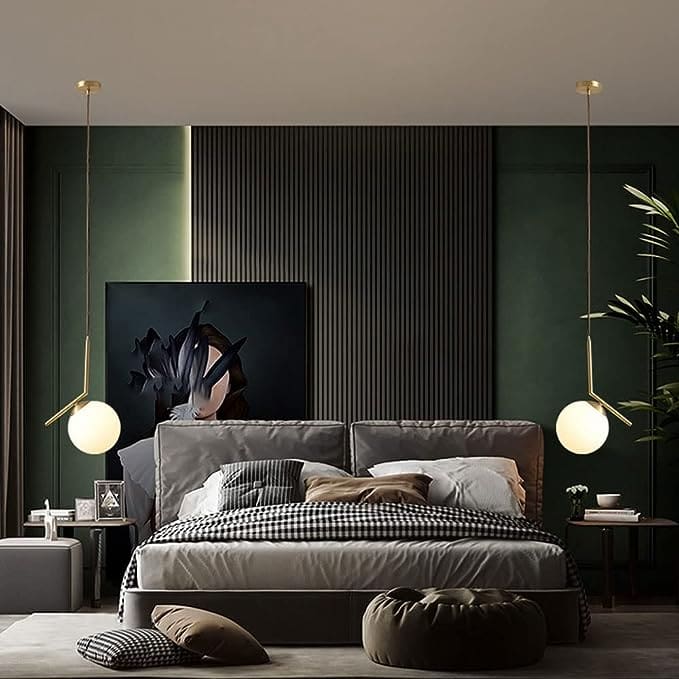 PHOTO: NGOC DUY
31. Use a Deep Rich Teal
Teal is a rich and dark shade that is a perfect blend of green and blue. Striking a balance between calming and stimulating, teal is the gift that keeps on giving. The beautiful thing about teal is that it can work brilliantly well with many other colors. The best colors that go with teal are mustard yellow, earthy terracotta, purple, dusty pink, gold, beige, and coral.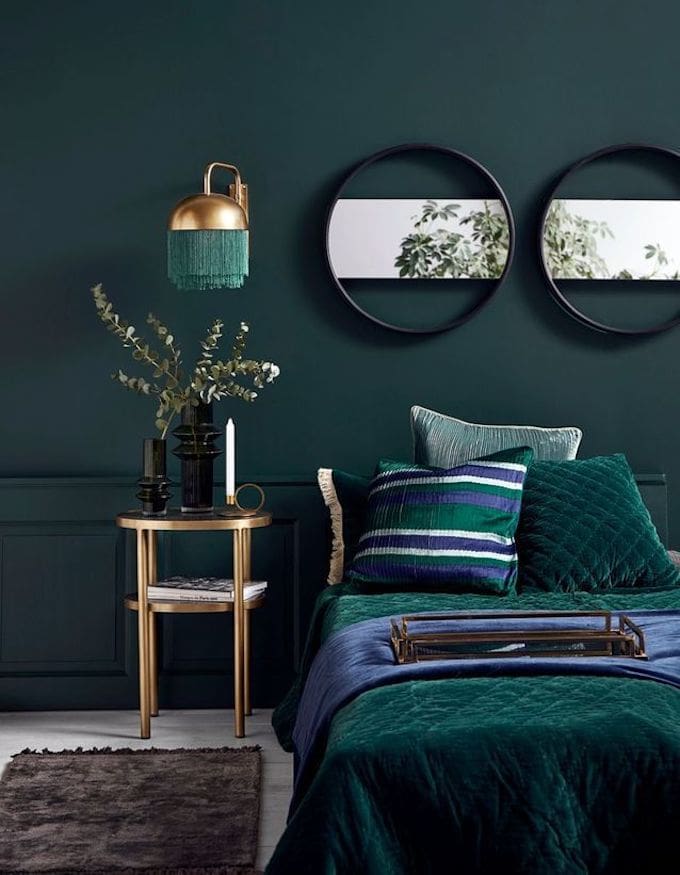 PHOTO: AUDENZA
32. Enhance Richness with Dark Blue
Add some dark blue accents to the scheme to make a big style statement. This is a two color combination for bedroom that is sure to demand attention. Pops of pale yellow can lend a convivial touch to the scheme.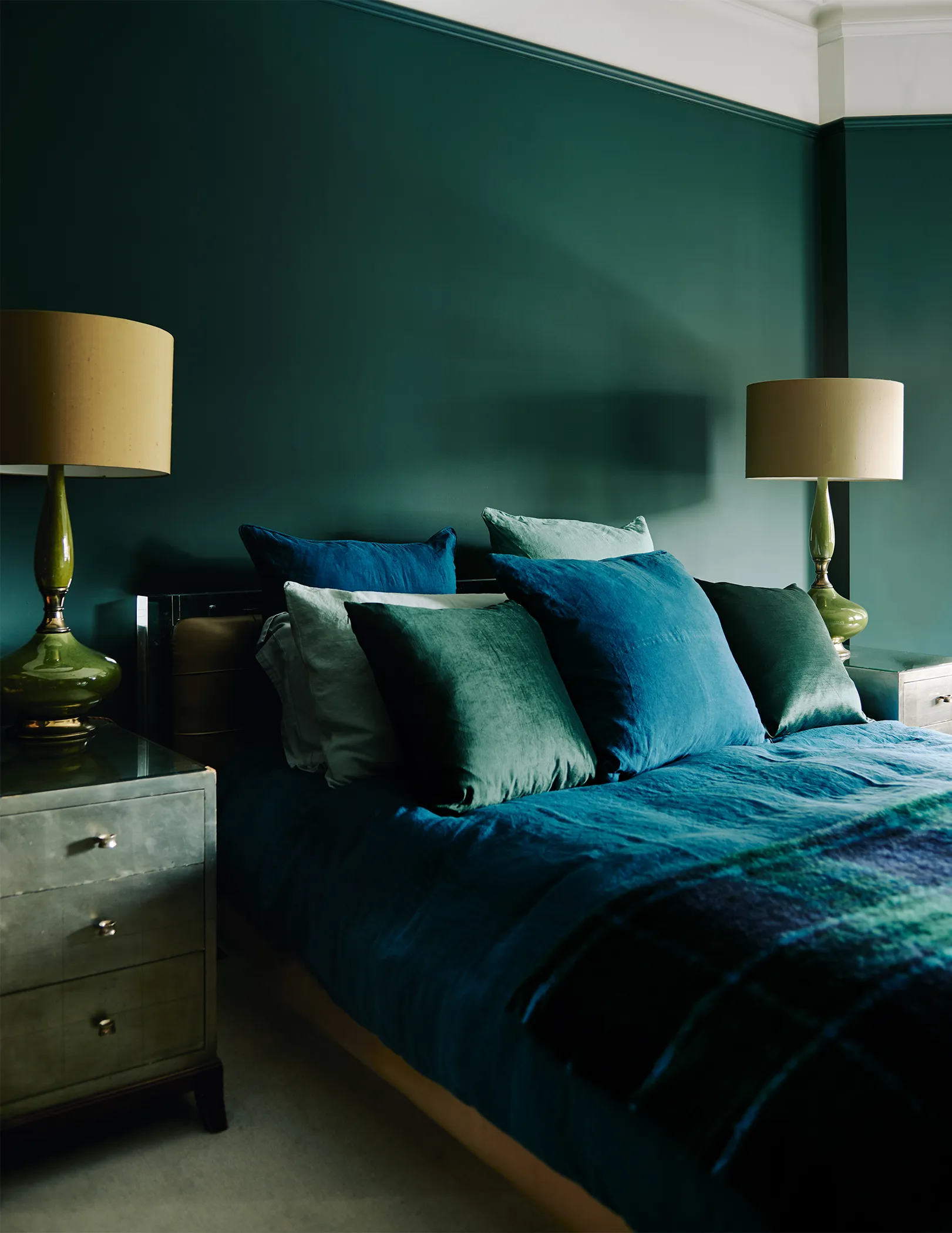 PHOTO: AUDREY CARDEN
33. Opt for Hunter Green
Hunter green is rich and bold dark green shade. This hue is magnificent for all interior spaces because it creates a soothing and relaxing atmosphere. The hunter-green color is especially favored in the bedroom because it gives a sense of safety and relaxation.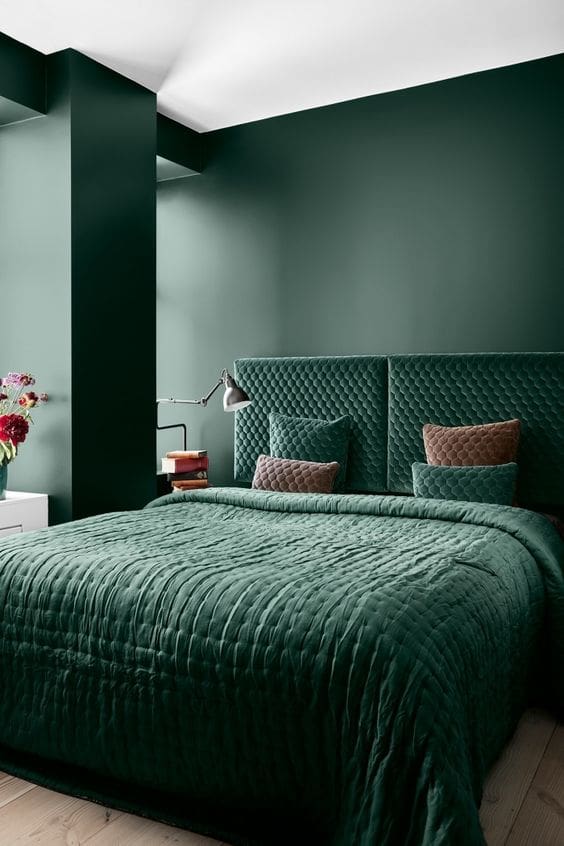 PHOTO: SHELTERNESS
34. Consider Painting the Ceiling
A floor-to-ceiling aesthetic is a great way to add drama to your space. This creates a sense of cohesion and unity throughout the space. Plus it also enhances the coziness and visual intrigue of the room.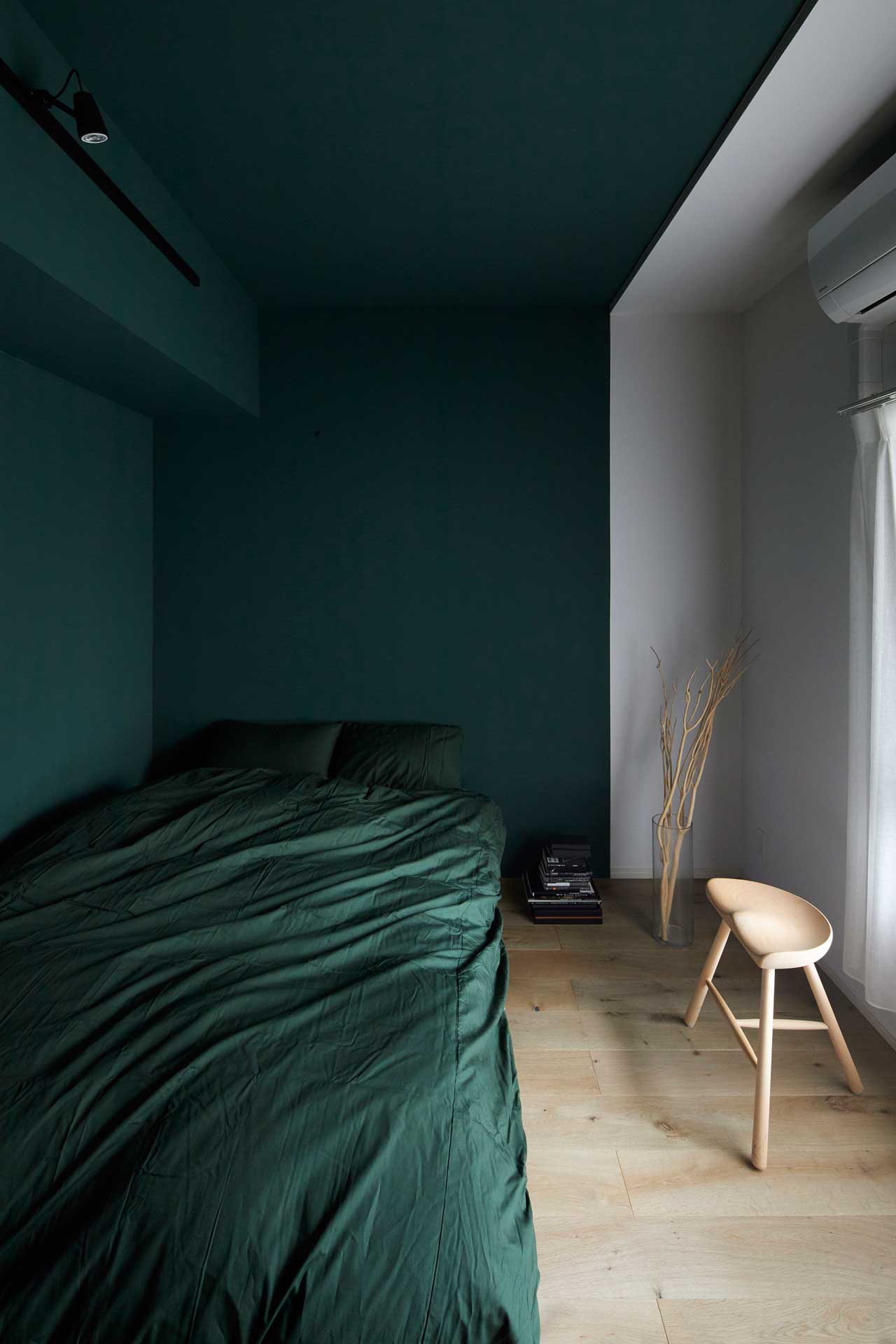 PHOTO: RHYME DESIGN
What Colors go with Dark Green?
The best colors that go with dark green are brown, beige, tan, dusty pink, orange, mustard yellow, blush pink, and salmon.
Pin this post to save for later!