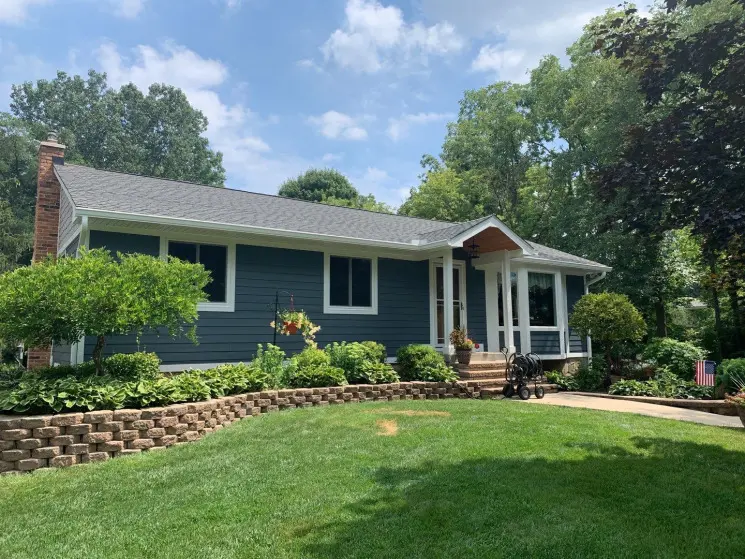 Exterior siding is a vital part of your home. It protects against the elements, determines curb appeal, and is essential to your house's resale value. So, when you're in the market to replace that siding, it's important to choose the best option for your needs, budget, and goals.
To help you feel confident in your decision, we've put together this handy guide to siding materials. Learn more about the six common sidings and how to know which is right for you.
How 6 of the Top Siding Options Stack Up Against Each Other
1. Vinyl Siding: Affordable and Simple 
Vinyl siding is a common choice for homeowners, as it's relatively affordable and can be DIY installed by a skilled handyman. It is available in a standard range of colors, typically ones that are the most common around the country. With its manmade makeup, vinyl isn't appealing to insects and woodpeckers. You don't need to paint or stain vinyl, and cleaning it is as simple as rinsing it with a hose.
However, it does have some disadvantages. Its color fades quickly due to sun exposure. It can melt when exposed to high heat. And it dents or cracks easily, so you may need to replace boards frequently.
What it's best for:
Starter homes
Families on a budget
Rental properties
2. Wood Siding: Elegant but High Maintenance 
Used in home building for centuries, wood has a natural, warm appearance that goes well with Cottage, Cape Cod and Colonial architectures. It comes in many looks—clapboard, board and batten, shingles, and even logs. It's easily customized with new coats of paint whenever the whimsy strikes you.
Unfortunately, because wood is organic, it is susceptible to the elements. Insects and woodpeckers eat away at it. Moisture can cause it to rot and grow unhealthy mold and mildew. Wood obviously burns easily, though it can be treated with flame retardant. And it needs painting or staining every 5 years.
What it's best for:
Matching existing parts of a historic home
Homeowners who prefer organic materials
3. Brick Siding: Practical and Strong 
A traditional, lasting building material, bricks can be surprisingly versatile too. Its attractive appearance can work well with both traditional and contemporary architectures, and it can be painted if you want to get creative. Plus, brick is super durable, lasting 100 years or more, and it's biodegradable and recyclable.
However, since bricks require intense focus and skilled masonry to get a neat, polished appearance, it is also a costly investment. It takes longer to install than other sidings too. And since brick conducts heat easily, it's hard to keep a brick house cool in summer without driving up your air-conditioning bill.
What it's best for: 
Traditional looks for Colonial, Tudor, and Cottage styles
Part of a mixed material exterior design
4. Stucco Siding: Attractive but Vulnerable to Moisture 
Made of a mix of cement, sand, lime and water, stucco gives your exterior a unique, attractive texture. When properly installed, stucco can provide long-lasting protection for your home, and is resistant to pests and fires. Plus, it has good insulating value and is low maintenance.
The biggest challenge with stucco is that it is easily prone to moisture damage that can hide behind it for years before it is detected. So, it's not ideal for cold, wet climates. Stucco also can crack easily. It can be costly to install and complicated to repair.
What it's best for:
Mediterranean, Ranch and Spanish-style architectures
Climates that endure dry heat, such as the Southwest
5. Stone Siding: Luxurious but Pricey 
There's nothing quite like the look of stone to provide your home with rich elegance and unforgettable style. This high-end look is also highly durable and provides excellent weather and pest resistance. 
If you choose genuine stone, it can be recycled. But real stone is costly to source and labor intensive to install. It also requires regular care to keep it looking fresh and vibrant. Manufactured stone veneer is a more affordable option because it's lightweight and easier to install. But it still costs more than an option like vinyl.
What it's best for:
High-end homes
Accent elements in a mixed material design
6. Fiber Cement Siding: Long-Lasting and Attractive  
One of the most popular options across the U.S., fiber cement siding is prized for its impressive durability, climate resistance, and lasting beauty. With a brand such as James Hardie — America's #1 siding choice — you can choose from a wide variety of vibrant colors that won't easily fade. Fiber cement is also simple to care for.
While fiber cement siding involves a higher initial investment than some materials, if you choose industry-leading James Hardie siding, you also get the benefit of a 30-year, non-prorated warranty. Plus, Hardie siding is noncombustible and pest resistant. There's no better choice than this leading siding if you're looking for peace of mind and confidence in your home.
What it's best for:
Any type of architecture
Any climate—it's engineered to handle weather conditions in your specific region!
Any homeowner who wants lasting performance and a great return on investment
The Right Siding Makes All the Difference for Your Home   

Ensure your home has the beautiful appearance, easy upkeep, and long-lasting protection you deserve with elegant James Hardie siding. We are an Elite Preferred Contractor for the Hardie Company, trained and certified to install this siding with precision so you can relax and love your Rochester Hills and Ann Arbor area home!
Learn more about how we make Hardie siding installation easy!