Construction on the second phase of an estimated $5.65 billion project to improve 28 miles of I-35 in Austin, Texas, has begun.
The $606 million I-35 Capital Express North project, which got underway earlier this year, will construct one high-occupancy-vehicle managed lane in each direction along I-35 from SH 45 North to US 290 East. The project will also reconstruct six bridges, add a diverging diamond interchange, reconstruct entrance/exit ramps, add intersection bypass lanes and construct shared-use paths throughout the corridor.
(To watch a fly-through drive of the future I-35 Capital Express North, check out the video at the end of this article.)
The contractor for the project is Pulice Construction Inc. Construction is expected to be completed in late 2028, according to the Texas Department of Transportation.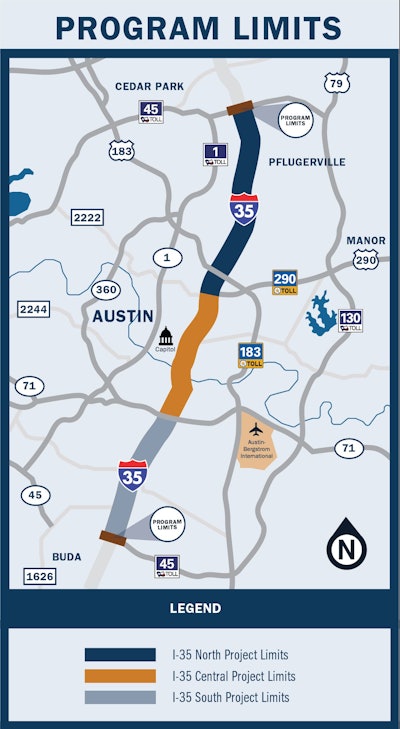 The project is the second phase of the I-35 Capital Express Program. Construction on the first phase, I-35 Capital Express South, began in November. Fluor Corporation is the contractor on that project, which is valued at $548 million. It involves adding two non-tolled HOV lanes in each direction for 9 miles on I-35 from SH 71 to SH 45 Southeast at Austin on one of the state's most congested roadways, according to TxDOT. The project also includes elevating HOV lanes, building intersection bypass lanes and improving biking and walking paths along frontage roads. Construction is expected to be completed in 2027.
The third and final phase is the I-35 Capital Express Central, which is currently undergoing environmental and public review. It involves removing I-35 decks, lowering the roadway and adding two non-toll HOV lanes for 8 miles from US 290 East to SH 71/Ben White Boulevard. East-west cross-street bridges will be reconstructed, pedestrian and bicycle paths added, and safety and mobility improvements made. Construction is scheduled to begin in mid-2024 at an estimated cost of $4.5 billion.
To watch a fly-through drive of the future I-35 Capital Express North, check out the TxDOT video below: