This Post May Contain Affiliate Links. Please Read Our Disclosure Policy here
It seems like it's been many weeks since I've updated you on our kitchen.
If you wondered if you missed the reveal, don't worry. You didn't! The kitchen is essentially done but I'm still waiting on the final finishing touches to be complete. I hope those last bits will happen in the next couple of weeks so we can wind this up and then I'll be able to do a proper reveal post!
Meanwhile the work has continued around our home, so this renovation hasn't been at a standstill at all! In fact, a lot has happened and we're SO CLOSE to being done. I'll get some pics and share more about the latest updates soon.
I can't wait to take photos and share all about our kitchen! We just love it. We've been cooking in our kitchen now for about three weeks and we are very happy with the appliances, function and layout of the room. Designing this kitchen to fit within the space we had was a challenge (as it almost always is when you're remodeling). We definitely went round and round with what would be best for the space and for how we wanted to use our home. But we are happy that we made the decisions we did. It's a very comfortable kitchen to work in. I will share more more about each decision and all the features in the coming weeks and months.
The first thing we were excited to do (besides begin to cook with Beatrix, who I'm happy to report is as lovely to cook with as she is beautiful!) was to start organizing our kitchen tools and pantry items into all of the new drawers and cabinets. We haven't been able to use our dedicated pantry in the mudroom yet because it had to be painted first but that will be fun to organize that when we're able.
We are still figuring out where we want everything in the kitchen, but I bought some new organizers for the kitchen as well as a few new tools I wanted to use here, so I thought I would share those today. I'll give a more complete tour once I get everything in place.
I love the warmth and function of cutting boards in a kitchen, so I got a couple of fresh new ones we will use all the time here. I really like the big thick ones with the grooves on them, so I got two of these. I also find small ones to be handy and easy to grab for small tasks like cutting an apple, so I like this board as well (plus a handle is always nice!).
I wasn't sure we would need any special organizers for spices as I've always found it just as easy for me to lay them flat in the drawer. But, I decided to give these risers a try. I actually love how they tilt the jar up slightly and they are clear so they look nice in the drawer. They make me feel like I'm organized, so that's a plus ha. I was worried the spices wouldn't fit with risers in this shallow drawer but these work perfectly.
You can get some spice racks that come with clear jars and labels like these f you really want to switch out the containers to all be uniform, but I don't mind the mix and just use the jars the spices come in!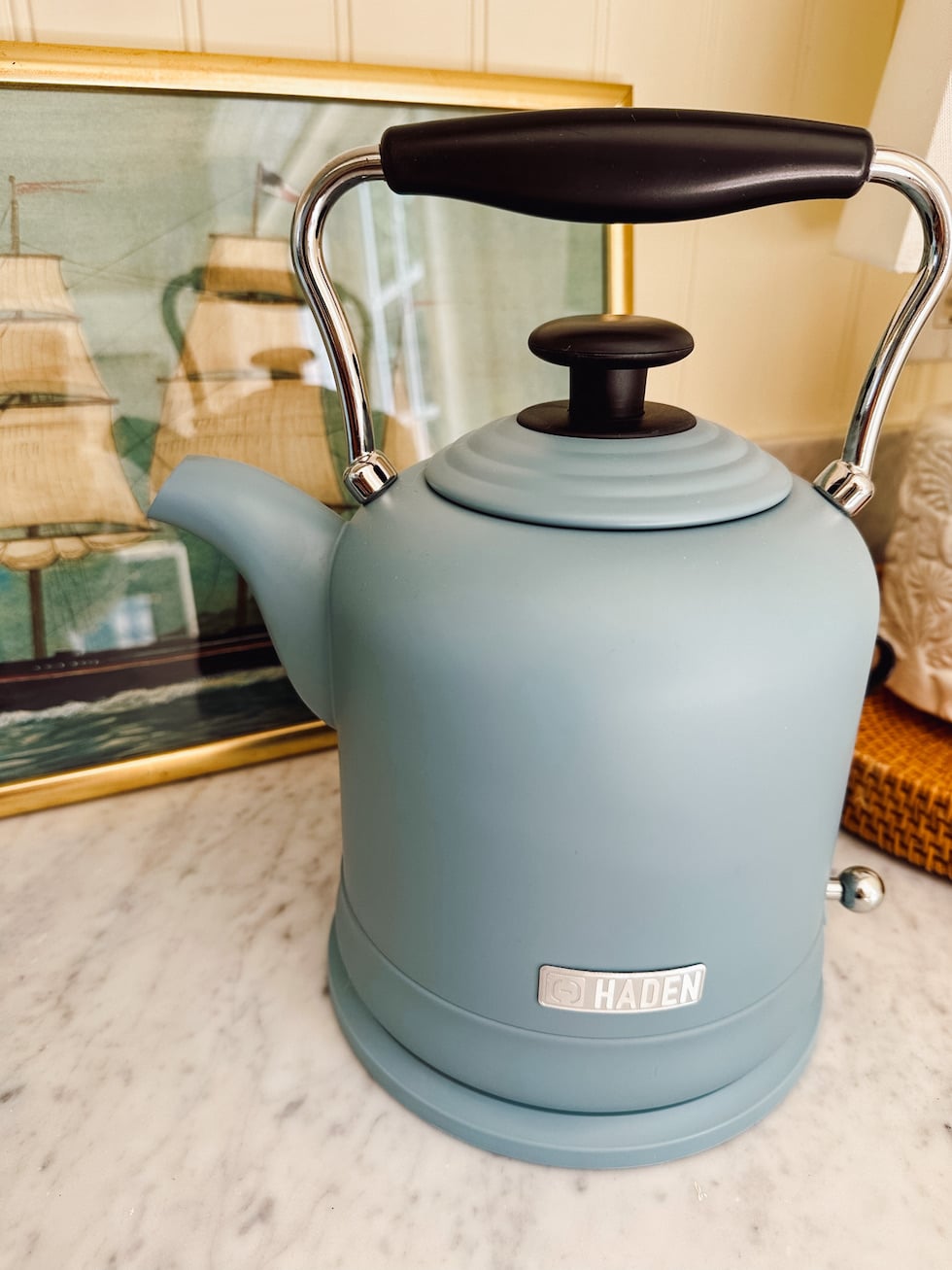 I've never had an electric kettle but I really wanted one for this house. We know we'll have family here often so it'll be so nice to have a kettle that can be used away from the main cooking zone. Part of getting organized is thinking through where people go and what they need to do in a space so you can make the experience comfortable. I want to think through what would be practical and where we put things they will use.
We'll set up a dedicated coffee and tea area where people can help themselves any time. We may even keep a kettle in a guest room for their use there! You can get my exact one on Amazon, and a similar style in various colors at Williams-Sonoma.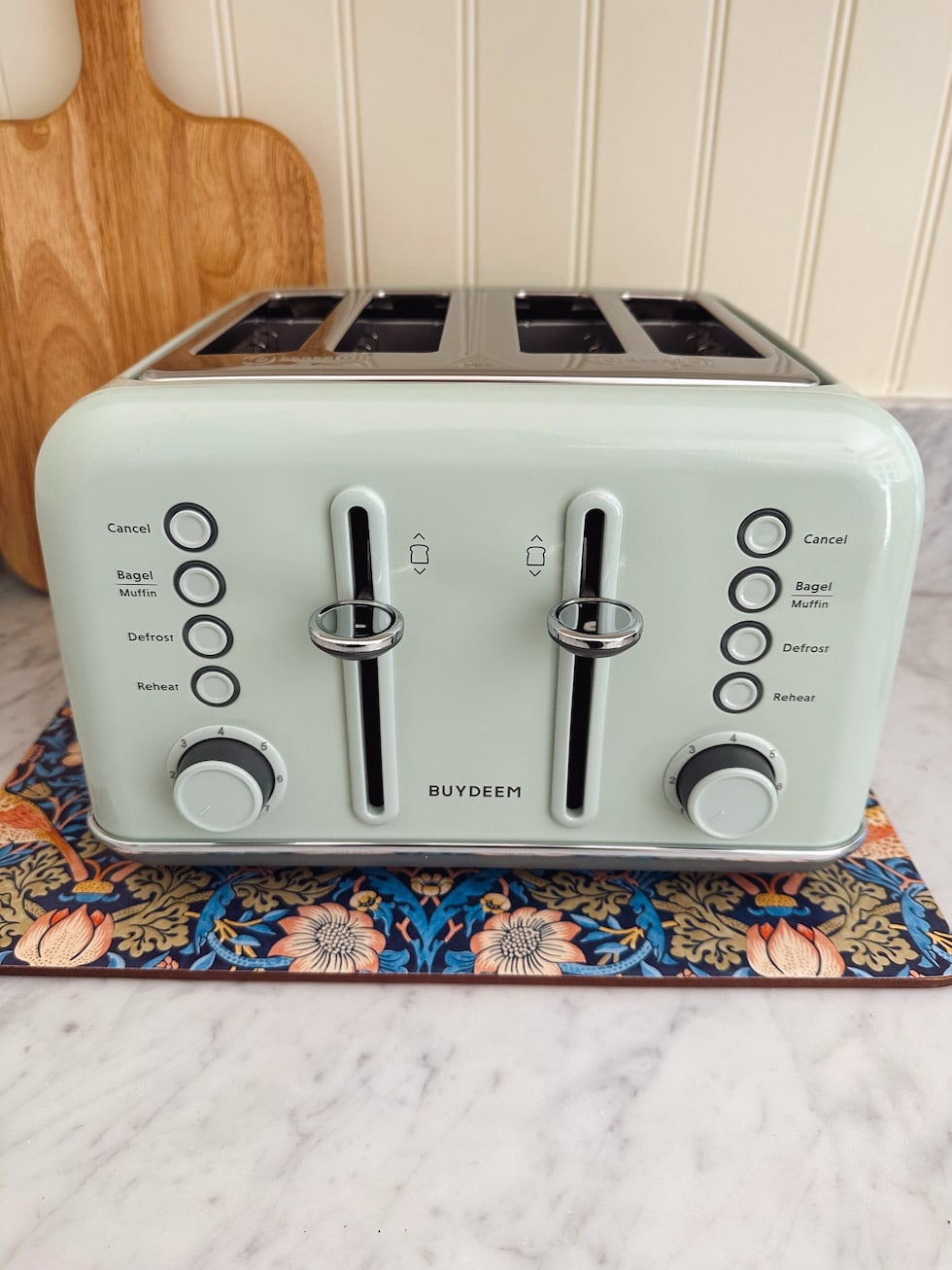 Recently our old toaster died so we began a search for a new one. I fell in love with this style and love the color! After asking followers on social media for their toaster recommendations, we got rave reviews on this toaster! I wanted it to be attractive enough to leave on the counter, so I think this one will be perfect.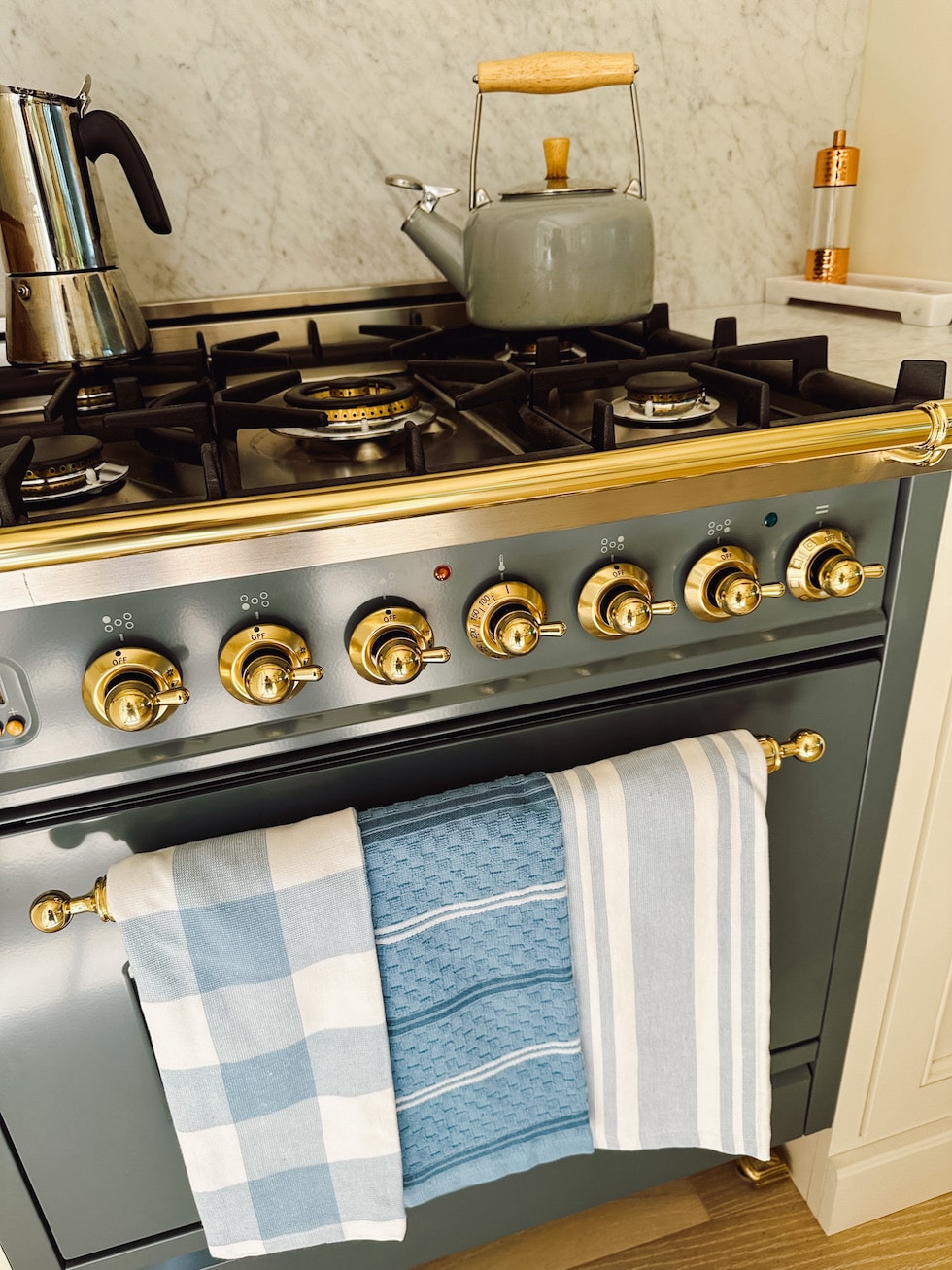 You can't have a new kitchen and hang up old towels :), am I right? Also, how long do new towels look new? Don't answer that. Ha! This was a set of three towels that we'll use for day to day (they have other color options here). I have some others which will be my 'pretty but don't use to clean your spaghetti sauce spills' towels hahah, but I like having every day towels that go with my decor, too. I feel more organized and hospitable when we don't have a drawer full of ugly ratty stained hand or dish towels. When we have those, they go into the rag area and become perfect for those very messy spills :).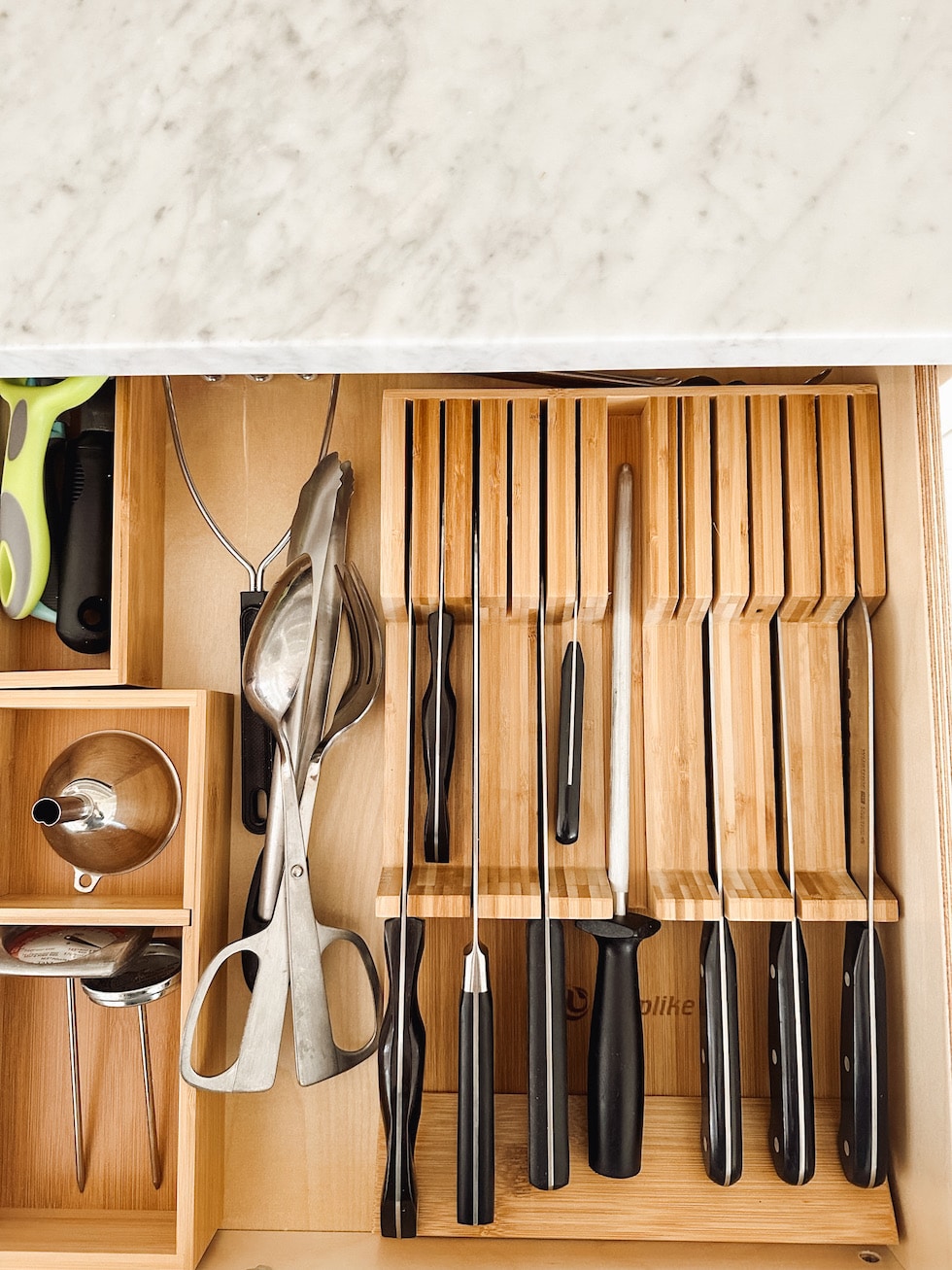 I decided to retire my old counter top knife block because it no longer fit our knives. This time I wanted a knife block that fits in a drawer so we could tuck it away. This one fits perfectly, I love it!
I'm still filling our new baggie containers and kitchen wrap organizers, but I can tell I'll really like these a lot. The wrap container set came with labels even for wax and parchment.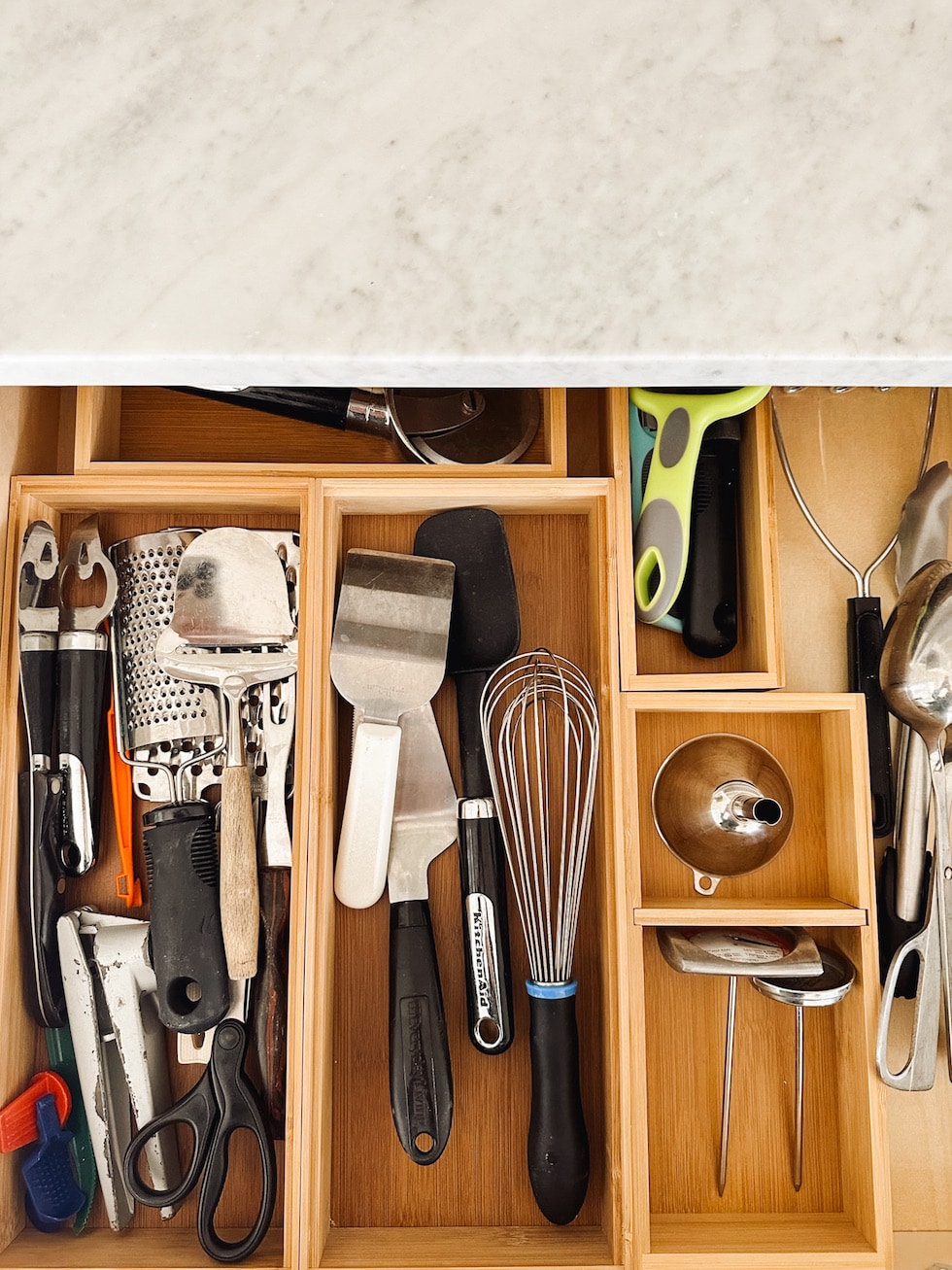 While we did add some custom features in our kitchen, we didn't add any built in dividers because I knew we could do that affordably and simply with these bamboo ones. I got these long ones and also this set that came with 5 in various sizes. I love that you can mix and match the sizes that fit your items even as your needs change, so you aren't stuck with a system for life.
I have a few other new items we are using as well as some built in cabinet features we really like. I am still organizing and getting set up so I'll save those to share for a future post!
Speaking of organizing, did you see I have a new book coming out this month called Simply Home? It's a two-in-one book, combining two of my original paperback books into one hardback! You can read more about it here and pre-order here.

11 Things I Bought for Our Kitchen (Decor and Organization)
The Tiny Cottage Empty Home Tour
Browse organization inspiration posts on The Inspired Room
Browse kitchen inspiration posts on The Inspired Room