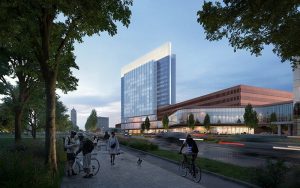 Henry Ford Health has selected the architectural, engineering, and construction management firms to design and construct the transformative hospital campus expansion in Detroit, Michigan, to spread over more than 92,903 m2 (one million sf).
In total, three architectural engineering firms and three construction management firms will work together in unison to bring Henry Ford Health's—and the community's—groundbreaking visions to life.
The team responsible for architectural engineering comprises the firms, HDR, Tsoi Kobus Design, and Hamilton Anderson. Leading the team is the Omaha-based global firm, HDR, with its vast experience in designing and constructing large-scale academic medical centers. The Boston-based firm, Tsoi Kobus Design, has been leading the project's vision planning for more than a decade. Hamilton Anderson is a Detroit-based African American-owned architecture and landscape architecture practice with a track record of successful urban projects.
The group responsible for managing construction activities on the project has titled itself, "BTD," comprising of national leaders in construction management, Barton Malow and Turner Construction, and local firm Dixon Construction Services. Barton Malow, founded almost a century ago in Detroit, is committed to innovation and efficiency in the construction process. Turner Construction has been involved in building projects in Michigan since 1913 and has a Detroit office for almost half a century, specializing in complex and large projects and adopting emerging technologies. Dixon Construction Services, a minority business enterprise headquartered in Detroit, specializes in providing excellent construction services with technical expertise.
The partnerships involved in this project are also committed to promoting sustainability, which will be an essential aspect of any architectural and construction plans for the expansion. Henry Ford Health is determined to become a trailblazer in sustainable practices, and all design and construction decisions will prioritize achieving net-zero emissions by 2040. As the project progresses, the organization looks forward to sharing more about its sustainable strategies and designs.
In February, Henry Ford Health revealed its extensive plans to modernize and expand its Detroit campus, including constructing a new hospital facility and patient tower. This hospital expansion is a part of a more comprehensive development strategy in the New Center neighborhood, where the organization has had a presence for more than a century.
The needs of Henry Ford Health's team, patients, neighbors, and the wider community are the driving force behind this plan, and the organization will engage these important stakeholders throughout every phase of the project.
"This was a rigorous and lengthy selection process, with team members from all corners and disciplines of our organization playing a role in ensuring we selected firms that could deliver exactly what our team, patients, and community needs and deserves," says Henry Ford Health president and CEO, Bob Riney. "Our plans to meaningfully redesign and significantly expand our Detroit hospital campus stand to transform the delivery of healthcare as we know it, and our architectural and construction partners will help make that goal a reality."
Construction is expected to begin for the project in 2024.