Most midwesterners dream of buying acreage and building a custom home with a large shop. Just like you, I looked into building a barndominium in 2020. My husband and I eventually bought a house in town, but we still dream of buying 10 acres of timber and putting up a pole building.
Today, our dream has shifted towards a shouse we would use as a hunting cabin, workshop, and storage. Since working at FBi Buildings, I have learned a lot about pole barns and how they often are not a cheaper solution for residential living when compared to a traditional home.
While attending the  2023 Farm Progress Show, I put myself in your shoes and visited with our post-frame competitors to learn firsthand what my dream pole barn home with an attached shop would cost. 
In this article, I will summarize my experience of talking with different competitors about the option to build a pole barn home. 
What stayed the same? I told each pole barn builder I was looking to build:
 a 42' x 64' x 14' pole barn
My home plan was for approximately 24' of it being a cabin with two bedrooms, a bathroom, a kitchen, and living space. 
The remaining 42' x 40' would be a pole barn shop on a

concrete slab

. 
In addition, I wanted (2) 12' x 12' garage doors, (2) walk doors, 4-5 windows, and a porch on the front.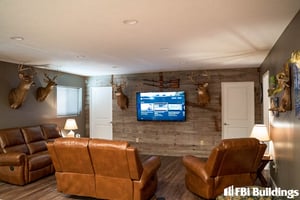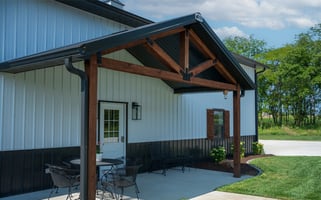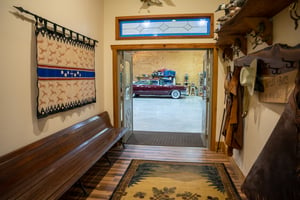 Project 20-0187                                     Project 20-0540                                     Project 125266
Author's note: Below is my experience and a recount of what one representative told me from each competitor. I am writing as if I were you, trying to learn what each post-frame company offers for customer support, a quality product, and what would work with my budget. Your encounter with a company may vary, and the price may change with time and location. This article is to help you understand that the size, scope, and budget for each project and company will vary slightly.
#1 Lester Buildings
My first stop at the Farm Progress Show was Lester Buildings. The salesman informed me that if I wanted a quote, I could go online and request one. The big difference that stuck out to me compared to FBi Buildings was that they have dealerships. The salesman said that the things that set them apart were:
They valued educating the customer through blogs and provided me with a booklet explaining why evaluating builders on their engineering, material sourcing, types of materials, what is included in a quote, and the company's credibility is important.

Their eclipse roofing system.
I was told $26 per square foot for cold storage. The home portion would depend on the types of doors, cabinets, etc., and could run $150-225 per square foot.
A critical difference between their design tool and FBi Buildings' is you can not design the inside or put your plan on Google Earth. However, you could scan a QR code and add to your space with augmented reality.
Shortly after submitting my quote, I got an email that there is no Lester dealer in the area I am looking to build in Indiana. If I have a contractor that could build their structure, they could work with them.
Lester Buildings is the way to go if you're looking for a national builder who manufactures most of its components.
#2 Cleary Buildings
My next stop was Cleary Buildings. The gentleman I spoke with said their pricing is the middle of the road, at $125 per square foot. He said someone should choose them because they are family-owned, and each building gets the shamrock seal of approval. 
I also asked about cedar trusses for a porch. He said they do not offer that, and when a past customer had looked into that, it was $30,000. That shows how some added features can add to the overall price of a building. In addition, they require customers to have an architect draw up barndominium floor plans for any residential project.  
The salesman said for my 42' x 64' with a porch and two garage doors, I could expect roughly $90,000 for the shell. That did not include concrete. 
Cleary Building Corp. is the way to go if you're looking for a low-cost national builder and would prefer to have one point of contact throughout the entire post-frame construction process.
# 3 Blunier Builders
New to the 2023 Farm Progress Show was Blunier Builders' 24′ x 24′ gray and white pole barn with a cedar truss front porch. They said they can do as much or as little as I want. If I wanted to paint or do the electrical, I or they can. The plans are customized to my needs, and I could fill out a quote request online. They service Illinois, but they would build for me since I want to build close to the Indiana/Illinois border.
Overall, I was impressed with their sales team and that they do it all since most post-frame builders are not turn-key. FBi Buildings will get you the shell of the building and assist you with finding reliable local contractors for site prep and interior finishing.
When asked about a ballpark price, the salesman said $225 per square foot for a house or $50-60 for a shop.
Blunier Builders is the way to go if you want to build a smaller, cost-effective pole barn in Central Illinois.
#4 Morton Buildings 
Morton has a home and a machine shed on display at the Farm Progress Show. A unique thing that Morton Buildings offers is a wood grain color siding. 
When asked about the cost, the salesman broke it down into $90 per square foot for the shell, as you see it, plus an additional $75 per square foot for finishes, depending on how you finish. That makes building a pole barn home with Morton roughly $165 per square foot.
Morton is the way to go if you're looking for a national builder and would prefer to have one point of contact throughout the entire construction process.
#5 Wick Buildings
My last stop on my tour of pole barn builders at the Farm Progress Show was Wick Buildings. The sales representative boasted that since they are well known, bankers are more willing to give loans with the reputation their buildings have.
The sales representative said that due to all the factors that go into prices, he would have a local representative contact me for a price. He provided a booklet with several barn house plans for me to review.
Wick Buildings is the way to go if you're looking for a one-stop-shop builder. This is important to some if you don't want the hassle of finding subcontractors for concrete and electricity.
#6 FBi Buildings
FBi Building's article How much does a 40 x 60 pole barn cost outlines the range of $35-50 per square foot. The article on how much a pole barn home costs details $150-250+ per square foot (finished cost). These prices put FBi Buildings' pricing similar to our competitors while also having high-quality materials and employing our crews.
One of the FBi salesmen said, "Get a quote on the project you want, not the budget you have." There is some truth to that. If you only want to spend $30,000, you could get a 30′ x 40′, but that does not factor in the site prep, concrete, overhead doors, etc. 
It is also very eye-opening when looking at the quotes since some features look cool but cost more than expected. That is why asking questions about what is included and not included in your post-frame home quote is essential. In addition, the quality of the materials is important, and it's not an apples-to-apples comparison.
FBi Buildings is the right choice if you want to make a long-lasting investment with a more personalized sales experience. 
From this experience, I learned that there are a lot of similarities and differences when it comes to builders. ALL salesmen won't just say, "A pole barn house will cost ___." So, no matter how frustrated you might get when a company posts a project online and you want to know what it costs, the fact is that no two projects are the same. 
There are too many factors, even in site prep, door finishes, etc. Plus, each company varies in what they offer regarding finishes, crews, and the locations they cover.
There are three main things to consider that will determine who might be the best fit for you.
Project Budget




Determine what your all-in cost is. Most post-frame builders will only do the shell of the building. Often, people forget the site prep cost, landscaping, and inside finishes. Many of the post-frame builders I met with offered a worksheet that helped you outline what you need to budget for.

DIY or Full Service


If your budget isn't huge, consider doing it yourself with a Pole Barn Kit or doing the site prep or general contracting yourself. 
Most of the companies I found hired out their work to local contractors. But if you value only working with one company from start to finish, some smaller post-frame companies like Blunieir do this. 
Quality 


From working at FBi Buildings, I have learned that the quality of lumber, steel, and even screws differs from competitors. Review our comparison articles and check out our YouTube Channel, where we show the differences.
Ready to see how much your dream shouse would cost? Request a FREE quote today!
---
Do you have more questions about pole barn homes that are not covered in this article? If you need help designing and planning, please contact FBi Buildings at 800.552.2981 or click here to email us. If you're ready to get a price, click here to request a quote, and a member of our sales team will call you.