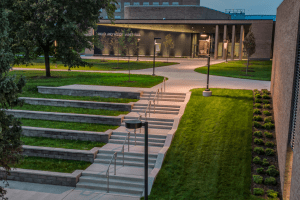 Congratulations to the Oakland University Varner Hall project team for being selected as the 2023 Medium Project of the Year by the Michigan State University Construction Management annual project awards program.
The Oakland University Varner Hall renovation and expansion aimed to replace critical infrastructure within an outdated building and deliver much-needed enhancements to functionality and aesthetics of student and public spaces. Varner Hall is a five-story structure, primarily serving Oakland University's School of Music, Theatre and Dance (SMTD). It includes two performances spaces: the 425-seat Varner Recital Hall for professional and student performances and the Studio Theatre, a smaller venue for SMTD student performances. The building also includes classroom, rehearsal and administrative spaces.
Granger completed this $36 million project at the end of August 2023, working with Stantec Architecture.
Key Challenges:
There were three key challenges in delivering this project.
First, was providing a WOW Factor. Knowing two-thirds of the budget ($30 million of the $45 million) was allocated for substantial deferred maintenance and
infrastructure upgrades – things mostly unseen by building users – the project team was challenged with delivering a WOW factor with the remaining funds to provide students, staff and the community visible, tangible proof of the University's investment. They succeeded on many fronts, but none more so than the new addition leading into the recital hall – a statement of OU's investment in the Arts sure to leave visitors with a memorable experience.
Second, was providing budget certainty. The late 2020 and early 2021 bidding market was extremely volatile. Equipment and labor shortages threatened work and
material lead times were unpredictable. To manage these risks OU, Stantec and Granger collaborated to formulate a mitigation strategy that included early onboarding Mechanical, Electrical, Controls and Fire Suppression design assist partners to recommend value enhancing design suggestions, procure long lead equipment early and provide guidance on the most efficient phasing/sequencing to maintain building operations; frequent and thorough outreach to the subcontracting community to ensure maximum competition for the project and a 5% Plan to prepare for a bid day that was 5% over budget with necessary scope cuts AND a 5% under budget with additive alternates to increase that WOW factor. When the project came in under budget, the team was able to immediately buy additional scope at bid day prices.
Third, was maintaining building occupancy. Replacing major building systems is hard enough on its own, but trying to keep occupants safe, comfortable and not disturbing them or their operations with service shutdowns or noisy activities is a difficult feat. This was accomplished with a thoughtful sequencing plan that some say was like working a highly sophisticated jigsaw puzzle. The building was split into three distinct areas, the recital hall area (A), the classroom tower area (B) and the black box theater area (C). Granger communicated detailed interior and exterior phasing plans, so the building occupants and OU operations staff were informed of project activities.
Varner: ACT II – Historic Success
This project was part of $45 million campus improvement project and was the first major renovation and expansion to Varner Hall since it opened in 1970. The impact this historic project will have on the school's students and faculty, as well as those attending performances, will be realized in every area of the building, creating inspiration and opportunities for students to reach new heights in the performing arts while also creating a community outlet for enrichment and entertainment.
"Varner: Act II is a special fundraising campaign, debuting in conjunction with a comprehensive renovation of Varner Hall that will create opportunities for students in the Oakland University School of Music, Theatre and Dance (SMTD) to reach new heights in the performing arts." Watch the video below to lean more.