This Post May Contain Affiliate Links. Please Read Our Disclosure Policy here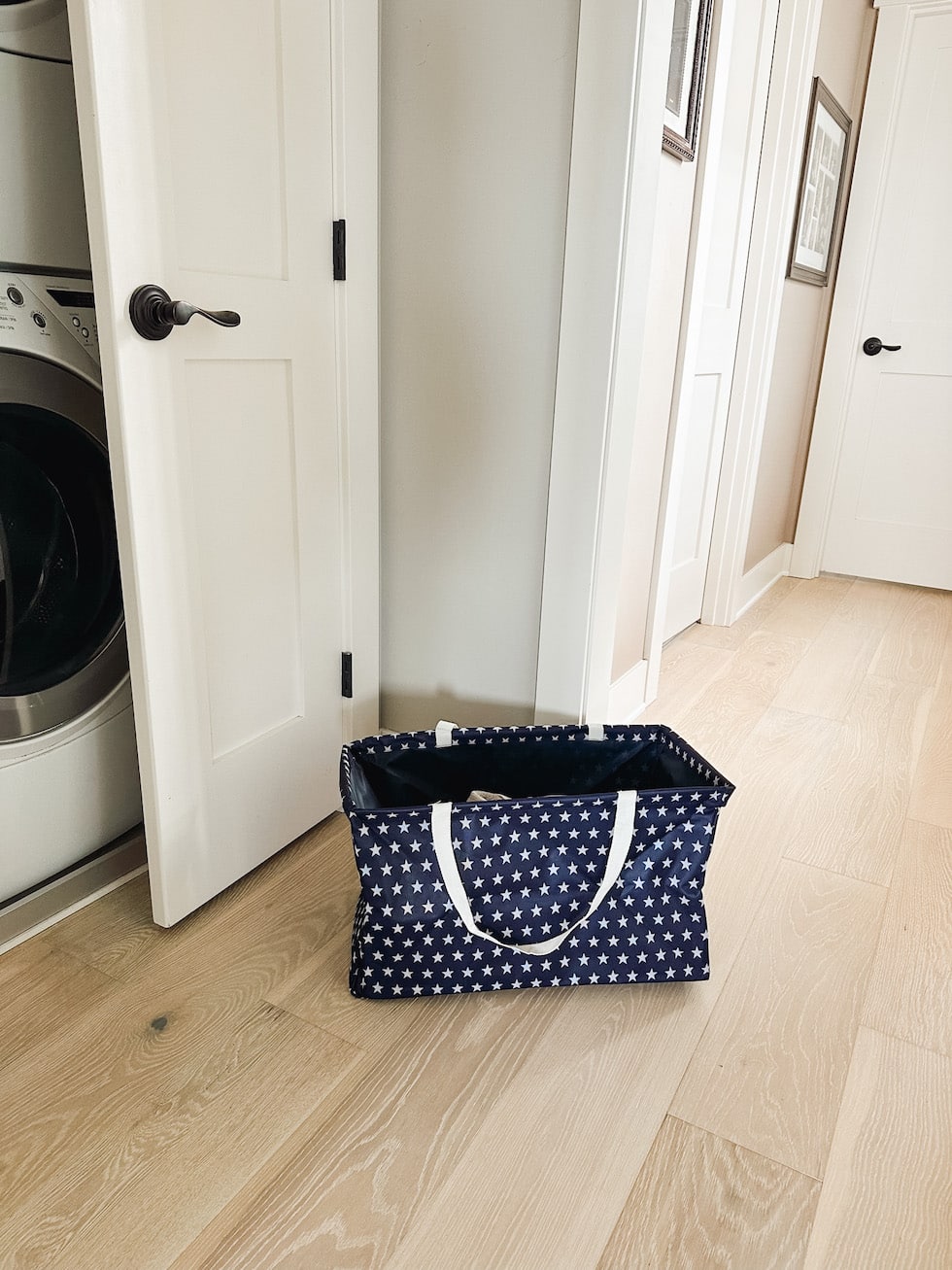 If you have a small home or laundry space like me, you will LOVE today's tip! In a small space, you really don't have room for bulky items like laundry baskets. And our laundry room isn't even a room, it is a very small closet so there is absolutely no room for traditional laundry baskets.
I discovered these collapsible bags when we moved in and we've enjoyed them ever since (and use them for more than just laundry!). They have enough shape to stand up straight so you can fill them with laundry, but are squishable so you can squeeze them into a very tight slim spot. We keep ours in the tiny spot between the stackable washer / dryer and the wall.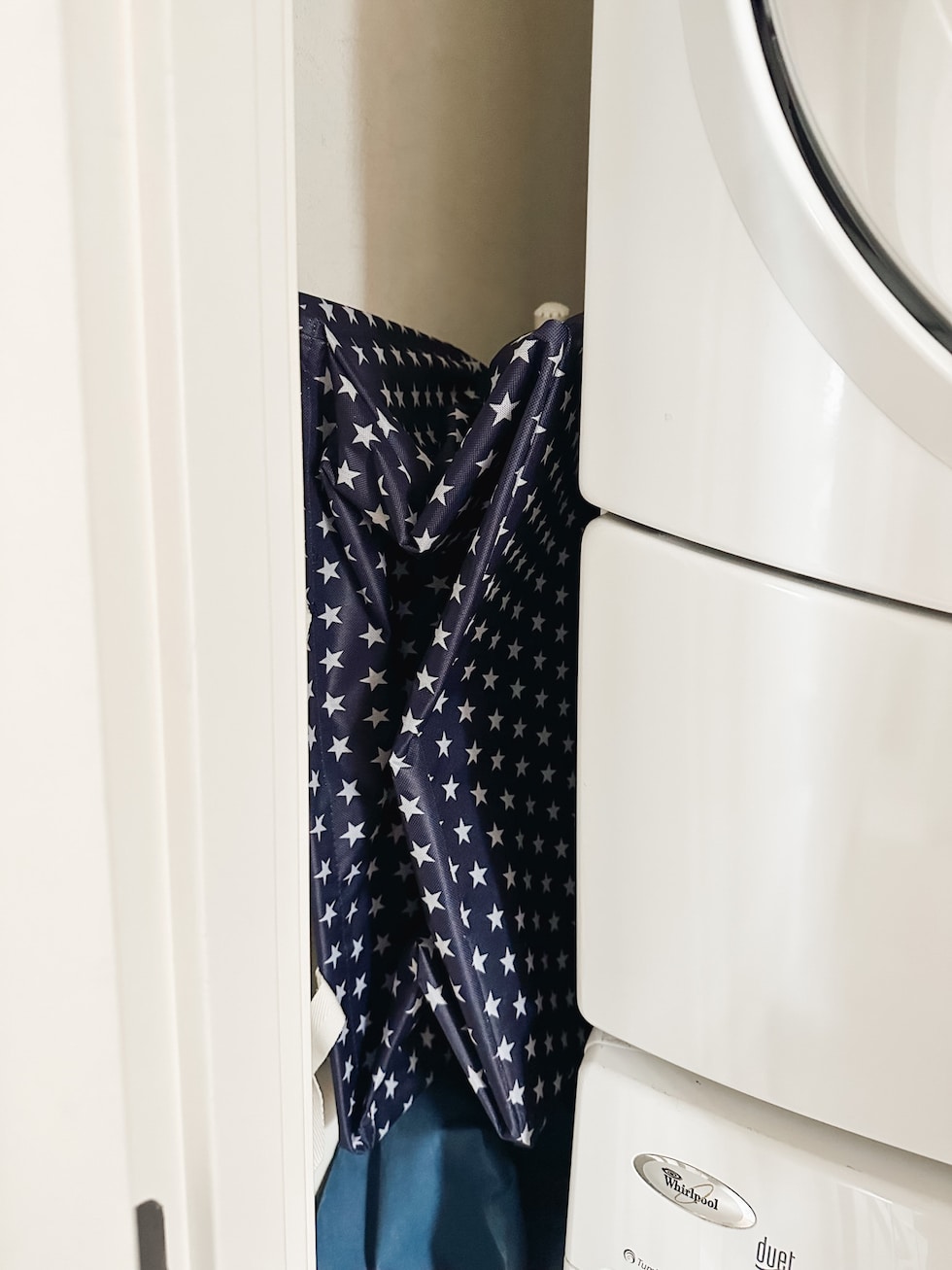 On the other side we have two super slim racks stacked that works great for our laundry detergent and iron and all the little items that you need to have on hand.
Isn't this star laundry bag cute? I just got this one and love it. I will share more styles and patterns below as well as tips for using them to simplify your life!
With limited space available, you really have to think carefully about your organization and what is necessary for practical use or in daily routines for your family. But as I see it, a small space is far from a limitation in a home. It can actually be so helpful to have limited space because it is what will make you have to think twice about what you actually need!
Our family has lived in very large homes before and while there are definite advantages to having more room to spread out, the amount of clutter and excess you begin to accumulate isn't always an advantage or desirable.
Below is a photo of the other side of our tiny laundry closet where we have these stackable shelves (this 4 tier and a 3 tier stacked together) that work great for our small sized detergents, iron and other laundry items!
We also have this really great collapsible drying rack that can easily fold and tuck into a narrow spot and be pulled out when you need it.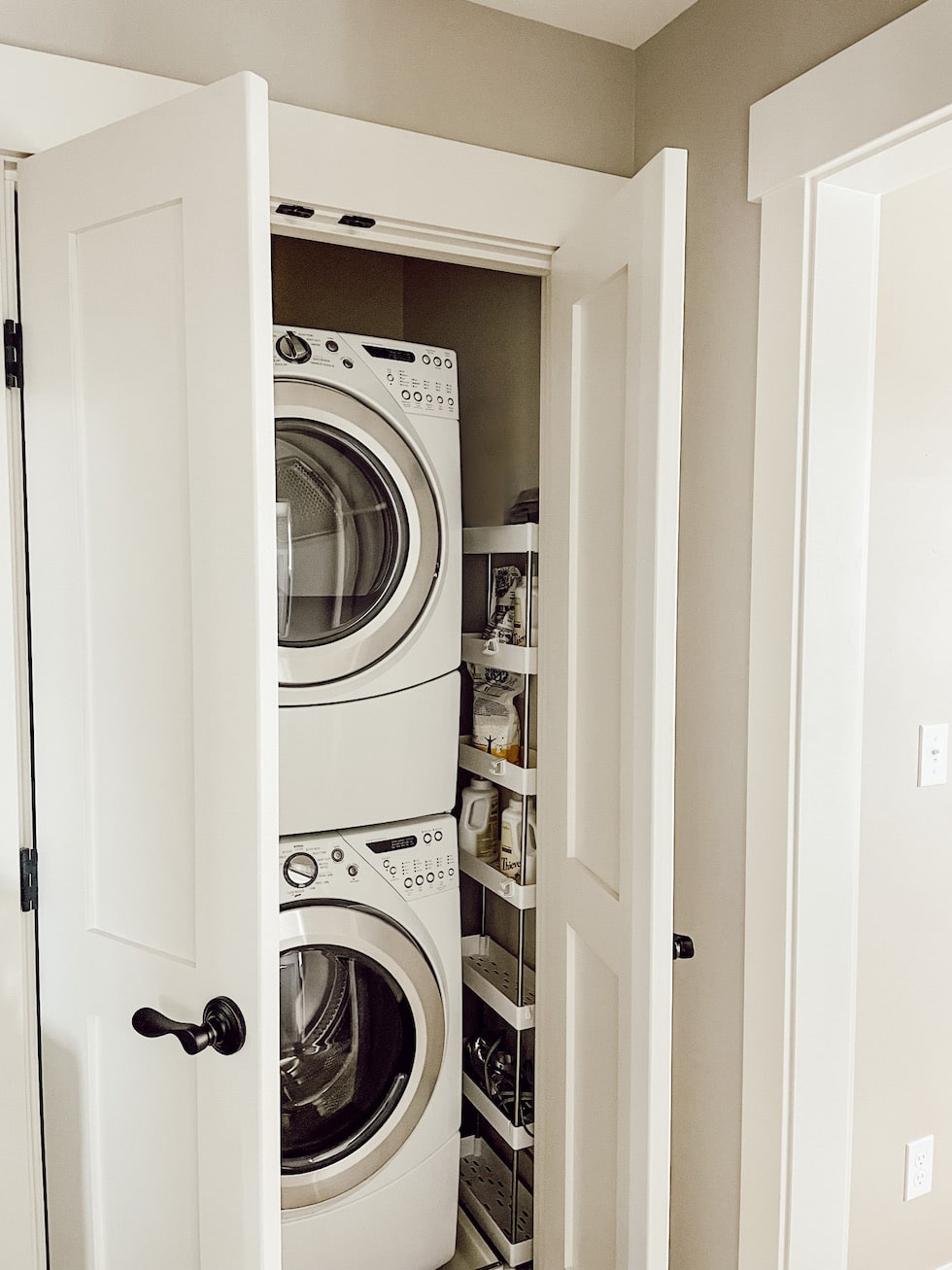 Ideas for how to use collapsible laundry baskets to simplify life:
Reusable grocery bag or farmer's market tote
Use in the car to corral items
Use them to carry your laundry to a room where you fold everything
Leave them in car empty ready for anything, or pre packed with common items you use on the go (picnic blanket, etc)
Leave in car (or in the closet) as a donation bag that you add to slowly and donate when full
Tuck into a closet or corner of the room for tossing used kitchen towels, if you're laundry room is far from kitchen!
Use them in a closet to organize clothes or seasonal items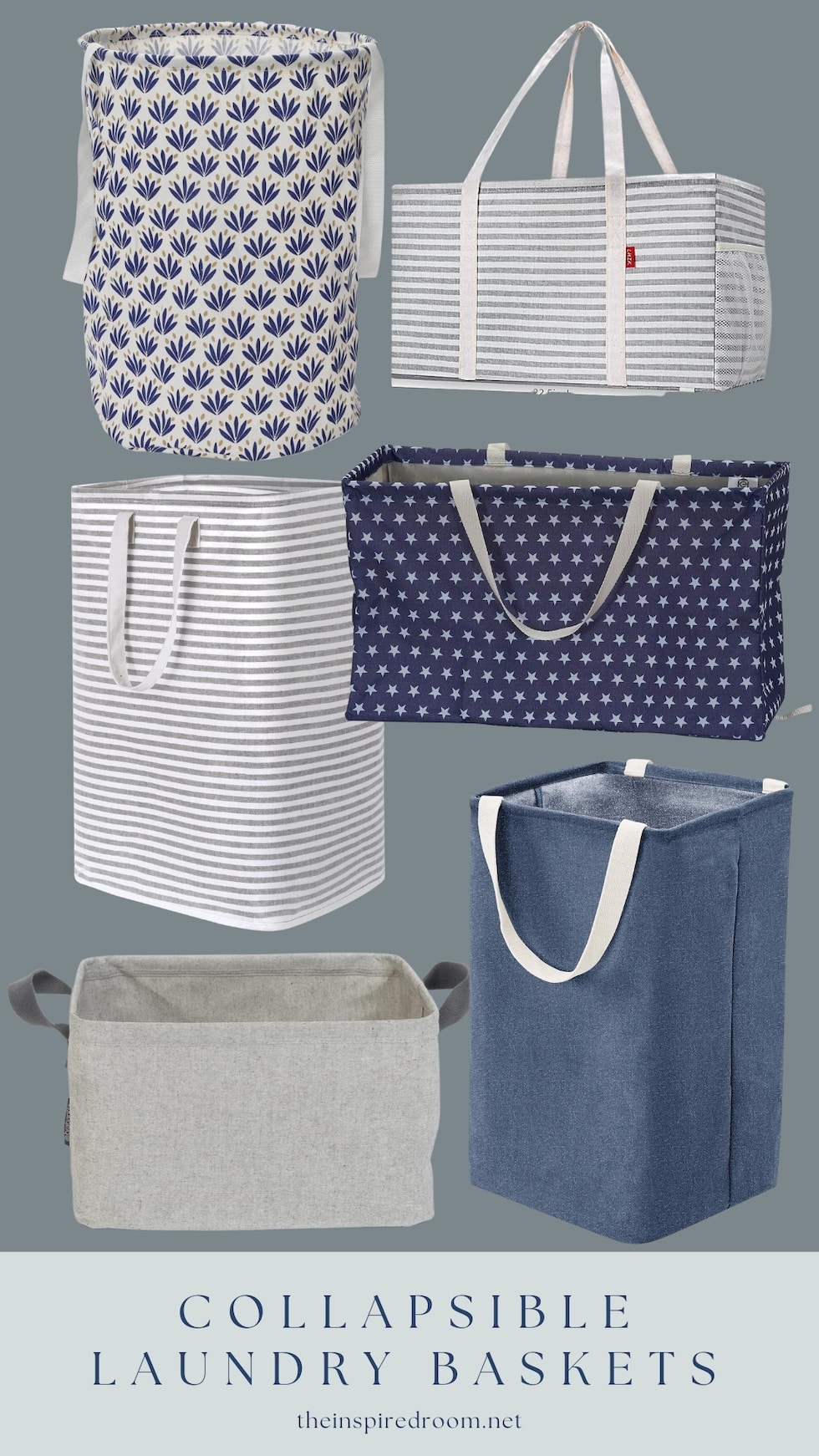 Take care of your home and it will take care of you!
Efficiency in taking care of a home is something I'm passionate about helping others with because it wasn't something I was naturally good at :). I have always loved decorating, but struggled with cleaning routines. I really had to apply myself to learning how to take care of my home and to find joy in those less-pretty and more mundane every day tasks. Now I love it!
I've been sharing my daily homekeeping routines and tips in our HomeBody Gathering Place this month. We've had some good discussions with our community about what is needed to find more joy in taking care of our homes!
We're all about creating sanctuaries in the HGP! All year round we share about everything home: from how to decorate and find your style, to how create an atmosphere that inspires us, to embracing daily routines and getting into seasonal rhythms that help us stay on top of what needs to be done so our home runs efficiently and we feel our best in it!
We'd love to have your join us in the HGP! It is a special community. BUT– there is only A FEW DAYS LEFT to join us before we close our doors to new members until the new year.
If you love all things home and / or would like to make improvements or regular progress in your own home (and would like to be surrounded by the encouragement of like minded friends!) I hope you'll hop in the HomeBody Gathering Place! Come enjoy the fall and holiday season with us!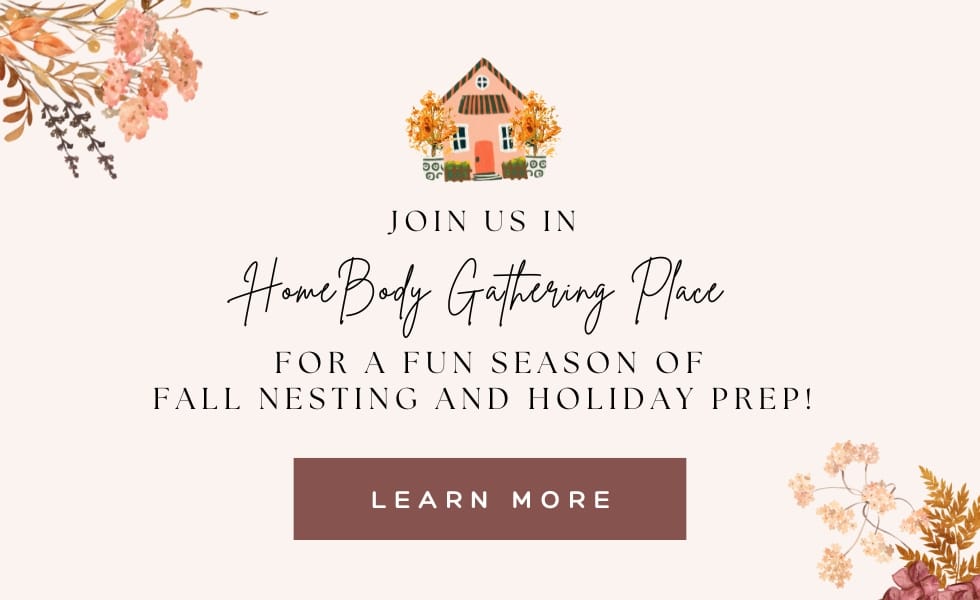 A Cute & Organized 'Laundry Room' in a Closet
Pretty Laundry Room Inspiration
Linen Closet Organization Ideas
No Linen Closet? No Worries! 3 Reasons These Shallow Underbed Storage Bags Can Help!
Find all laundry and linen inspiration posts on The Inspired Room HERE.
Find organization posts on The Inspired Room HERE.
See more laundry and linen storage solutions in my Amazon shop HERE.