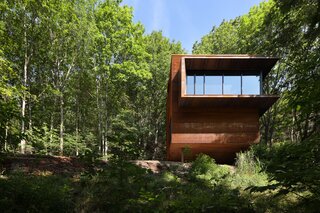 Houses We Love: Every day we feature a remarkable space submitted by our community of architects, designers, builders, and homeowners. Have one to share? Post it here.
Project Details:
Location: Nova Scotia, Canada
Architect: Omar Gandhi Architects / @og_architect
Footprint: 1,400 square feet
Builder: Hewn + Barter / @hewnandbarter
Structural Engineer: Andrea Doncaster Engineering
Landscape Design: Trim Landscaping
Photographer: Ema Peter / @emaphotographi
From the Architeect: "Nestled at the end of a long and winding driveway through the forest, White Rock stands majestically atop a steep rocky incline, overlooking the picturesque north bank of the Gaspereau River Valley. This magnificent location holds deep historical and cultural significance, being the unceded territory of the Mi'Kmaq indigenous community and carrying profound roots for the Acadian community, who named the river after the gaspereau fish.
"White Rock is not your traditional cottage. The retreat offers solitude high above the valley floor and captivating views above the tree line. The purpose of this unique escape is to disconnect, unwind, and rejuvenate, providing friends, colleagues, and families with an environment that fosters improved mental well-being. Approaching White Rock is an enchanting sensory experience. A steep uphill driveway and tight hairpin turn lead to a gravel path accessible only by foot, encouraging a slower, more immersive connection with nature. The cabin's silhouette appears both imposing and gracefully perched on the rocky ridge. Tall trees, generations of decomposing tree limbs, and natural outcroppings create a haven for the forest's inhabitants. The landscape design harmoniously blends with the woodland environment, leaving a light footprint. Rainwater is thoughtfully captured and stored for irrigation while existing trees offer shelter from the summer sun.
"Inspired by traditional hunting cabins and duck blinds, the architectural design features a large, heavy Cor-Ten steel volume resting atop seemingly slender legs. A smaller Cor-Ten entry volume is recessed underneath, emerging from the expansive rock below, anchoring the structure to the site. Weathered steel extends beyond the pure Cor-Ten volume, accentuating the vast glazing on the second floor, and offering breathtaking views of the river valley.
"White Rock's austere exterior is a stark contrast to its interiors. Stepping inside White Rock, visitors are greeted with an intimate, dimly lit space. The first floor houses bedrooms and a bathroom adorned with minimal and raw aesthetics. Smoked oak interiors, complemented by raw steel shelving and wall-mounted industrial light fixtures, create a soothing atmosphere. Antique linens and hand-dyed fabrics adorn the beds, adding an element of history and warmth. Large picture windows provide glimpses into the enchanting forest surroundings, blurring the lines between indoors and outdoors."