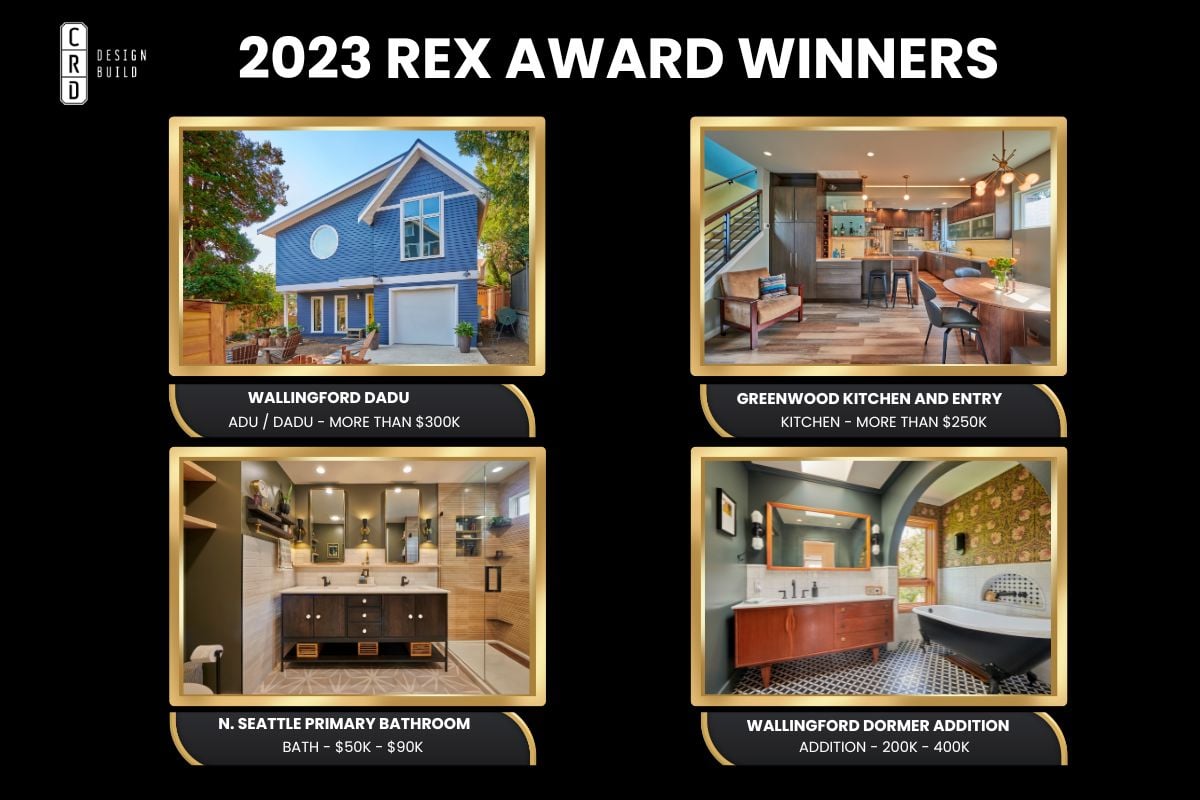 Here at CRD Design Build, we are ecstatic to announce a significant achievement that reflects our unwavering commitment to excellence in the world of design build, remodeling, and construction. In 2023, our dedicated team has earned the prestigious distinction of not one, not two, but four  REX Awards (Remodeling Excellence) from the Master Builders Association of King County. This remarkable feat underscores our relentless pursuit of perfection and innovation in every project we undertake.
These awards are a testament to our unwavering dedication to delivering superior design build services to our valued clients in the Seattle area. Each award symbolizes the culmination of hard work, expertise, and a passion for transforming spaces into stunning, functional, and truly exceptional environments. 
Here's a summary of our four award-winning renovations – 
Category Winner: ADU / DADU – More than $300K
Detached Backyard Oasis 
This family had a small garage in their backyard that was only being used for storage and was collecting a lot of dust.  Their home was starting to feel cramped for space too! They decided it was time to start to plan for their future. This started by adding some extra space for their kids or parents to stay when they came to visit. Also, they thought it would be great to have a garage to use with an electric car charger. As our plan developed, it seemed like a great idea to incorporate a home office/exercise/gathering space.  We transformed this underutilized small garage space into a beautiful, DADU that provides all the extra space they needed and more! 
Downstairs is the new garage space, which is large enough for a car and extra storage. When you enter the front door, there is a living space with an attached powder bathroom. Currently, this space is being used as a home office and exercise room; but is flexible enough to be used as a gathering space while they entertain in the backyard. It was important that we incorporated extra-wide patio doors that connect the inside to their beautiful backyard.
Upstairs there is an open-concept living room/kitchen area that is perfect for entertaining or overnight guests. The main focal point in this space is the large circular window that draws your attention the second you enter the space.  We chose a wooden multi-pendant light to hang in front of this window, which makes for a great accent at night from both inside and outside.  We included warm blue/green cabinetry in both the kitchen space and the great room wall, which doubles as a built-in TV space and bar area. And for easy access to the outdoors and a view of the yard, we included a small balcony off the kitchen.
We also included a full-bedroom suite with a large walk-in closet, washer/dryer, and full bathroom. A unique bathroom detail is the hexagon-shaped shower niche. The homeowners wanted to create a casual and flexible space throughout their DADU that had a Scandinavia flare incorporated in their design.  They now have the perfect spot to park a car, host overnight house guests, entertain, and get some work done in the office space.  To see more photos of this stunning space, check out – Wallingford DADU.
Category Winner: Kitchen – More than $250K
Radical Re-Space Plan
This family of four has a lot on their plate with sports, homework,  cooking together, and all the gear that comes with living in the PNW. They were in desperate need of more organized spaces. We designed a great plan to give them the home of their dreams.
By relocating the entry closet we opened up the entryway.  We installed a custom hall tree and dedicated two walls to coats and backpacks.   The new closet offers plenty of storage for shoes and sports gear.  With room to spare, we added a full-height pantry for after-practice snacks for the kids. 
We removed two odd dueling pantries at the kitchen entrance, to create a better flow.  We relocated the range to the opposite wall and added open shelves for some decorative storage. The floating shelves wrap the outside corner for a unique detail that leads your eye to a bar area for adult entertaining. We also added a full-height pantry with roll-out shelves, near the bar.  We removed the soffits on the opposite side of the kitchen to offer full-height storage.  To maximize storage inside the cabinets, we utilized roll-out shelves, spice pull-outs, tray storage, and large glass flip-up cabinets.  
To hide a necessary structural beam and create an architectural feature, we framed a soffit and added some LED lighting that highlights the junction at the ceiling. Additionally, we installed space-saving bench seating with seasonal storage underneath the dining area. The family chose a beautiful walnut dining table with fold-out leaves when more table space was needed. 
We also needed to improve the overall flow from the kitchen to the family room. We framed in the openings at the separating wall and added 2 large barn doors. This gives the family some much-needed separation between the kitchen and adult conversations and the family room with noisy kids' video games. The spaces feel connected until the doors are closed. We supplemented the recessed cans and under-cabinet lighting with decorative accent lights.
Another item on this family's must-have list was bar seating, so we created a waterfall peninsula near the stove. Their youngest loves to perch in this spot and has claimed this as their own. It's the perfect spot for two barstools. Check out more of this kitchen – Greenwood Kitchen & Entry.
Category Winner: Bath – $50k – $90K
Mid-Century Sanctuary 
This North Seattle couple dreamed of turning their awkward and hard-to-use Master Bathroom into a space that not only functions better but fits their stunning home aesthetic. The homeowners wanted a mid-century modern design with organic details to truly make this bathroom into their own personal spa getaway. We worked closely with the couple to ensure that their dreams came to life and blended seamlessly into their distinct and unique home. The floor and wall tile selections were very important to our clients, in fact, we developed the entire color palette around these two materials.
An important item on this bathroom must-have list was lots of storage. We made provisions for their double vanity, providing extra storage and a large counter space beside their walk-in shower. To be more budget-friendly, we opted for a premade vanity that fit their aesthetic, but we customized it by adding new hardware. We also included two extra large medicine cabinets disguised as beautiful mirrors. We added a wood vanity ledge just under the medicine cabinets for additional storage.  We designed a combination of open decorative shelving, floating shelves, and functional linen storage that includes a rolling clothes hamper. In the new shower, we designed a large storage niche and corner shelves, the lower of which doubles as a shaving ledge. No detail was spared as they wanted plenty of space to display their beloved décor items which they collected throughout the years to make their bathroom truly feel like their own.
Stylish and functional plumbing fixtures were also high on the priority list. We chose modern matte black vanity faucets with an open pour spout and a matching shower faucet in matte black, that included a handheld sprayer and a rain head. We opted for a stylish pre-made shower pan, as a budget-friendly option. In the new shower, we also included a large transom window to help let in as much natural light as possible and we added recessed cans and decorative sconces in the vanity area.
Our clients had a specific design aesthetic in mind that we helped come to life. We were able to get the look they wanted without breaking the bank. To see more of this bathroom retreat check out – N. Seattle Primary Bathroom.
Category Winner: Addition – 200k – 400k
Mid-Century Sanctuary 
These Seattle homeowners were ready to stop sharing a bathroom with their house guests and create their dream retreat. They wanted the space to be an extension of their eclectic home and were not afraid of daring to use bold patterns and unique colors. They dreamt of soaking in a clawfoot tub with a glass of wine as they took in the views surrounding their home.  We drew inspiration from their love of classic details like natural wood and vintage furniture, marrying them with modern elements like patterned tile floors. 
We expanded the crawl space by adding a dormer and skylights to gain natural light. This included a new bathroom, closet space, and an office nook that acts as the homeowner's personal library. We snuck in extra book storage as well, taking advantage of the hallway leading to their bedroom. We also made room for an organized closet space that the client could fill from head to toe. 
Materials were meticulously selected to pack a big visual punch while staying within the client's budget. The client initially wanted a vintage pink toilet, but the upfront cost and fear of not finding replacement parts led us to compromise and paint the space in a peachy color instead. They didn't want the space to feel stuffy, so we spiced up the floor and niche tile with patterns, contrasting the other materials. We used different styles for each handle set as no two doors in their home have the same hardware. 
We incorporated unique details that made each room stand out and feel special. Adding an arch into the tub gave a grand feel, allowing us to make the space distinctive with wallpaper. Meticulously tiled and delicately crafted, we mounted the tub spout in the niche, emulating a Roman spa-like feel every time the homeowner steps in (photo 8). They wanted to reuse a vintage dresser in the project, so we modified it into their bathroom vanity with a countertop, making a custom furniture piece into a functional vanity.   
Overall, this stunning bathroom brings daily joy to the client with unique details that were curated to their style and added more privacy and storage to make them feel at home. To see more of this eclectic bathroom check out – Wallingford Dormer Addition.
Get In Touch With Us Today
Feel free to contact us to discover how our award-winning team can assist you in achieving your remodeling goals! With more than four decades of experience in Seattle, we've successfully undertaken projects of various scales, encompassing everything from bathroom and kitchen renovations to complete home makeovers, as well as additions, and more.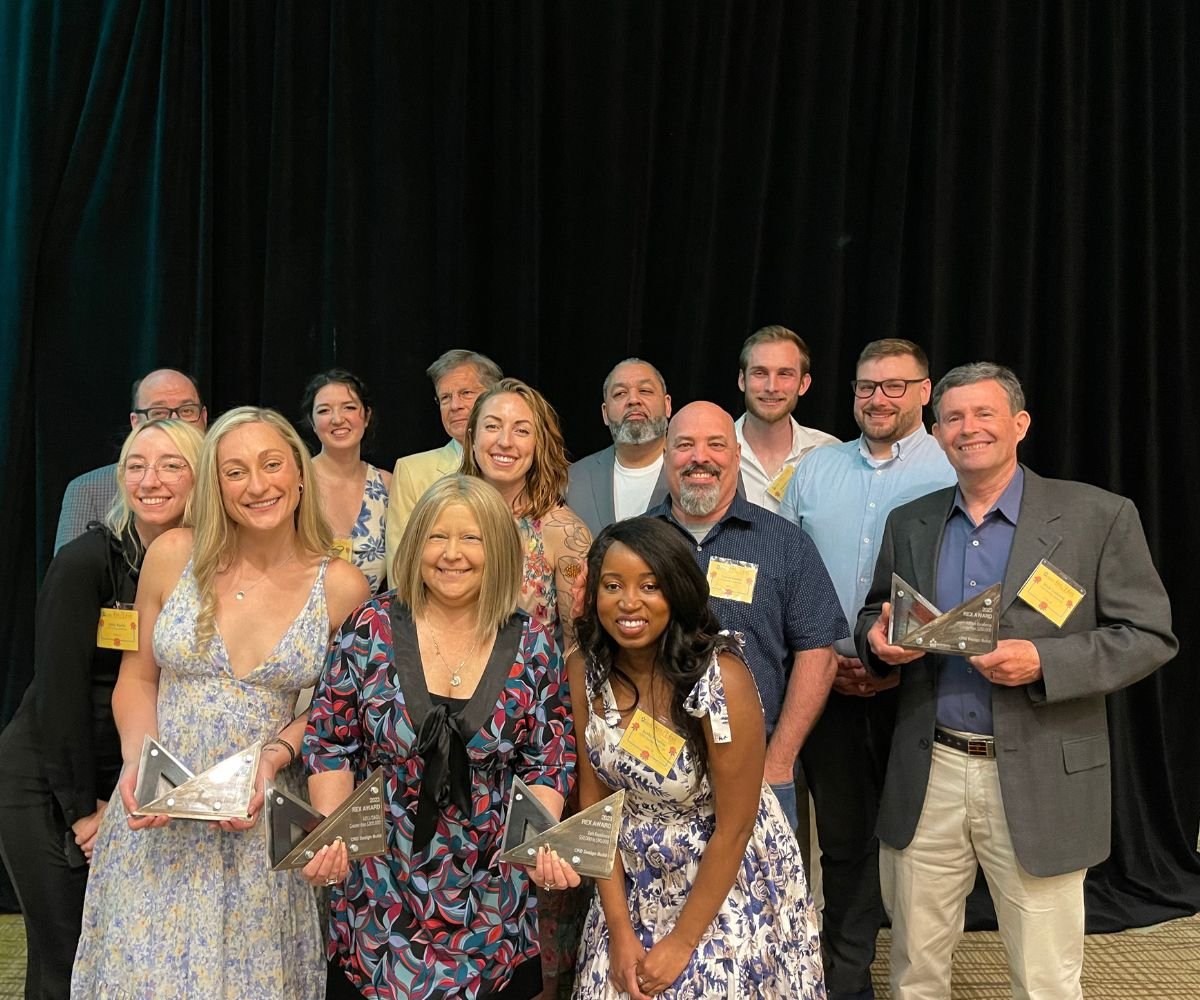 Pictured here are some of our amazing team members representing CRD at the award ceremony!