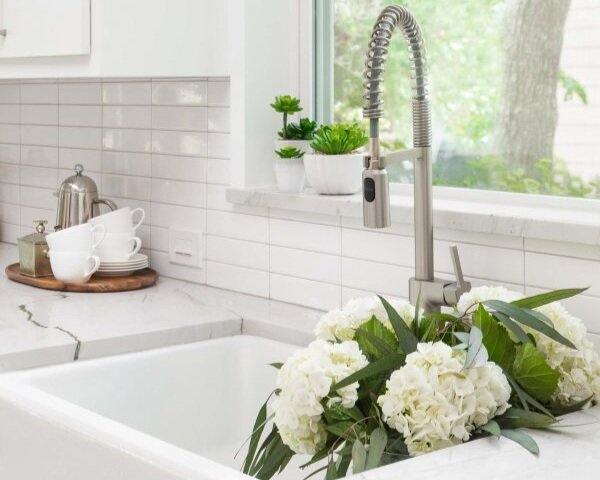 There is nothing that seems more wasteful than paying for big slab of stone or quartz for your new countertops and having about half of it or even a strip of it, left over!
You want to get the most out of that investment and use it up, tastefully, in your home.
I have some great ways to finish up that slab material, down to the last strip! We will cover these places in this post.
Places To Use Your Leftover Countertop Slab Material
Kitchen

Bathroom

Around the House
Kitchen
1) Accent the range hood area with a dramatic slab section
The quartzite material used on this project was very precious and the homeowner, a geologist, really wanted to use every inch. We had just enough, after the counters and the bar area to do this one section at the range to the ceiling.
2) Windowsill ledge
I almost always try to use a slab sill at a kitchen window with a detail just like these below. It just makes for a clean transition of materials and gets a durable material on the sill where people often have some water spill or splash.
3) Short stubby backsplash
I rarely ever use a standard 4" slab backsplash. I like a shorter 2 1/2" high splash, as it rather blends in with the countertop but can protect the wall from appliances being shoved up there some and can cover up a not-so-great countertop install with a gap that needs covering.
In this pantry, below, i used the short splash at the perimeter as I felt it needed something to pair with the tall curvy height at the sink.
4) Transition space between kitchen window and sink area counter
This one of highest splash places in a kitchen, between the kitchen sink and a window above. I'm a fan of this type of installation, as it is easy to maintain and has a really simple look.
5) Transition space between standard countertop and 42" high bar
This short vertical area between the counter and the 42" high bar is also sometimes best clad all in the slab material. Like the window at the sink area, it easier to maintain without many grout joints, but it has a cleaner look too.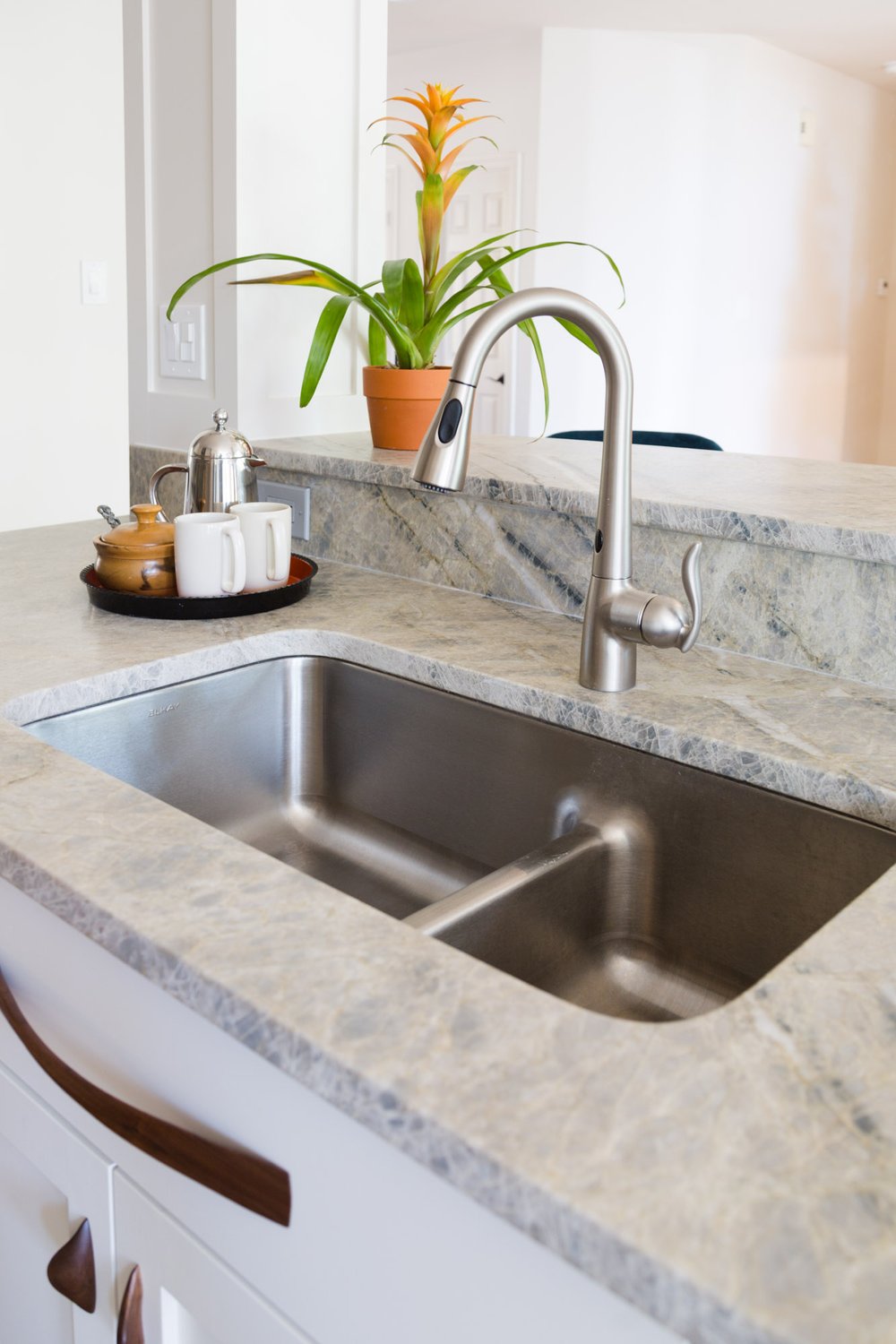 6) Pantry
Pantries are definitely becoming more of a design feature in homes these days and people are upgrading the finishes in there all the time. Adding a slab of your countertop on a 36" high cabinet in there can make this space work extra hard for you.
7) Waterfall side on kitchen island or base cabinetry
If you have a substantial chunk of slab material left, it is popular to do waterfall sides on kitchen islands. I've even done a sitation where we did one side as a waterfall and the other with bar seating, so less is used for the side panels.
You can also do this on the side of the base cabinetry too, for extra durability and a high end, specific look.
8) Doggie Bowl Holder
In this project, below, we used a leftover piece of countertop material with cut outs for the brassy bowls the homeowner found. You can even line the whole area here, top and sides, if you have enough material and want to.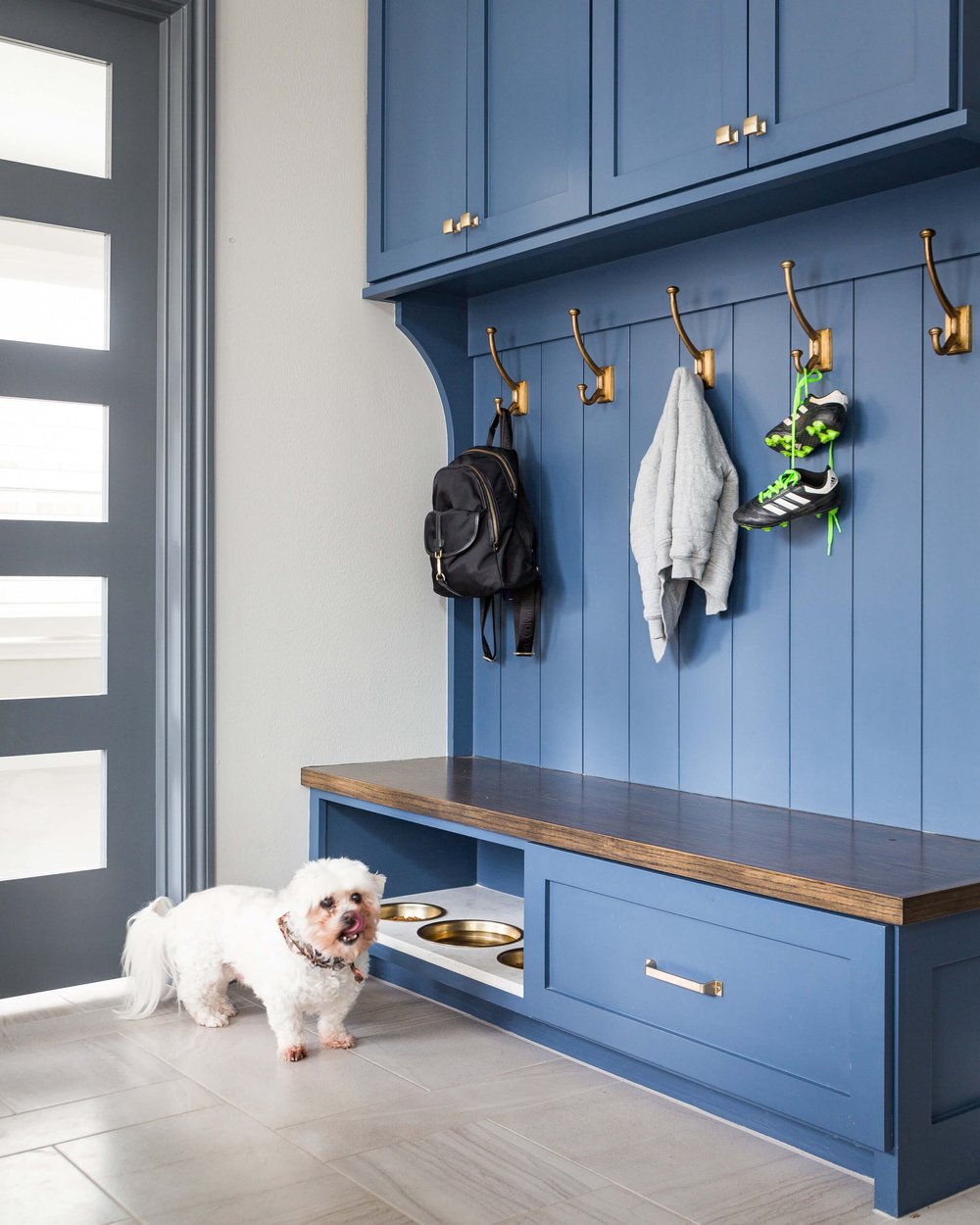 Primary Bathroom
While it seems like there are lots of places to use extra slab material in a kitchen, I think there is even more in a bathroom. Check all these out, below.
1) Shower curb
One of first places I try to put the countertop slab material in a project is on the shower curb. It just makes for a neater transition and keeps water from standing in grout joints there. I've seen more water damage under the materials at shower curbs than anywhere else, when we start to rip out bathrooms.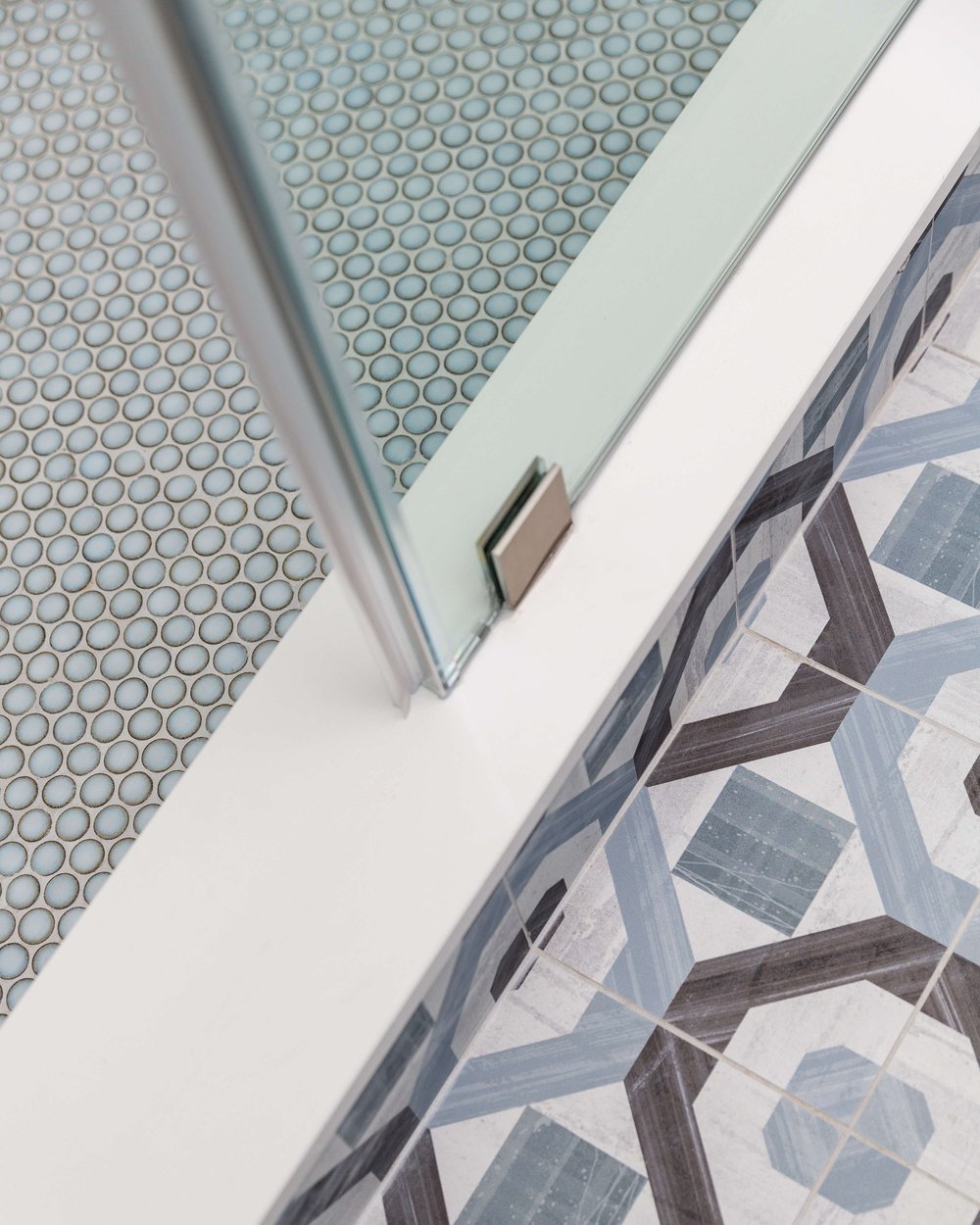 2) Shower shampoo niche
I love doing the top, bottom and sides of a shampoo niche in slab material, especially if there is a mosaic on the walls. It makes for a neat transition of material and is easy to maintain.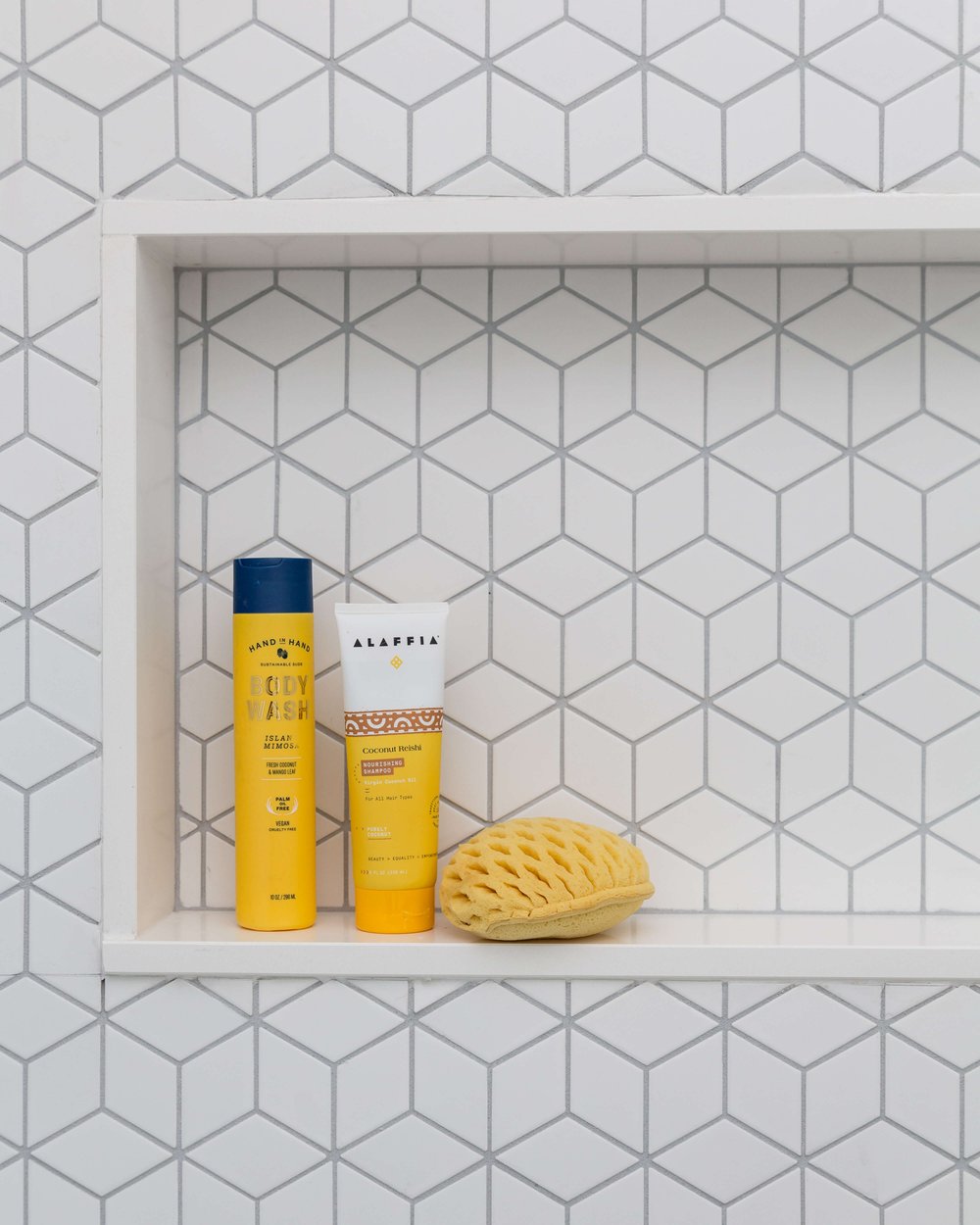 3) Shower seat
These shower seats, below, are slab material. I like using slab material here as water doesn't stand in grout joints on the horizontal surface. Even when horizontal tile surfaces have a slope, sometimes water can stand there in the grooves.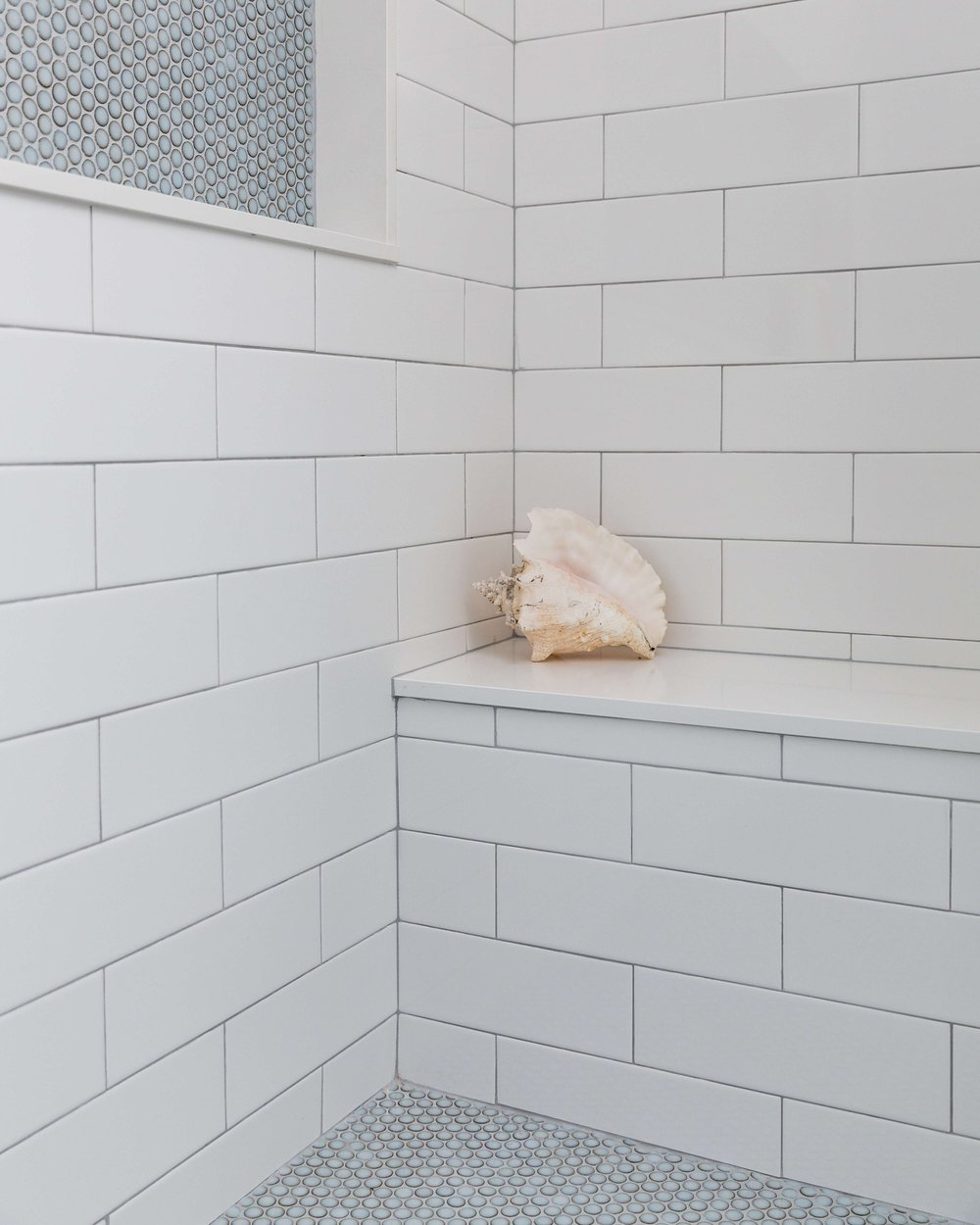 4) Top cap on short walls around shower
The top cap on this short wall at the shower was made from the slab countertop material. The slab material was also used in the shampoo niche shelf.
5) Casing the sides of the glass shower enclosure
Both of these shower stalls, below, are cased in slab material on the sides as well as the curb. Not only does it give a nice flat surface for the glass to be installed against, but it serves as a great way to stop the tile on the shower walls.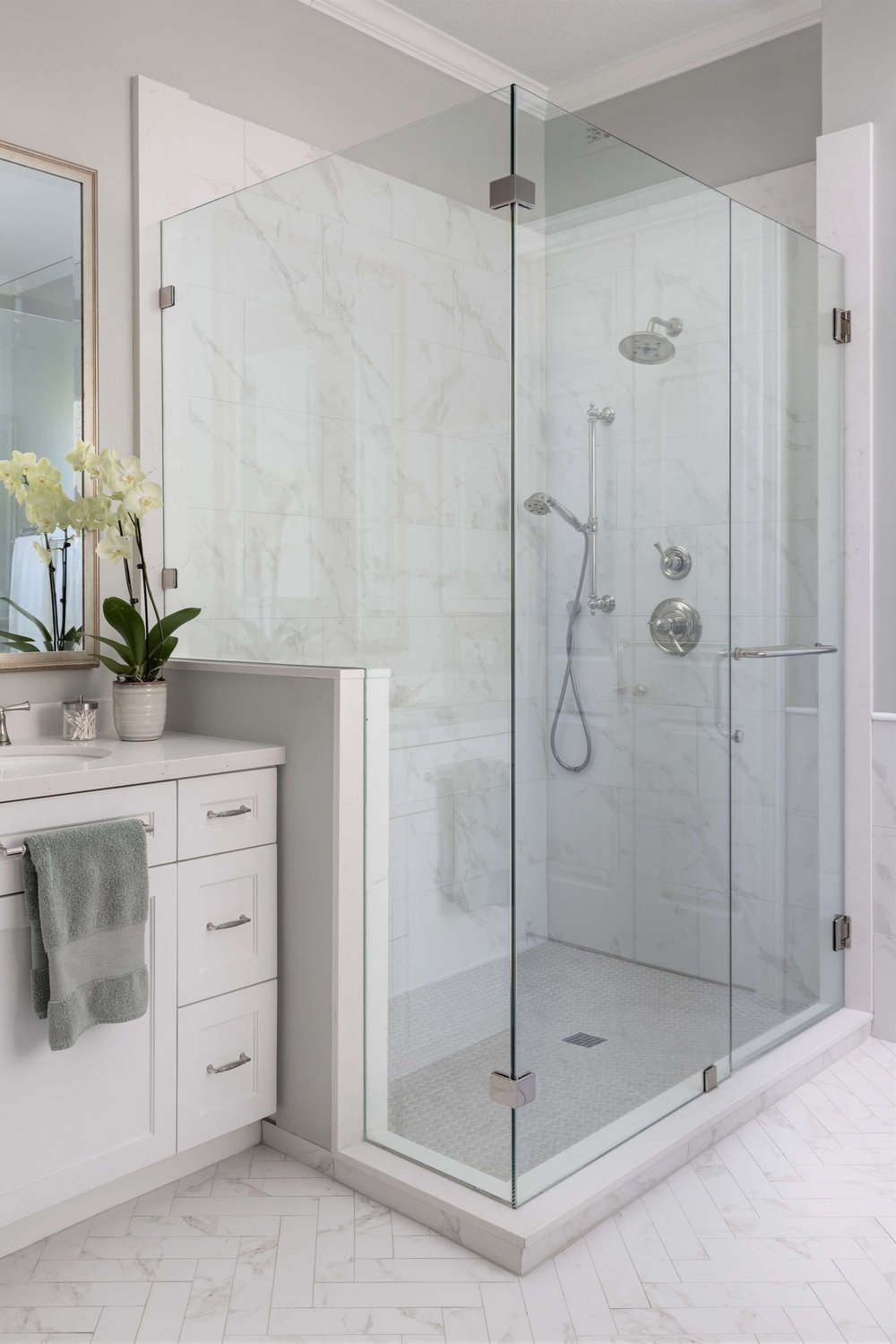 6) Window sill or framing whole window
A quartz slab material was used at the window sill in this large shower. Although the shower head is about 6' away, we still wanted that sill waterproof and even a possible place to put a few little plants.
7) Shelf or ledge
These shelves or ledges come in really handy in a bathroom. The behind the tub was a nice, luxurious touch for that big bathroom space.
8) Curvy splash
I do love a curvy slab backsplash in a bathroom!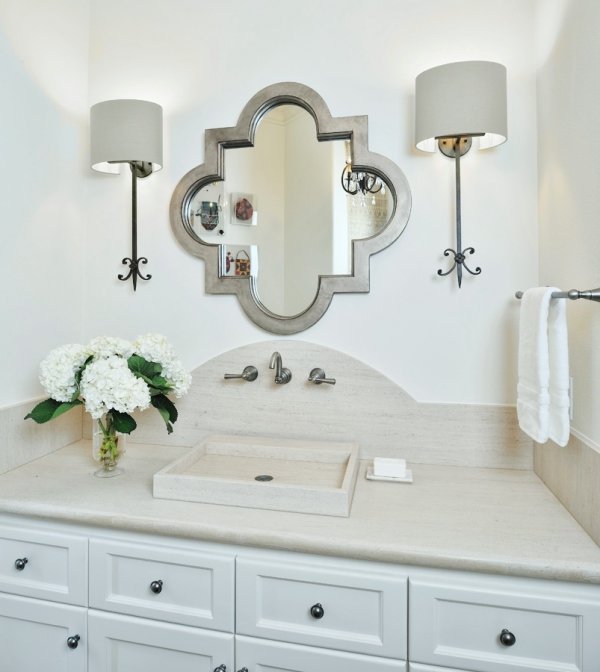 Around the House
1) Powder room or guest bath countertop
The powder room or a small guest bath is often a great place to use some leftover slab material, whether it is from the kitchen remodel or a primary bath. We even sometimes select from remnants that the fabricator might have in their yard.
2) Fireplace surround or hearth
We used a remnant piece leftover from the kitchen remodel at this fireplace surround and it was such a beautiful upgrade!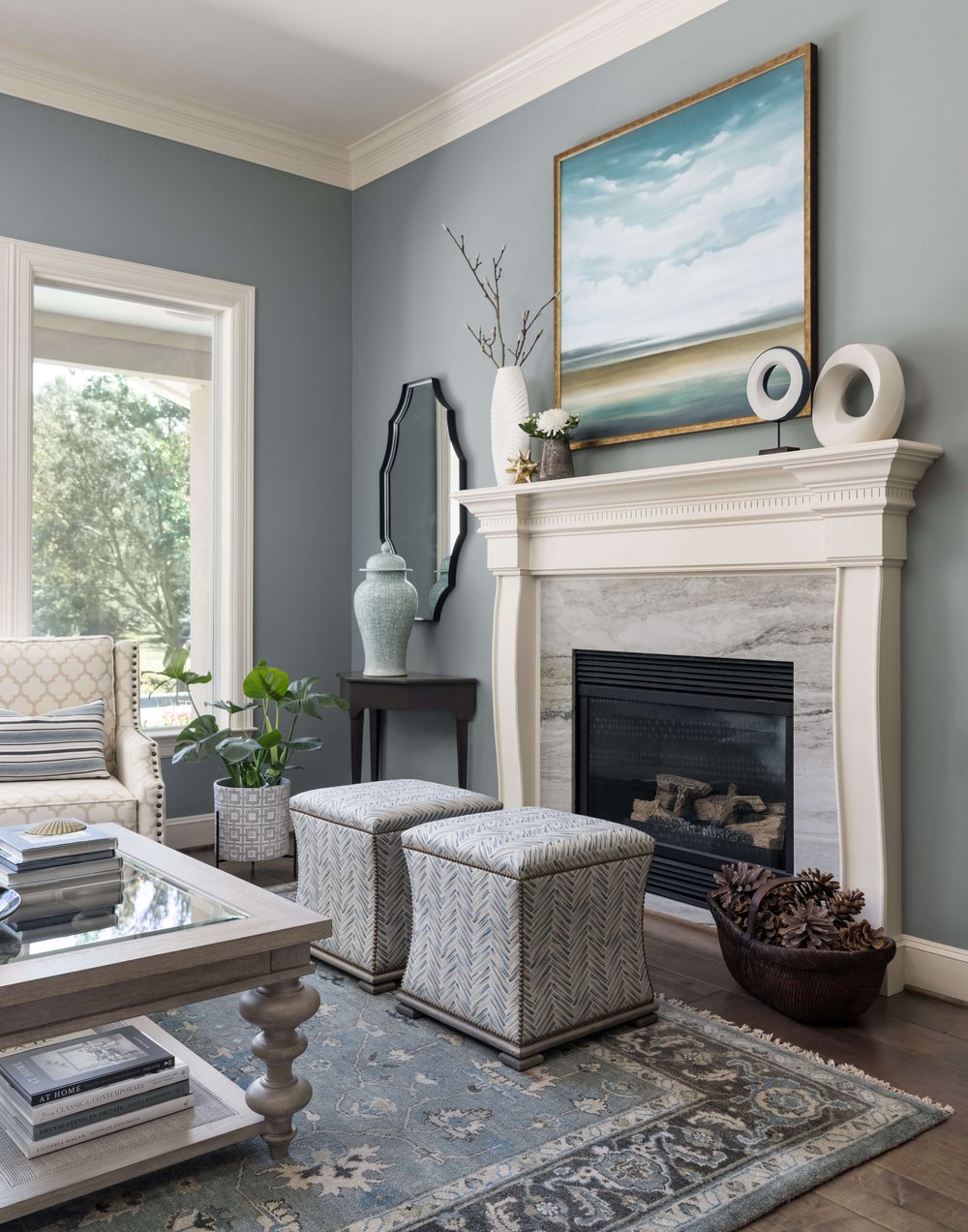 3) Outdoor kitchen area
Some slab materials will fade or yellow over time in the direct sun. If your outdoor kitchen is shaded, then that won't be a problem, but it is best to use the dense, harder materials outdoors. Dekton is a great material for outdoor use.
4) Table top
Maybe you have something like 3/4 of a slab left over or half of a jumbo slab. A tabletop can make nice use of that material.
A new slab table top was put on the existing base of this breakfast table for a smooth surface that would be easy to clean. The previous top was a distressed wood, which was not the best surface for doing homework or writing on and for dealing with clean up for every day meals.
5) Top of Nightstands
One spot in a home that tends to get abused are nightstand tops. Water is spilled or glasses sweat, nailpolish is dripped, etc. It makes this area a good place to top with a more durable material for a longer life for your furniture.
I did this in my own home, topping my two nightstands with the leftover granite we had put in the bathroom in our remodel. It made me so happy to use it here, as the tops of these nightstands needed a refresh!
I hope this has given you some ideas of where to use up all your countertop slab material. You want to get all the use out of that purchase that you can!
If you are curious about any of the projects shared above, check out my Portfolio page and it will link you to more about the specific jobs, their contractors and their photographer.
Check out my Guides!
I have two guides to help you with your kitchen or bathroom remodel. Check them out by clicking on the photos below.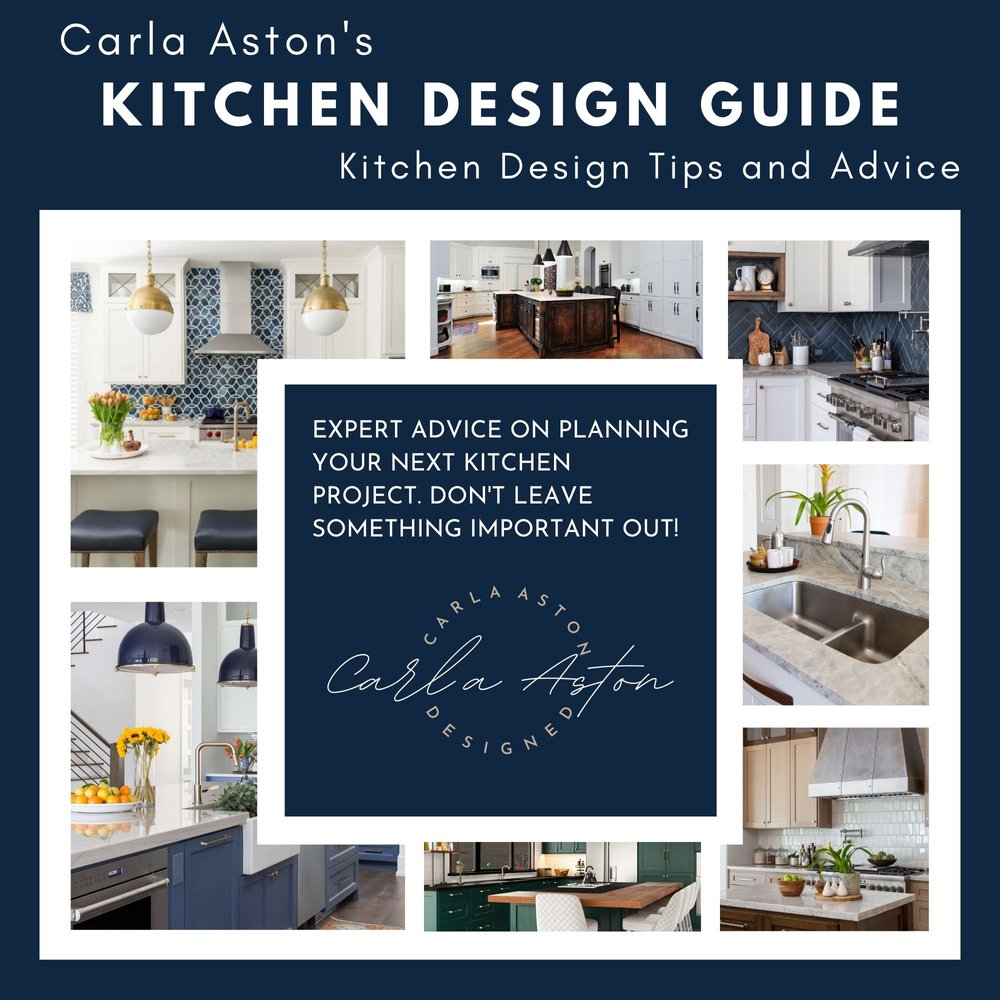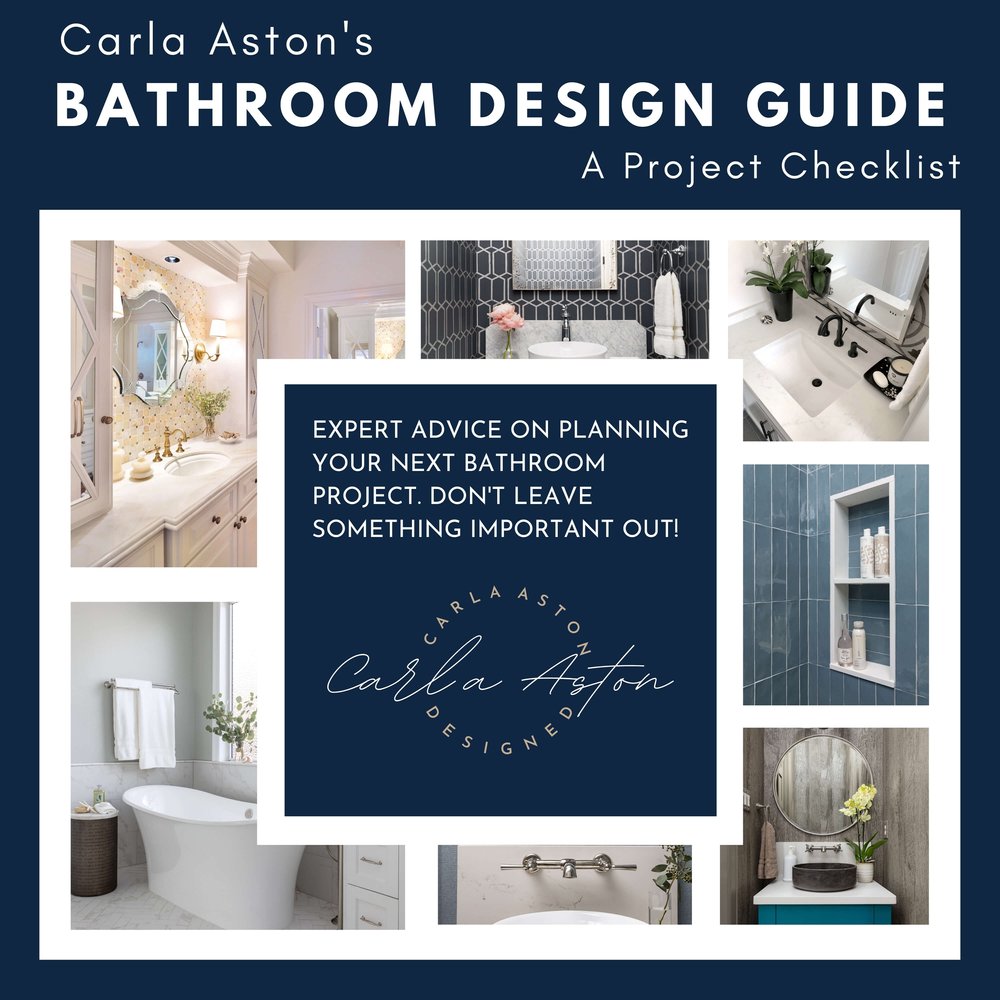 This blogpost was thoughtfully written by me, Carla Aston, and not by AI, ghostwriters, or guest posters.