A new 45-minute video produced by Discovery UK—first highlighted by Dezeen—finally gives detailed information on The Line, a planned 105 mile–long horizontal city that would house more than 9 million people in Saudi Arabia. In the clip, architects, designers, engineers, and Saudi royalty expound on the megaproject, which was announced in 2021 and has garnered its fair share of criticism and skepticism. Part of the larger, planned Neom "smart city," the project is catalyzed by a country with a reputation for alleged human rights abuses and a petro-extraction economy, so claims of it achieving "carbon neutrality" and creating a humane future are suspect, at best.
Billed as a documentary but reading more like an advertisement with a dash of historical footage from World's Fairs past and the Apollo program, the segment features more than a dozen talking heads from major global architecture firms like OMA, Morphosis, and Cook Haffner Architecture Platform. Here are some key takeaways:
Neom philosophically operates from the premise that the future is bleak and unknown but also controllable. 
The documentary opens with the premise of disaster. As it lays out, our primary societal challenge is to reckon with the catastrophic effects of climate change. But the video attempts to channel past optimism about future ways of living. It seems like a call to return to "bold" visions like that of Le Corbusier's Radiant City, Peter Cook's Plug-In City, or other works by Archigram. Cook, who is featured prominently throughout the video, says that architects from his era (the 1960s and '70s) are uniquely equipped to visualize utopian futures. "It's always assumed that the youngest architects are the most progressive," he says. "The youngest architects are very nervous. They are not natural experimenters."
"The phantasmagoria of the late 1960s is living its finest hour in the Saudi Arabian desert," says OMA's Reiner De Graaf.
Difficult questions will be addressed by empty language.
Bless the poor narrator's heart. The unidentified voice behind the video raises critical questions about the project, but rarely are these questions addressed. Instead, speakers opt for answers heavy on vague words like "bold," "innovative," and "pioneers." When he asks how might Neom proponents ensure the megaproject won't become a "dystopian nightmare," he's met with references to speculative urbanism proposals of the 1960s. When he asks who might inhabit this—will it attract only "the rich and curious seeking temporary adventure?"—Petr Suska of Germany's Fraunhofer Institute for Industrial Engineering says The Line will "answer questions we are not asking now because no one else is daring to. So the target users is…quite broad."
The project's integrity has been marred by the planned executions of three individuals who reportedly resisted and protested eviction from the Neom site, which may have been nodded to in the documentary by Christopher Beanland, author of Unbuilt: Radical Visions Of A Future That Never Arrived. He says, "The thing with these grand projects, you have to have everything come together. You have to have the architects, you have to have the money, the top-down power." Adds Eui-Sung Yi, partner at Morphosis, "As urbanists, you need the proper kind of state to provide the platform for this to actually occur." Perhaps he's referring to a state that executes its dissenters?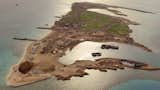 At least you get some project practicalities.
According to Saudi Arabia's crown prince Mohammed bin Salman, The Line is addressing a critical population crisis. He anticipates his country's population will grow from 36 to 50–55 million people by 2030 and says its infrastructure is at a tipping point. Planned for an increasingly uninhabitable planet, the project fantasizes about a dense, carbon-neutral city powered by a wind farm and "harnessing the power of green hydrogen," the narrator says. The project touts water desalination and recycling technologies. Standing 1,640 feet tall, The Line will be partitioned into modular "neighborhoods" that can be adjusted based on failures or user needs. Every module will house 80,000 people and will be connected via high-speed rail. The development will also host a central park suspended almost 1,000 feet above the ground.
Overall, the doc-style video is less informative than it is self-aggrandizing. Viewers gain some project-specific insights but will more likely come away with creative and vague terms and turns-of-phrase useful to avoiding difficult realities and controversial takes. Certainly, a lesson in ugly politicking, if not architecture. 
Top Image: Rendering of The Line, Courtesy Neom
Related Reading: 
ICON Just Unveiled Plans for a Massive Neighborhood of 3D-Printed Homes in Austin, Texas
Can a 3D-Printed Hotel and Residences Bring a New Dimension to Marfa?