Both cowboy and chelsea boots are undoubtedly the coolest pair of boots. They are both tough, sturdy boots that give you an edge and also protect you from the elements. 
You can just have a look at both the boots and tell the difference. But let us check this article for further information on them.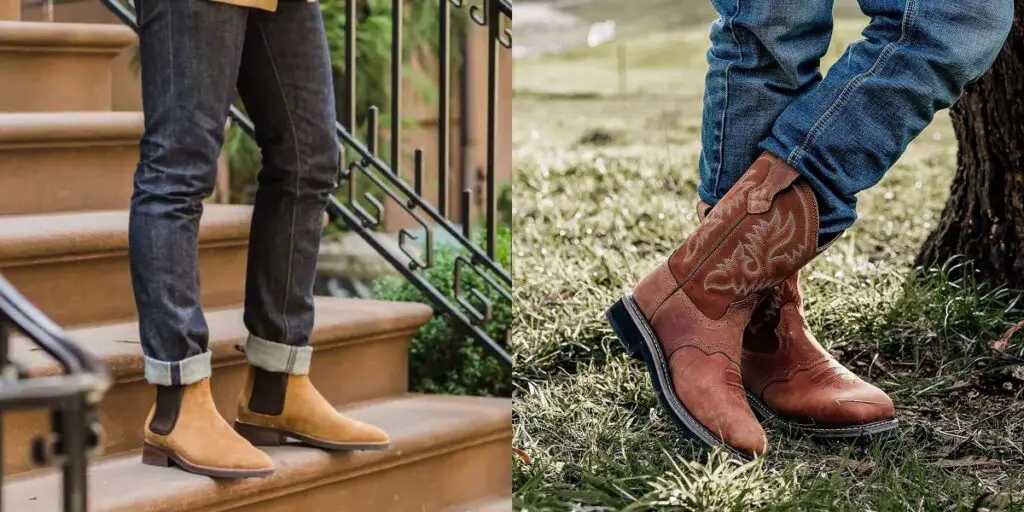 Cowboy boots come with pointed toes, a shaft that can range in height from the ankle, and distinctive riding tapered heels that curve slightly inward. It provides a traditional western American cowboy look.
Whereas, Chelsea boots are totally different. It provides a smooth boot shaft and has a lack of embellishments for a more elegant and sophisticated look.
Let us have a look at the differences and similarities between chelsea and cowboy boots by analysing these various parameters. 
Chelsea Vs Cowboy: Physical Appearance 
The shape and construction of Chelsea boots and cowboy boots are completely different. 
Both are constructed using the traditional handcrafted technique of sewing the upper and sole together with thread.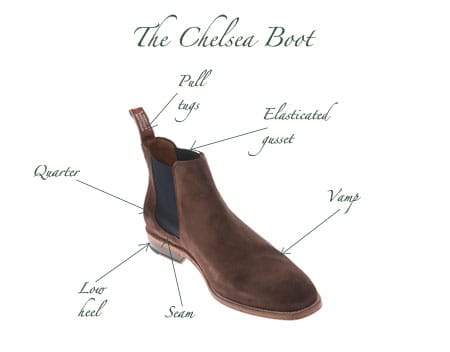 The distinction between Chelsea and cowboy boots is that Chelsea boots come with one loop which is connected to the back of the boot, whereas cowboy boots have two pull holes instead of pull straps which are placed in the sides. They are intended to facilitate better ventilation inside as well as serve as holding points for pulling on.
In terms of structure, the two are similar because they both have leather shanks, leather insoles, leather linings, and leather heels and outsoles. Cowboy boots' longer and more intricately stitched side seams are a result of their taller shafts.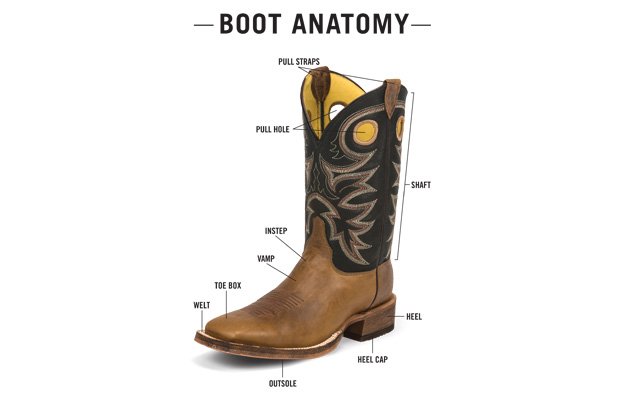 The pointed toe on cowboy boots is very distinctive and frequently narrow on both sides of the vamp. The toes can be round, elongated, pointed, or rounded square. 
Chelsea boots are flatter from the ground and have rounded toes. Their toe shape can be square, rounded, elongated, or pointed, among other variations. 
Chelsea Vs Cowboy: Material
Both Chelsea boots and cowboy boots are primarily constructed of either real leather or faux leather, suede, and very infrequently- textiles. 
The biggest distinction is that Chelsea boots frequently favor smoothness and have hardly any patterning on their upper surface. If the boots are leather, they should be wrinkle-free and have a polished, streamlined appearance. 
Conversely, the distressed leather of cowboy boots has more worn-out, creased, and weathered patterns. Cowboy boots can also be polished, but since they aim for a more rugged and unpolished appearance, the leather upper won't be as smooth and flawless as it is on Chelsea boots.
Chelsea Vs Cowboy: Height
Cowboy boots come in a variety of heights, including ankle-height, roper, traditional, and Buckaroo styles. They can also be as tall as 16 inches. 
Typically, the boot's shaft rises up from the ankle. 
Chelsea boots are typically not very diverse and only reach the ankle. These panels aid in reducing the circumference of the boot opening for a better fit around the ankles when there are no laces and the boot shaft height is only at the ankle.
See also: Chelsea Boots Vs Dress Boots: Which One is Better?
Chelsea Vs Cowboy: Safety Features
Due to their heavy, high collar design, cowboy boots appear to outperform Chelsea boots in terms of safety. 
When rocks, tree trunks, or other sharp objects are a threat to your ankles or calves, the high collar of cowboy boots will offer better protection over any portions of your legs that it covers. 
When you ride a motorcycle, cowboy boots with a high collar are also necessary. The majority of motorcycle boots have collars that are over 8 inches wide because the heat from the running engine can burn the skin on your ankles.
And if you intend to wear Chelsea boots for this ride, this is a significant drawback.
Chelsea Vs Cowboy: Durability
Cowboy boots will last longer. This is so that water cannot easily enter the cowboy boots' high collar and all-leather construction, which makes them more water resistant. 
Chelsea boots, on the other hand, are ankle-high and feature two elastic side panels made of a fabric that can better absorb water, even when you walk through deeply soggy grass and tiny puddles. 
Therefore, when exposed to wet conditions, Chelsea boots are more likely to become wet inside than cowboy boots. The components inside the boots will quickly become damaged as a result, decreasing their durability.
Chelsea Vs Cowboy: Applications
Both Chelsea boots and cowboy boots can be worn for work, going out, being outdoors, dressing up, or attending a show or performance, but their efficacy will vary. 
Chelsea boots are a better choice if you work in an office because of their refined, polished appearance.
However, high collar cowboy boots with composite toes will offer better foot protection if you work manually, such as on a construction site, with metal, while riding a bike, or near hazardous surfaces like fire, electricity, or water.
See also: Chelsea boots: Leather vs Suede Material
Chelsea Vs Cowboy: Comfort
The design of the boots and their weight contribute to how comfortable they are to wear. 
Chelsea boots have block heels and rounded toes for a classic, minimalist design. As opposed to pointed toes, round toes give your toes a roomier feel. 
Because of this, wearing these boots while walking, running, or standing still all day will make your toes feel more comfortable. 
Typical cowboy boots are distinctive. They have pointed toes, which result in narrower, more elongated toe boxes. As a result, there is very little wriggle room for your toes. 
Chelsea Vs Cowboy: Health factor
The heels of cowboy boots are not good for your ankles. Cowboy boots with high heels will put more strain on the ankles, which could lead to foot pain and foot sores. 
That is why in this regard, you require chelsea boots with low block heels which will enhance balance and steadiness while moving. And this won't put too much pressure on the ankle. 
Also, Chelsea boots are lightweight which makes movement comfortable. However, cowboy boots are heavy and not at all feasible to be worn all day if you are on your feet. 
Chelsea Vs Cowboy: Care and maintenance
Both are made of leather and are intended for maintenance. To increase the material's durability, they must therefore be regularly cleaned, moisturised and vacuumed.
But if your cowboy boots have distinctive colors or are embroidered with a sizable area of thread on the shaft, it might take you a little longer and cost you a little more money. 
Maintenance requirements vary depending on the material. Dust and residue are also very easily attracted to embroidery thread. Heavy dust can cause embroidery threads to corrode and break if they aren't cleaned frequently.
Chelsea Vs Cowboy: Ease of use
Due to their ankle-high shaft, Chelsea boots are more practical to wear than cowboy boots. 
Even when you're in a rush, you can put on Chelsea boots with ease in a matter of seconds. However, putting on cowboy boots can take a little bit longer given the longer shaft height. 
Here is a comparison chart for your reference:
| | | |
| --- | --- | --- |
| Parameters | Chelsea Boots | Cowboy Boots |
| Material  | Leather | Leather |
| Height | 12- 16″ | 2.4- 4″ |
| Safety Features | Good | Excellent |
| Durability | Good | Excellent |
| Application | Excellent | Good |
| Comfort | Better | Good |
| Health factor | Better | Good |
| Ease of use | Excellent | Good |
| Care and maintenance | Better | Okay |
| Cost | $90- $150 | $150-$500 |
Conclusion
Both Chelsea and cowboy boots are superior quality boots that provide the best of experience to the wearer. Check out this article as we have given detailed information on both the boots so that you make an informed purchase.