Housebuilder Countryside and housing association L&Q have submitted an outline planning application for a mixed-use development which will form part of Chelmsford Garden Community.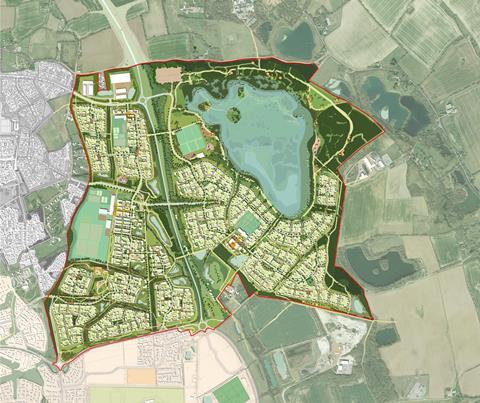 Countryside, which is now part of Vistry Group, and L&Q are seeking permission for 3,500 new homes within three villages, a local centre and two smaller neighbourhood centres, three primary schools and one secondary school, and nursery provision.
The plans are also requesting permission for 130 hectares of open space, a new nature park and sports facilities, as well as associated highway and transport infrastructure, and a network of walking and cycling routes.
The Chelmsford garden community masterplan was approved earlier this year.
>>See also: Vistry to cut headcount by 200 in partnerships restructure
>>See also: Leading the pack: an interview with L&Q's Fiona Fletcher-Smith
This phase of the proposed scheme would start in 2025 and development would take place over 15 years.
Countryside and L&Q's joint venture scheme has already constructed homes as part of the Beaulieu development, part of an earlier phase at Chelmsford garden community. Once construction is completed at Beaulieu, the partnership will deliver 3,600 homes and amenities such as a health centre and a net-zero primary school.
In addition, a new train station and the Chelmsford North East Bypass will also be delivered by 2026.
Chelmsford garden community is part of the local plan and is set to deliver around 10,000 new homes across north-east Chelmsford.