The choice to make the move to a tiny house was financially motivated for Justine Wilson but she's found the advantages to be many more than just easing cost of living pressures. She spoke to us about swapping a four-bed terrace in Sydney's Birchgrove for a 12m x 2.2m container home on the Hawkesbury River.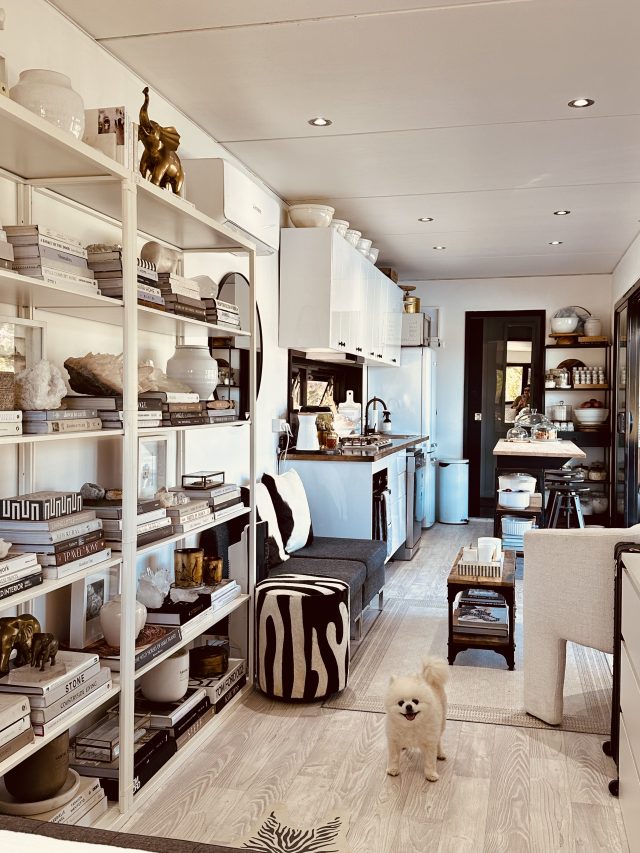 The 39-year-old has been running her own property styling business for almost 14 years but the last three years have been particularly tough, seeing a 50% drop in revenue each year. The pandemic, labour and stock shortages and more recently, the relentless interest rate hikes, have all contributed. "They've pretty much brought the real estate market to a screeching holt since they started," she says.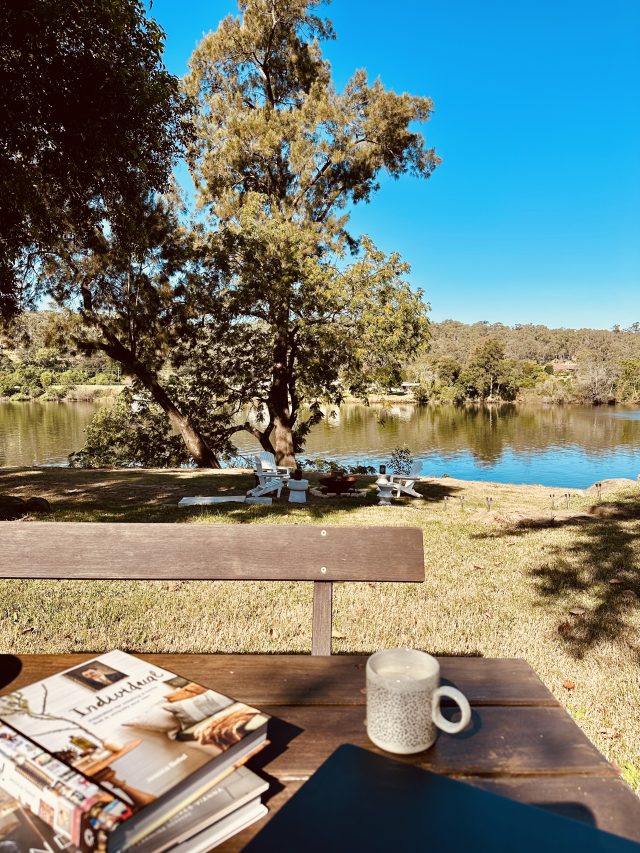 "I'm sure many builders, designers and stylists would agree it has been incredibly challenging dealing with each new challenge when it arises. There have been far fewer properties being sold, hence needing less styling in the last year, with nervous sellers holding out and less buyers due to caps on loans. So, with this environment I too had to adapt both professionally and personally."
Rather than give up, Justine, who is single and has three adopted dogs, decided to look for solutions to simplify her life and expenses while she gets through this challenging period. "It was actually a very quick decision. With no sign of the real estate market shifting and rates still going up, I knew I would have to make a change to avoid additional financial stress.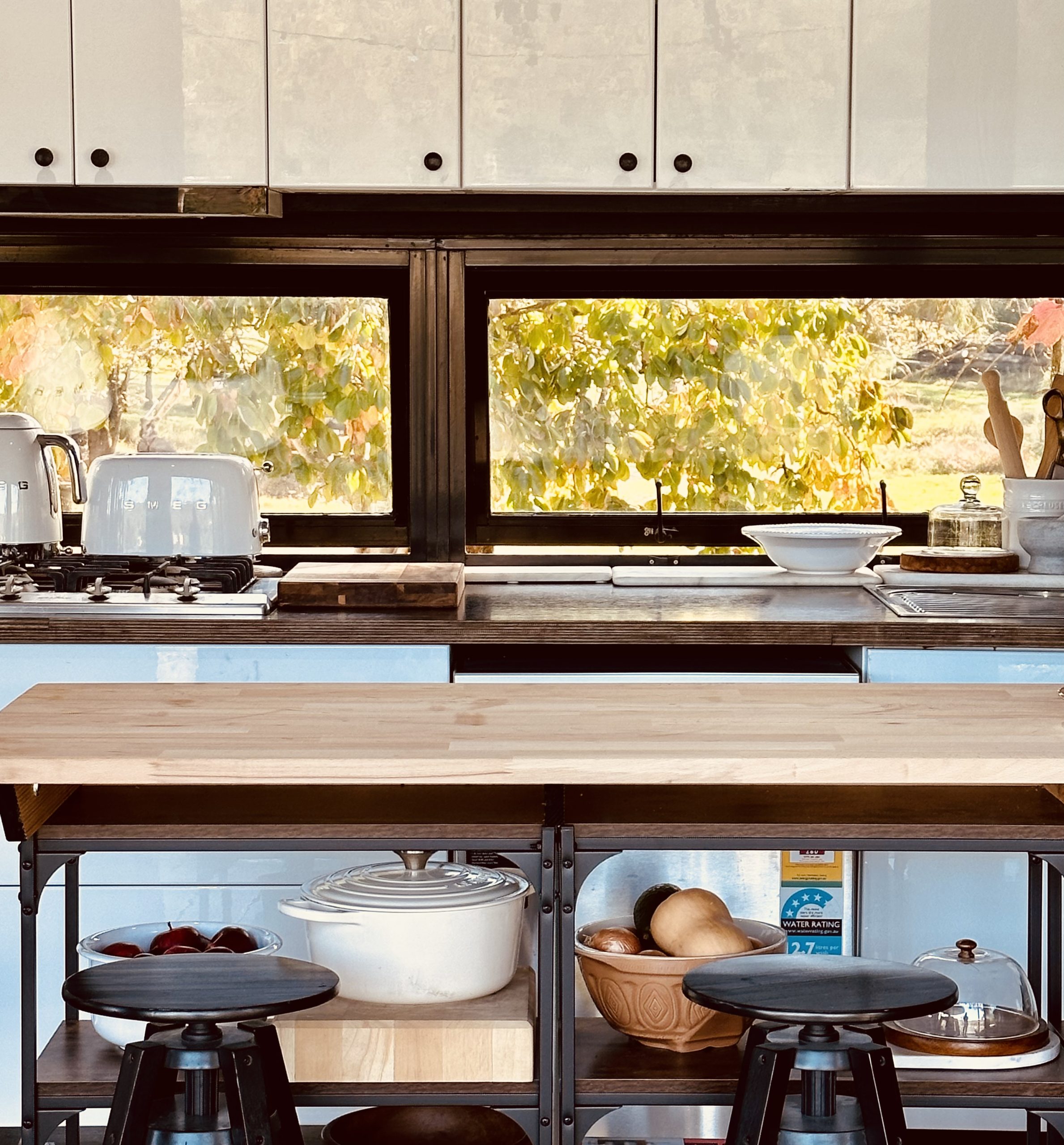 "I have been blessed to rent in some of Sydney's best streets when business was booming. I loved to live in beautiful properties by the water, renting in Drummoyne, Longueville and Birchgrove, arguably some of the best waterfront streets in Sydney. However, enjoying these premium locations also comes at a hefty cost, and whilst I consider myself very blessed that I was able to enjoy these locations as a single woman and business owner for the time I did, I had a lightbulb moment that the best way to reduce stress through this market downturn was to reduce my rental outlay."
Justine doesn't regret living in these picture-perfect locations near the city for a second. "It suited that phase and time of my life and was a great way to showcase my styling passion. But as previous property owner (prior to my divorce) I knew I would love to buy again one day and if I kept outlaying so much on rent it would be more of a pipe dream."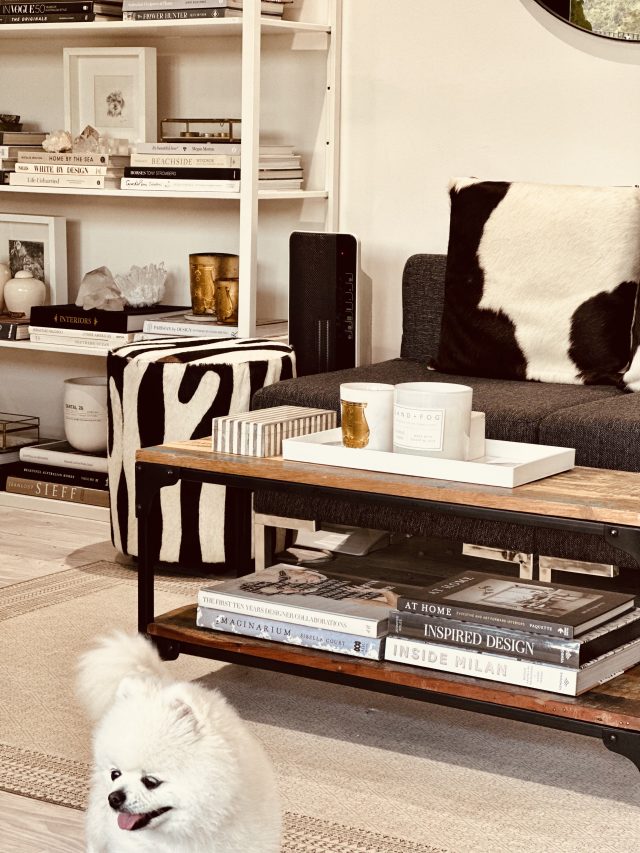 That said, Justine doesn't feel her tiny house swap has exactly been a downgrade, and looking at these photos, we have to agree! "My main priority is to be surrounded by natural beauty and look at water, which I can do for a fifth of the weekly price by going tiny and moving further out. I also knew the block of land well as it is owned by a longterm friend and I had previously rented space on the land for a caravan that I renovated, and would come on weekends. This was great because I knew what to expect from the country switch and knew what the travel element would be like as I had done it many times."
Justine's new commute to her office and warehouse is only 20 minutes longer each way. "It all made sense to jump in and make the change when I knew the container home was available to rent."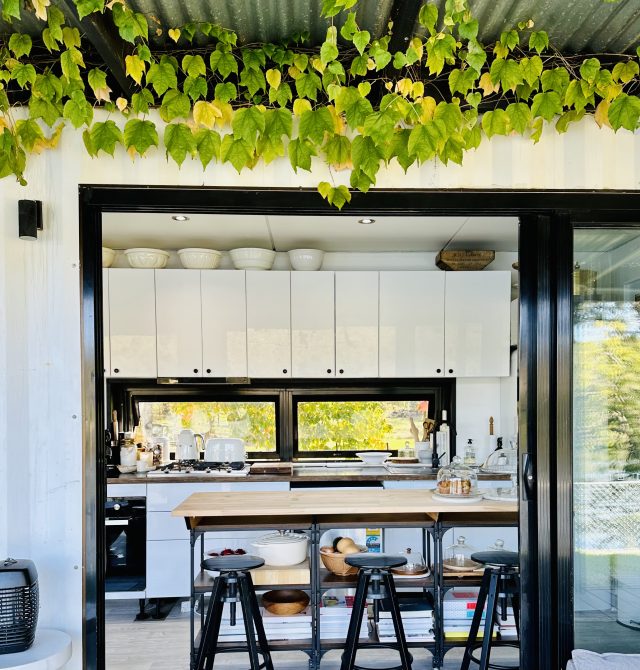 She's been in for about a month and her dogs are loving the freedom to run around while she loves the misty mornings on the river and cooking meals in a cast iron pot around a campfire with friends on a weekend. "I feel very blessed for the serenity it has afforded me and the overall opportunity to get through challenging times. This change means less outgoings, minimal maintenance such as cleaning and reduced bills. The tiny home has all the creature comforts such as air con, power, water, full kitchen, bathroom and washer/dryer etc so it's completely liveable and functional, albeit tiny compared to my previous homes."
As a self-confessed maximalist, Justine's biggest challenge was deciding what to take! "I selected only my most loved possessions, such as my crystal collection and design books, and maximised all I could fit in by going vertical with storage and utilising the outdoor covered deck areas, which double my liveable space and act as an extension of my interior. Whilst I did sell or give away many items, I am lucky that I could also store my other belongings at my warehouse, so if I do decide to move again or upsize in the future, I can still access my belongings."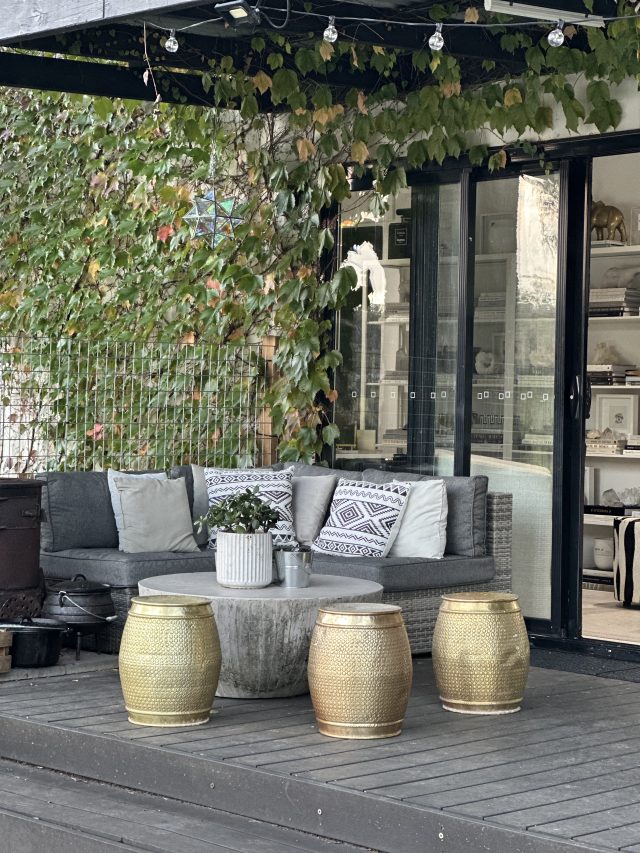 Although tiny house living wasn't a long held dream, Justine has always loved the country and, like many, dreamed of a country escape. She has closely followed the tiny home movement, enjoying YouTube tours, and having renovated eight vintage caravans for herself or clients, it was perhaps more likely than she realised! "I had an idea of what I was getting myself into and doing research in the field was helpful and made it easier to adapt and know what was possible."
While she thought her friends and family would try to talk her out of it, knowing her love of larger houses and styling and entertaining at home, they've in fact been very encouraging. "I was confident and the fact I was excited about it instead of feeling like I was making a sacrifice, convinced me I was going in the right direction. Once I explained my reasons and the benefits, everyone was on board and excited for me."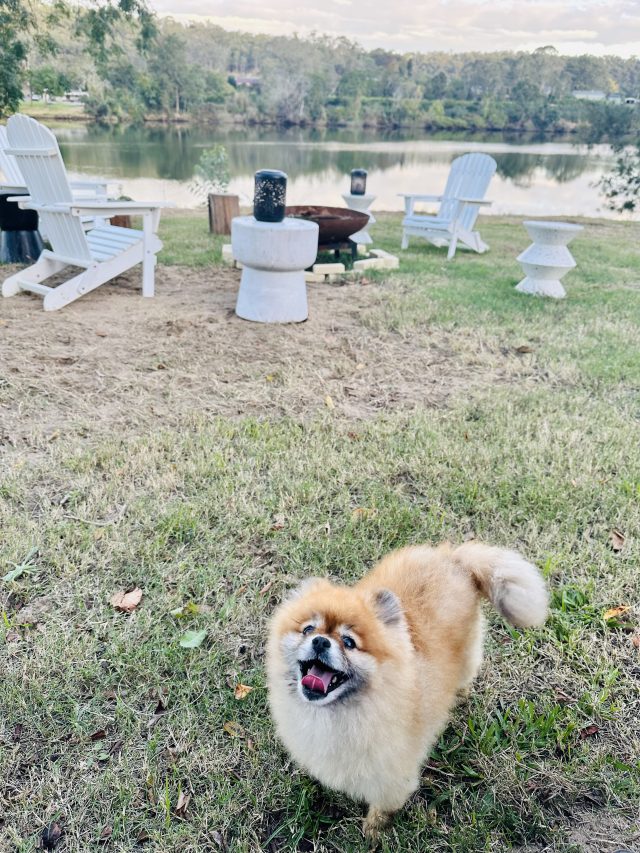 Being a stylist has certainly helped Justine getting her tiny home looking magazine worthy and cosy. "I did spend a few weeks measuring the space and sketching out every inch of the property, doing floor plans and working out sizes and best flow. It was pivotal that I could maximise function and have all the zones I wanted to incorporate, as well as the style and look I wanted. Everything when installed fit within centimetres so planning the most functional furniture and dual function items were key to making this doable and liveable. There is no room for error!"
Justine says the container home reflects her and her style just as much as her previous three living room, four-bedroom home. "It's been quite a drastic change to what is effectively a studio, however life here is very much lived outdoors; lots of walks, lots of sitting in nature, sitting under the stars enjoying the seasons, sitting at picnic tables or by the fire pit, and that's a pretty good trade really."
She believes your space is really important for your wellbeing, mental health and sense of self. "I did have a wonderful network of neighbours at my last few properties, along with living closer to family, so they would be the biggest downsides honestly, but like everything in life, you have to make the best of a trying situation, and find the joy and excitement in new beginnings."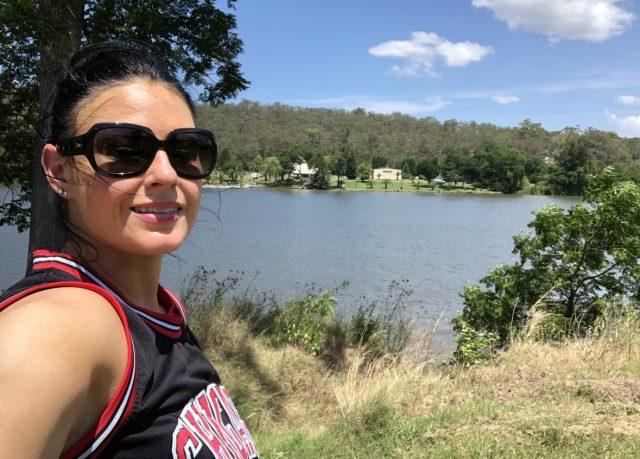 In terms of the future, the move was originally a short term plan, but now Justine's keeping an open mind. "I'm certainly enjoying it and can see myself living comfortably this way well into the future. I think the tiny house movement is just a wonderful option to help people overcome the rising cost of living and pressures we are all facing with the housing and rental crunch at present."
For more on Justine's property styling business, Vault Interiors