Be inspired by these 7 colourful kitchens with these hot new trends all new for 2024.
Long gone are the days of boring white kitchen units, now you can choose cabinets in all the colours of the rainbow. Picking which colourful kitchens to go for can be tricky. You'll need to choose one that suits your home decor and your lifestyle. Especially as our kitchens are commonly used as a multi-purpose rooms, designed as much for living as for cooking.
When looking to update your kitchen in one of the latest colour trends, it's important to choose shades that truly resonate with you. Don't worry, the new kitchen colours for 2024 are both daring and calm, impactful yet soothing. And there are beautiful brights tones for the more daring among us, and comforting neutrals for classic styled homes.
There really is a kitchen for everyone, no matter your style in 2024.
Discover the top 7 colourful kitchens for 2024
When investing in a colourful kitchen (or if you are looking to update your units) don't play it safe! Instead be influenced by these top 7 colourful kitchens which are all bang on trend for 2024.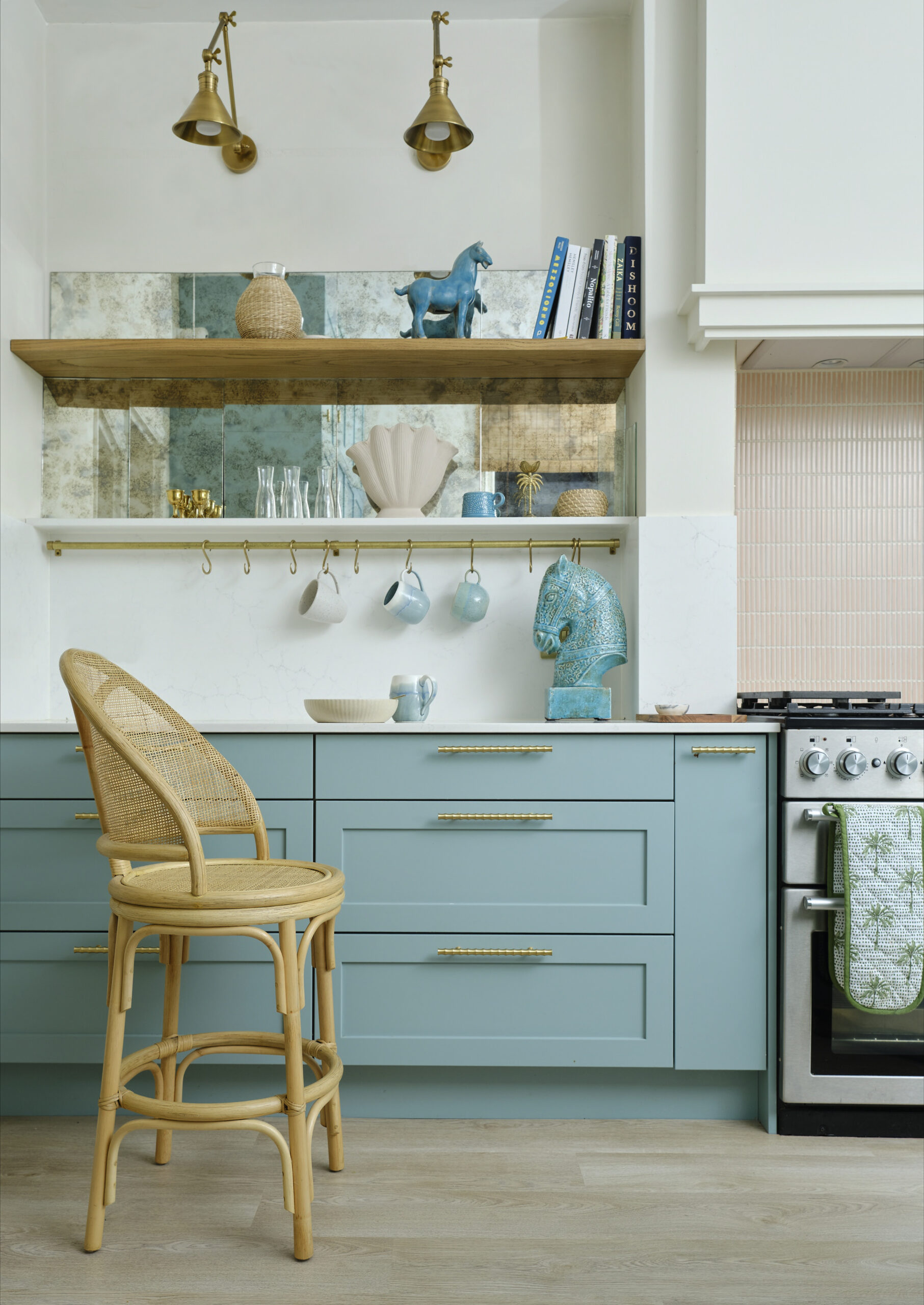 POWDER Blue kitchens
One of the strongest trends I've seen is the use of powder blue cabinetry. The soothing tones of this calming shade mirrors nature's finest natural assets like oceanic tones and serene summer sky shades, bringing a sense of tranquility into our kitchens.  And we all know a peaceful kitchen results in a happier home.
A lovely light blue gives traditional cabinets a contemporary twist. And this soft shade complements a Shaker kitchen's typical features such as open shelving, butcher's block, and traditional chimney breast to stunning effect. It can look classic and modern all at once depending on the style of handles you go for.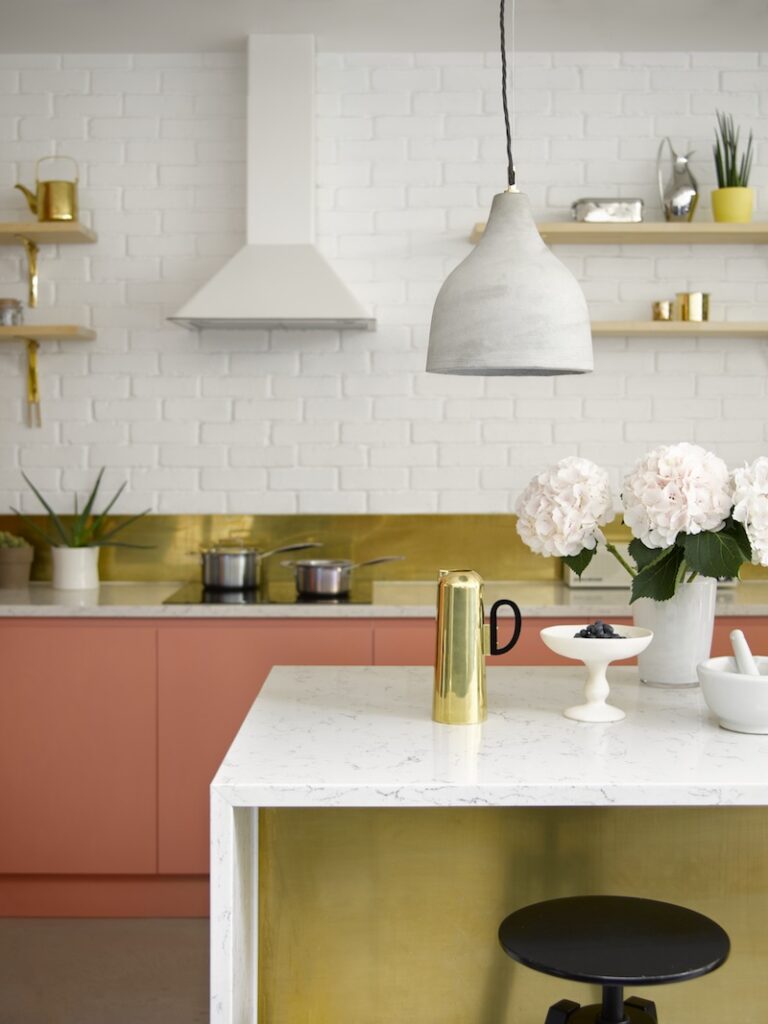 Pink Kitchens
Blush, rose and peachy colours have been on trend for the walls in our homes for the past few years, but now it's time for pinks to be introduced into the kitchen. This shade looks chic and modern if you go for handless units.
Team with gold or brass accents with your kickstand, splash back or taps all of which will give your space and effortless style that looks sleek and expensive.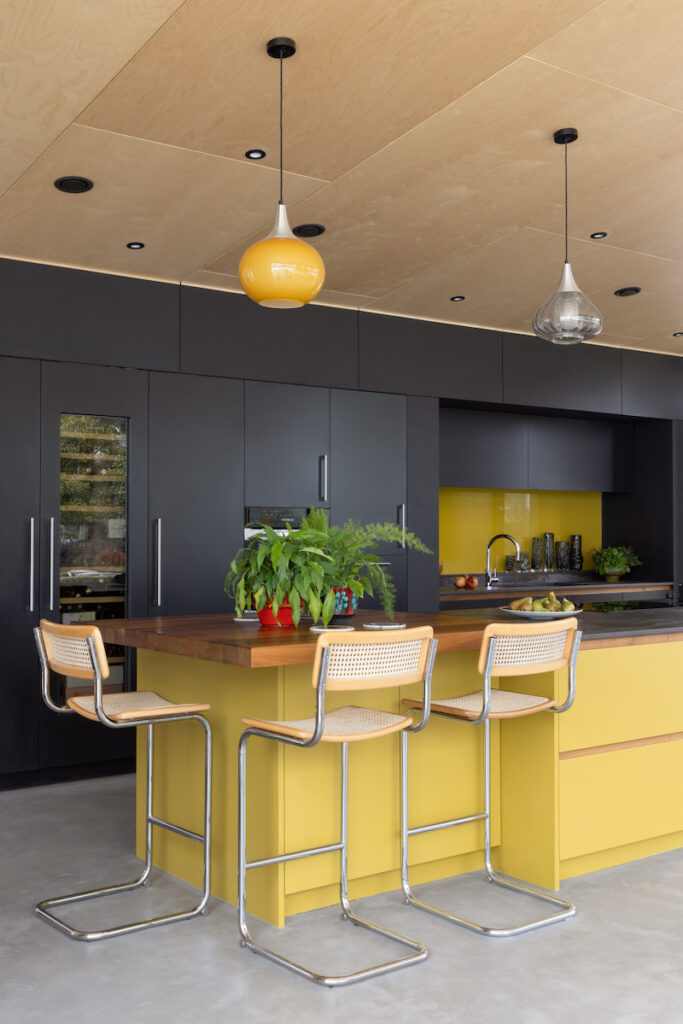 Navy kitchens
As darker colour palettes have become more mainstream, navy tones can really give a kitchen a luxury and sophisticated look, and this colour work surprisingly well in smaller spaces creating an intimate atmosphere.
If you're worried about going dark all over, think about how and where to introduce navy into your space. Add navy to areas that can be easily updated like your kitchen island or by painting feature wall behind your existing units. Switching up your paint colour or adding new tiles can give an old kitchen a completely fresh look bringing it right up to date for 2024.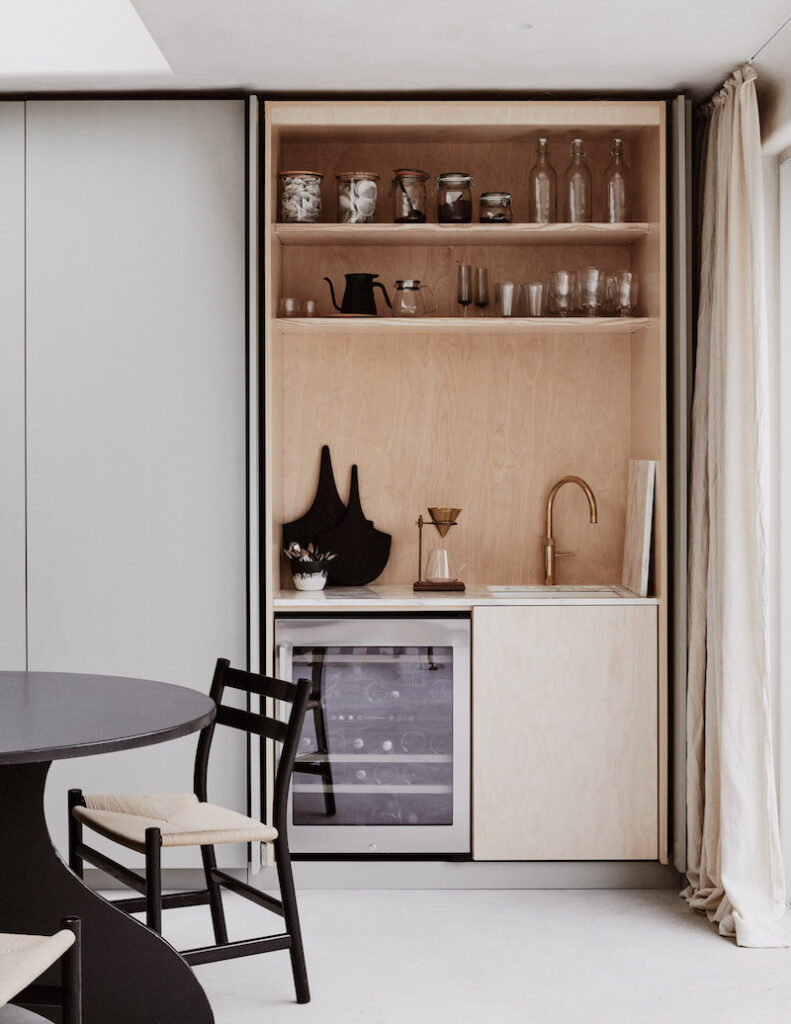 Cloud Grey Kitchens
For those among us who love calm, clean interiors. you'll love the trend for soft grey kitchens which is taking over our instagram feeds. Not only does this light shade of grey feel modern and elegant, it works well with modern building materials like ply wood, polished steel and concrete.
If you already have a grey kitchen, then think about adding black as an accent to update your existing scheme.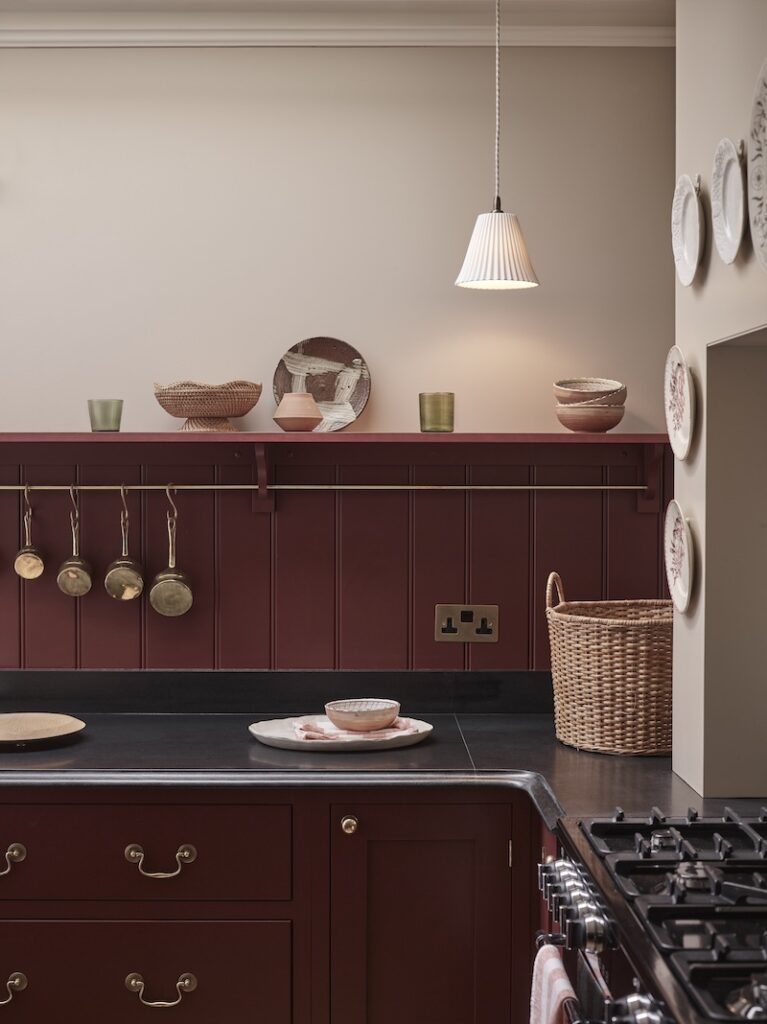 Magenta kitchens
Viva Magenta was colour of the year by Pantone in 2023, and you'll see this colour appearing in our kitchens throughout 2024. This bold, berry shade makes any home feel warm and inviting, and makes the perfect backdrop for stylish kitchen accessories and appliances.
It's also a highly practical colour for busy homes because it hides a multitude of sins! Here, the units have been painted the same shade as the panelled splash back and shelving for a cohesive look.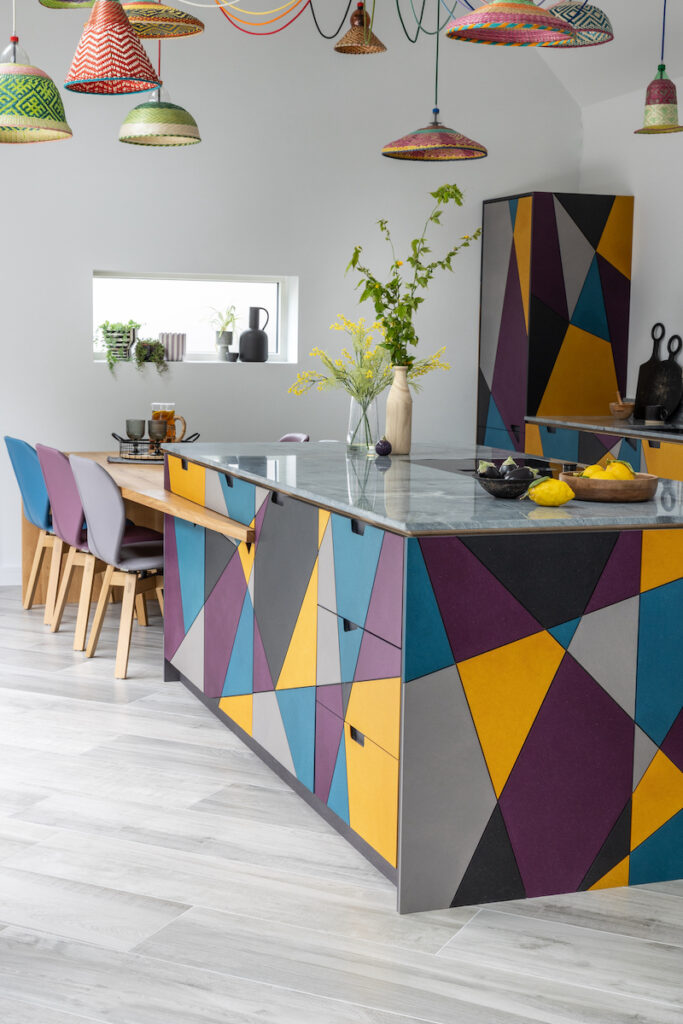 Colour block kitchens
Not for the shy and retiring type, colour block kitchens is made for people who want a show stopping space. Think about adding abstract shapes within the kitchen space for a joyful look.
Keep your flooring and walls plain so that your bold and colourful kitchen can shine.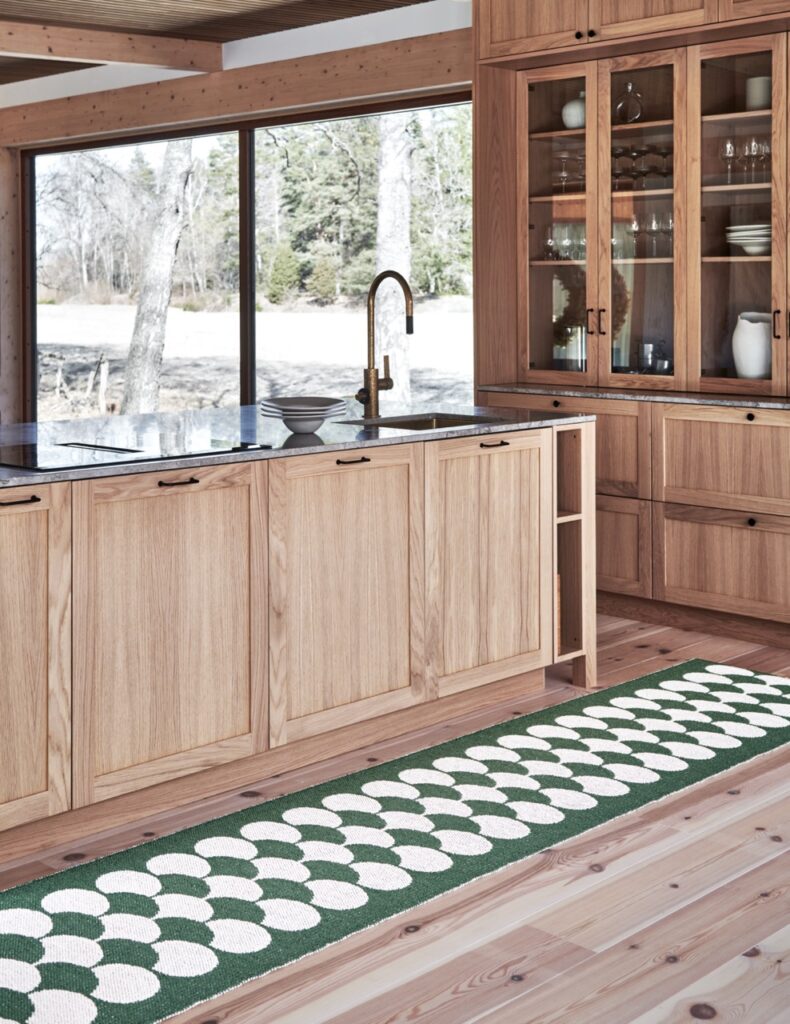 Natural wooden kitchens
Wooden kitchens have been out of favour for many years but in 2024 you're going to see the beauty of real wood taking centre stage in our home – namely in our kitchens. The rustic appeal of wood when teamed with other natural materials like granite, slate, glass and stone gives a home a timeless look that will last.
Keep it looking fresh and modern by opting for units made from washed pine, limed oak or beech. And then add some visual interest with snazzy tiling or a patterned rug on the floor.
What do you think of these 7 Colourful kitchenS For 2024?
From rich shades, to light and airy tones these colourful kitchens all feel fresh and exciting. I'm sure you'll agree that the year ahead is going to be packed with colour! Let me know your thoughts below on these 7 colourful kitchens
You may Also like
5 OF THE BEST KITCHEN WORKTOPS: HOW TO PICK THE RIGHT KITCHEN COUNTERS
SAVE SPACE WITH THESE 7 PRETTY & PRACTICAL KITCHEN STORAGE IDEAS
PIN THIS POST!