Are you looking for the best green paint for front doors? We've got you covered! These incredible green front door paint color ideas will beckon you in. 
Design experts would all agree that a new paint job is the most impactful way to transform any space. Is your front door looking tired and unsightly?
Instead of spending a huge sum on a brand-new door, you can give your old door a facelift with significantly less money and only a couple of hours of DIYing. A fresh coat of paint will not only enliven your front door but it will also enhance your curb appeal.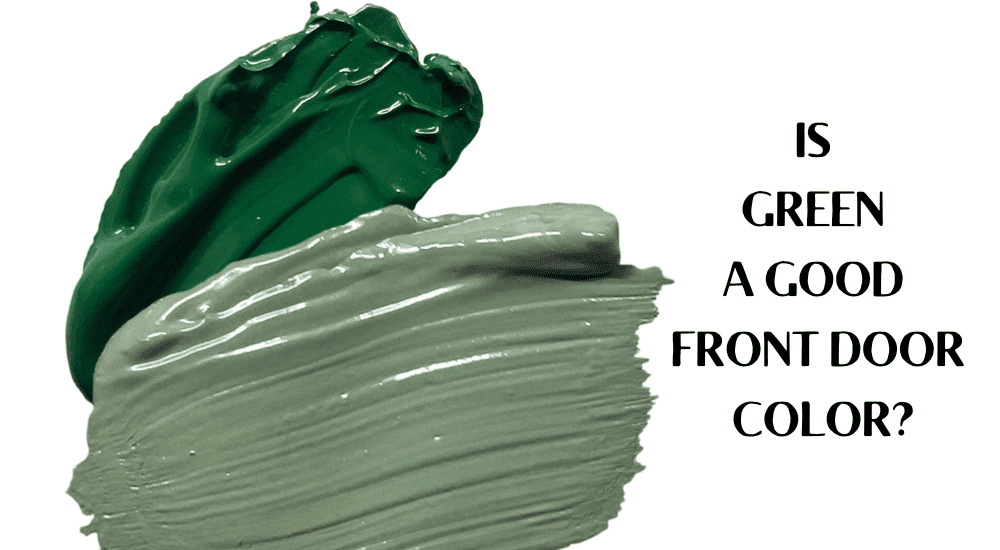 Is green a good front door color?
A resounding YES! Other than its visually impressive appeal, green is also one of the most versatile colors on the spectrum. This crowd-pleasing hue is strongly associated with nature, growth, health, freshness, and prosperity.
In fact, green is one of the most popular front door colors in the UK. Eastern cultures attach great value to the color green. In feng shui design, it denotes growth and rejuvenation and brings good fortune.
Not sure what shade of green to go for or what brand to choose? Choosing the perfect green paint can be a bit of a challenge. Let us help you with that!
In this article, we have curated 24 tried-and-tested green front door colors across the most renowned paint retailers that are accessible to you.
Whether you're leaning towards a soothing and muted or bold and dramatic shade, you will definitely find the best green paint for your front door here!

1. Benjamin Moore High Park 467
The High Park is an alluring medium green color that will give the front of your home an elegant and refined appearance. This herbaceous and timeless green paint has a gray undertone which gives it a modern edge.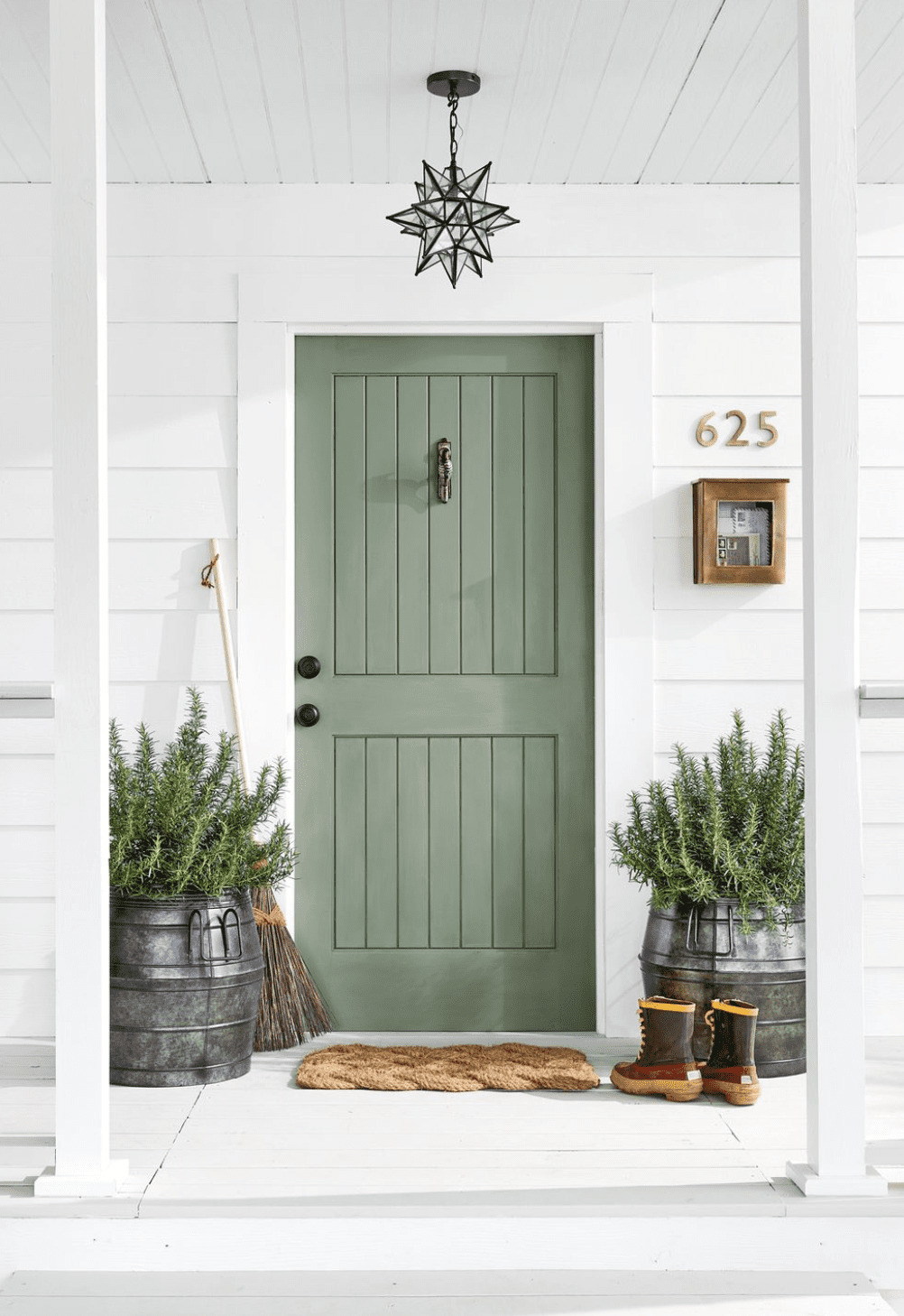 PHOTO: BRIAN COCKWOOD
2. Little Greene Salix 99
Bump up your home's curb appeal with the eye-catchy Salix paint from Little Greene. It is a light green shade with a silvery-gray undertone. Salix evokes a spring-like feel and it lends an inviting and convivial touch to a front door.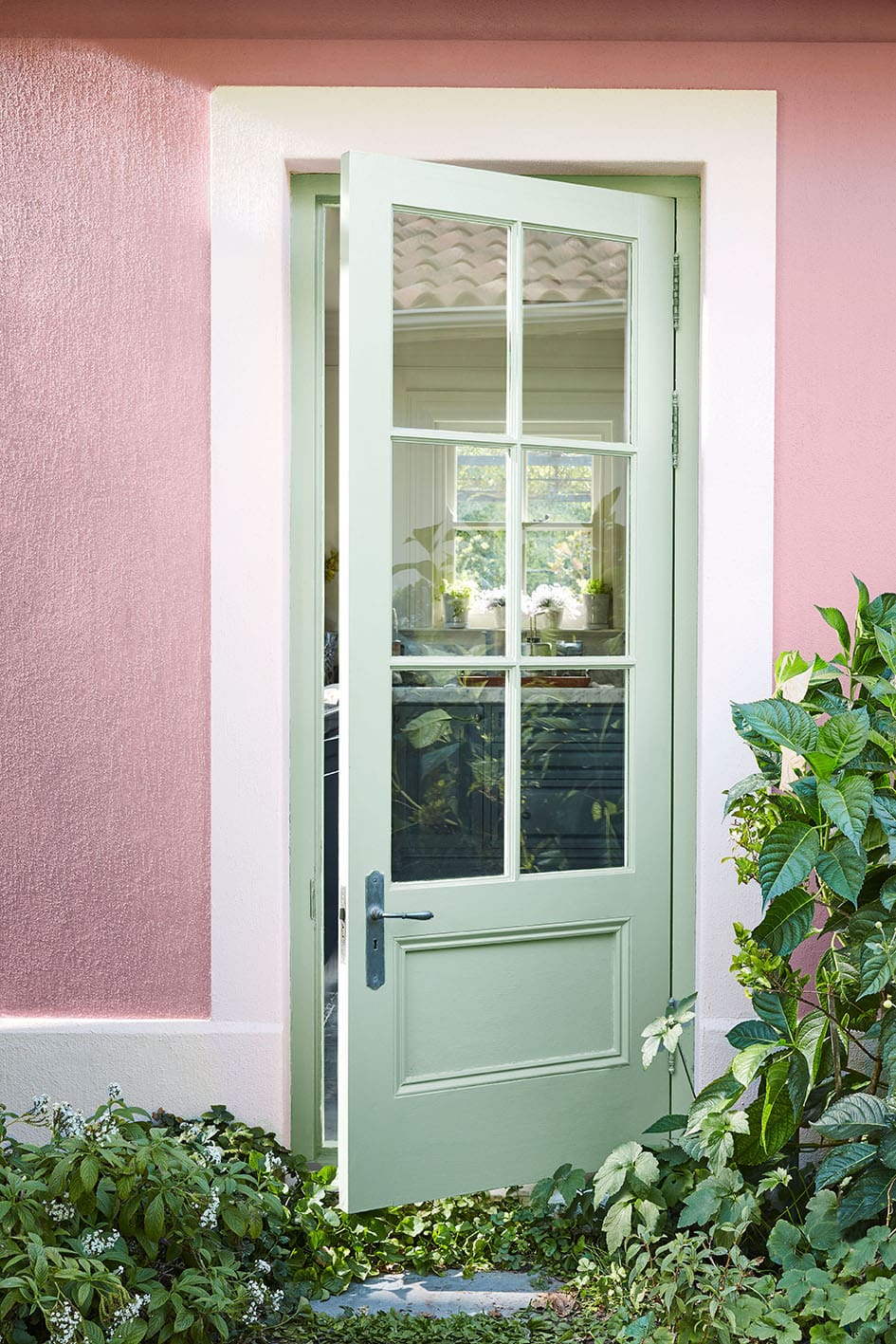 PHOTO: LITTLE GREENE
3.  Sherwin Williams Coastal Plains 6172
The stunning Coastal Plains is popular paint by Sherwin Willaims that is great for both interior and exterior paint projects. Coastal Plains is a soothing and warm shade that falls into the sage green family. If you're looking for laid-back elegance, this green front door color should be on your radar.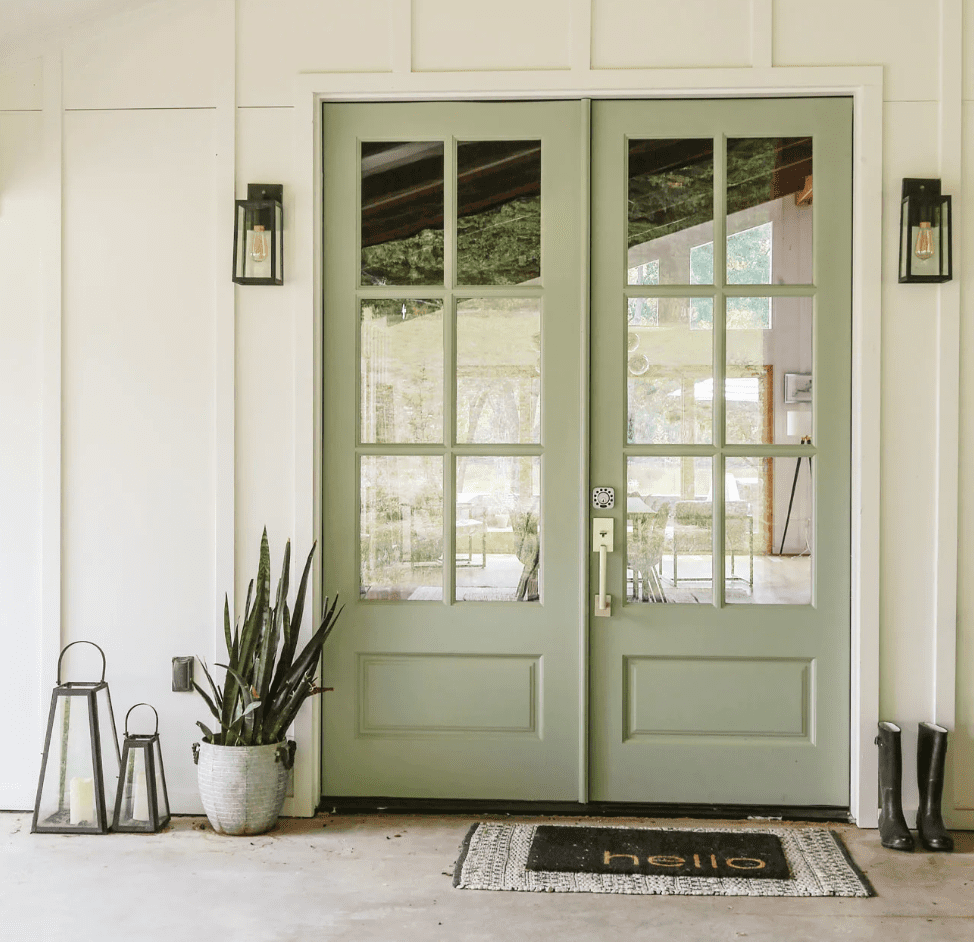 PHOTO: ERICA VAN SLYKE
4. Sherwin Williams Rosemary 6187
Sherwin Williams Rosemary is a deep and muted green with a gray undertone, which gives it a modern chic appearance. It is often considered to be a dark sage green with some olive undertones.
The Rosemary paint is without a doubt a great front paint color because it can make your front door appear refined, sophisticated, and modern.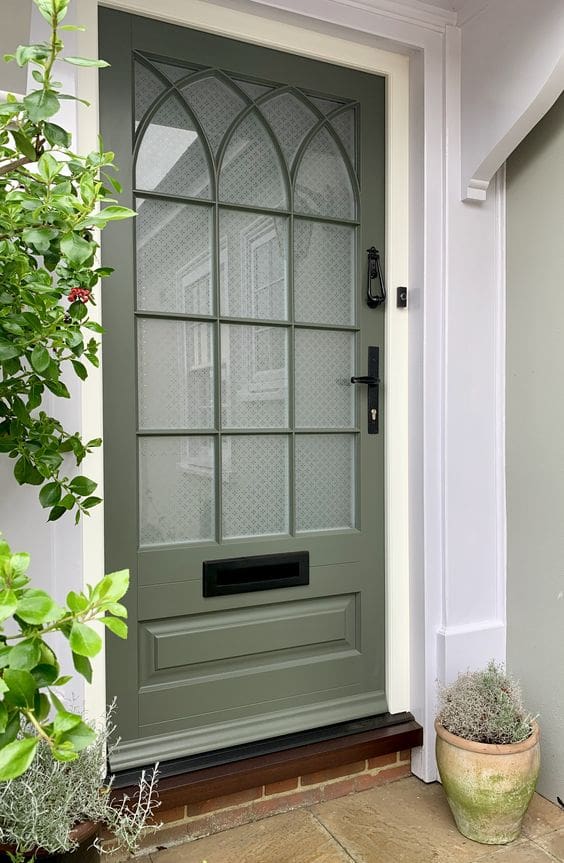 PHOTO: THE BURGESS GROUP
5. PPG Night Watch 1145-7
For richness and vibrancy, consider the Night Watch Paint. The PPG Night Watch is a deep and rich jade aqua-green color with a malachite undertone. This bluish green is the perfect paint color to make a strong style statement on your front door. Night Watch was named PPG's color of the year in 2019.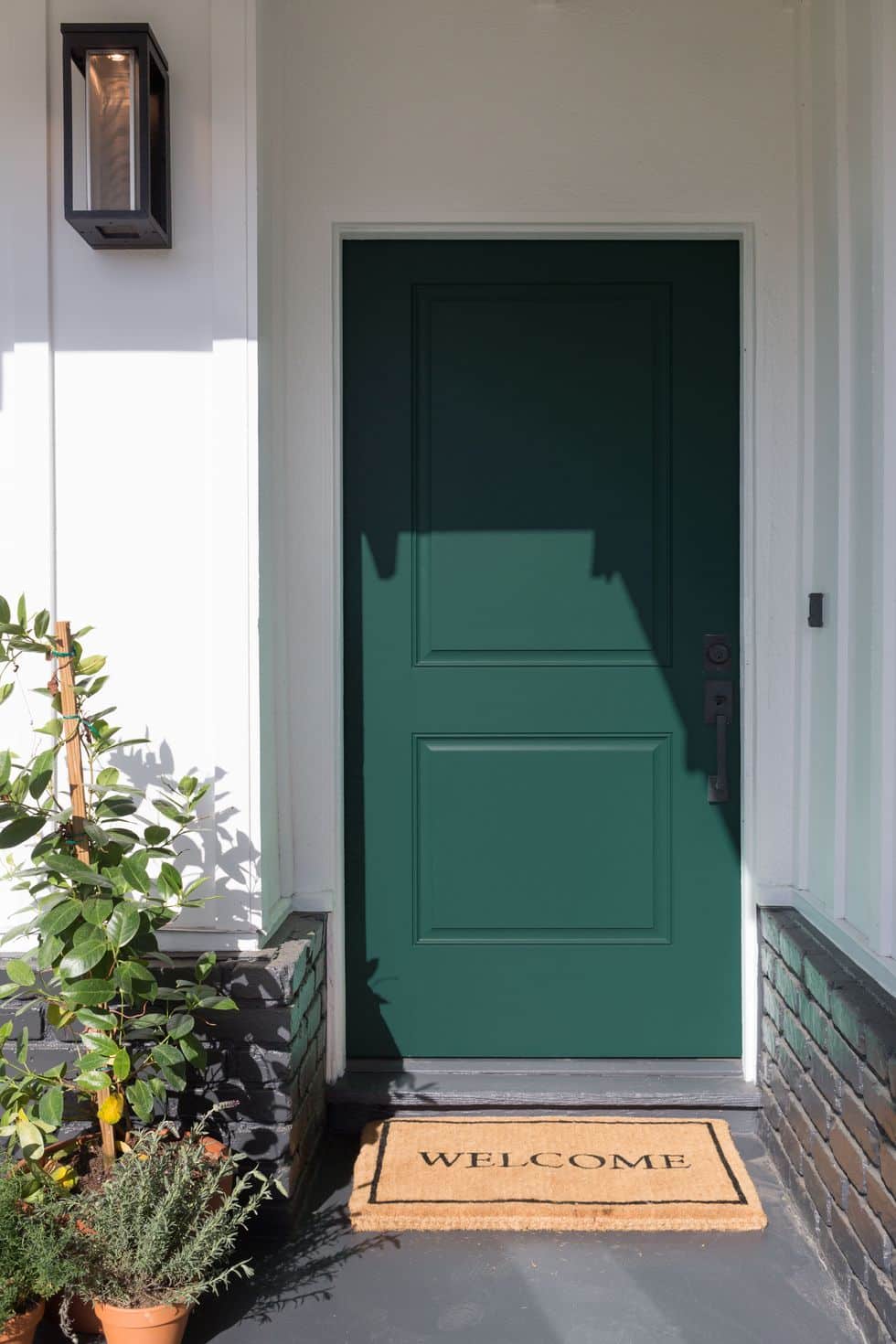 PHOTO: JASMINE ROTH
6. Sherwin Williams Great Green 6430
If you want a green front door that really pops, then the Great Green may be perfect for you. Great green is an attention-grabbing warm green shade with a grayish-green and a tinge of yellow undertone.
Other paint colors that are similar to Sherwin William Great Green are Behr Lima Green, Benjamin Moore's Grassland, and PPG's Sparrow Songs.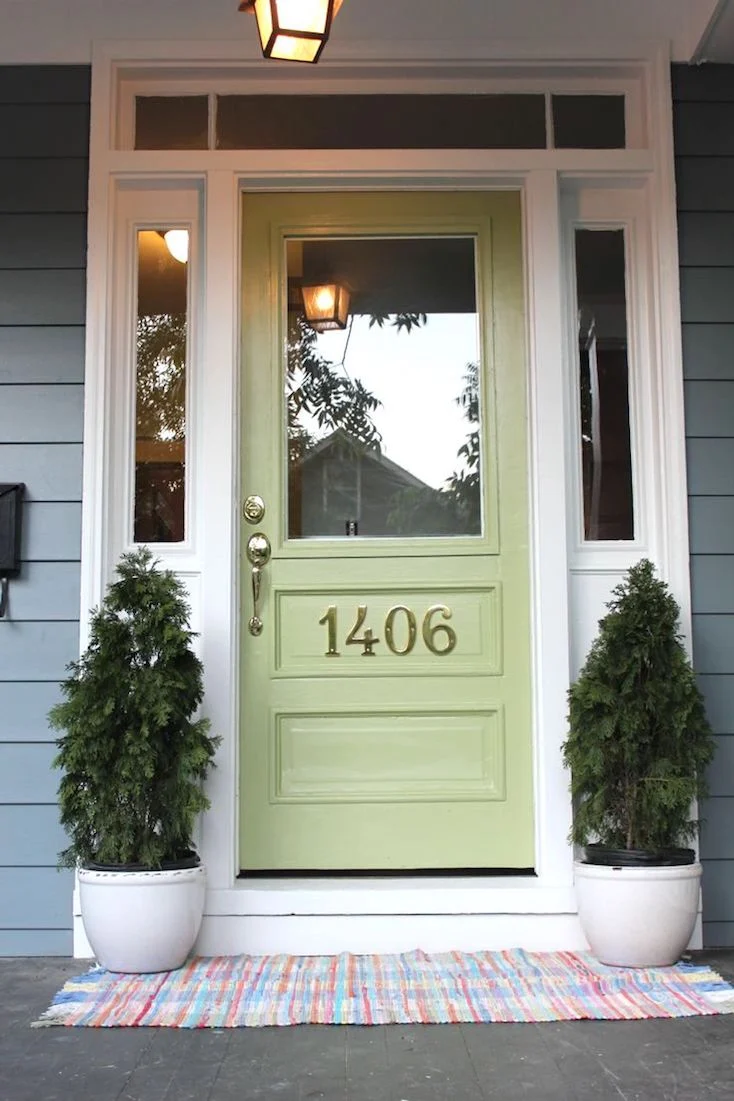 PHOTO: LITTLE GREENE
7. HMG Chartwell Green
Enchanting yet easy on the eyes, Chartwell Green is a color that speaks for itself. It has become enormously popular for exterior surfaces, especially in Britain. This green front door looks especially striking when paired with white walls.
The Chartwell Green is muted yet inviting shade of green that can lend a beautiful appeal to both modern and traditional homes. The color was named after Winston Churchill due to his decision to decorate Chartwell House, his country residence in Kent, with this specific shade of green.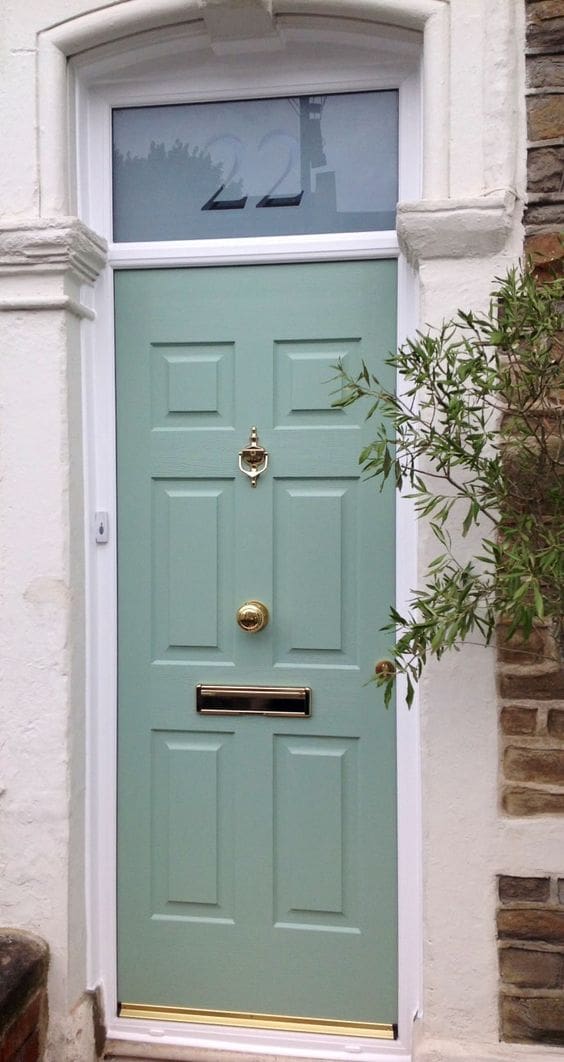 PHOTO: VALUE DOORS
8. Benjamin Moore Wythe Blue HC-143
The Wythe Blue is easy like Sunday morning. This green front door paint will make your front look fresh and elegant. Benjamin Moore's Wythe Blue is blue-green paint with a gray undertone. It was chosen as Color of the Year in 2012 for its exceptional beauty.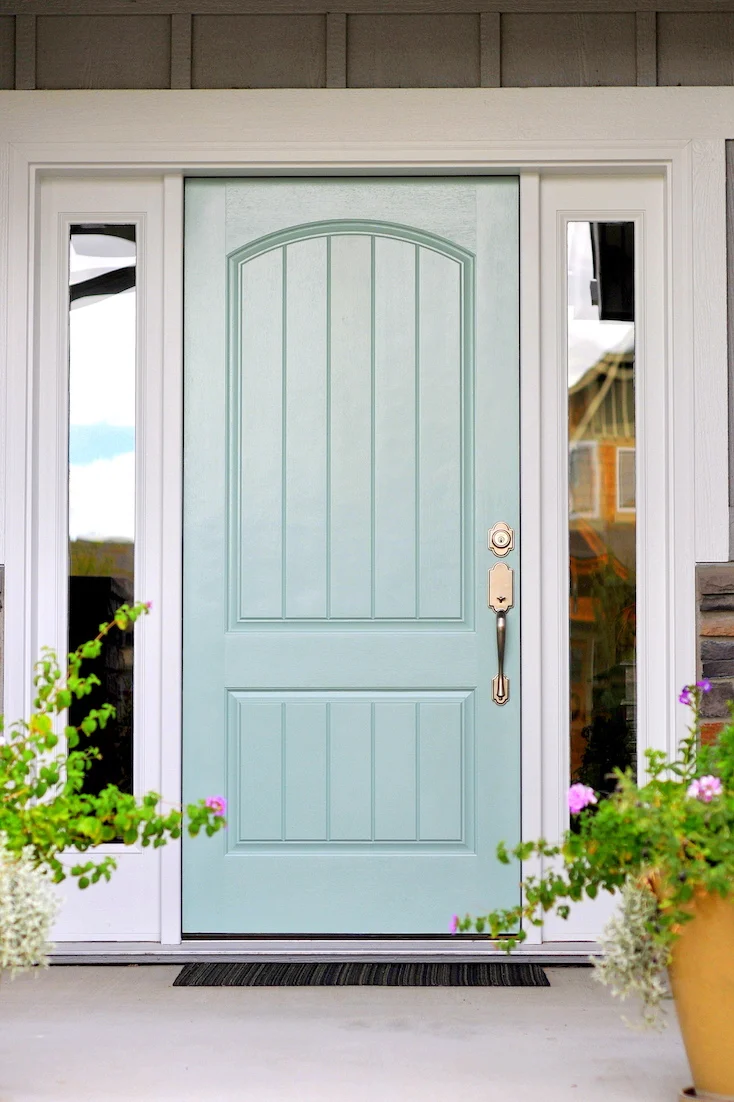 PHOTO: SUBURBAN BEES
9. Benjamin Moore Cedar Mountain 706
Cedar Mountain is a medium sage with a gray undertone that can add a timeless appeal to your front door. It is easy on the eyes but packs a big punch. Benjamin Moore's Cedar Mountain is similar to Behr's Echo Park, PPG's Dwarf Spruce, and Sherwin Williams Portsmouth.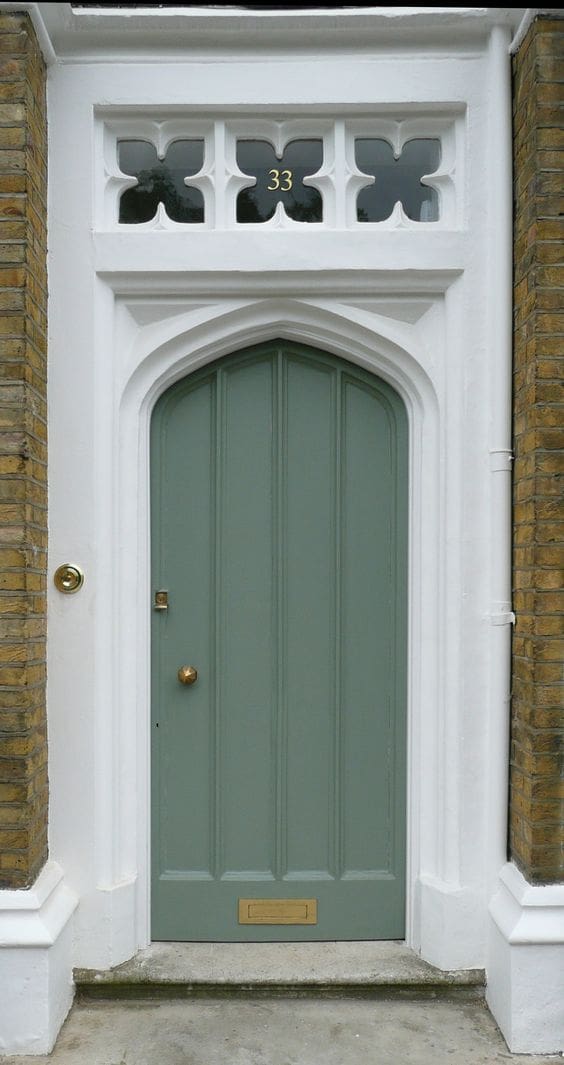 PHOTO: PATRICK BATY
10. Benjamin Moore Irish Mint 2041-70
Mint paints work brilliantly for front doors as well, particularly for houses with white exterior walls. Irish Mint of a crisp, soft, and refreshing shade of green that can instantly transform a boring front door. It is also often referred to as a very light shade of green cyan.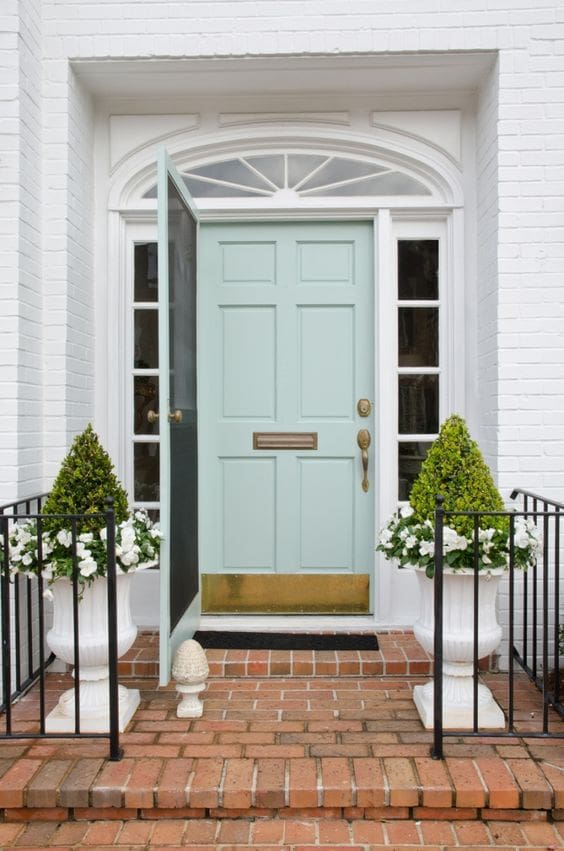 PHOTO: MCKENZIE FUSSEL
11. Sherwin Williams Haven 6437
The Haven paint is a stunning green front door color idea. It is considered to be a warm medium green color with a gray undertone. If you want a vibrant green front door that makes an impactful but is not too overwhelming, then you may want to get your hand on Sherwin Williams Haven.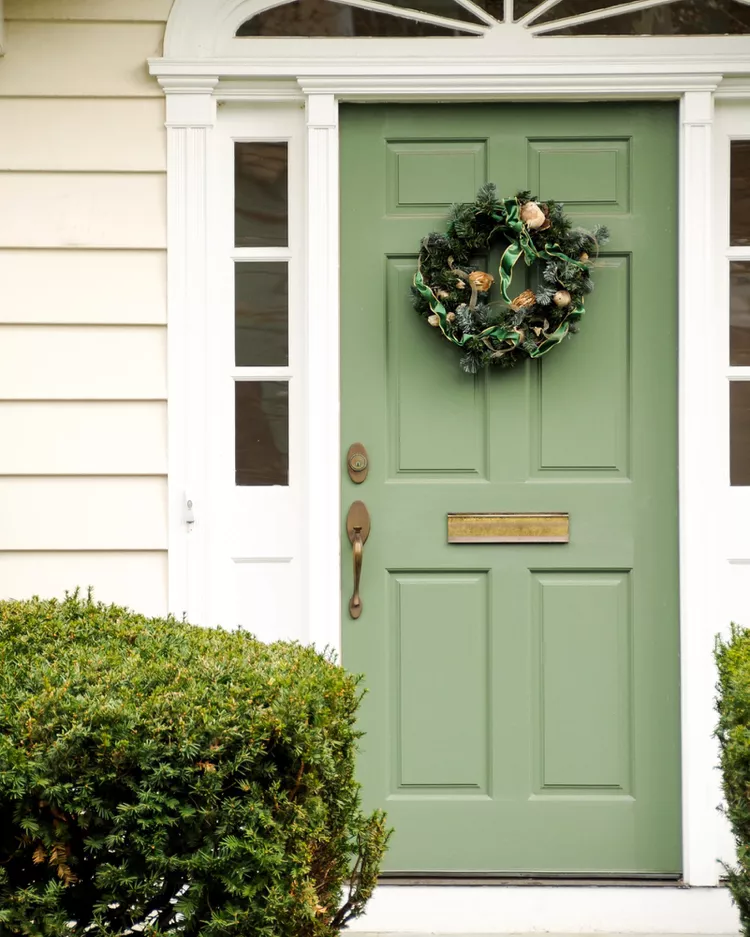 PHOTO: GETTY IMAGES
12. Claire Daily Greens
The Daily Green by Claire sits somewhere in the middle between medium and dark green. This mossy olive green front door strikes the balance between vibrant and stimulating. In addition to its visual appeal, it is also a timeless front door color.
You may like this article: Colors that go with Olive Green.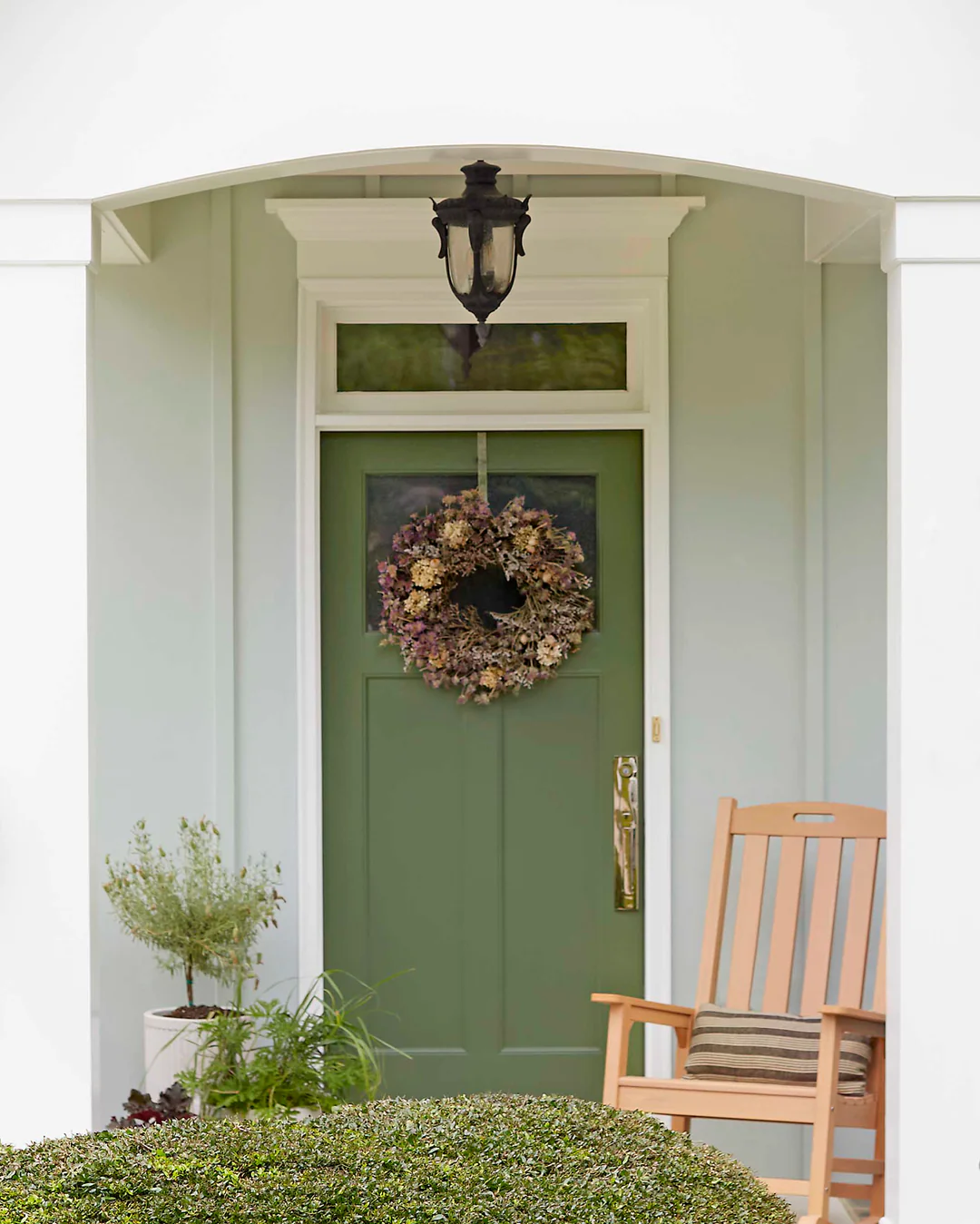 PHOTO: CLARE
13. Coat Timeless Dark Green
To add a touch of fancy schmancy to your home front, use a sophisticated shade of green like the Timeless Dark Green.  This color is a contemporary take on the ever-popular Dark Green. It is rich, elegant, and full of depth.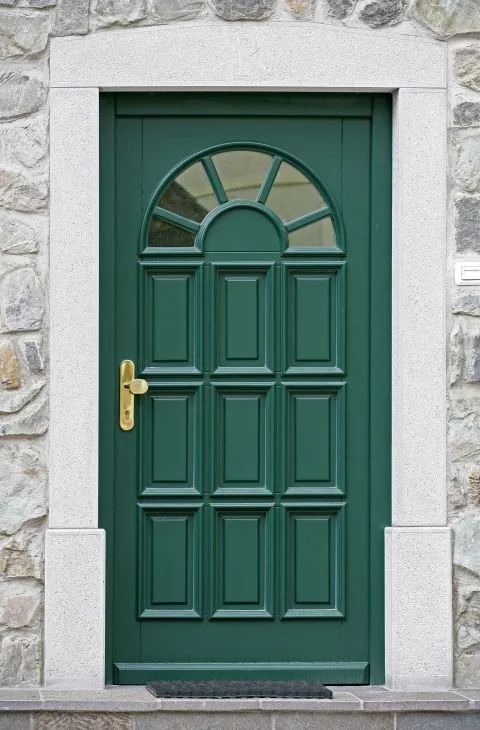 PHOTO: ISTOCK PHOTO
14. Benjamin Moore Sage Wisdom CSP-775
Sage green is the hottest color on the block right now in interior design. It is favored for its calming and refreshing appearance. Sage serves almost as a neutral. The Sage Wisdom by Benjamin Moore is a designer's dream.
It can add subtle beauty to your front door. The paint colors that are similar to Sage Wisdom are Behr's Alpine Air, PPG's Light Drizzle, and Sherwin William's Forever Green.
PHOTO: WINDOW MATE
15. Benjamin Moore Hunter Green 2041-10
Hunter Green is a rich and timeless dark green that can evoke real elegance and energy. It is similar to Hidden Forest by Behr, West Haven by Sherwin Williams, and Midsummer Nights by Valspar.
PHOTO: FREDRIK WALFRIDSSON
16. Little Greene Sage & Onions 288
There is probably no other green paint that can add richness, drama, and style quite to your front door quite like Sage and Onions by Little Green. It is a bright and invigorating green that catches the eye in a good way.
Fun fact: The garden gate at Hill Top, Beatrix Potter's farm in the Lake District that appears in The Tale of Jemima Puddle-Duck, was originally painted this brilliant shade of green.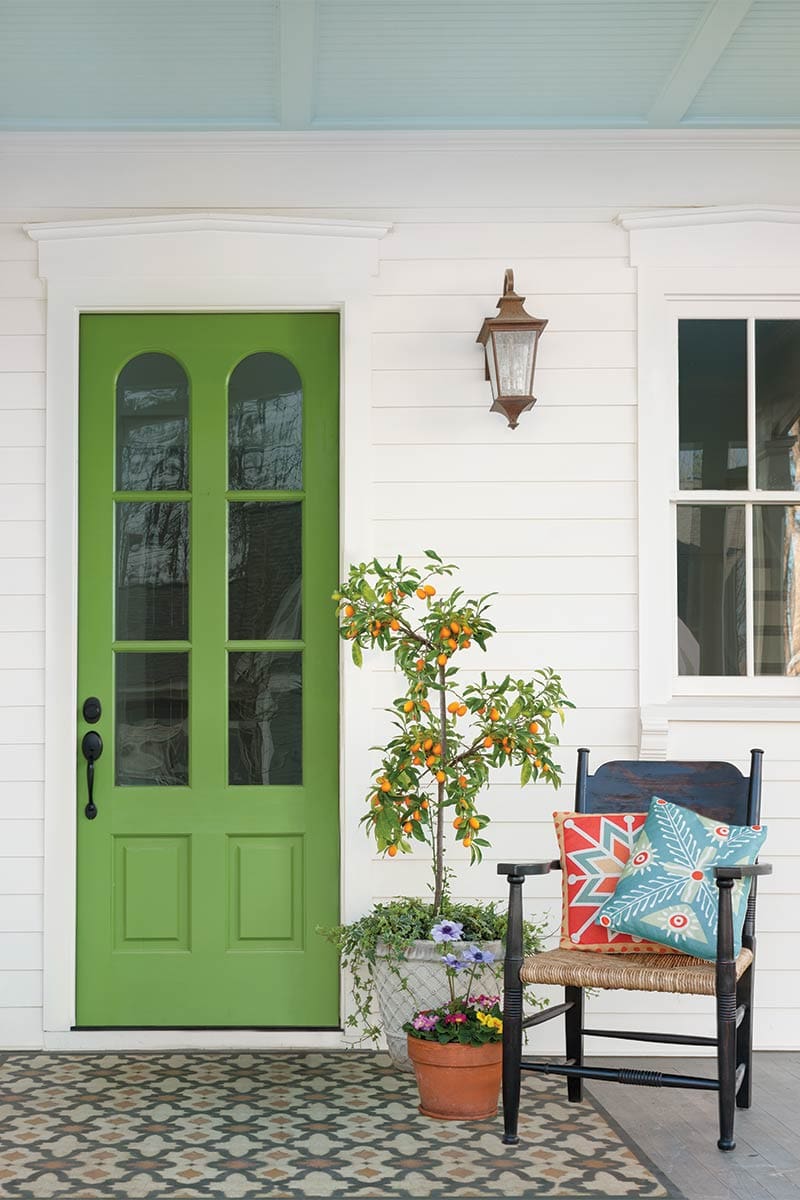 PHOTO: YUKIE MCLEAN & JOHN O'HAGAN
17. Benjamin Moore Sea Mist Green 2041-50
This alluring green has a blue undertone that gives it a turquoise-like appearance. It can give your curb appeal a dramatic and refreshing transformation.
Sea Mist Green is reminiscent of clear tropical seawater. This beautiful green front door alongside some vibrant potted perennials can effortlessly cheer up your overall curb appeal.
PHOTO:  HECTOR M. SANCHEZ
18. Dulux Heritage Sage Green
Sage Green by the UK's leading paint brand 'Dulux'  is beautiful a mid-tone blue-based green that can add a stylish flair to your front door.  It lends a visually calming and refreshing aesthetic but both interior and exterior surfaces.
You may like this article: Colors that go with Sage Green.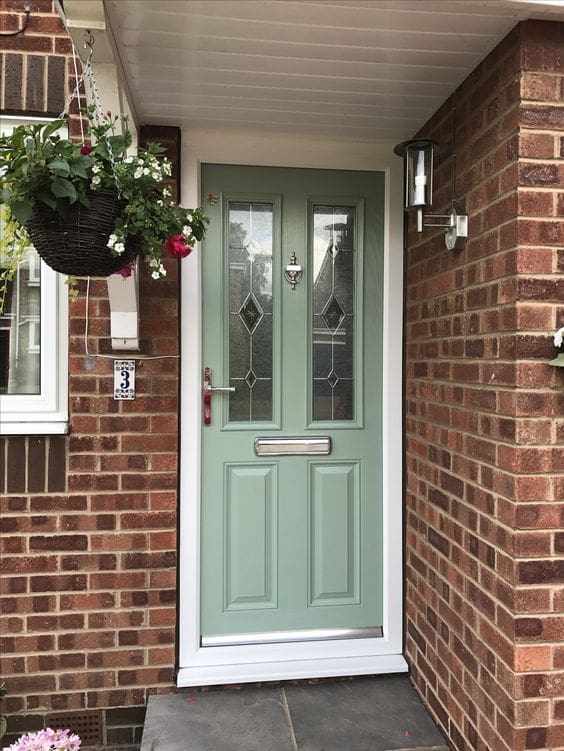 PHOTO:  DENISE COPLEY
 19. Sherwin William Dard Hunter Green SW 0041
Hunter Green is the popular dark green part that adds richness, depth, and beauty to surfaces.  It is considered to be a medium-dark shade of green with gray and a tad blue undertone. This tried and true color strikes a balance between serene and stimulating.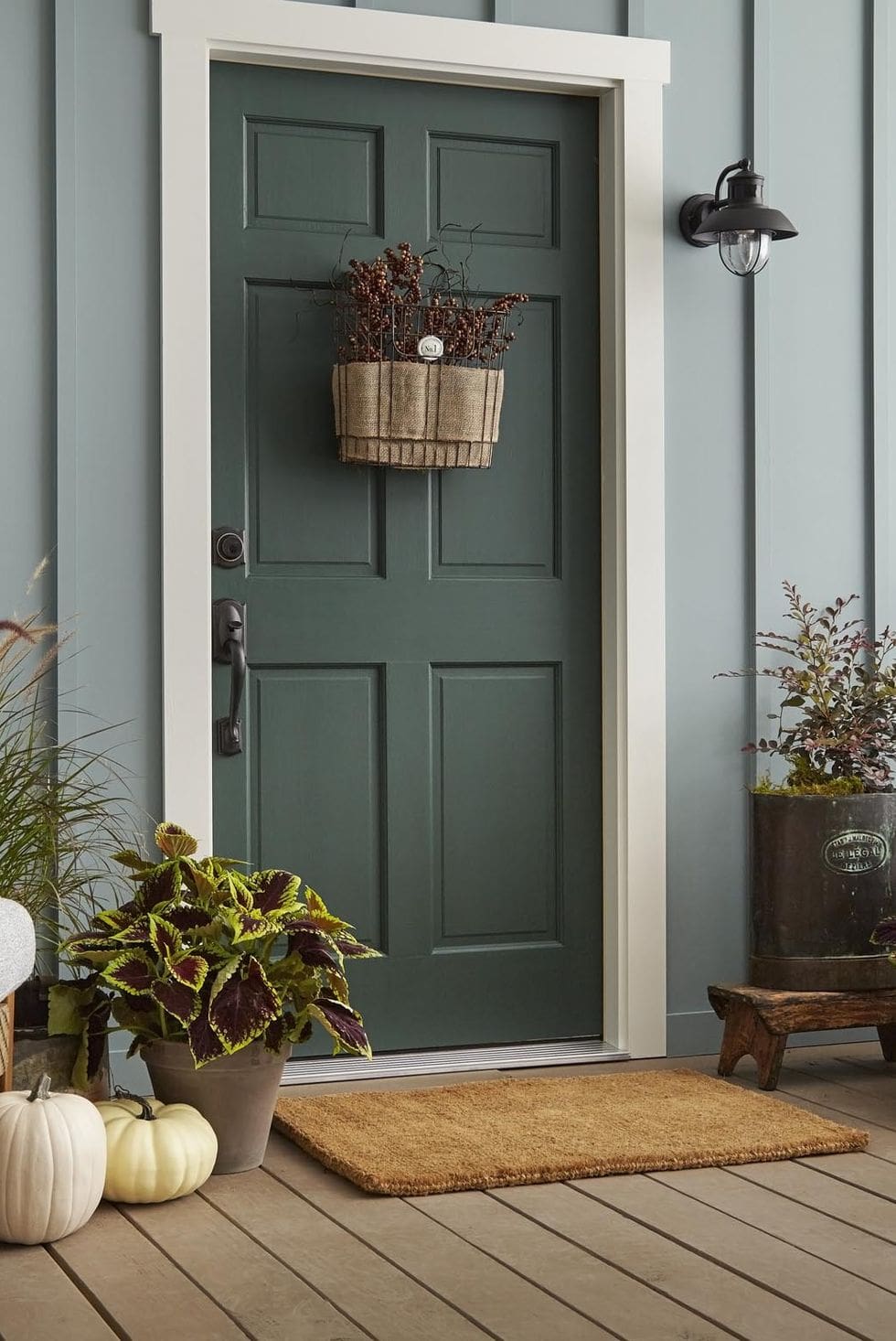 PHOTO: SHERWIN WILLIAMS
 20. Benjamin Moore Grenade Villa 690
Grenada Villa can give your front door real zest and energy. This paint color is calming yet visually interesting. It has to close resemblance to Mermaid Net by Behr, Over Room Blue by Farrow & Bell, Calico by Sherwin Williams, and Green Water by Valspar.
PHOTO: JIM LAWRENCE
22. Behr Cucumber Crush 440C-2
Minty shades have a cool freshness to them that make them calming to the eyes. Cucumber Crush is very light mint green with a yellow undertone.  Other colors that have similar appearances are Sleeping Angel by Benjamin Moore, Minted by Sherwin Williams, and Whiff Off Green by Valspar.
PHOTO: TRADITIONAL SASH WINDOWS
23. Sherwin Williams Artichoke 6179
Artichoke is a warm green paint color with a yellow and gray undertone. This green front door color will make your home front look and feel more connected to nature as it is reminiscent of a tranquil and exotic rainforest retreat.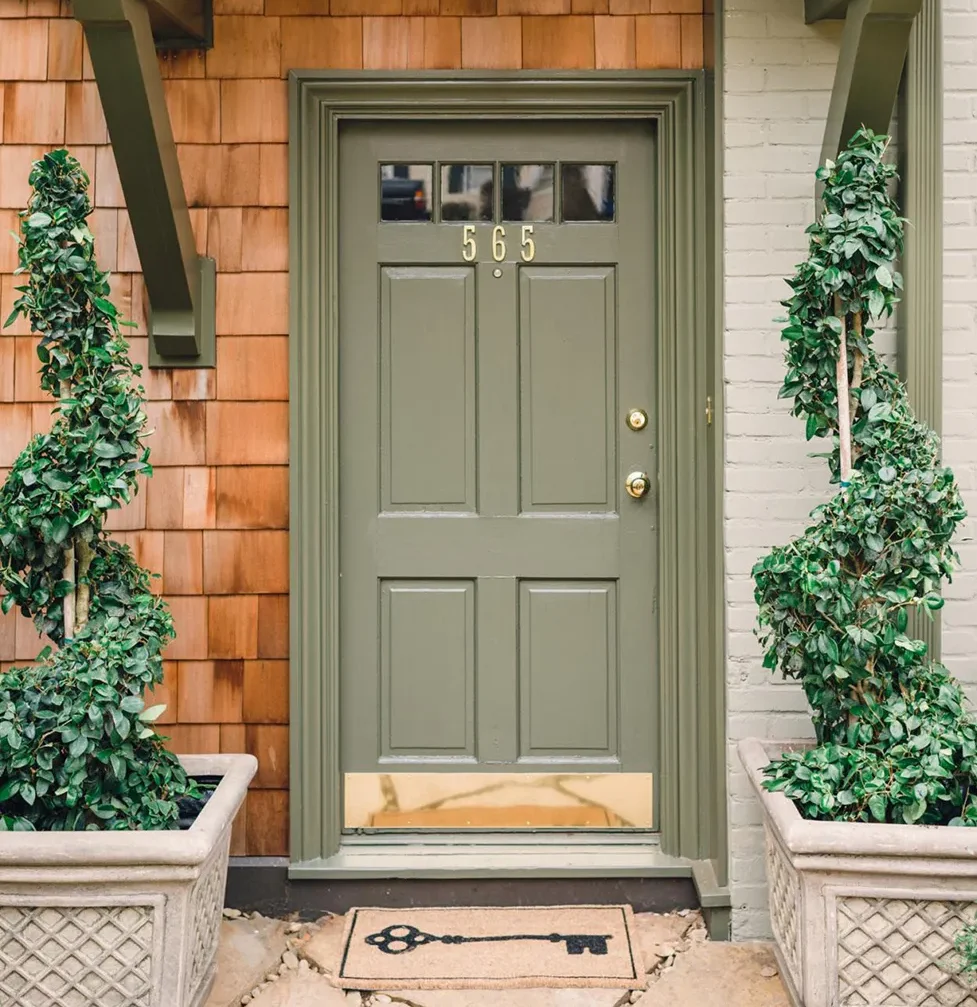 PHOTO: HGTV
24. Behr Amazon Jungle PPU9-24
The Amazon Jungle is a relaxing and mood-boosting mid-tone green. It energizing and calming at the same time. Green shades like Amazon Jungle blends seamlessly with luscious foliage or greenery in both country and contemporary environments.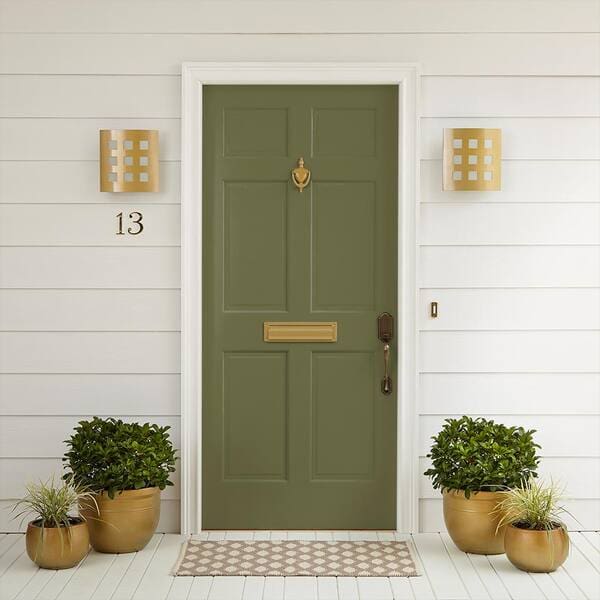 PHOTO: HOMEDEPOT
Pin this post to save for later!